Hello again!

Today we released Bamboo's astonishing new album 'Daughters Of The Sky' on 180g gold vinyl, CD with lyric book and digitally! Bamboo are a British electronic duo, shaped by the twin forces of Rachel Horwood's flawless folk cadence and Nick Carlisle's dazzling synth production.

'Daughters Of The Sky' is the band's third album for Upset The Rhythm and makes for a seriously transportive listen, its ten songs immaculately rendered in atmosphere and meaning. Vast dreamscapes are conjured with TR808 drum machines and harmonised acoustic drums locking together with ARP synths and Mellotron flutes. Horwood's vocal weaves through this waking vision, her voice drifting between euphoria and mournfully reflective modes.
Bamboo have always written songs that surge with revolutionary spirit and 'Daughters Of The Sky' is no exception, evoking themes of motherhood, cyclical nature, liberation and renewal! It's an album that soars towards the sun, deliriously serene and always hopeful. To listen is to love this record, it really is something else! Singles 'Weeping Idols' and 'A World Is Born' will certainly set the scene for you, as does this animated advert packed full of glowing press quotes.

Bamboo's new album 'Daughters Of The Sky' is available in all good shops today, as well as directly from our

virtual market stall here

.
| | | |
| --- | --- | --- |
| You can catch Bamboo live in London next week too as we have them playing next Wednesday at Oslo, Hackney with US psych pop legends Elf Power. Over the last 25 years Elf Power have recorded 13 albums of sublime song for the Elephant 6 Recording Co as well as Orange Twin and Rykodisc, it'll be a great thrill to have them play for us. Bring it on! | | |
| | | |
| --- | --- | --- |
| | | The day before, next Tuesday, sees Upset The Rhythm heading to Moth Club too as we're very lucky to be hosting Patience for the first time in London. Oxford's Despicable Zee and Viennetta are both down to perform too. Prismatic synth-pop guaranteed, plus DJ duo Time Is Away, whose NTS show sets the high water mark for fleeting reverie, will be spinning records throughout the night too. Not one to miss. |
Our final event for this month will take place at New River Studios next Saturday (June 22nd) and features a real carnival of post-punk with Melbourne's Constant Mongrel launching their new 7" on Upset The Rhythm in the company of Slumb Party, Peter Simpson and Sniffany And The Nits.

Read on for more detail on all three of those exceptional nights out…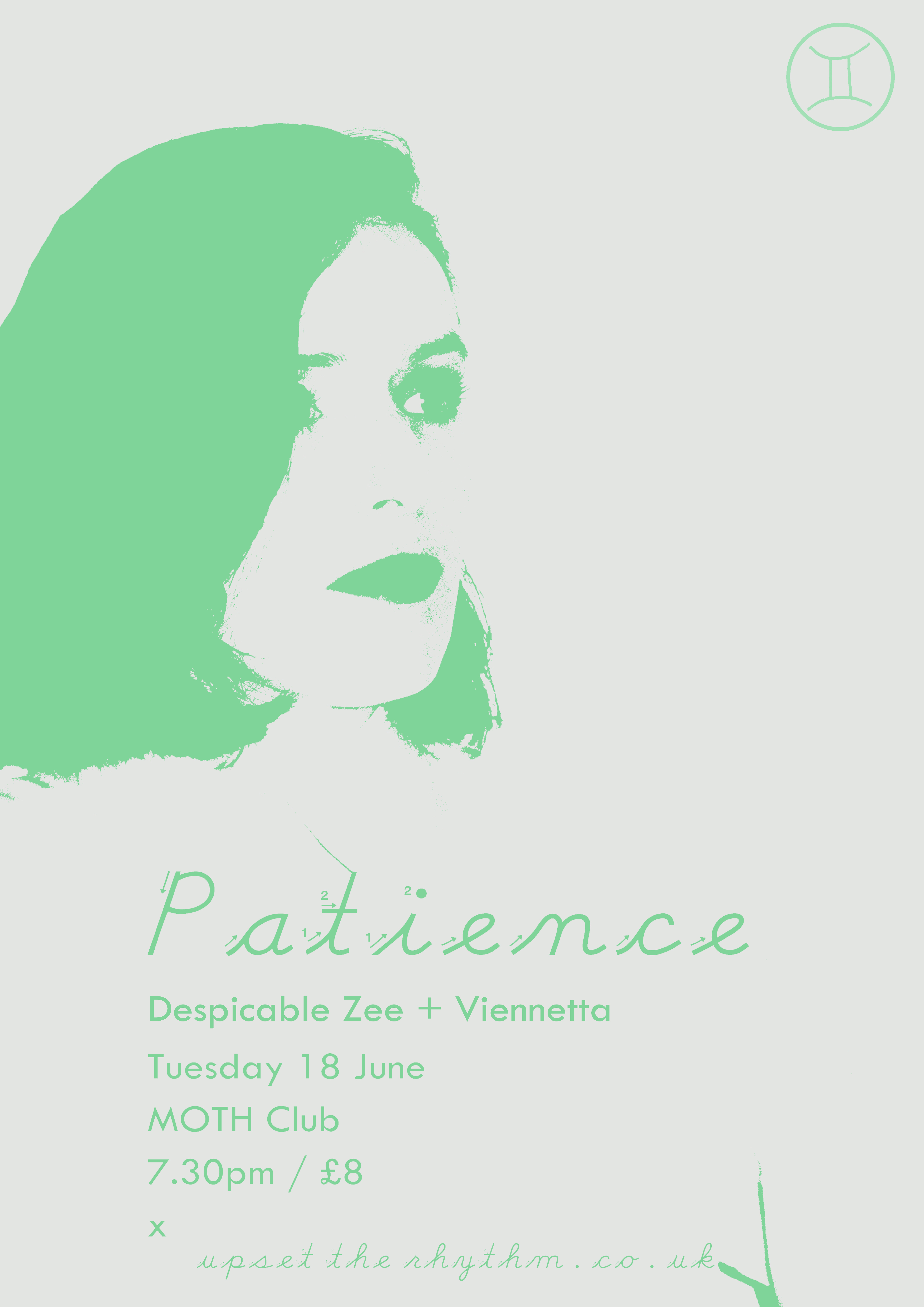 Upset The Rhythm presents…
PATIENCE
DESPICABLE ZEE
VIENNETTA
TIME IS AWAY (DJ-set)
Tuesday 18 June
MOTH Club, Old Trades Hall, Valette Street, London, E8 1EL
7.30pm | £8 |
TICKETS
PATIENCE
began as bedroom synth project for songwriter Roxanne Clifford after the break up of her acclaimed indie pop band Veronica Falls. Born out of a desire to experiment with a new sound and analogue synthesisers, the project has since grown to become an all-encompassing persona and serves as the main vehicle for the full emotional spectrum always latent in Clifford's songwriting. From her first long-sold-out 7" singles on Night School, her knack for melodic hooks and oblique emotional stances already contained a glistening sheen of promise. Debut album, Dizzy Spells, serves as an intimate portrait of Clifford's creative adventure, almost diaristic, conceived and recorded in her home studio, as well as with collaborators Todd Edwards (Daft Punk/Uk Garage fame), Lewis Cook (Free Love/Happy Meals) and engineer Misha Hering (Virginia Wing). Dizzy Spells delivers a debut album that twists Clifford's songwriting into new shapes and ecstasies. The album dances around melancholy, thrown to the floor like a bad dream to be circled, emerging bright-eyed into the early morning full of hope.
https://patienceworld.bandcamp.com/album/dizzy-spells
DESPICABLE ZEE
is the solo project of Zahra Haji Fath Ali Tehrani, who has been writing and performing for more than 15 years. She is the director of the Young Women's Music Project, which continues to inspire her. Zahra specialises in leftfield, electronic lo-fi-pop – wonky yet meditative tunes, punctuated by biting rhythms. With echoes of The Knife, Tirzah, CocoRosie and Madame Gandhi, her recent EP sounds like longing, like searching, like hacking away at old vines to reach what's behind them.
https://despicablezee.bandcamp.com/
VIENNETTA
melt gently into your ears from the melancholy serving platter of a chintzy cruise ship cafeteria. Pensive waves of crisp, desire-dusted synthpop are topped with yearning, heartbreak-laden confessionals—a bleary epiphany at the end of another desperate night.
https://viennetta.bandcamp.com/
TIME IS AWAY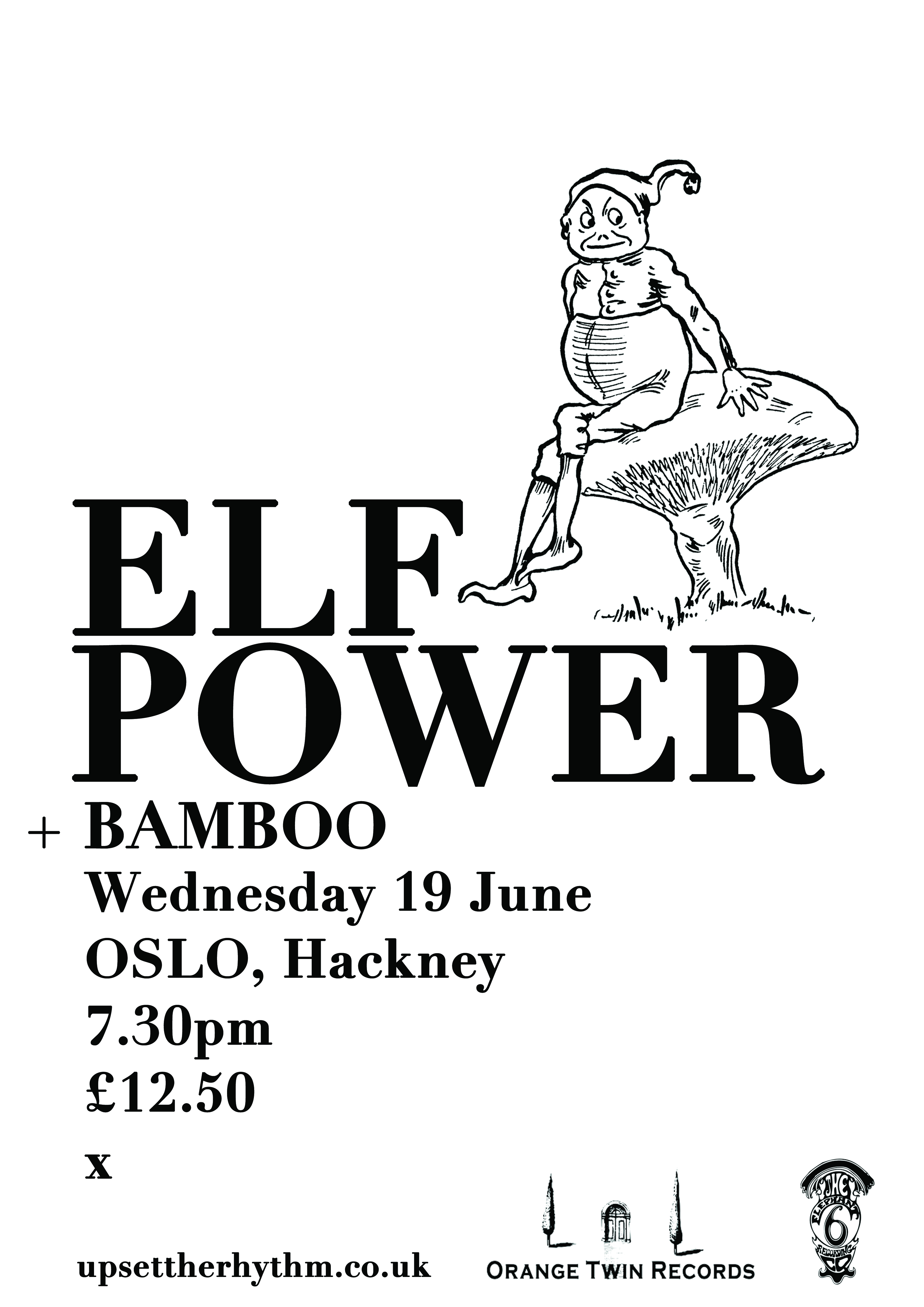 Upset The Rhythm presents…
ELF POWER
BAMBOO
UTR (DJ-set)
Wednesday 19 June
OSLO, 1a Amhurst Road, Hackney Central, E8 1LL
7.30pm | £12.50 |
TICKETS
ELF POWER
are among the few bands from the Elephant 6 Recording Company that continue to make music to this day, and their prolificacy has been an absolute treat to fans. Elf Power formed in 1994 and over the last 23 years have released thirteen albums, two eps, and a handful of singles, while touring North America, Europe, and Japan many times. Albums such as 1998's Dave Fridmann-produced "A Dream In Sound" and 2008's collaboration with the late Vic Chesnutt, "Dark Developments" have cemented the bands' reputation as the finest purveyors of modern melodic psychedelic folk rock around. Their tour in support of their last album , 2013's "Sunlight on the Moon", took them on an extensive tour in support of Neutral Milk Hotel's much acclaimed reunion tour, as well as dates with Broken Bells and headlining dates.
Their latest album "Twitching in Time" (Orange Twin, 2017) combines experimental arrangements and sublime songwriting with their powerful live bombast, into their strangest, most cohesive, and most exciting sounding album yet. Opening track "Halloween Out Walking" combines minimal and beautiful folk rock arrangements with otherworldy Moog synthesizer gurglings to awe-inspiring effect. Other highlights include "Watery Shreds", a piano ballad that transforms itself into an explosive an unexpected distorted guitar drone freakout, sounding like an unlikely marriage of avant-garde keyboardist Laurie Anderson and drone metallers Sunn 0)) . Songs like the title track and "Cycling Aimlessly" are classic fuzzed out melodic rock songs the likes of which the band has become known for , while songs like "Gorging on the Feast" explore a jazzy, melancholy terrain before descending into a shredding heavy rock assault. The constant shifting of sounds and styles makes for one of the band's most diverse and satisfying albums yet. On this album, singer/songwriter Andrew Rieger and longtime collaborator multi-instrumentalist Laura Carter are joined by Matthew Garrison on bass, Peter Alvanos on drums, and Davey Wrathgabar on guitar.
https://orangetwinrecords.bandcamp.com/album/twitching-in-time
BAMBOO
is the majestic pop project of Nick Carlisle and Rachel Horwood. Their music is vivid and deeply poignant, locking into a magnetic pull between Rachel's flawlessly resonant folk cadence and Nick's pristine synth pop production. Bamboo's second studio album, The Dragon Flies Away, was released last year on Upset The Rhythm. The Dragon Flies Away tells a story loosely associated with the Hannya demon mask of Noh theatre plays such as Dojoji, and reflects the range of emotion the Hannya mask is capable of displaying: obsession, jealousy, sorrow and rage. The album presents its story in two acts and is presented with a gatefold sleeve and lyric / artwork sheet. Horwood's evocative paintings are given centre stage with the packaging, allowing the album's story to grow beyond sound, making the journey all the more immersive. Bamboo are currently a live quartet and have just finished off their new record, 'Daughters of the Sky', look out June 14th!
http://www.bamboosongs.co.uk/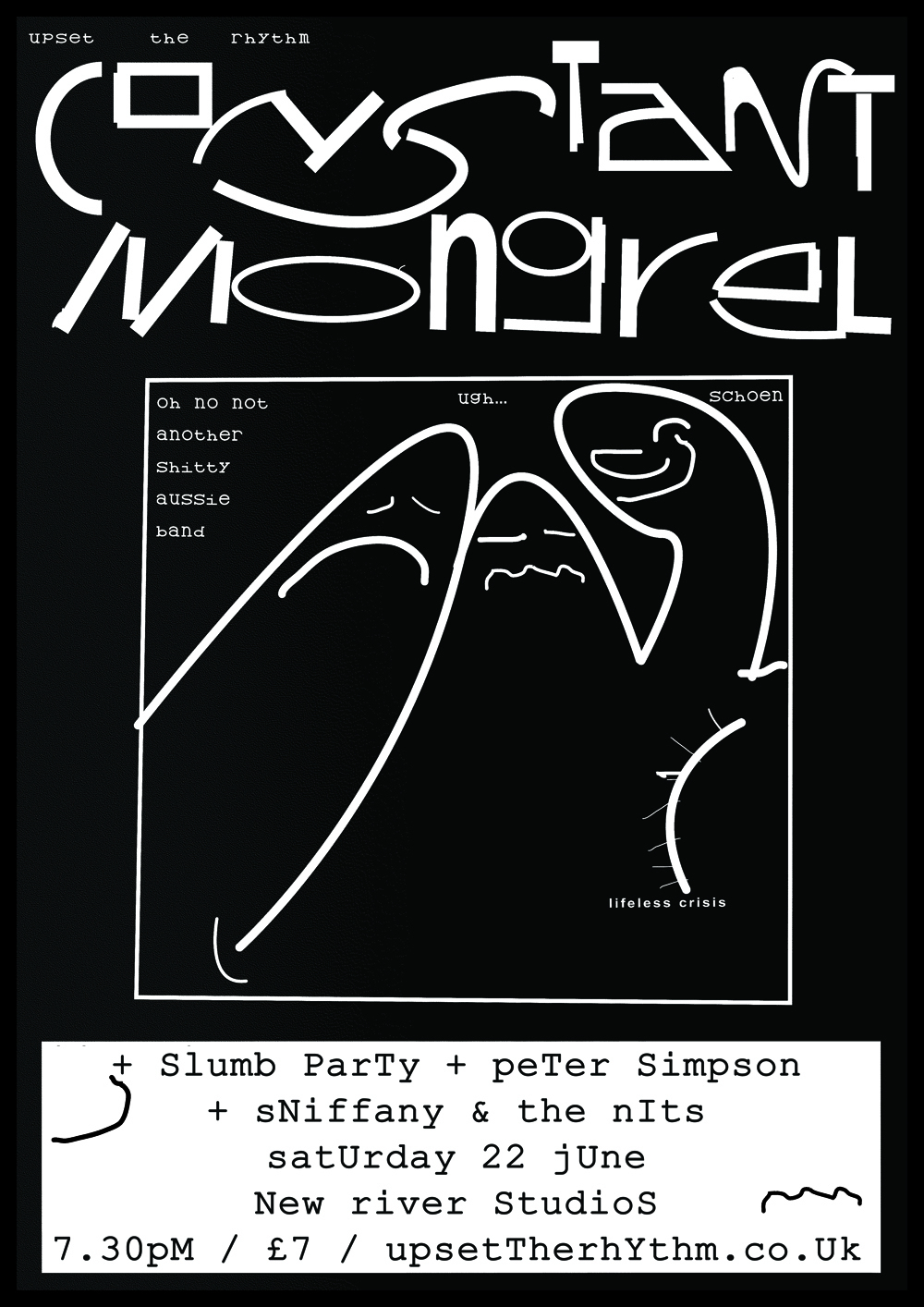 Upset The Rhythm presents…
CONSTANT MONGREL
SLUMB PARTY
PETER SIMPSON
SNIFFANY & THE NITS
Saturday 22 June
New River Studios
199 Eade Rd, Harringay Warehouse District, London, N4 1DN
7.30pm | £7 |
TICKETS
CONSTANT MONGREL are a Melbourne post-punk band with releases on Silt Breeze, RIP Society and most recently La Vida Es Un Mus and Antifade records. Over their 10 year existence Constant Mongrel have added members while developing a unique sound and continually built momentum leading to their successful 'Living In Excellence' LP in 2018. The latest record has a sharper British Post Punk expression reminiscent of legendary acts such as Wire, The Fall, Flux of Pink Indians while maintaining their Australian edge and character that exist among their local brother/sister bands Total Control, UV Race, Ausmuteants, Lowlife and Terry. With striking riffs and catchy rolling bass over an often unhinged, vibrant rhythm section with fried saxophone and synths Constant Mongrel are a captivating live band. The bands lyrics and themes vary in subject matter from songs of certain romance, to the joy of a riot, atrocity of western religion, an abundance of a fresh modern fascism, white-middle-class-self-entitled guilt and the beauty in misinterpretation. But behind every idea the tongue remains continually in cheek as the band's humour seeps through and prevails in its sound.
https://lavidaesunmus.bandcamp.com/album/living-in-excellence
SLUMB PARTY
are funked up post punkers from Nottingham. Point your ears in their direction and you'll find the righteous blast of a post-punk-skronk party of such hip-gyrating magnitude that you'll wanna take a bulldozer to your nearest nightclub and pull shapes on the ruins. Their debut 7" dropped earlier this year via German label Erste Theke Tontraeger, and their debut LP (Drunken Sailor) followed shortly afterwards. Fittingly, songs are concise and snappy, with flashes of everything from the rhythms of 80s Athens, GA (Pylon, early B-52s), the soul/punk hybrid of both The Nation of Ulysses and The Make-Up, the hyper-whacked sax rush of the Contortions...plus yer Minutemen, yer Gang Of Fours, yer Shoppings, yer favourite bands with attitude and heads so full of ideas you'll find yourself wondering why most bands fail to make a sassy combination of arts and smarts sound this essential.
https://slumbparty.bandcamp.com/
PETER SIMPSON
just debuted his self titled mini-album. Running with the mantle that post-punk was actually prog in disguise, the record evokes that particular vein of popular music, in the 80s, where the prior generation of outward thinking rockers re-energised their approach by absorbing the new-wave. Fans of Peter Hammill's K-Group albums, Bill Nelson's Red Noise or even the Eno-inflected John Cale Island period, will no doubt recognise elements of each in these 6 mazy compositions.
Thanks for reading, have a fantastic weekend!
Upset The Rhythm
UPSET THE RHYTHM
UPCOMING SHOWS
PATIENCE
DESPICABLE ZEE
VIENNETTA
Tuesday 18 June
MOTH Club, Old Trades Hall, Valette Street, London, E8 1EL
7.30pm | £8 |
TICKETS
ELF POWER
BAMBOO
UTR (DJ-set)
Wednesday 19 June
OSLO, 1a Amhurst Road, Hackney Central, E8 1LL
7.30pm | £12.50 |
TICKETS
CONSTANT MONGREL
SLUMB PARTY
PETER SIMPSON
SNIFFANY & THE NITS
Saturday 22 June
New River Studios
199 Eade Rd, Harringay Warehouse District, London, N4 1DN
7.30pm | £7 |
TICKETS
CURRENT AFFAIRS
POWERPLANT
LIVID
Friday 5 July
The Islington, 1 Tolpuddle Street, Angel, London, N1 0XT
7.30pm | £6 |
TICKETS
ADVANCE BASE
ALICE HUBBLE
Monday 22 July
Redon, Railway Arches, 289 Cambridge Heath Rd, London, E2 9HA
7.30pm | £12 |
TICKETS
MOUNT EERIE

Thursday 8 August
EartH, 11-17 Stoke Newington Rd, Dalston, London N16 8BH
7.30pm | £15 |
TICKETS
J. McFARLANE'S REALITY GUEST
Wednesday 14 August
The Islington, 1 Tolpuddle St, Angel, London, N1 0XT
7.30pm | £7 |
TICKETS
TIM PRESLEY'S WHITE FENCE
ROBERT SOTELO
Wednesday 21 August
OSLO, 1a Amhurst Road, Hackney Central, London, E8 1LL
MARY LATTIMORE
Thursday 29 August
The Courtyard Theatre, 40 Pitfield Street, Shoreditch, N1 6EU
7.30pm | £10 |
TICKETS