Hello everyone!

I trust you're keeping safe and sound, top work! A bit of brighter news for you today as we're proudly releasing Es' debut album 'Less Of Everything' into this vastly different world, arguably experiencing less of everything! Es are a strident London quartet who have coined an uncanny sound over these last few years. Focused, tense and commanding Es' take on icy DIY punk creeps with gothic influence and nuanced intensity and this debut album proves eager to disrupt all sense of complacency.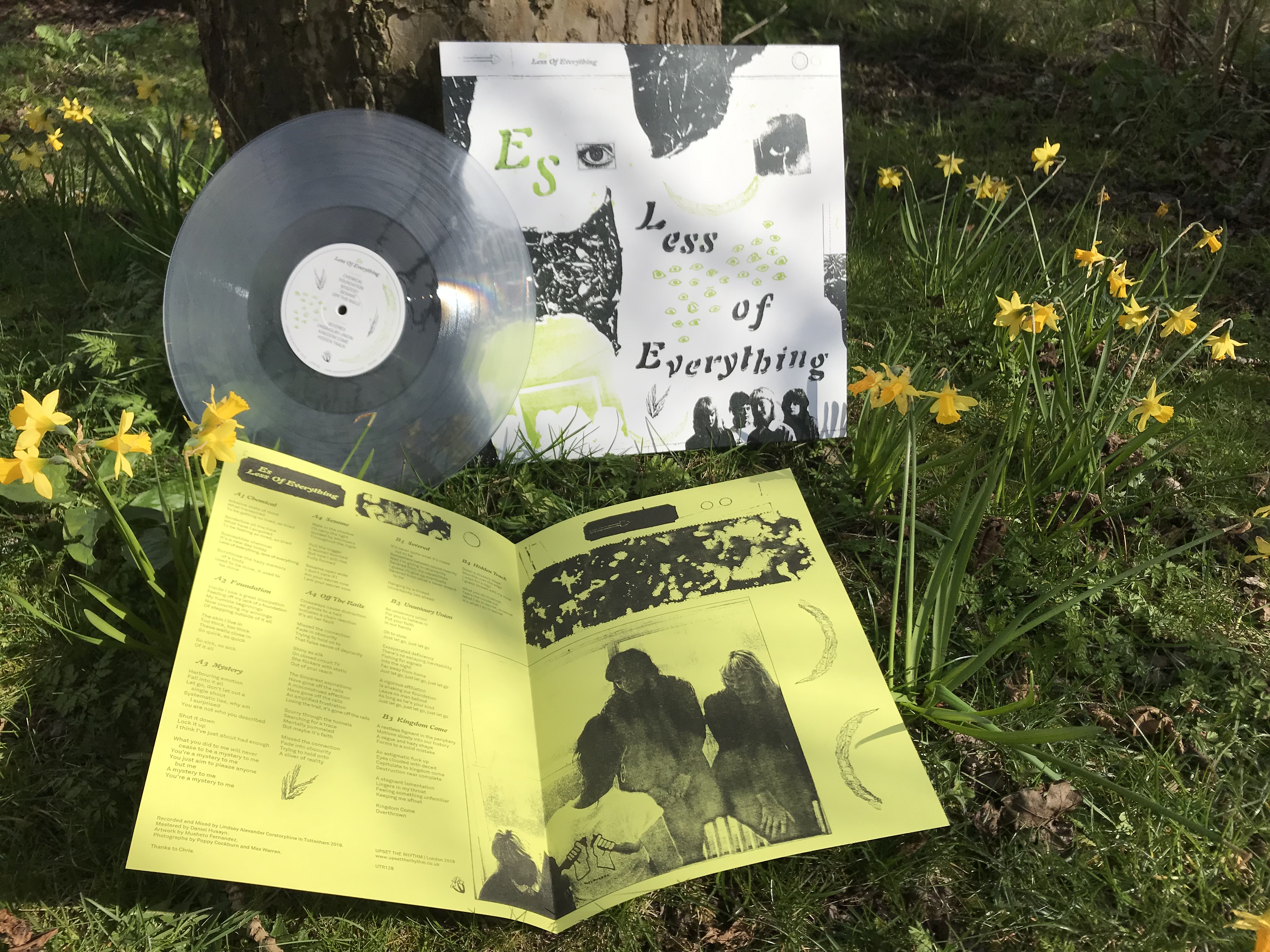 Es are Maria Cecilia Tedemalm (vocals), Katy Cotterell (bass), Tamsin M. Leach (drums) and Flora Watters (keyboards). Their 2016 debut EP, Object Relations, by La Vida Es Un Mus, was described as "mutant synth-punk for our dystopian present" (Jess Skolnik, Bandcamp, Pitchfork). The group have since become a vital presence in London's underground DIY music scene and even toured the UK with the Thurston Moore Group.

The dynamic between Cotterell's warped basslines and Watters' keyboard secretions lie at the heart of Es' sound. When teamed up with Leach's pin-sharp drumming, the outcome is unique and instantly recognisable as their own sound. This provides the perfect backdrop for Tedemalm's insistent, pointed vocal style. Tedemalm's strategy is to "push the lyrics as far as I can thematically until they become absurd … overly dramatic ... while still being sincere in the feeling they're trying to invoke. I try to apply as much emotion as I can." The result is something as confrontationally honest as it is complex.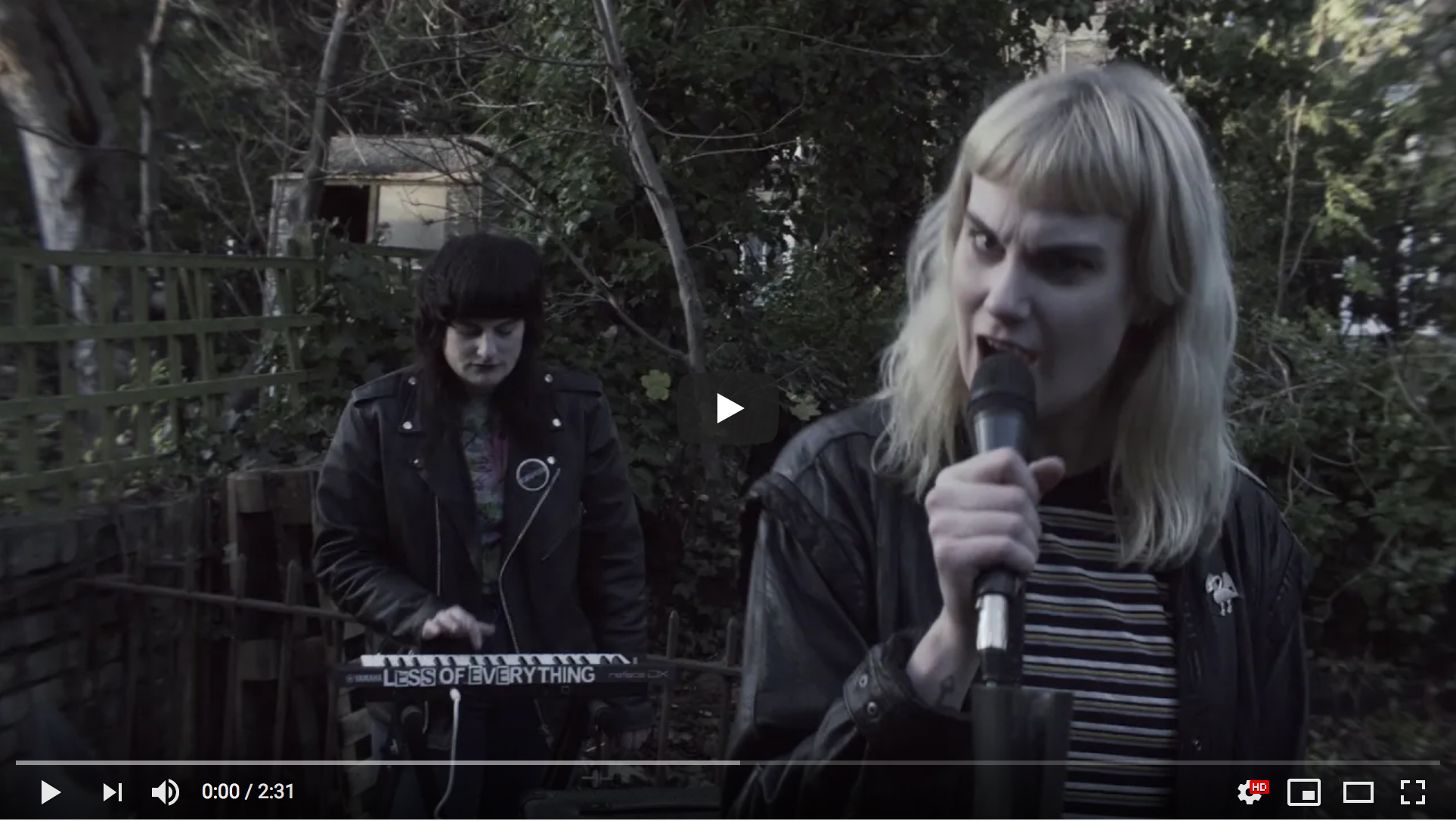 'Less Of Everything' is available around the globe now digitally, it's also available on transparent 180g vinyl, accompanied by a superb risographed insert too. This strikingly eldritch LP is available now to order online from all the best shops and of course from our very own
webshop here
, fill your boots!
You'll also notice amongst the green shoots of our webshop that we have a new album from

Primo!

primed for later in the month. Filmed in advance of all the current COVID-19 precautions we have their new '

Machine

' video to share with you today. Here's Primo! putting in some serious elbow grease down the auto-shop to make a salient point about life becoming too automated. 'Machine' is taken from the band's forthcoming album 'Sogni' out April 17th!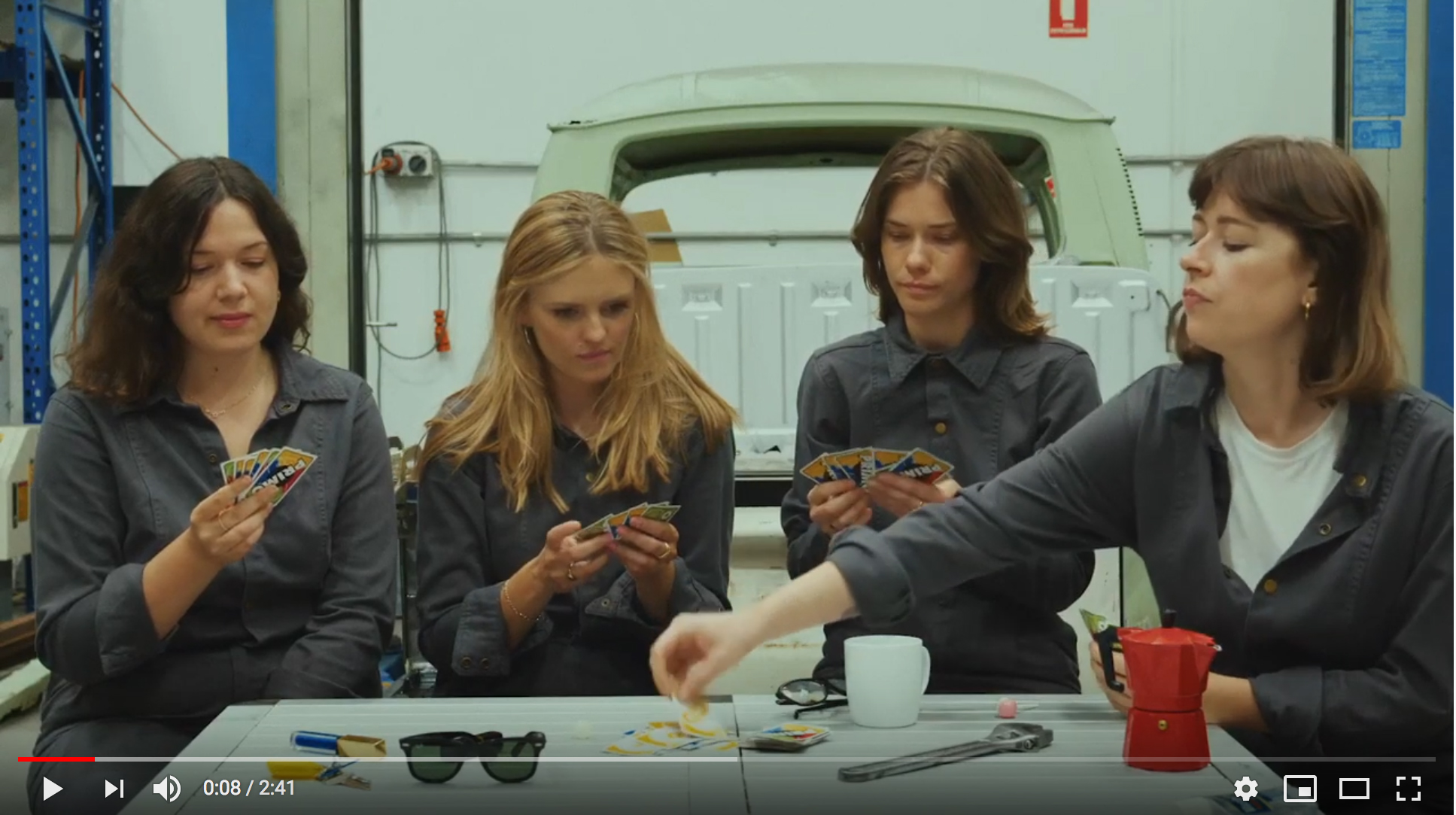 Finally finding a little extra time on our hands, there's always an upside right? We've gone through our Upset The Rhythm archive this week and set up an

Instagram account

for the first time to share our favourite images from the last 16 years of UTR. There's some terrific photos up there already of

Lexie Mountain Boys

performing on the rooftop of a tower in Hackney,

Hella

tearing up Needles wine bar and

Richard Dawson

bowling over an audience at Moth Club last year. Plus some candid snaps and well-worn memories, a little light relief we hope, better times!



| | | |
| --- | --- | --- |
| | | In the light of the COVID-19 outbreak it'll come as no surprise that we've had a number of shows cancelled and postponed, some now with newly confirmed dates for later in the year. Check out our listings section (below) for an update, original tickets remain valid for all rescheduled concerts and refunds are available too through tickets vendors. Thanks again for all the supportive messages over the last few weeks, hope you're holding in there too! |
Thanks as always for spending the time to read this,
All the very best with lockdown & good health!
Upset The Rhythm
UPSET THE RHYTHM
UPCOMING SHOWS
IRMA VEP -
CANCELLED
SOFT WALLS
THE TUBS
Friday 3 April
New River Studios, 199 Eade Rd, Harringay, London, N4 1DN
7.30pm | £7
Upset The Rhythm & SA Recordings present…
LEA BERTUCCI - 'Acoustic Shadows' release party! -
POSTPONED
RHODRI DAVIES
Tuesday 14 April
Ecology Pavilion, Mile End Park, off Haverfield Rd, Grove Rd, London, E3 5TW
Upset The Rhythm & The Barbican present…
SHIRLEY COLLINS & IAN KEAREY
CAROLINE
Wednesday 15 April
Barbican Hall, Silk St, Barbican, London, EC2Y 8DS
7.30pm | £17.50-£22.50
BONNIESONGS -

POSTPONED


YUMI AND THE WEATHER
GARRET MOORE

Wednesday 22 April

Shacklewell Arms, 71 Shacklewell Lane, Dalston, London, E8 2EB

7.30pm | £6.50 |

TICKETS
PROTOMARTYR
Monday 27 April
Peckham Audio,133 Rye Ln, Peckham, London, SE15 4ST
7.30pm | £15 | SOLD OUT

PROTOMARTYR
Tuesday 28 April
The Lexington, 96-98 Pentonville Rd, Angel, London, N1 9JB
7.30pm | £15 | SOLD OUT
MICHAEL
ADULKT LIFE
Thursday 30 April
The Victoria, 451 Queensbridge Rd, Dalston, London, E8 3AS

7.30pm | £7
IAN WILLIAM CRAIG -
CANCELLED
Friday 1 May
EartH Kitchen, 11-17 Stoke Newington Rd, Dalston, London, N16 8BH
7.30pm | £12
SHOPPING
Tuesday 5 May
The Lexington, 96-98 Pentonville Rd, Angel, London, N1 9JB
ESCAPE-ISM
(Ian Svenonius of Chain & The Gang, The Make-Up)
Thursday 7 May
Space 289, Railway Arches, 289 Cambridge Heath Rd, London, E2 9HA
JAKE XERXES FUSSELL
Tuesday 12 May
The Lexington, 96-98 Pentonville Rd, Angel, London, N1 9JB
FRAN
Friday 29 May
PinUps (formerly The Islington)
1 Tolpuddle Street, Angel, London, N1 0XT
7.30pm | £7 |
TICKETS
FUZZ
Wednesday 22 July
Electric Ballroom, 184 Camden High St, London, NW1 8QP
7pm | £17.50 |
TICKETS
14 + show (under 16's must be accompanied by an adult)
Cafe OTO, 18-22 Ashwin St, London, E8 3DL
7.30pm | £10 |
TICKETS
(This show is rescheduled from April 21st, original tickets valid, refunds available too)
NAP EYES
Wednesday 19 August
Moth Club, Old Trades Hall, Valette St, Hackney Central, E9 6NU
7.30pm | £12 |
TICKETS
(This show is rescheduled from April 15th, original tickets valid, refunds available too)
BRIGID MAE POWER
(full band)
Tuesday 15 September
The Lexington, 96-98 Pentonville Rd, London, N1 9JB
£10 | 7.30pm |
TICKETS
(This show is rescheduled from June 10th, original tickets valid, refunds available too)
OLD TIME RELIJUN
PROTO IDIOT
SHAKE CHAIN
PinUps (formerly The Islington), 1 Tolpuddle Street, Angel, London, N1 0XT
(This show is rescheduled from April 29th, original tickets valid, refunds available too)