Hello there!
I hope you had a great Easter break and didn't accidentally melt your chocolate eggs by stacking them on a windowsill and forgetting about the life-affirming weather.
Our next show takes place tomorrow at Café OTO and features the worldly talents of Irish songstresses

Brigid Mae Power

and

Aoife Nessa Frances

. Power's songs reverberate with an epic depth of feeling and her voice is at once steadfast and sublime. Every time we've had Brigid come through London she's turned in a performance that really steps over into extraordinary, so we're really looking forward to seeing her again tomorrow.

We're equally pleased to have Aoife Nessa Frances play in London for us for the first time too. Tickets to this magical spectacle will be available on the door from 7.30pm at OTO tomorrow, with live music commencing an hour later, read on for all the detail.
We're also outlining here Upset The Rhythms' next two live events! Next Monday we're very pleased to be hosting a show at The Islington alongside our friends from the Colour Out Of Space festival.

This unique night will feature live slabs of sound ushered forth from experimental guitarist Bill Nace (of Body/Head), James Twig Harper and the elusive Glands Of External Secretion. Certainly a lot to tangle with there, three dizzyingly rare outings for London, what a treat!
Wednesday week (May 1st) will see us pitch up a MOTH Club with Ian Svenonius for the return of his new project Escape-ism, a time to rejoice in all things crucially alive and refined in revolt. With an economic nod to the surpluses of rocknroll Svenonius brings with gusto all manner of humour and critique to proceedings. These are minimal songs that think big and present Ian in his most raw and vital manifestation. Underline this one in your diaries, an utter prescription for fulfillment. The wondrous swirl of guitar, sung-spoken vocals, drums and tapes of Solution Hours will further enhance this concert. You'll find below more specifics on all three of those upcoming ventures, lucky London!

Last time we mentioned our new Hygiene album coming out on May 24th, today we're happy to announce a launch party taking place at The Stag's Head on the very same day with Worms, Child's Pose and Chubby Charles all stepping out too. The world isn't quite ready for this yet, but there's still time, check our listings section for all you need to know.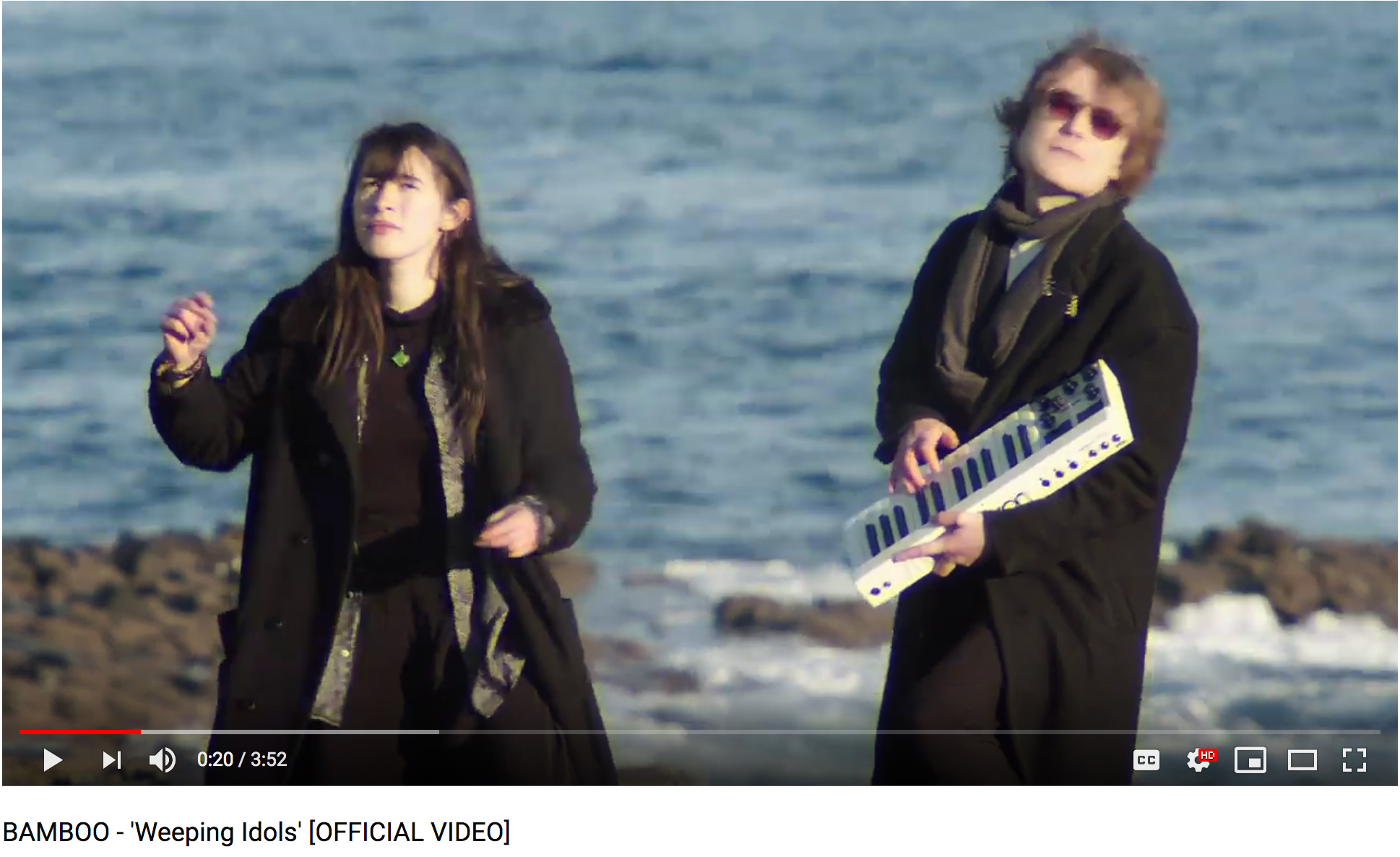 One more gallant item of note here, this June we're treating the universe to some sensational brand new synth pop from Bamboo. 'Daughters Of The Sky', the band's fantastic third album, will be released this June 14th through Upset The Rhythm on 180g gold vinyl, CD and digital. It's a vast tapestry of pristine production, featuring Nick Carlisle's colourful synth riffs, over which Rachel Horwood intones her sometimes mournful, often uplifting vocal.

The 405

just premiered the group's first video from the album, featuring a cameo from the Giant's Causeway, so without further treaty dive right into their world of 'Weeping Idols' here! 'Weeping Idols' is out now as a digital single, 'Daughters Of The Sky' is available to

pre-order now

too.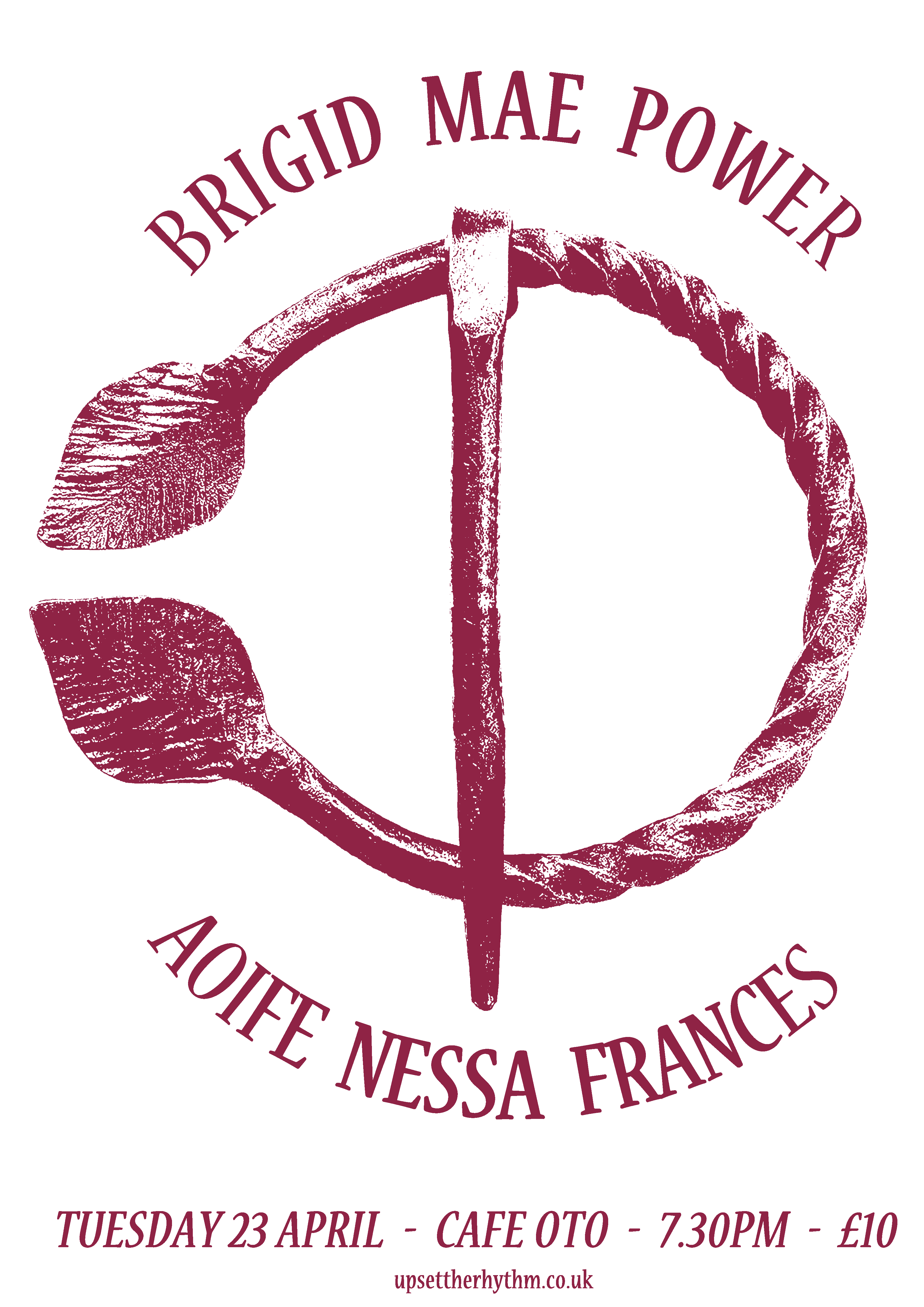 Upset The Rhythm presents…
BRIGID MAE POWER
AOIFE NESSA FRANCES
Tuesday 23 April
Cafe OTO, 18-22 Ashwin St, London, E8 3DL
7.30pm | £10 |
TICKETS
BRIGID MAE POWER is an Irish singer-songwriter and multi-instrumentalist who, like Judee Sill, Micky Newburyor Linda Perhacs before her, paints her songs in dreamily expansive strokes, transporting earthly compositions into universal and exultant realms. Her self-titled debut on Tompkins Square was a majestic suite of reverb-swathed laments for voice, guitar, piano, accordion, and harmonium, recorded at the Portland studio of key musical foil Peter Broderick. Themes include transformation, change, motherhood, acceptance, strength, courage and trust. In the words of Power, the album was about "trusting if you lose yourself or your way - you can come back". New album 'The Two Worlds' is another masterful collection of effortless, hypnotic folk, and an album that furthers the songwriter and multi-instrumentalist's already stellar reputation. Live, Brigid can encapsulate the timeless magic of her songs either solo or as a duo with Peter. Thus far she has toured throughout Ireland, UK and the US together with artists including Lee Ranaldo, Richard Dawson, Alasdair Roberts, Peter Broderick and Ryley Walker, with performances at Le Guess Who? and TUSK festivals along the way.
AOIFE NESSA FRANCES is a Dublin born musician and singer-song writer. She is inspired by the poetic styles of folk music and psychedelic rock.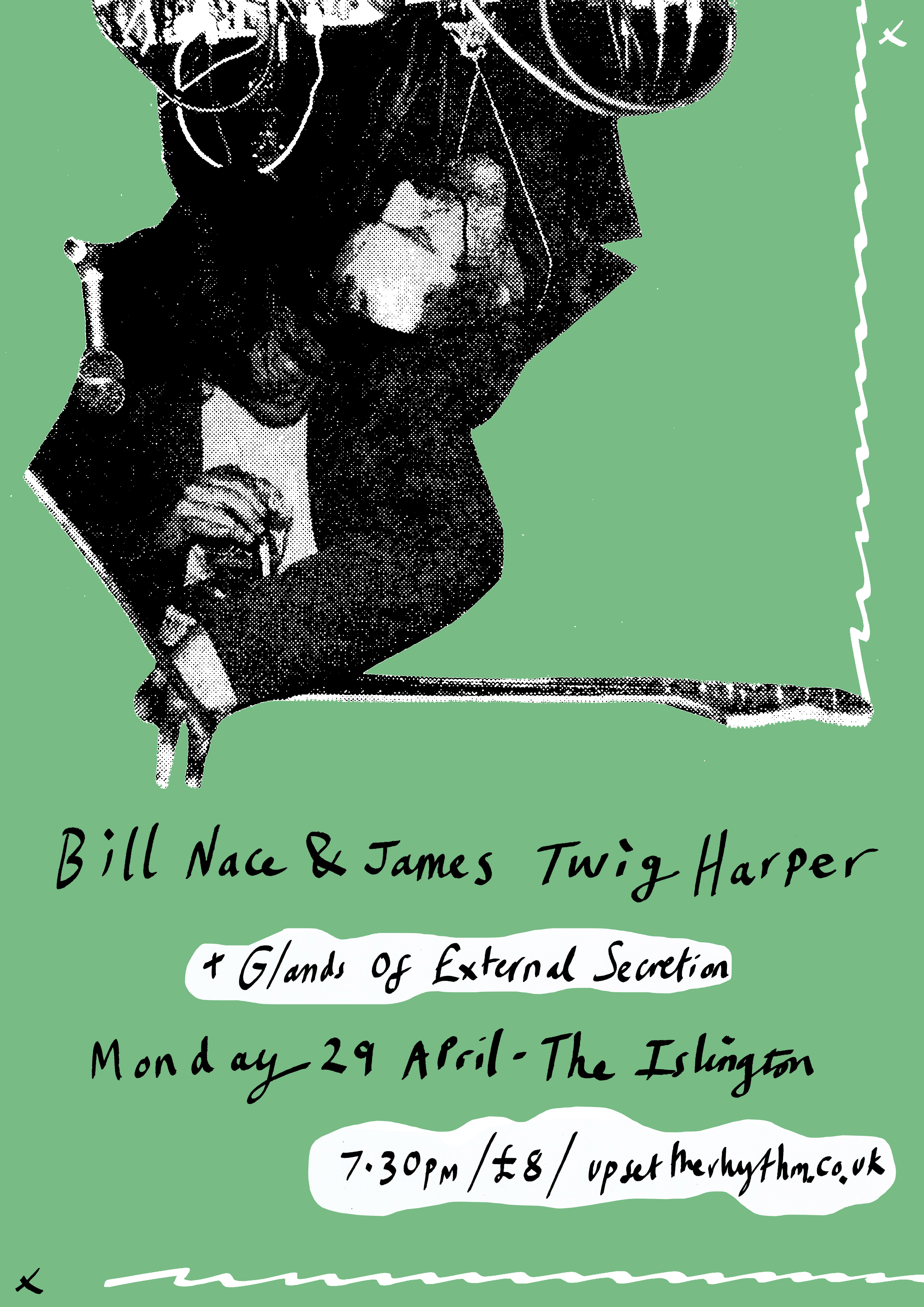 Upset The Rhythm & Colour Out Of Space presents…
BILL NACE & JAMES TWIG HARPER
GLANDS OF EXTERNAL SECRETION
Monday 29 April
The Islington, 1 Tolpuddle Street, Angel, London, N1 0XT
BILL NACE is an artist and musician based in Western Massachusetts. He has collaborated with an extraordinary range of musicians, including Michael Morley, Mats Gustafsson, Joe McPhee, Chris Corsano, Jooklo Duo, Chris Cooper, Samara Lubelski, Thurston Moore, Jake Meginsky, Jessica Rylan, Paul Flaherty, Wally Shoup, and Kim Gordon, with whom he regularly plays as one half of the duo Body/Head. Their critically acclaimed LP 'The Switch' was released on Matador last year. He has been a featured musician in festivals such as ATP (curated by Jim Jarmusch and held in Monticello, NY), Colour Out of Space (Brighton, UK), Supersonic Festival (Birmingham, UK), International Festival Musique Actuelle (Victoriaville, QC), and Homegrown (Boston, MA). Nace's range of guitar playing has been described as "veering from sculptural, almost Remko-Scha-esque chime to Loren Connors-style elegance in only a few short moves." Recordings found on Ecstatic Peace (Northampton, MA), Ultra Eczema (Belgium), Holidays (Italy), 8mm (Italy), Throne Heap (VA), HP Cycle (Toronto, ON), as well as on Nace's own label Open Mouth.
JAMES TWIG HARPER really pulls out real time-and-space bending tracks. Harper, perhaps best known for his collaborations with Nate Young in Nautical Almanac and alongside Daniel Higgs for Thrill Jockey, holds some genuine weirdness within. He has a distinctly unique fidelity and gyroscopic dynamic that makes for a deliciously disorienting experience all of his own conception. There's an animalistic or perhaps even plant-like bio-logic to its devolved, dubbed-out arcana, a grunting, scraping, grubbing ecological complexity of sounds that grows, twists and bifurcates at seemingly haphazard junctions to catalyse chain reactions of constant change and multiple layers of surreality. Sometimes Harper's music can enters passages which sound almost like a primitive take on Florian Hecker's plonging, rubbery computer music or Rashad Becker's perplexing notional folk music. Check out his releases on Open Mouth, Planam, Thrill Jockey and Heresee for the full tangle.
GLANDS OF EXTERNAL SECRETION began when Seymour Glass, inspired by J.D. Salinger's short story 'A Perfect Day for Bananafish', starts publishing the legendary Bananafish Zine in 1987, which for eighteen issues and up until 2004, constitutes a huge and ambitious attempt of presenting underground culture in its every form. Completely unknown experimental branchings, with a preference for the lo-fi, collage aesthetics, Glass's paranoid and absurd manner of writing and the whole structuring of the noise scene, with San Francisco as a starting point and every "tweaked" corner of the globe as a destination, found their home in Bananafish and their main representative in Seymour Glass. Glands of External Secretion began as Glass wanted to testify further via weird monuments of experimental and far-out studio improv, using a surreal collage of songs, sounds, Barbara Manning's vocals, voice samples, loops, out-of-context rhythms, field recordings, electronics, cut-up manipulated noises and anything else which is not considered music. The result is a twisted riot of sound bordering on audacity which the term 'extremely psychedelic' fails to completely encapsulate.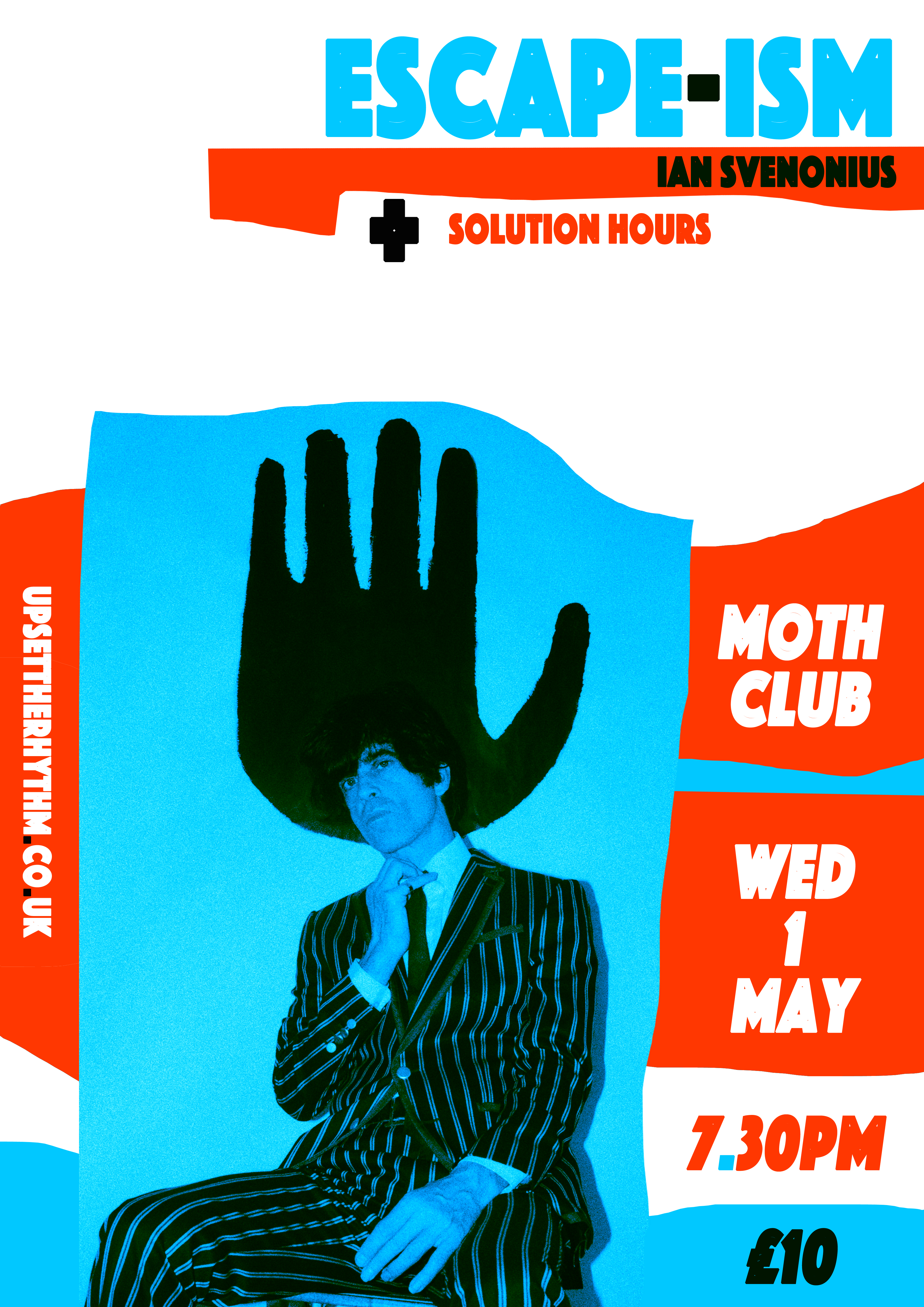 Upset The Rhythm presents…
ESCAPE-ISM
(Ian Svenonius)
SOLUTION HOURS
Wednesday 1 May
Moth Club, Old Trades Hall, Valette St, Hackney Central, E9 6NU
ESCAPE-ISM is the nom de guerre of mythic rock 'n' roll provocateur / theorist / revolutionary Ian Svenonius (performer, author, filmmaker, etc). Svenonius is known for his work in the music groups The Make-Up, Chain & The Gang, XYZ, Weird War and author of underground bestsellers such as The Psychic Soviet, Supernatural Strategies for Making a Rock 'n' Roll Group, and Censorship Now! Recognised by Performer Magazine as the "greatest performer on the planet", Svenonius is profound, prophetic, perverse, and poetic. His debut solo album an 'Introduction to Escape-ism' was released through Merge last year and teamed up a drum machine, guitar, cassette player, and a single voice singing out... for a way out. Svenonius' songs cry out for love, justice, redemption and insurrection, they stomp on convention and clobber notions of what music can be. Live, Escape-ism a new paradigm of performance: raw, gestural, idiotic, sublime, revolutionary, poetic, faux naif, unknowing, a drainage pipe that leads to who knows where.
'The Lost Record' is Escape-ism's new album on Merge and is already a classic, destined to bewitch the minds, hearts, and dancing shoes of any rock 'n' roll fan who happens to discover it, for as long as such creatures exist. Without the high-octane hype machine of the mind-control minstrels who hypnotize the hapless through the mass media, 'The Lost Record' is bound for inevitable obscurity, but-with its timeless tunes, poignant message, and innovative sound-rediscovery and immortal status is equally assured! Music enthusiasts will be thrilled to be the ones clever and kind enough to have rescued this platter from oblivion. This show follows on from last year's appearance at MOTH Club, Ian enjoyed it so much he's coming back this May!
SOLUTION HOURS
are a two-piece band from London, comprised of Charlotte (vocals, drums) and Andrew (guitar, ambience). With spoken word-inspired vocals, dynamic drumming and unique guitar tunings underscored by ambient soundscapes played from a tape machine, the band have devised a sound that defies the usual trappings that a two-piece face, drawing comparisons to Life Without Buildings and bands from the heyday of 90s emo and slowcore in turn. They self-released the double single 'Into the Sea / Pocket' in 2017 and the EP 'Try Again' in 2018.
https://solutionhours.bandcamp.com/
Thank you so much for spending your valued time with us, see you soon!
Upset The Rhythm
UPSET THE RHYTHM
UPCOMING SHOWS
BRIGID MAE POWER
AOIFE NESSA FRANCES
Tuesday 23rd April
Cafe OTO, 18-22 Ashwin St, London, E8 3DL
7.30pm | £10 |
TICKETS
BILL NACE & JAMES TWIG HARPER
GLANDS OF EXTERNAL SECRETION
Monday 29 April
The Islington, 1 Tolpuddle Street, Angel, London, N1 0XT
ESCAPE-ISM
(Ian Svenonius)
SOLUTION HOURS
Wednesday 1 May
Moth Club, Old Trades Hall, Valette St, Hackney Central, London, E9 6NU
CALVIN JOHNSON
THE CATENARY WIRES
ROSE MERCIE
Monday 6 May
HQI, The Rotunda, Wood Lane, White City Place, London, W12 7TP
(3 min walk from White City tube directly north up Wood Lane. Venue is behind the green gates)
THE ESSEX GREEN
TOM O.C WILSON
LOWELL THOMPSON
Friday 10 May
Redon, Railway Arches, 289 Cambridge Heath Rd, London, E2 9HA
HEN OGLEDD
(Sally Pilkington, Dawn Bothwell, Richard Dawson, Rhodri Davies)
RAP (Jolly Discs)

Tuesday 14 May
Bush Hall, 310 Uxbridge Rd, Shepherd's Bush, London, W12 7LJ
7.30pm | £14 |
TICKETS
PRIESTS
APOSTILLE
HYGIENE
Thursday 16 May
100 Club, Oxford Street, London, W1D 1LL
HYGIENE
WORMS
CHILD'S POSE
CHUBBY CHARLES
STATIC SHOCK DISCO (from 11pm-1am)
Friday 24 May
The Stag's Head, 55 Orsman Rd, London, N1 5RA
8pm | £5 on the door!
ANA DA SILVA & PHEW
TARANTULA
Monday 27 May
St Pancras Old Church, Pancras Road, King's Cross, London, NW1 1UL
7.30pm | £10 |
TICKETS
LANKUM
BRIGHDE CHAIMBEUL (May 28)
ANDY THE DOORBUM (May 29)
Tuesday 28 May & Wednesday 29 May
In association with Cafe OTO, 18-22 Ashwin St, London, E8 3DL
7.30pm | £16.50 each day, £30 two-day pass |
TICKETS
CHRIS COHEN
THE JELAS
Wednesday 29 May
MOTH Club, Old Trades Hall, Valette Street, London, E8 1EL
7.30pm | £9 |
TICKETS
BILGE PUMP
WITCHING WAVES
Friday 31 May
The Islington, 1 Tolpuddle St, Angel, London, N1 0XT
SACRED PAWS

Thursday 13 June
Redon, Railway Arches, 289 Cambridge Heath Rd, London, E2 9HA
7.30pm | £8.50 |
TICKETS
ELF POWER
Wednesday 19 June
OSLO, 1a Amhurst Road, Hackney Central, E8 1LL
7.30pm | £12.50 |
TICKETS
CONSTANT MONGREL
Saturday 22 June
New River Studios
199 Eade Rd, Harringay Warehouse District, London, N4 1DN
7.30pm | £7 |
TICKETS
NORMIL HAWAIIANS
RATTLE
ERASERS
Thursday 11 July
Cafe OTO, 18-22 Ashwin St, London, E8 3DL
7.30pm | £7 |
TICKETS

DANIEL HIGGS
ETERNAL BROADCAST
Wednesday 17 July
HQI, The Rotunda, Wood Lane, White City Place, London, W12 7TP
(3 min walk from White City tube directly north up Wood Lane. Venue is behind the green gates)
7.30pm | £10 |
TICKETS
ADVANCE BASE
ALICE HUBBLE
Monday 22 July
Redon, Railway Arches, 289 Cambridge Heath Rd, London, E2 9HA
7.30pm | £12 |
TICKETS
TIM PRESLEY'S WHITE FENCE
ROBERT SOTELO
Wednesday 21 August
OSLO, 1a Amhurst Road, Hackney Central, London, E8 1LL
DEERHOOF
Monday 2 September
EartH, 11-17 Stoke Newington Rd, Dalston, London, N16 8BH
7.30pm | £15 |
TICKETS