Morning everyone!

We're appearing in a cloud of smoke this morning heralding three upcoming London shows. Here's a quick reminder for you. Tomorrow at Moth Club we have the breezy, cosmic country punk of Gun Outfit, the questing avant-folk of Dead Rat Orchestra and the acoustic reverie of Calming River all lining up for your entertainment. This show is in full ascendance, read on for a thorough description of all that promise.
Then this Saturday, Trouble In Mind's Greg Ashley, well known for his work with blazing psych outfit The Gris Gris, will be treating us to a suite of his self-deprecating solo work. Greg's honest, personal lyrics and stunningly bold delivery are often cited as chief credits, but there's also a perfectly pitched poetic insularity that runs through his songs, all in all it'll be super impressive.

We're really pleased to have Mass Datura building up a dizzy tower of progged-out space pop at this event at The Islington too.
Lastly, you'll also find below the full listing for next weeks' Chain And The Gang show at Oslo, Hackney. With Chain And The Gang, Ian Svenonius has sharpened his ascerbic persona, allowing the minimalist groove and retro-fitted experimentalism to whip to a frenzy. Simply put, Chain And The Gang are a phenomenon live, a revelation, an outpouring!

Support for this show, one week today, takes shape in the polemic majesty of Milky Wimpshake in solo mode too. So much to look forward to, let's leave you with the words…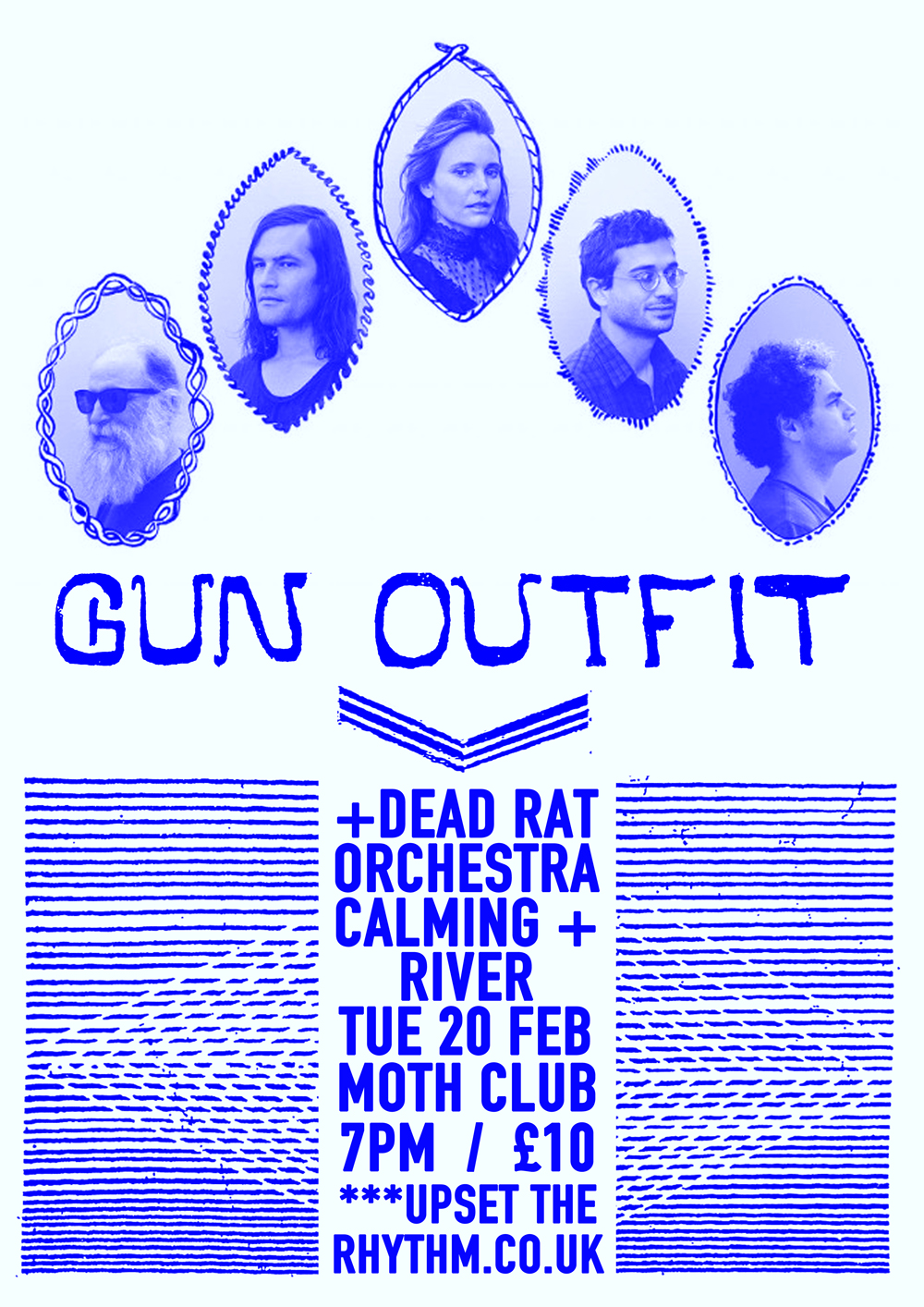 Upset The Rhythm presents…
GUN OUTFIT
DEAD RAT ORCHESTRA
CALMING RIVER
Tuesday 20 February
Moth Club, Old Trades Hall, Valette St, Hackney Central, E9 6NU
7.30pm | £10 |
TICKETS
GUN OUTFIT's
enveloping 'Western Expanse' aesthetic of guitar levitations and honky-tonk hexes are like the stones eroded by years in the arroyo, they've become gradually smoother over time. Their fifth LP (Out of Range on Paradise of Bachelors) ranks as their most brutally beautiful statement yet. Drawing from mythologies both classical and postmodern, Out of Range builds a world in which Brueghel, St. Augustine, and the goddess Cybele ride with John Ford, Samuel Beckett, and Wallace Stevens on a Orphic-Gnostic suicide drive towards the hallucinatory vanishing points of the Southwestern desert, debating the denouement of the decaying American dream.
https://gunoutfit.bandcamp.com/
DEAD RAT ORCHESTRA
see themselves as adrift in a sea of sound and possibility, plucking textures and melodies to craft their idiosyncratic vision of what music can be. Raw, elemental and poignant with a love of idiosyncratic folk traditions and antiquated technology. Their performances have featured flailing axes, salt and sawdust, throbbing harmonium, grinding fiddle and 2000 shards of micro-tuned steel cast to the floor in cascading, shimmering joy.
http://www.deadratorchestra.co.uk/
CALMING RIVER
is the pseudonym of songwriter Joshua Malcolm, who has recently relocated from Denmark back to his native Britain. The name Calming River may conjure tranquility but there has always been a latent, opposing flow of tension and strife to be found—a fragility that emanates within delicate and darkened confines. Joshua has so far released two singles last year to critical acclaim and will be releasing more material in the coming months.
https://soundcloud.com/calming-river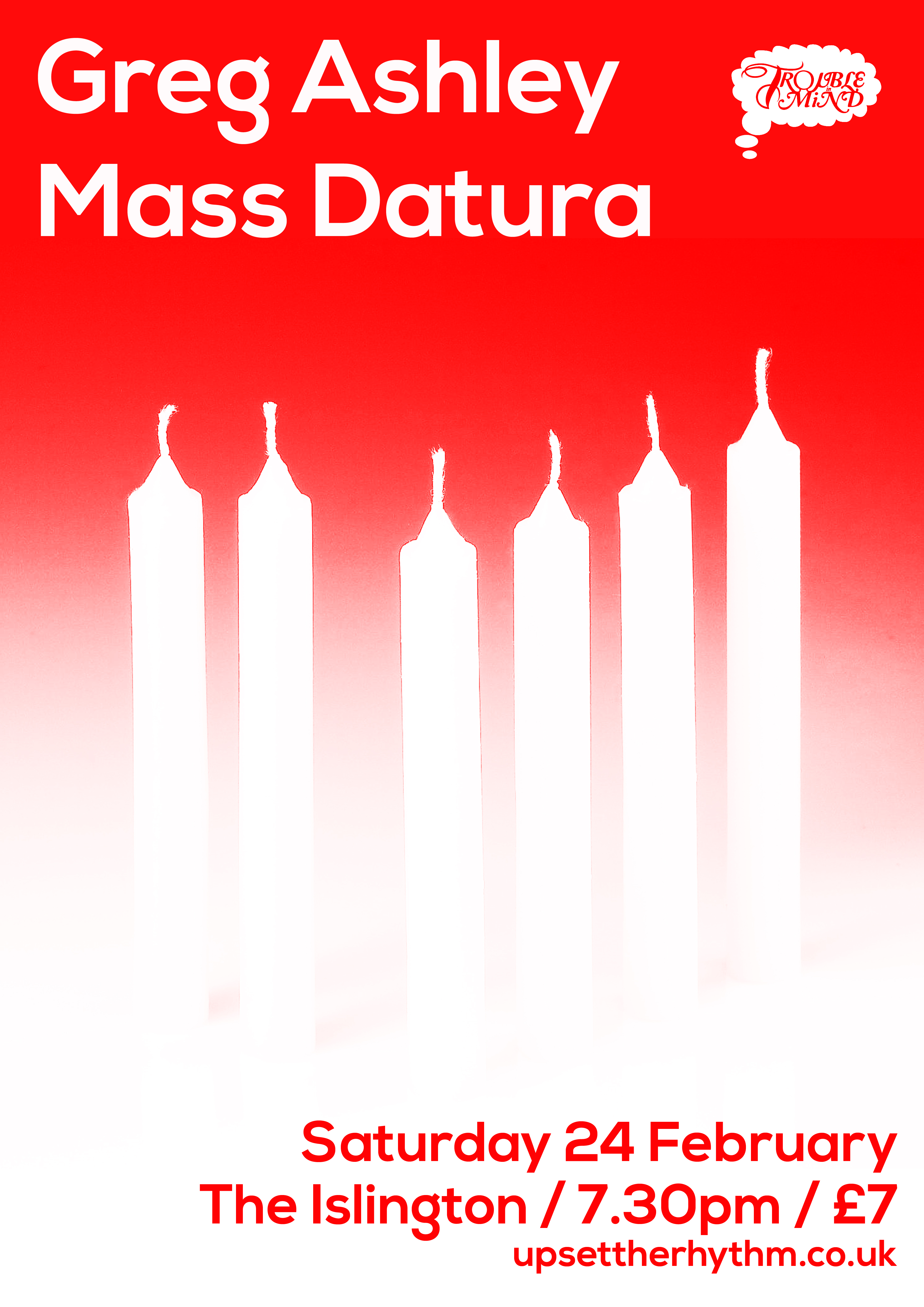 Upset The Rhythm presents…
GREG ASHLEY
MASS DATURA
Saturday 24 February
The Islington, 1 Tolpuddle St, Angel, London, N1 0XT
GREG ASHLEY has been a fixture on the underground music scene since the late Nineties while strafing eardrums as a teenager in Houston in garage- punk band The Strate-Coats. Since then he's proven himself not only as a songwriter, singer and guitar player in bands like The Mirrors & The Gris-Gris, but also as a producer/sound engineer via his Oakland-based Creamery Studio. His career as a solo artist is vast and varied, spanning the gamut between fried-n-beautiful psychedelia, gorgeous & cathartic symphonic suites and gentle, damaged folk music, beginning with 2003's debut and last leaving us with 2017's 'Pictures of Saint Paul Street' (Trouble In Mind). This recent record carries forward Ashley's musical palette (a rootsy amalgam of tortured, Cohen-esque folk tinged with the beer soaked recklessness of a West Texas honky-tonk). The songs on 'Pictures of Saint Paul Street' are lush & beautiful autopsies of society's underbelly, with stark and brutally honest ruminations on humanity. Songs like "A Sea of Suckers" & "Pursue The Nightlife" pull no punches, while "Jailbirds & Vagabonds" and "Blues For A Pecan Tree" carouse on a more abstract, human (almost romantic) level. The protagonist in many of Ashley's songs may be Ashley himself - a true artist willing to admit he's nowhere near perfect, and honest enough to document his sunrises & sunsets no matter if they occur in his own backyard, or on a barroom floor.
https://gregashley.bandcamp.com/
MASS DATURA
have spent the last three years earning a well-deserved reputation for their mesmerising, raw and unpredictable live performances. Mass Datura was initially formed by singer, writer and artist Thomas Rowe (with best friend Joseph Colkett), as an outlet to channel his own strange childhood experiences. Born and raised in the rural ghettos of Western Canada, frontman Rowe discovered at an early age what a powerful form of escapism music could be for him. Landing as an alien in London eight years ago, Rowe gathered a group of like-minded East London misfits around him and from this, Mass Datura formed. Mass Datura take their name from 16th century occult mythology, the Datura flower when ingested was said to give you the ability to levitate, flying through bleak night skies around the world snatching up little children. The band's debut album was released last year alongside a performance at Liverpool Psych Fest. Mass Datura have managed to support some very exciting bands around the country including L.A. Witch, The Black Angels, A Place to Bury Strangers, Holy Drug Couple, Dark Horses and Black Mountain.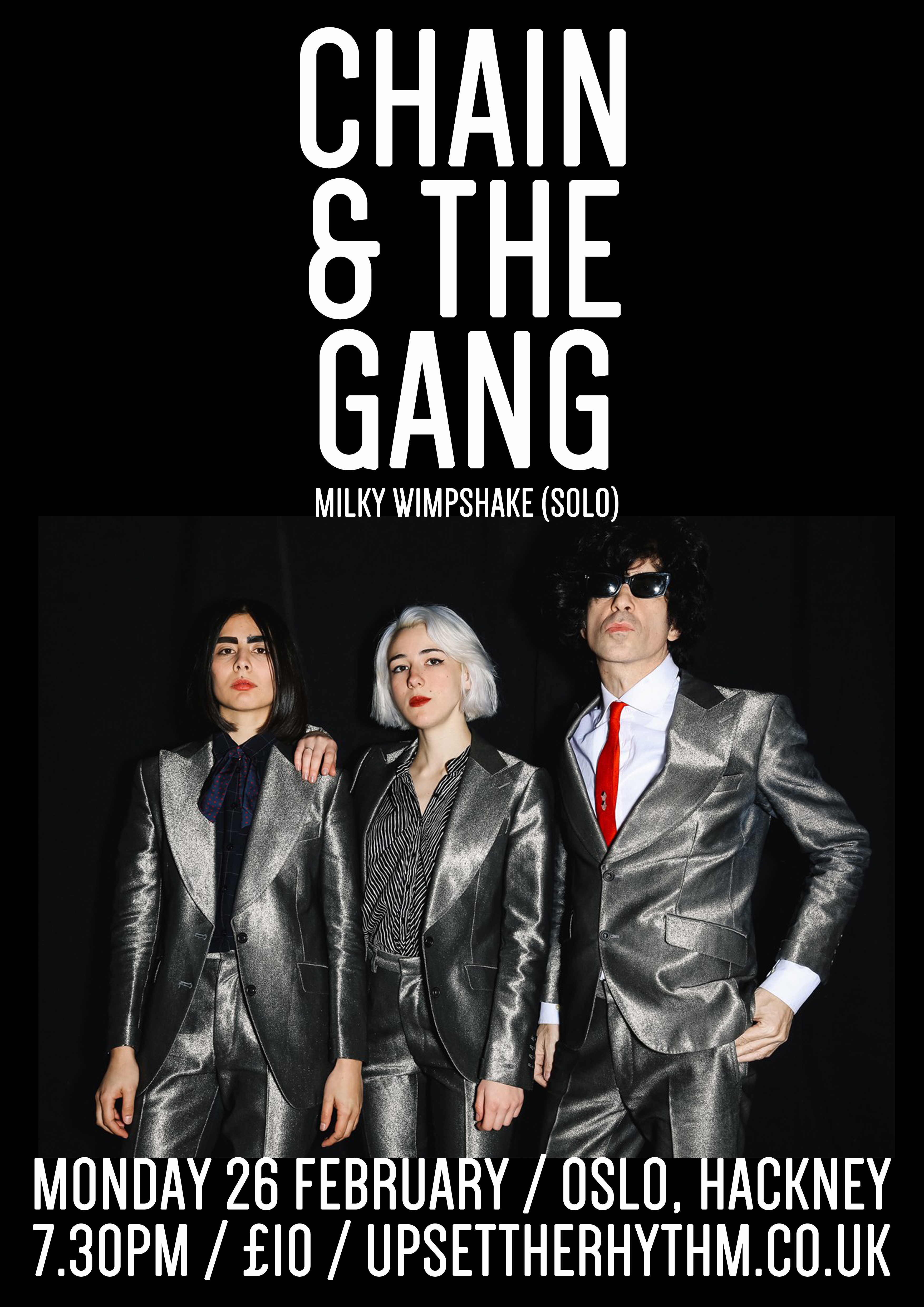 Upset The Rhythm presents…
CHAIN AND THE GANG
MILKY WIMPSHAKE (SOLO)
Monday 26 February
OSLO, 1a Amhurst Road, Hackney, E8 1LL
CHAIN AND THE GANG are a dynamic and irresistible live combo that pens provocative, unforgettable odes to obedience and total destruction. They are led by the remarkable Ian Svenonius; the prime mover behind two of the most essential bands of our time, Nation Of Ulysses and The Make-Up, and author of several books, including The Psychic Soviet and Supernatural Strategies for Making a Rock 'n' Roll Group. Ian is also an online talk show host and auteur filmmaker. Chain And The Gang deal in a radical rock n roll that updates rock, blues, and gospel music or vocal quartets from the late 50s /early 60s for the discerning few. After nodding off to the washed-out zzzounds of the latest five-star folly critic's catastrophe, Chain & the Gang decided to respond with their patented perversity; they reached to the farther corner of the lab and came up with an immortal classic in the hard-to-hear genre of 'EXPERIMENTAL MUSIC'. Its a foot-tapping, head scratching, torso tornado that will crinkle the connossieur's temple in a tantrum of cerebral delight. 'EXPERIMENTAL MUSIC' is due for release through Radical Elite Record soon.
https://chainandthegang.bandcamp.com/
MILKY WIMPSHAKE
are a passionate punk band from Newcastle Upon Tyne. The band formed in the early 1990s as part of the Slampt Underground organisation, a label and arts umbrella that supported many of the best UK DIY acts including The Yummy Fur, Pussycat Trash, Red Monkey and personal favourites Bette Davis & The Balconettes. Milky Wimpshake play love songs for punk rockers, protest tunes, covers of Northern Soul classics, and some new classics of their own. Characterised by Pete Dale's wry lyrics and playful, direct guitar riffs, Milky Wimpshake are true stalwarts and legends of the underground and have recorded several 'personal vs political' albums in recent times for the mighty Fortuna Pop imprint. This show sees Pete Dale fly solo, performing his own favourite Wimpshake songs for this select audience on guitar and vocal.
Thanks for your time and consideration!
Upset The Rhythm
UPSET THE RHYTHM
UPCOMING SHOWS
GUN OUTFIT
DEAD RAT ORCHESTRA
CALMING RIVER
Tuesday 20 February
Moth Club, Old Trades Hall, Valette St, Hackney Central, London, E9 6NU
7.30pm | £10 |
TICKETS
GREG ASHLEY
MASS DATURA
Saturday 24 February
The Islington, 1 Tolpuddle St, Angel, London, N1 0XT
CHAIN AND THE GANG
MILKY WIMPSHAKE (SOLO)
Monday 26 February
OSLO, 1a Amhurst Road, Hackney, London, E8 1LL
KA BAIRD
DIANA POLICARPO / JEJUNO
HACK MYSTIC
Tuesday 6 March
The Lexington, 96-98 Pentonville Rd, Angel, London, N1 9JB
7.30pm | £7 |
TICKETS
SHANNON LAY
Wednesday 7 March
The Islington, 1 Tolpuddle St, Angel, London, N1 0XT
ALAN LICHT
JAMES SEDWARDS
Sunday 11 March
The Islington, 1 Tolpuddle St, Angel, London, N1 0XT
BILL ORCUTT & CHRIS CORSANO:
* DUO PERFORMANCE
RATTLE
Saturday 17 March
The Lexington, 96-98 Pentonville Rd, Angel, London, N1 9JB
* SOLO PERFORMANCES
Sunday 18 March
The Islington, 1 Tolpuddle St, Angel, London, N1 0XT
BRIGID MAE POWER
DANIEL O'SULLIVAN
Tuesday 27 March
Servant Jazz Quarters, 10A Bradbury Street, Dalston, London N16 8JN
JOSHUA ABRAMS - NATURAL INFORMATION SOCIETY
Monday 2 April
OSLO, 1a Amhurst Road, Hackney, London, E8 1LL
NO AGE
MIAUX
VITAL IDLES
Wednesday 4 April
Bethnal Green Working Men's Club, 44 Pollard Row, London, E2 6NB
JAMIE STEWART (Xiu Xiu)
ERIC CHENAUX
Monday 9 April
The Lexington, 96-98 Pentonville Rd, Angel, London, N1 9JB
ED SCHRADER'S MUSIC BEAT
Monday 7 May
Moth Club, Old Trades Hall, Valette St, Hackney Central, London, E9 6NU
NAP EYES

Tuesday 8 May
OSLO, 1a Amhurst Road, Hackney, London, E8 1LL
7.30pm | £10 |
TICKETS
MATANA ROBERTS & KELLY-JAYNE JONES
Wednesday 9 May
Ghost Notes, Peckham Levels, 95A Rye Lane, Peckham, London, SE15 4ST
PROTOMARTYR
ANA DA SILVA
RATTLE
Thursday 10 May
Scala, 275 Pentonville Road, King´s Cross, London, N1 9NL