Morning everyone!

What a brilliant day, flecked with snow and ice and sharp winter light. Thirty-five years ago Normil Hawaiians released their debut album 'More Wealth Than Money', today we're thrilled to re-release this stunning album so it can stride out into its unique field of sound again.

'More Wealth Than Money' takes the listener on a quest over its four sides of vinyl as the group's communal take on post punk starts sprouting leaves from its mouth, beginning to carve out a new furrow of dark psychedelia, industrial folk and a peculiarly British kosmische.
Alongside the re-mastered original double-album, our new re-issue includes a further full-length collection of demos and unreleased tracks from the album's overlooked corners.
Tape loops, echo boxes, extended percussive sessions and duteous faith in the tones emanating from a particular old wah-wah pedal were all employed by Normil Hawaiians to stretch their sonic fabric into wild and redolent new dimensions for this record. As a result 'More Wealth Than Money' still feels truly expansive, brave, cinematic even as it documents the band's travels into a plaintive pastoralism awash with waking dreams.

'More Wealth Than Money' sings anew today, getting its first proper UK release ever. Both the 2xCD and DLP versions come with a booklet contextualizing the release, full of anecdotes and photos from all band members. It is truly a thing of beauty! Available in all good record shops as of now, or if you prefer our

webshop here

.

We'll also be selling copies of 'More Wealth Than Money' at the Café OTO Xmas Fair this Sunday too. We'll be proffering many potential Xmas presents in the form of records, cds, t-shirts etc from noon through to 5pm.

Lots of our favourite labels and imprints will be there too including Skire, Golden Lab, Chocolate Monk, Penultimate Press, Where to Now?, Strange Attractor, Kye, Ecstatic Peace Library, Fitzcarraldo Editions and Treader. Please stop by, listen to something new, share a mulled beverage with us and say hello!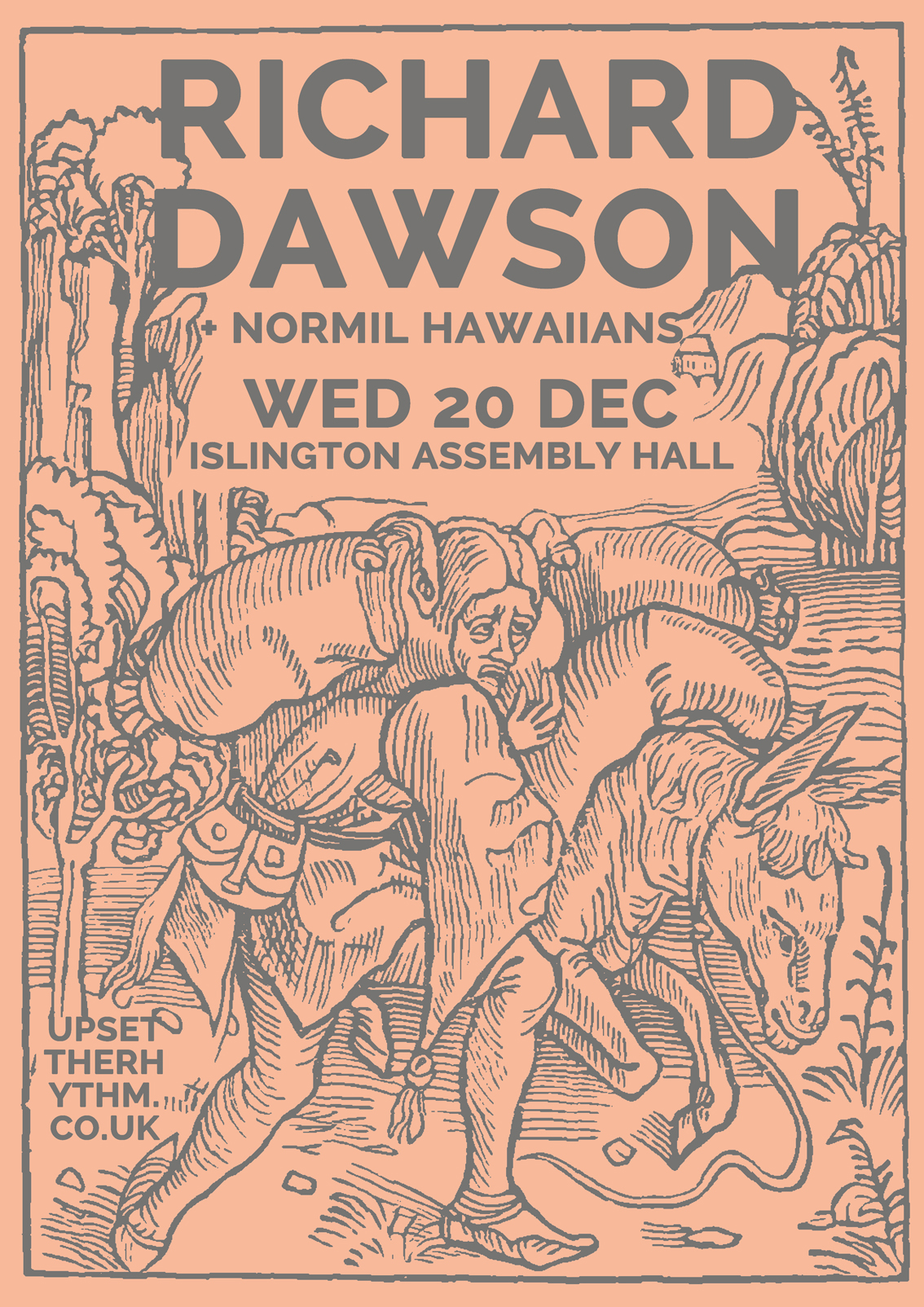 Upset The Rhythm presents…
RICHARD DAWSON
NORMIL HAWAIIANS
Wednesday 20 December
Islington Assembly Hall, Upper Street, Islington, London, N1 2UD
7pm | £15 |
TICKETS
RICHARD DAWSON can never been accused by listeners of a lack of artistic ambition. Whether they got on at the last stop - the 4 track Tyneside-Trout-Mask-through a-Vic and Bob-filter of 'Nothing Important' - or earlier in the journey, with 'The Glass Trunk's visceral song cycle or 'The Magic Bridge's sombre revels. Devotees of his earlier recordings will be at once intrigued by and slightly fearful of the prospect of a record that could make those three landmark releases look like formative work. 'Peasant' is that album, released on June 2nd through Weird World / Domino. From its first beguilingly muted fanfare to its spectacular climax exploring a Dark Ages masseuse's dangerous fascination with a mysterious artefact called the Pin of Quib, it will grab newcomers to Dawson's work by the scruff of the neck and refuse to let them go until they have signed a pledge of life-long allegiance.
Driven forward by exhilarating guitar flurries, Qawwali handclaps and bursts of choral ferocity, 'Peasant's eleven tracks sustain a momentum worthy of the lyrics' urgent subject matter. Dawson describes the themes of these songs as "Families struggling, families being broken up by circumstance, and - how do you keep it together? In the face of all of these horrors that life, or some system of life, is throwing at you?" The fact that these meticulously wrought narratives all unfold in the pre-mediaeval North Eastern kingdom of Bryneich - "any time from about 450AD to 780AD, after the withdrawal of the Roman Empire"- only makes their contemporary relevance more enduring.
Dawson's objective was to create "A panorama of a society which is at odds with itself and has great sickness in it, and perhaps doesn't take responsibility - blame going in all the wrong directions". But encountering 'Peasant's captivating sequence of occupational archetypes ('Herald', 'Ogre', 'Weaver', 'Scientist'), listeners might find themselves wondering if these multitudes could somehow be contained with one person. Dawson has already supported the release of 'Peasant' with a full UK tour - his first featuring a full live band. After wowing audiences at St John On Bethnal Green this June, it's a pleasure to welcome Richard back for an Xmas show with live band to play the esteemed Islington Assembly Hall.
NORMIL HAWAIIANS communal take on post punk sprouted leaves from its mouth in 1982, and began carving out a new furrow. Greater emphasis was awarded to improvisation within the group and as a result their songs embarked on longer, freer journeys towards the beaten bounds. They wanted these new songs to bear the weight of their new collective spirit so comfort zones had to be left behind. Tape loops, echo boxes, extended percussive sessions and duteous faith in the tones emanating from a particular old wah-wah pedal were all employed by Normil Hawaiians to stretch their sonic fabric into wild and redolent new dimensions.
At this very moment the group existed solely for the music, living together in a small cottage in the shadow of Foel Studios in the Welsh hills, sharing everything together and working long days to nurture and then burnish the music they had discovered between them. This is how the band's debut album 'More Wealth Than Money' was formed, through trial and close listening, through cultivation and patient growth. Of course there were significant amounts of mushrooms involved too and several UFO sightings, but when the sheep began to march in time to the music Normil Hawaiians knew they were creating something unique. 'More Wealth Than Money' will be re-issued lavishly on double LP this December through Upset The Rhythm, they are celebrating this release by performing t this special Xmas show at Islington Assembly Hall too.
Have a fantastic weekend, thanks for reading!
Upset The Rhythm
UPSET THE RHYTHM
UPCOMING SHOWS
RICHARD DAWSON
NORMIL HAWAIIANS
Wednesday 20 December
Islington Assembly Hall, Upper Street, Islington, London, N1 2UD
7pm | £15 |
TICKETS
MOOR MOTHER
NO HOME
Wednesday 10 January
The Islington, 1 Tolpuddle St, Angel, London, N1 0XT
DAVID NANCE
Monday 5 February
The Islington, 1 Tolpuddle St, Angel, London, N1 0XT
SHOPPING
Tuesday 6 February
Moth Club, Old Trades Hall, Valette St, Hackney Central, London, E9 6NU
GUN OUTFIT
Tuesday 20 February
Moth Club, Old Trades Hall, Valette St, Hackney Central, London, E9 6NU
7.30pm | £10 |
TICKETS
CHAIN AND THE GANG
Monday 26 February
OSLO, 1a Amhurst Road, Hackney, London, E8 1LL
PROTOMARTYR
Thursday 10 May
Scala, 275 Pentonville Road, King´s Cross, London, N1 9NL