Morning world!

Thanks to everyone for coming out to see Carla dal Forno this week, it was brilliant to see you all there! We're not finished with the week though, as tonight we're heading to New River Studios and teaming up with Incredible Society for a vital evening in the company of cosmic pop melodist

Robert Sotelo

and his live band! Touring in support of his new album on Upset The Rhythm entitled 'Infinite Sprawling' Sotelo will be getting his sprawl on with

Barry

and

Life Drawings

in support also, now that's what I call a Friday night! Tickets available on the door from 7.30pm, live music starting around 8.15pm, see you in a few.
You can read all about tonight's party below along with the full write-up for next Friday's mind-expanding Moth Club concert courtesy of Thor & Friends. Thor Harris is a force of nature; a musician, painter, writer, plumber, carpenter (he built his own house) and of course the percussionist in Swans from 2010 to 2016. Harris has also performed with Xiu Xiu, Shearwater, Bill Callahan, Ben Frost, and many others. With Thor & Friends he's put together an avant-chamber ensemble focused on minimalism and a sumptuous exploration of percussive, phasing melody, i.e. next level wonder!

Word-roping new faces Marcel Wave and Simon Goff will both play this show too, see you very much down the front.
We also detail below our last show of the year: Nov 26th's Islington knees-up with The Gotobeds, Hygiene and The Tubs, talk about going out with a bang!

Please note our Richard Dawson and Lankum shows next week are both now 100% sold out, apols if you missed out on tickets. We have however just added a new event entitled 'Delight is Right' for Richard Dawson next March at The Barbican, so be sure to check out our listings section for the ticket link, flying out the door already FYI.

One last show to holler in your direction about, this Saturday our good friends

Red River Dialect

have an evening planned at Servant Jazz Quarters that's well worth your attendance. If experimental free-form folk ticks the boxes you'll find more info

hither

.
OK, let's soundtrack your weekend too! Hot from their UK tour Bamboo release a brand new digital single through Upset The Rhythm today. Their new single 'Daughters Of The Sky' astounds with its affecting synth-pop swirl.

The title track from their recent album on UTR, this single is accompanied by a earth-shifting Emma Gatrill remix and exclusive live track too, available to listen to on all

digital platforms

now, check it out, volume up!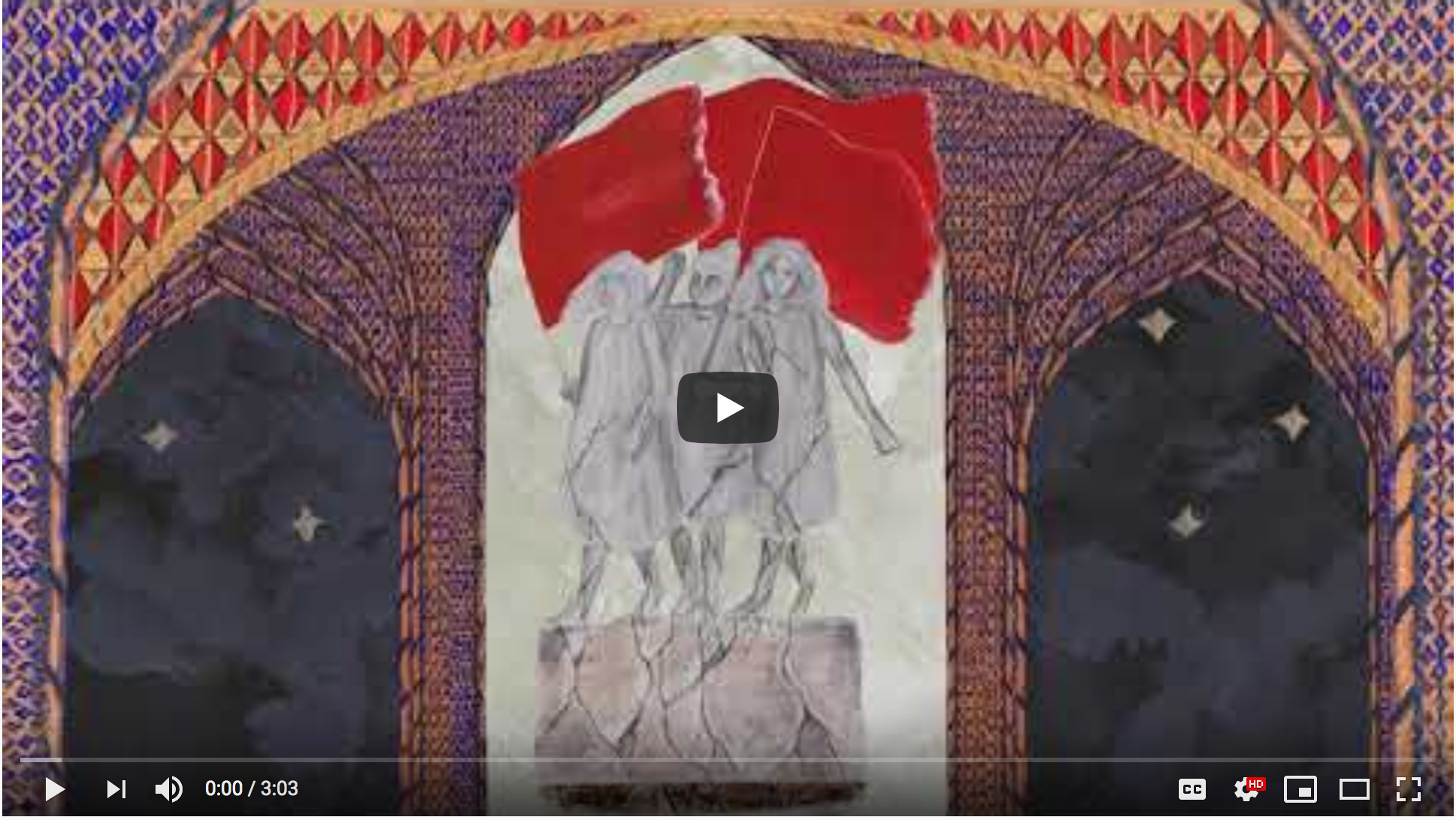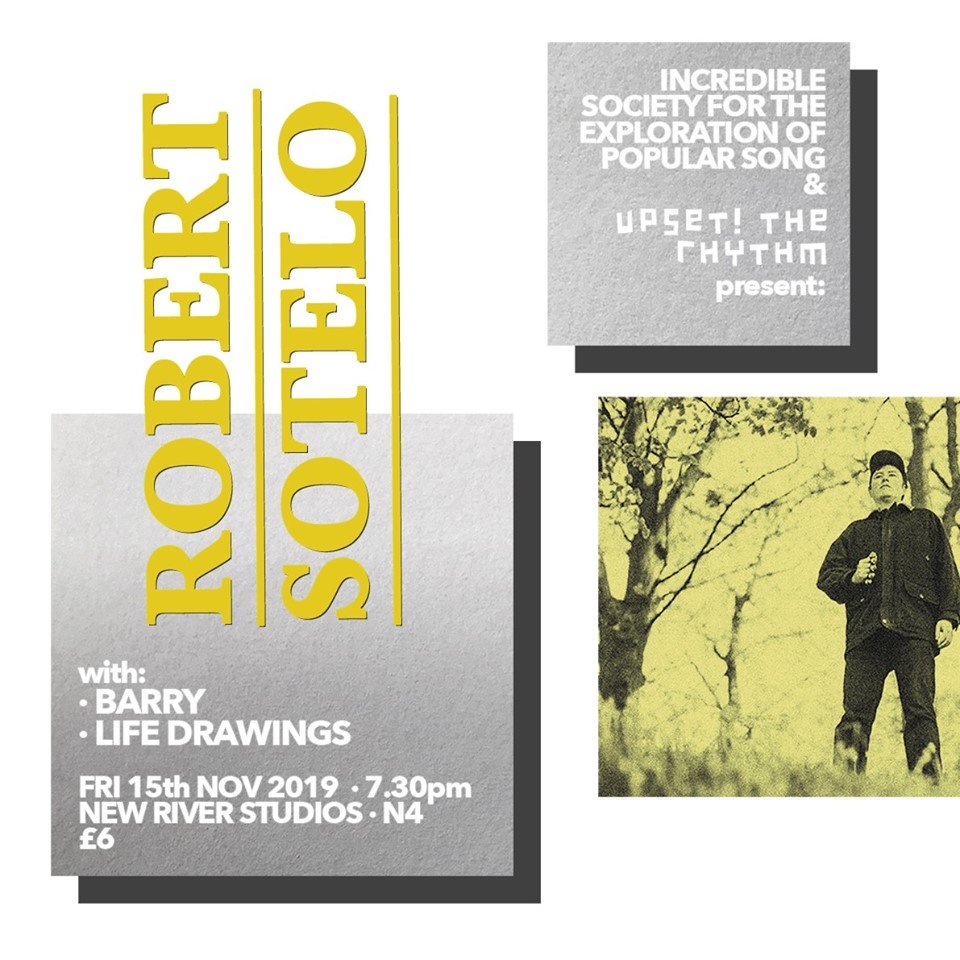 Upset The Rhythm & Incredible Society present…
ROBERT SOTELO
BARRY
LIFE DRAWINGS
New River Studios, 199 Eade Rd, Harringay, London N4 1DN
Friday 15 November
ROBERT SOTELO is a cosmic pop melodist; a heartfelt multi-instrumentalist whose direct songs are curiously affecting. His debut album 'Cusp' from 2017 was packed with miniature psych overtures and earnest musings, he then followed this up in 2018 with an album called 'Botanical', more keyboard-minded and playful with its near-absurdist palette of sound and reflective mood. This September Upset The Rhythm released Sotelo's third album 'Infinite Sprawling', his first record since relocating from London to Glasgow and partly inspired by his new city's inclusive and collaborative musical world. Recorded with Ruari MacLean (of Vital Idles, Golden Grrrls) and Edwin Stevens (Irma Vep, Yerba Mansa) at their home studio Namaste Sound, 'Infinite Sprawling' grew out of Sotelo's sketchbook of skeletal songs, with MacLean and Stevens developing their own drum, guitar and keyboard parts. These songs pulled together like a wakeful stretch on a Sunday morning, flowering with a lightness of touch, sounding both carefree and brisk.
BARRY are South London's quintessential queer guitar pop band and they are here to make you dance your socks off. Members Bart, Helen, Kathy and Mark made the leap from spectators to creators in mid 2018, as an extension of their life long collective obsessions with music. Inspired by a similarly named antipodean band, Barry take a multi vocal approach to classic jangle pop and make it their own with tales of public urination, gentrification and not giving up! Delve into the world of four gay 'grown ups' living in a city that's becoming increasingly difficult to inhabit freely. Tape out on Permanent Slump now!
LIFE DRAWINGS are an un-googleable band of tip-top punks using lo-fi vocals, low key guitars, catchy bass bits, cheap keyboards, drums and advanced admin for songs almost exclusively inspired by Country Teasers and The Fall.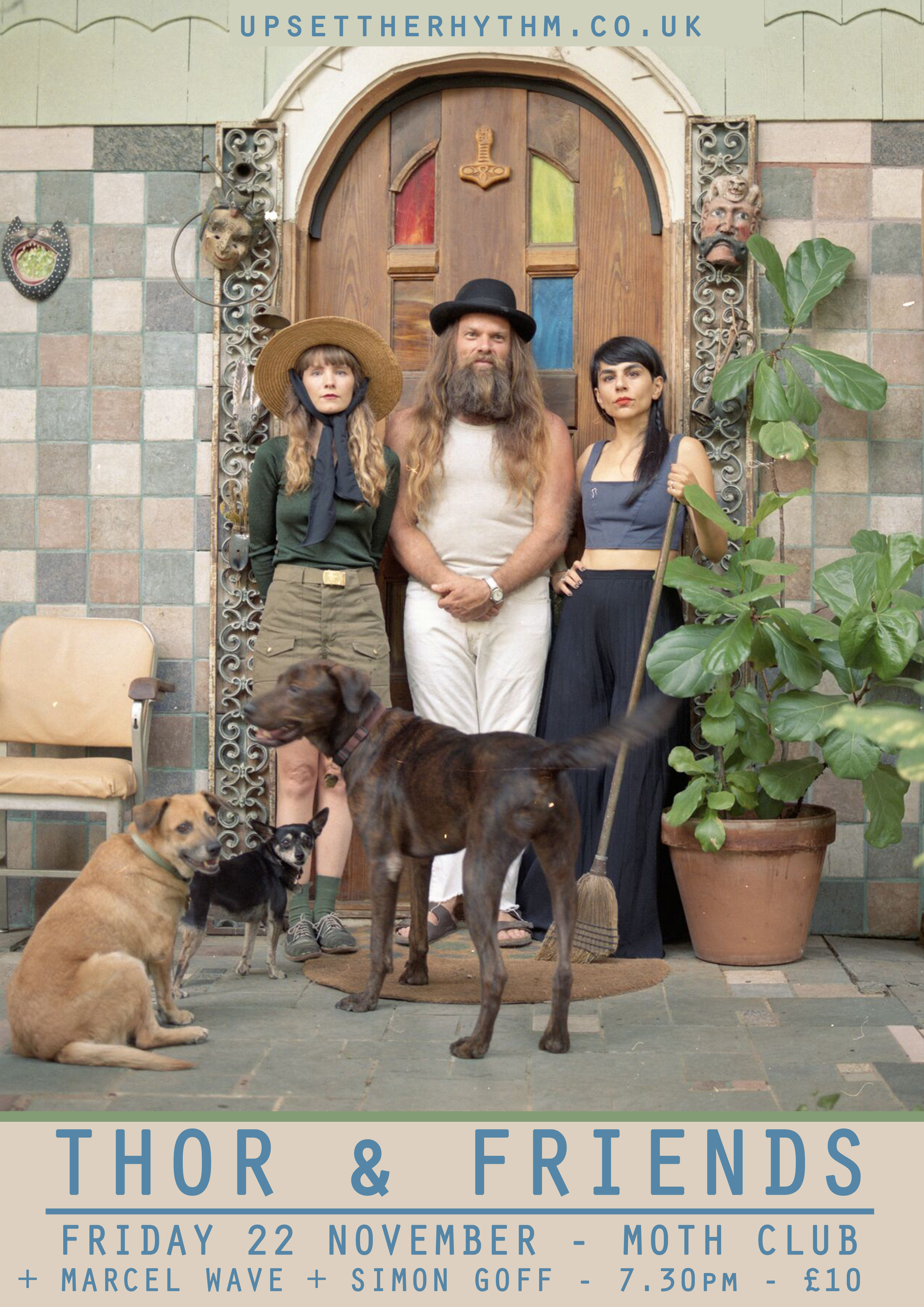 Upset The Rhythm presents…
THOR & FRIENDS
MARCEL WAVE
SIMON GOFF
Friday 22 November
Moth Club, Old Trades Hall, Valette St, Hackney Central, E9 6NU
7.30pm | £10 |
TICKETS
THOR & FRIENDS
are an avant-chamber ensemble formed by polymath percussionist and all-round force of nature Thor Harris, following his tenure as a touring member of monolithic rock ensemble Swans. The project is intended as a vehicle for experimentation, with the conceptual vocabulary of American Minimalism explored and expanded on by a rotating cast of musicians from around the globe. The resultant music is an elongated greeting and ode to Thor's community, his woodworking shop, and the instruments his hands shape and bring to life. From the core trio of Harris (sundry percussion and wind instruments including some of his own devising), Peggy Ghorbani (marimba) and Sarah "Goat" Gautier (marimba, vibraphone, xylophone, organ, voice, mellotron, piano), the line-up of Thor & Friends expands and contracts with the flux of compositional and improvisational contexts. The range of tonal color depends on what instrumentalists are present or absent from the process at any given time.
Thor has been announced as the artist-in-residence for Joyful Noise Recordings in 2019. Throughout the year he will release 6 records via the label, including the third full Thor & Friends album in Autumn as well as collaborative material with artists including Bill Callahan, Margaret Chardiet (Pharmakon), Lawrence English and many more. A limited run of 666 boxsets, handcrafted by Thor and containing coloured vinyl editions of all the releases, will then be released at the end of the year.
http://www.thorharris.org/
MARCEL WAVE
write eulogies for tragic actresses, ancient riverbeds and concrete obscenity. Meades meets Pat-E-Smith meets Kirklees Borough Council. Featuring members of Cold Pumas and Sauna Youth.
https://marcel-wave.bandcamp.com/releases
SIMON GOFF
is a musician working in the fields of classical, experimental and alternative music. Originally from Yorkshire, UK, he now resides in Berlin, where he can be found working with a diverse range of artists and ensembles as a composer, performer and sound engineer/producer. He has worked with Federico Albanese, Beirut, Jóhann Jóhannsson, Dustin O'Halloran, Hauschka, Hildur Guðnadóttir, Andrea Belfi, Thor Harris, Aidan Baker and many more.
https://www.youtube.com/watch?v=fz6-iwf5Fps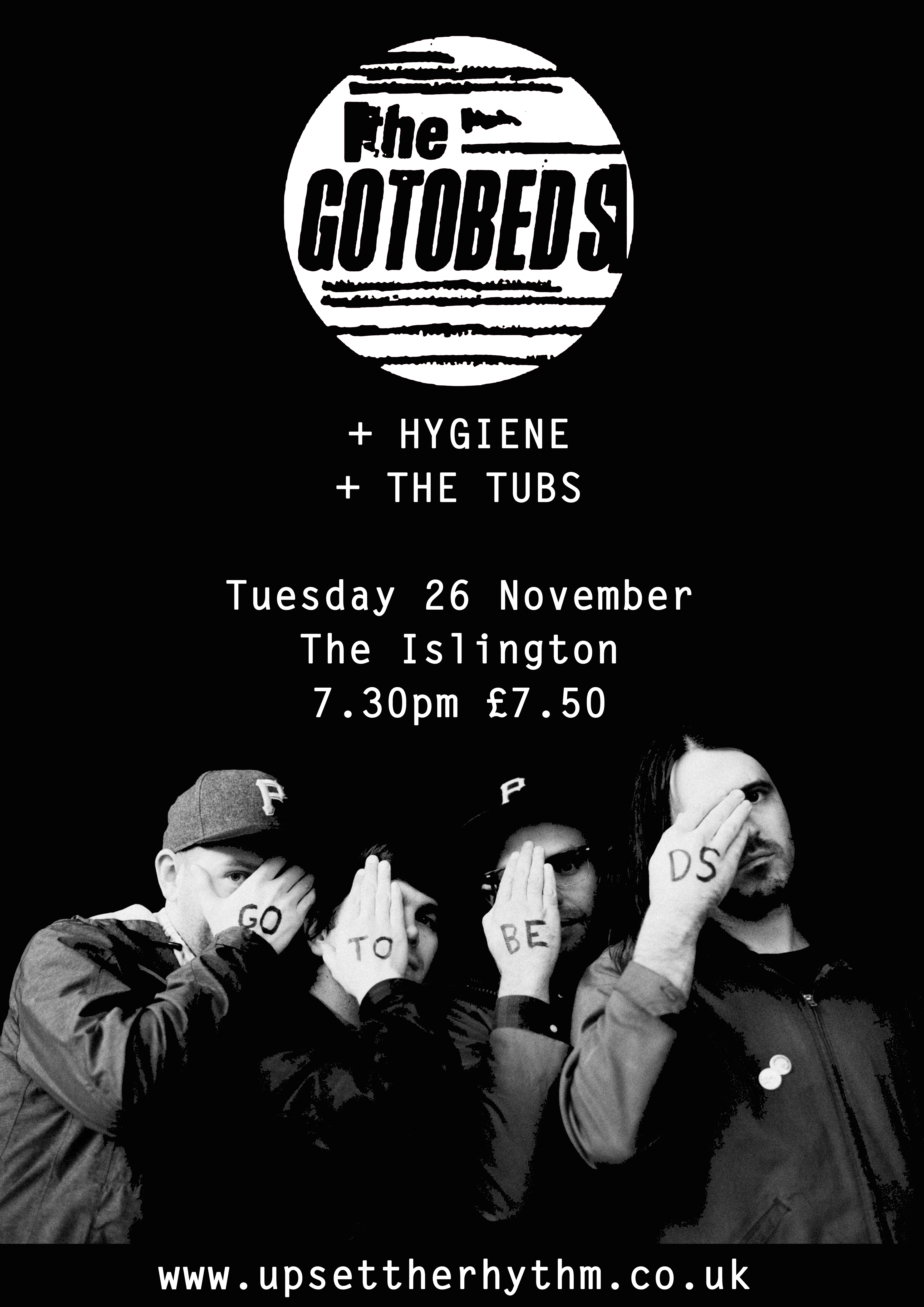 Upset The Rhythm presents…
THE GOTOBEDS
HYGIENE
THE TUBS
Tuesday 26 November
The Islington, 1 Tolpuddle Street, Angel, London, N1 0XT
7.30pm | £7.50 |
TICKETS
THE GOTOBEDS
are a modern rock and roll sensation that has always sounded like they have to play. The group's angular tunes and buzzy guitar-fuelled attack took the sound and vision of post-punk and indie rock and put the nervy snarl of punk back into the formula. Never maligned by having the world's weight on their backs, The Gotobeds - Cary, TFP, Eli and Gavin - returned this May with their third full lengther, 'Debt Begins at 30' (Sub Pop). The esprit de corps and anxiety-free joy that permeates their other LPs and EPs remains intact. The octane is high-test, the engine still has knocks and pings and the battery is overcharged. The Gotobeds - as Pittsburgh as it gets, the folk music of the Steel City - have more tar for us to swallow. The Gotobeds jump between exuberant jangle, brooding romps with tribal beats and slash-and-burn guitar and wrecking ball anthems much like their partners-in-rock-crime Protomartyr.
https://thegotobeds.bandcamp.com/
HYGIENE
released a slew of singles and an LP on various DIY labels in the US and the UK at the turn of the decade, now the London post-punk stalwarts return from hiatus with their sophomore effort, 'Private Sector'. Where their debut LP 'Public Sector' (2011, La Vida Es Un Mus) reflected a nostalgic longing for an unrealised socialist modernist utopia, 'Private Sector' finds them confronting the grim realities of the present. Hygiene rail against the neoliberal madness of utility cartels, tax havens and privatised railways, seizing the moment as the current period of interregnum sees the old ideological certainties come into question. Proving nostalgia to be an inescapable trap, the band continue to hearken back to the kind of post-punk that existed before anybody knew to affix the 'post' prefix. New album 'Private Sector' has the signature Hygiene sound, mixing brooding melodies with a choppy, aggressive approach and a restricted pop sensibility. However, this ever-so-slightly-more mature record finds the band taking advantage of the musicianship of their friends, mixing in the odd viola, glockenspiel, piano and keyboard. Recommended for fans of Real Ale, British Rail Class 55 Deltics, Euston station and Jeremy Corbyn.
https://www.facebook.com/Hygiene-126660907380779/
THE TUBS
aim to channel "The Tubullar Sound"; a thick soup of influences ranging from antipodean jangle, to needling Post Punk, to traditional British Folk music. The Tubs feature former and current members of Joanna Gruesome, The Estate Agents, Garden Centre and Keel Her, music coming soon!
https://the-tubs.bandcamp.com/releases
Thanks for reading, see you all later, have the best weekend!
Upset The Rhythm
UPSET THE RHYTHM
UPCOMING SHOWS
ROBERT SOTELO
BARRY
LIFE DRAWINGS
Friday 15 November
New River Studios, 199 Eade Rd, Harringay, London N4 1DN
RICHARD DAWSON
THE SILVER FIELD
Tuesday 19 November
MOTH Club, Old Trades Hall, Valette St, Hackney Central, E9 6NU
7.30pm | £16 | SOLD OUT
LANKUM
JOHN FRANCIS FLYNN
Thursday 21 November
Tufnell Park Dome, 2A Dartmouth Park Hill, London, NW5 1HL
7.30pm | £16.50 | SOLD OUT
THOR & FRIENDS
MARCEL WAVE
SIMON GOFF
Friday 22 November
Moth Club, Old Trades Hall, Valette St, Hackney Central, E9 6NU
7.30pm | £10 |
TICKETS
THE GOTOBEDS
HYGIENE
THE TUBS
Tuesday 26 November
The Islington, 1 Tolpuddle Street, Angel, London, N1 0XT
7.30pm | £7.50 |
TICKETS
DAN DEACON
Thursday 6 February
Scala, 275 Pentonville Road, London, N1 9NL
SPINNING COIN
Wednesday 18 March
The Lexington, 96-98 Pentonville Rd, Angel, London, N1 9JB
7.30pm | £8 |
TICKETS
Upset The Rhythm & The Barbican present…
RICHARD DAWSON: Delight is Right
Barbican Hall, Silk St, Barbican, London, EC2Y 8DS
Saturday 28 March