Roll up, roll up!

Today sees our Upset The Rhythm 15th anniversary label tour kick off in London. This evening at the Tufnell Park Dome we'll be celebrating 15 years of releasing the best music imaginable. It truly is a time for hyperbole. Tonight's epic concert features live sets from Dog Chocolate, Rattle, Guttersnipe, Trash Kit, Vital Idles and Sauna Youth, plus we also have Normil Hawaiians spinning records throughout the night!

Tickets are £10 on the door from 5.30pm, with live music planned to commence from 6.30pm, bring it on! Come and help us pat ourselves on the back as that actually sounds quite difficult.
We're also taking the label showcase on tour around the UK this week, here are the other shows, would be great to see you there, tell your far-flung friends:

Thursday 28th March -

GLASGOW

-

CCA with Sauna Youth, Trash Kit, Vital Idles, Robert Sotelo, Rattle

Friday 29th March -

LEEDS

-

Brudenell with Sauna Youth, Trash Kit, Rattle, Guttersnipe

Saturday 30th March -

MANCHESTER

-

White Hotel with Sauna Youth, Trash Kit, Vital Idles, Guttersnipe, Robert Sotelo

Sunday 31st March -

CARDIFF

-

Clwb Ifor Bach with Sauna Youth, Trash Kit, Robert Sotelo, Rattle
To help set the scene we've popped down memory lane for this

UTR XV radio special

. Listen to 120 minutes of all things Upset The Rhythm. Think classic back catalogue, the glowing edge of now and lots of upcoming tracks that lead us into the summer from Trash Kit, Normil Hawaiians, Bamboo, Hygiene, Nots, Lunch Lady, Robert Sotelo, Hash Redactor and Red Channel.
We also had a fantastic time last Saturday on Resonance FM's Hello Goodbye show with another

UTR radio extranaganza

!

Lots of quality chat with the esteemed deXter Bentley, exclusive tracks aired, plus some solid live sets in the studio from Robert Sotelo and Hygiene, oh boy!

Listen again here!

You can find full write-ups below on tonight's show, plus listings for our three shows next week from Jandek, The Flying Luttenbachers, Mosquitoes, Coolies, The Renderers and Fun Fun Funeral! Busy much? Nothing ever changes! Thanks for all your time and support x 15 years!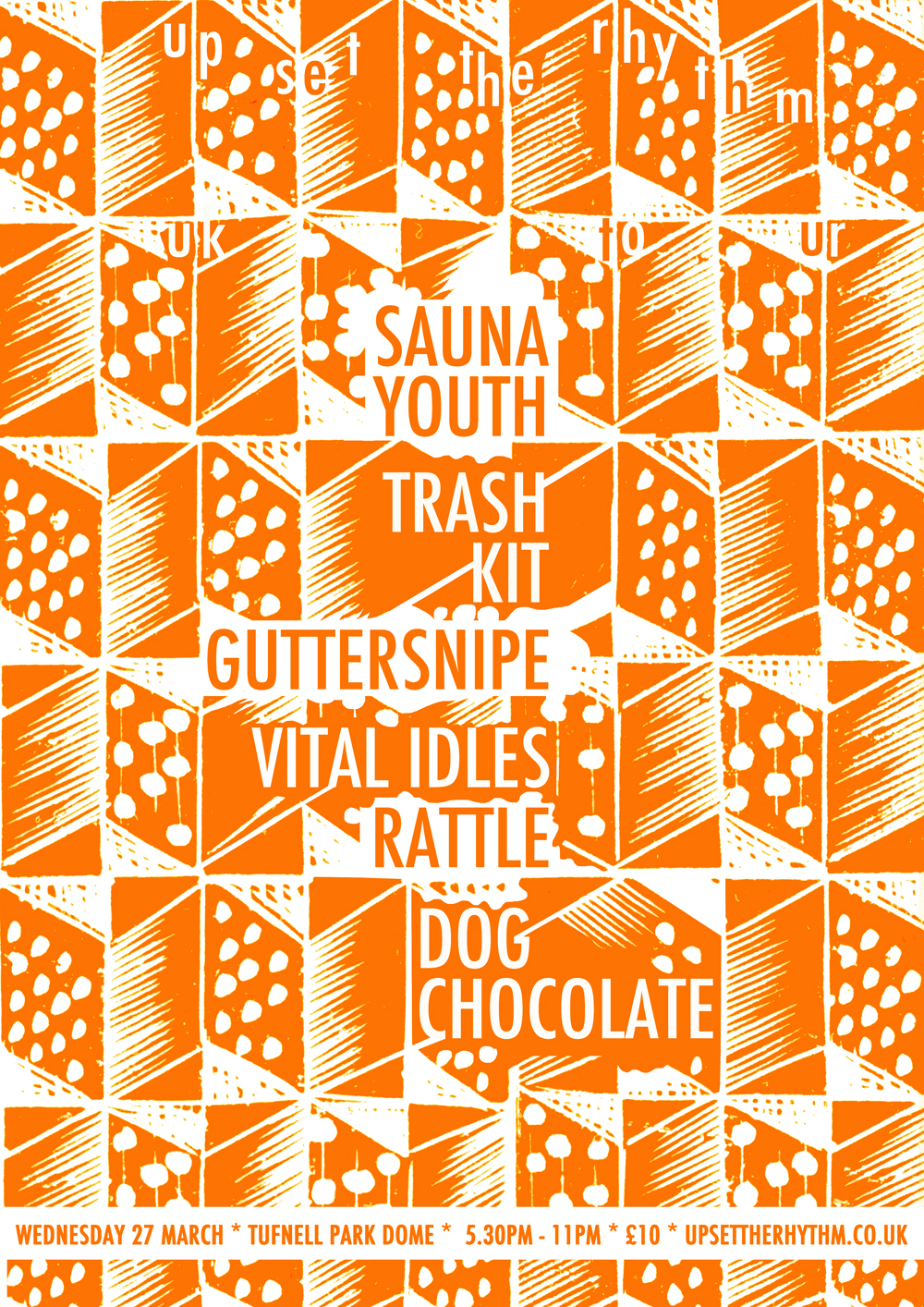 Upset The Rhythm 15th anniversary label party!

SAUNA YOUTH
TRASH KIT
GUTTERSNIPE
VITAL IDLES
RATTLE
DOG CHOCOLATE
NORMIL HAWAIIANS (DJ set)

Wednesday 27 March
Tufnell Park Dome, 2A Dartmouth Park Hill, London, NW5 1HL
5.30pm - 11pm | £10 |
TICKETS
This March Upset The Rhythm will be marking our 15th anniversary with a label showcase tour around Britain. Representing a lot of our current UK roster, the tour will see the likes of DIY punk progressives Sauna Youth, Trash Kit, Vital Idles and Dog Chocolate perform alongside hypnotic drum and voice duo Rattle and Guttersnipe, a group who shredded their tonal territory into euphoria this year with their debut album. Within the last fifteen years UTR has organised over 1500 live events in London and racked up a back catalogue you'd have to ask a friend to help carry, 115 titles at point of writing. We've always been proud to have a forward-facing, open-minded attitude towards the label, letting it be a reflection of our own personal tastes. This has led to the label's scope becoming truly international. We work with artists from Australia like Terry, The Green Child and School Damage, European acts like Pega Monstro, Makoto Kawabata and Pikacyu from Japan and Darlene Shrugg from Canada. We also release US acts such as Deerhoof, Xiu Xiu and The World and have been responsible for discovering the talents of John Maus, Future Islands and No Age with debut releases from all. It's certainly kept us busy, alongside all this, we've been tireless in our support of the noise next door, providing a platform for Britain's enthralling musical underground in all its many forms. It's this side of things we're choosing to highlight with this tour and London show, help us celebrate the big XV on our doorstep, before we wander off through the kingdom!
SAUNA YOUTH
https://saunayouth.bandcamp.com/
TRASH KIT
http://www.upsettherhythm.co.uk/trashkit.shtml
GUTTERSNIPE
https://guttersnipe.bandcamp.com/
VITAL IDLES
https://vitalidles.bandcamp.com/
RATTLE
http://www.upsettherhythm.co.uk/rattle.shtml
DOG CHOCOLATE
Other shows on the UTR XV label showcase tour:
Thursday 28th March - GLASGOW - CCA
Friday 29th March - LEEDS - Brudenell
Saturday 30th March - MANCHESTER - White Hotel
Sunday 31st March - CARDIFF - Clwb Ifor Bach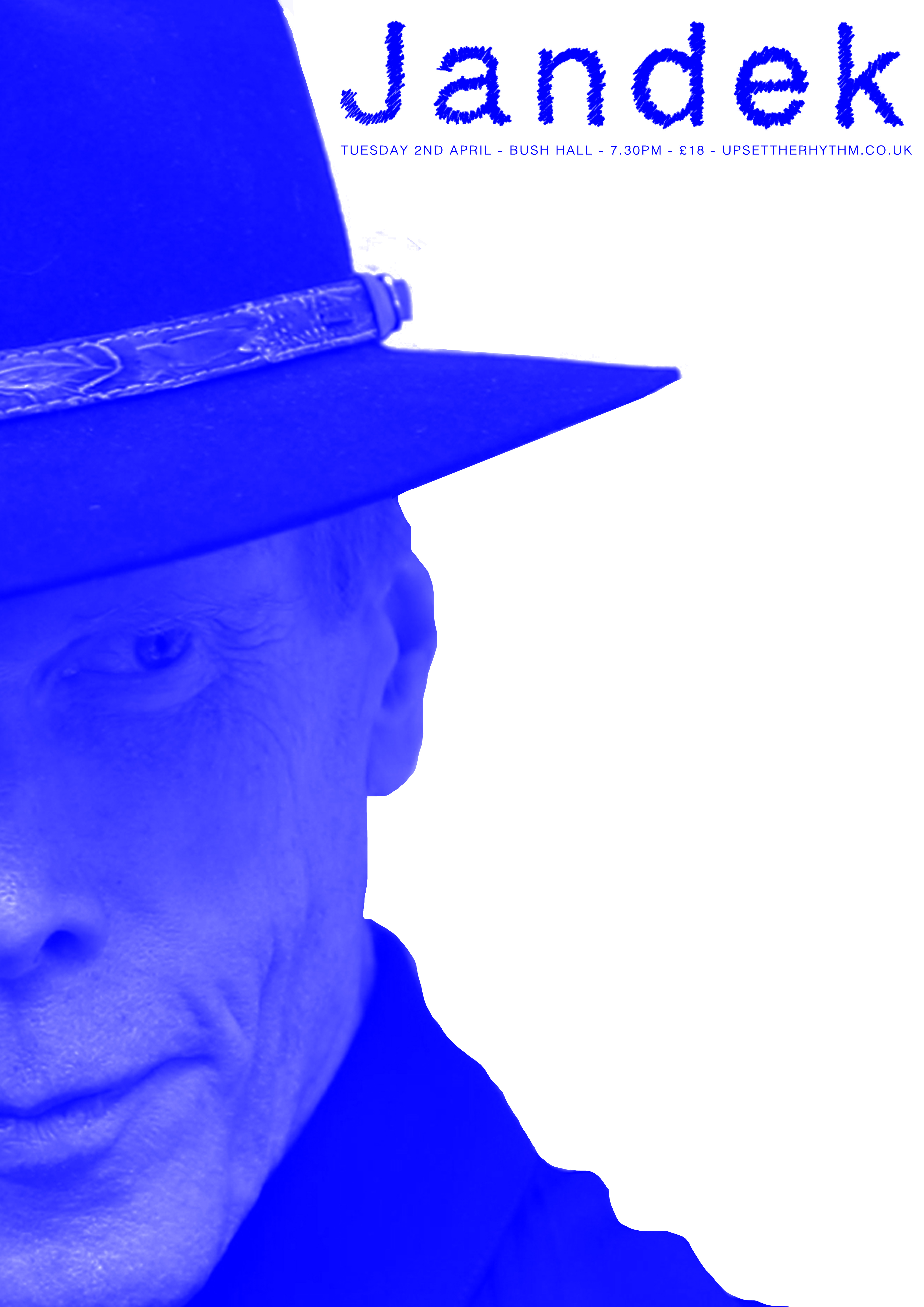 Upset The Rhythm presents...
JANDEK
Tuesday 2 April
Bush Hall, 310 Uxbridge Rd, Shepherd's Bush, London, W12 7LJ
7.30pm | £18 |
TICKETS
JANDEK is the mysterious musical project of Corwood Industries, a record label that operates out of Houston, Texas. Since 1978, Jandek/Corwood Industries has independently released over 100 albums/DVDs of unusual, often emotionally dissolute folk, rock and blues songs without ever granting an interview or providing any biographical information. Jandek often plays a highly idiosyncratic and frequently atonal form of folk, rock, punk, country, classical and blues music, at times using an open and unconventional chord structure. The name 'Jandek' is most commonly used to refer specifically to the project and not an individual.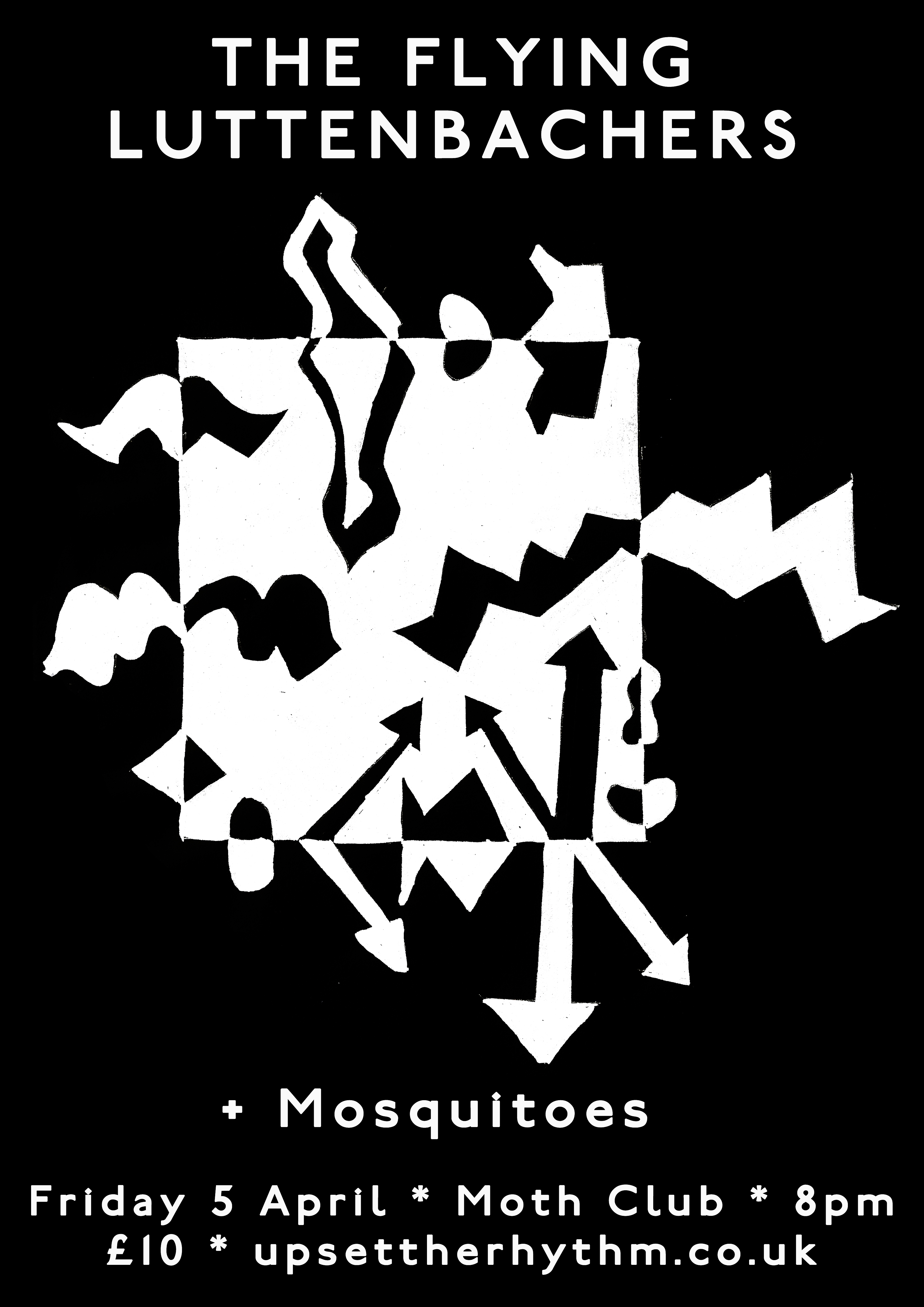 Upset The Rhythm presents...
THE FLYING LUTTENBACHERS
MOSQUITOES
Friday 5 April
Moth Club, Old Trades Hall, Valette St, Hackney Central, E9 6NU
7.30pm | £10 |
TICKETS
THE FLYING LUTTENBACHERS
are a touchstone punk jazz/brutal prog/no wave group who steadily deconstructed music and reality between 1991-2007 with their 16 releases and more than 400 performances around the world. Now, in 2019, the band is back with a new lineup, new music and a new full-length album out soon. In the interim, leader and composer Weasel Walter shifted his expansive energies into the world of free improvisation, recording dozens of albums and playing with hundreds of internationally known musicians, as well as touring the planet with Lydia Lunch, Cellular Chaos, XBXRX, Behold The Arctopus and many others. In 2017, The Flying Luttenbachers reformed and made a week long tour of France, performing an hour long set of classic material from the entire catalog. The latest incarnation of the band is based in New York City, featuring Tim Dahl (Ava Mendoza's Unnatural Ways, GRID) on bass guitar, Matt Nelson (GRID, Elder Ones, etc.) on tenor saxophone, Brandon Seabrook on guitar and Weasel Walter on drums. For this April 2019 tour, Seabrook will be replaced by UK guitar strangler Alex Ward, who cut his teeth playing as a teen with legendary improviser Derek Bailey. The band was recently invited to open a run of three sold out New York shows headlined by The Oh Sees last October. The Flying Luttenbachers have recorded a brand new double LP entitled 'Shattered Dimension' which will be released on ugEXPLODE and Ty Segall's imprint GOD? Records this April.
http://www.theflyingluttenbachers.com
MOSQUITOES
are a crypto, avant rock trio, who have captured the attention of more than a few heads over the past couple of years. After two self-released offerings, their latest EP on Ever/Never Records sealed the deal with its swarming mass of dubwise, no wave indebted confusion.
https://soundcloud.com/user-703056763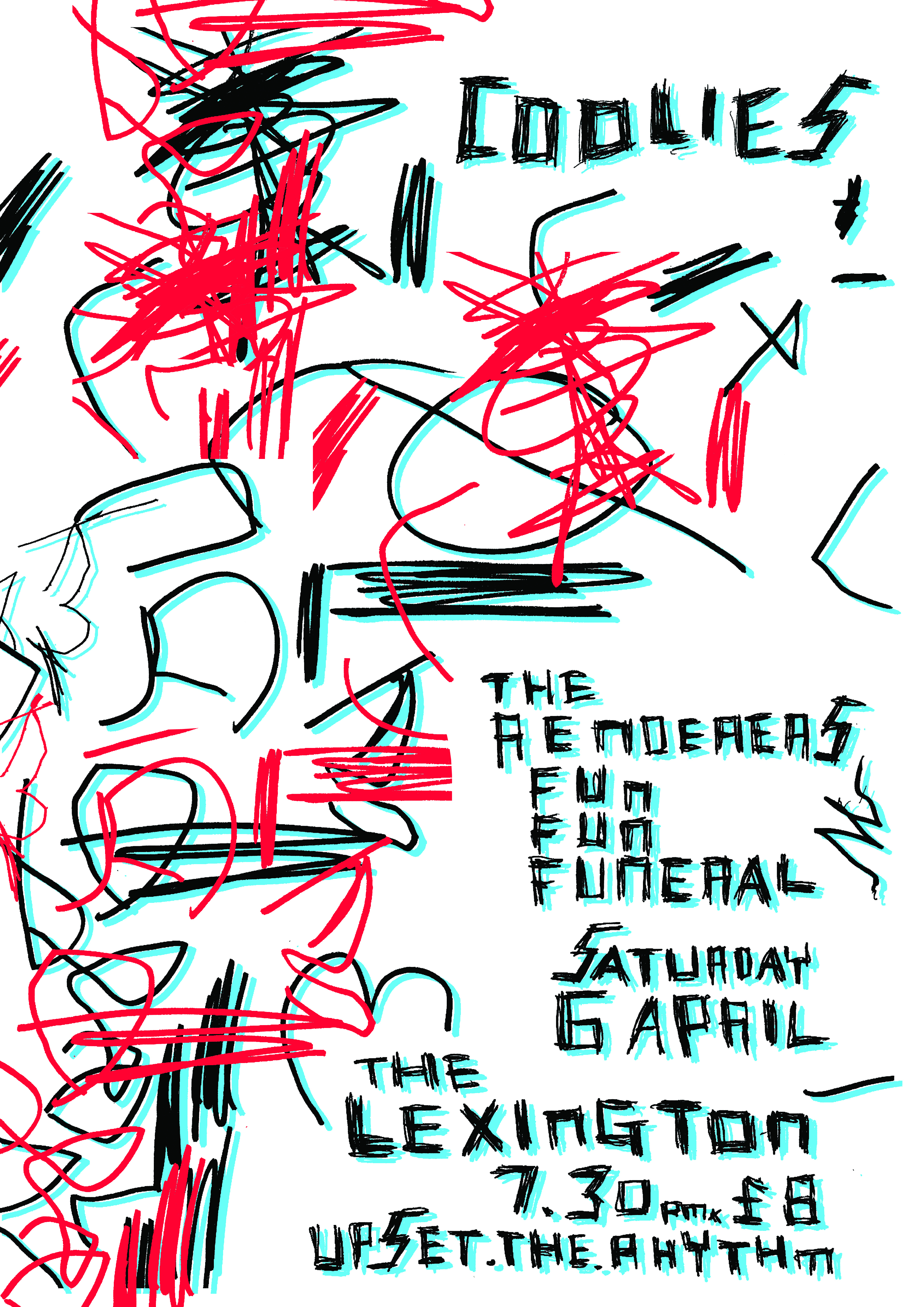 Upset The Rhythm presents...
COOLIES
THE RENDERERS
FUN FUN FUNERAL
Saturday 6 April
The Lexington, 96-98 Pentonville Rd, Angel, London, N1 9JB
7.30pm | £8 |
TICKETS
COOLIES
have been blurting out random batches of high order avant garage spew since 1997. Sjionel Timu and Tina Pihema are the core of the band. Formed in the sprawl of South Auckland, New Zealand while they were still teens, Coolies were ostensibly a "punk" unit, but their sound was never doctrinaire. Through sheer weirdness and strength of vision, they created music that paralleled aspects of underground noise from the forests of Olympia Washington, the squats of West London, and the basements of Dunedin. Without resorting to formal revisionism, they've managed to take the basics of the early Rough Trade sound and smudge it with fingers dipped in the art-readymades of NZ's underground pop groups and their own fevered experimentalism.
For a good chunk of the last decade, Stefan Neville (aka Pumice) was their drummer. This line-up cut a great LP, Master, for Chapter Music, and an even more dastardly EP, Punk Is Bread, for Epic Sweep. Most recently they presented, Kaka, gruntily produced by Neville on Feeding Tube Records. The tunes on Kaka were recorded in a couple of long jam sessions, then teased and smooshed into "shape" over the course of a year or so. The results, much like their live show are both propulsively fetching and utterly fried.
https://lecoolies.bandcamp.com/
THE RENDERERS
deal in ghostly folk songs, free-form freak outs, a head-spin of psychedelic hammering; anything goes. The New Zealand group have released nine albums since they formed in 1989 on labels as diverse as Flying Nun, Ba Da Bing, Siltbreeze and Merge. The Renderers feature legendary guitarist and songwriter Brian Crook and his wife, songwriter and artist Maryrose Crook, with a rotating group of members. The Crooks have been lucky enough to support a pile of great artists; Thurston Moore, at Zebulon, Los Angeles, 2018; Will Oldham, as his backing band, following which he subsequently released his own recording of A Dream of the Sea; Joanna Newsom, Bill Callahan, and Wooden Wand's James Toth.
In The Sodium Light: "apocalypse and dread", Magnet Magazine, the best of 2016, Essential Music) "They invite you right inside the emotional engine room, giving an opportunity to witness their raga-psychedelic psychosis up close." This is their first UK concert.
https://therenderers.bandcamp.com/
FUN FUN FUNERAL
make brightly coloured songs like beautiful collages, always with a little glue overlapping. Bold songwriting, dense lo-fi arrangements, a dark and happy poem. With their specially crafted samples, scraped and scratched strings, high voices, percussions, the duo exhibits original pop songs of yesterday and tomorrow.
https://soundcloud.com/funfunfuneral
Thanks for reading & thanks for coming out recently to Wolf Eyes, Xiu Xiu and David Nance too,
you guys are the best!
Upset The Rhythm
UPSET THE RHYTHM
UPCOMING SHOWS
Upset The Rhythm 15th anniversary label party!
SAUNA YOUTH
TRASH KIT
GUTTERSNIPE
VITAL IDLES
RATTLE
DOG CHOCOLATE
NORMIL HAWAIIANS (DJ set)
Wednesday 27 March
Tufnell Park Dome, 2A Dartmouth Park Hill, London, NW5 1HL
5.30pm - 11pm | £10 |
TICKETS
JANDEK
Tuesday 2 April
Bush Hall, 310 Uxbridge Rd, Shepherd's Bush, London, W12 7LJ
7.30pm | £18 |
TICKETS
THE FLYING LUTTENBACHERS
MOSQUITOES
Friday 5 April
Moth Club, Old Trades Hall, Valette St, Hackney Central, London, E9 6NU
7.30pm | £10 |
TICKETS
COOLIES
THE RENDERERS
FUN FUN FUNERAL
Saturday 6 April
The Lexington, 96-98 Pentonville Rd, Angel, London, N1 9JB
7.30pm | £8 |
TICKETS
ALEX REX
MYLES MANLEY
11TH HOUR ADVENTISTS
Wednesday 10 April
SET Space, 27A Dalston Ln, London, E8 3DF
IRMA VEP
ES
POWERPLANT

Thursday 11 April
The Islington, 1 Tolpuddle St, Angel, London, N1 0XT
7.30pm | £6 |
TICKETS
LEA BERTUCCI: Projection/Reflection
CHASE COLEY & PASCAL COLMAN
Tuesday 16 April
IKLECTIK, Old Paradise Yard, 20 Carlisle Lane, London, SE1 7LG
BRIGID MAE POWER
AOIFE NESSA FRANCES
Tuesday 23rd April
Cafe OTO, 18-22 Ashwin St, London, E8 3DL
7.30pm | £10 |
TICKETS
BILL NACE & JAMES TWIG HARPER
GLANDS OF EXTERNAL SECRETION
Monday 29 April
The Islington, 1 Tolpuddle Street, Angel, London, N1 0XT
ESCAPE-ISM
(Ian Svenonius)
SOLUTION HOURS
Wednesday 1 May
Moth Club, Old Trades Hall, Valette St, Hackney Central, London, E9 6NU
CALVIN JOHNSON
THE CATENARY WIRES
Monday 6 May
HQI, The Rotunda, Wood Lane, White City Place, London, W12 7TP
(3 min walk from White City tube directly north up Wood Lane. Venue is behind the green gates)
THE ESSEX GREEN
TOM O.C WILSON
Friday 10 May
Redon, Railway Arches, 289 Cambridge Heath Rd, London, E2 9HA
HEN OGLEDD
RAP

Tuesday 14 May
Bush Hall, 310 Uxbridge Rd, Shepherd's Bush, London, W12 7LJ
7.30pm | £14 |
TICKETS
PRIESTS
HYGIENE
Thursday 16 May
100 Club, Oxford Street, London, W1D 1LL
ANA DA SILVA & PHEW
TARANTULA
Monday 27 May
St Pancras Old Church, Pancras Road, King's Cross, London, NW1 1UL
7.30pm | £10 |
TICKETS
LANKUM
Tuesday 28 May & Wednesday 29 May
In association with Cafe OTO, 18-22 Ashwin St, London, E8 3DL
7.30pm | £16.50 each day, £30 two-day pass |
TICKETS
CHRIS COHEN
THE JELAS
Wednesday 29 May
MOTH Club, Old Trades Hall, Valette Street, London, E8 1EL
7.30pm | £9 |
TICKETS
BILGE PUMP
WITCHING WAVES
Friday 31 May
The Islington, 1 Tolpuddle St, Angel, London, N1 0XT
CONSTANT MONGREL
Saturday 22 June
New River Studios
199 Eade Rd, Harringay Warehouse District, London, N4 1DN
7.30pm | £7 |
TICKETS
ADVANCE BASE
Monday 22 July
Redon, Railway Arches, 289 Cambridge Heath Rd, London, E2 9HA
7.30pm | £12 |
TICKETS
TIM PRESLEY'S WHITE FENCE
ROBERT SOTELO
Wednesday 21 August
OSLO, 1a Amhurst Road, Hackney Central, London, E8 1LL