Morning all!

Thanks go out to all of you for coming to see Quintron & Pussycat last weekend, I think I need new shoes and a new brain now from all that dancing around the room! What a show! Talking of incredible shows (did you see what I did there? Seamless!) tomorrow we have Wolf Eyes and No Form performing at the Tufnell Park Dome. If you're a fan of mutated punk, freaked noise and trip metal in sound/aesthetic then you're in for a banquet! Tickets are £10 on the door and live music will commence around 8.45pm.

Unfortunately Aaron Dilloway is no longer able to perform tomorrow night because of complications with his Maltese visa which stop him from leaving his temporary island home, but we hope to have him come and play again in the not too distant future. Tomorrow will be colossal and we hope you can join us!
The full listing for that show can be found below, along with news of next week's concert for intergalactic traveler, The Space Lady. Susan will be performing her haunting, reconstructed pop alongside acoustic troubadour Daniel Bachman, and the folk polemics of Eric Schneider. All looks set to be another fantastic evening, read on for the full story.
This week we also confirmed a 'fan show' for Protomartyr in July too at Bethnal Green Working Men's Club, onsale now, take note!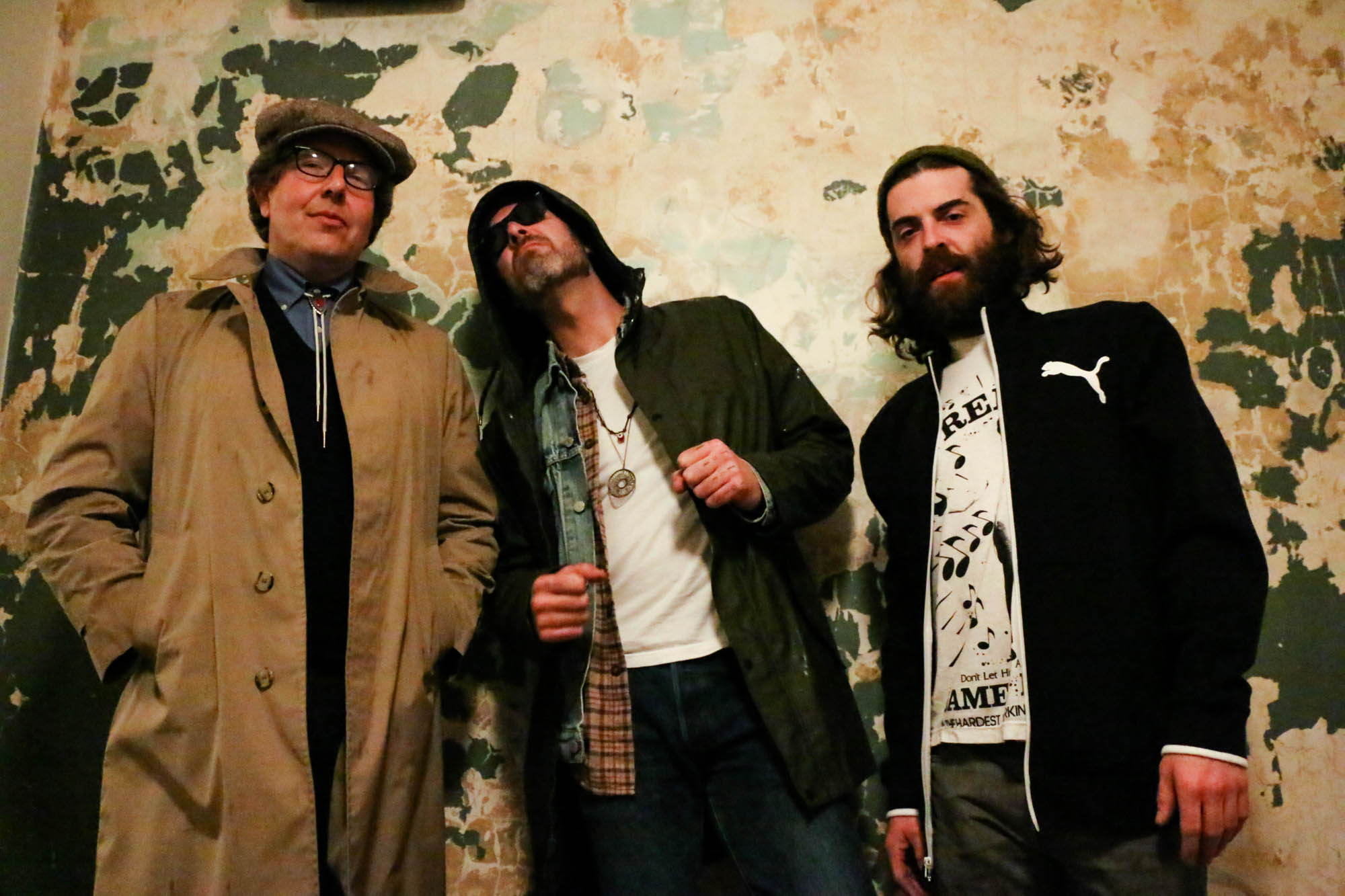 WOLF EYES
NO FORM
Friday 29 April
Tufnell Park Dome, 178 Junction Road, Tufnell Park, N19 5QQ
WOLF EYES are the foremost trip metal band in the multiverse. Whilst their infamous blistering noise propelled them from being a dank Ann Arbour, Michigan basement sensation to the upper ranks of Sub Pop, their music has since mutated into a meticulous cudgel of creeping dread, halting rhythms and snarled melodics. From touring with Sonic Youth and Andrew W.K., Wolf Eyes have crossed borders into popularity which few other such confrontational units of their ilk have been able to and kept straight and narrow on their blazing path. Originally started as the solo project of former Nautical Almanac member Nate Young, he was soon joined by Aaron Dilloway in 1998, John Olson in 2000 then Mike Connelly and now Crazy Jim. They has released over 150 recordings in their relatively short lifespan, on labels such as Bulb Records, Troubleman Unlimited, Fusetron, and Sub Pop, as well as on Olson's American Tapes label, Dilloway's Hanson Records, Mike Connelly's Gods of Tundra label and Nate Young's AA Records. This show sees Wolf Eyes play a headline show drawing from their stunning new album "I am a problem: mind in pieces", out now on Jack White's Third Man Records.
NO FORM invoke a dark portal, bathing in the murk, devoid of all light. This is punk, as antagonistic and cleansing as it ever can be. No Form's notorious live power is finally captured on their debut LP (co-released by Reagent Records and Muscle Horse), with four shorter pulsating numbers on Side A and one long jam on Side B that approaches the outer limits. Shrill, disconcerting guitar leads and tormented vocals slither over an affirmative pummel that exists at the meeting point between outlier hardcore punk and proto-industrial at its most confrontational. Deceptively catchy thrashing coexists with sinister, siren-call sax wails. This is music for the perennially despondent, music as life ritual.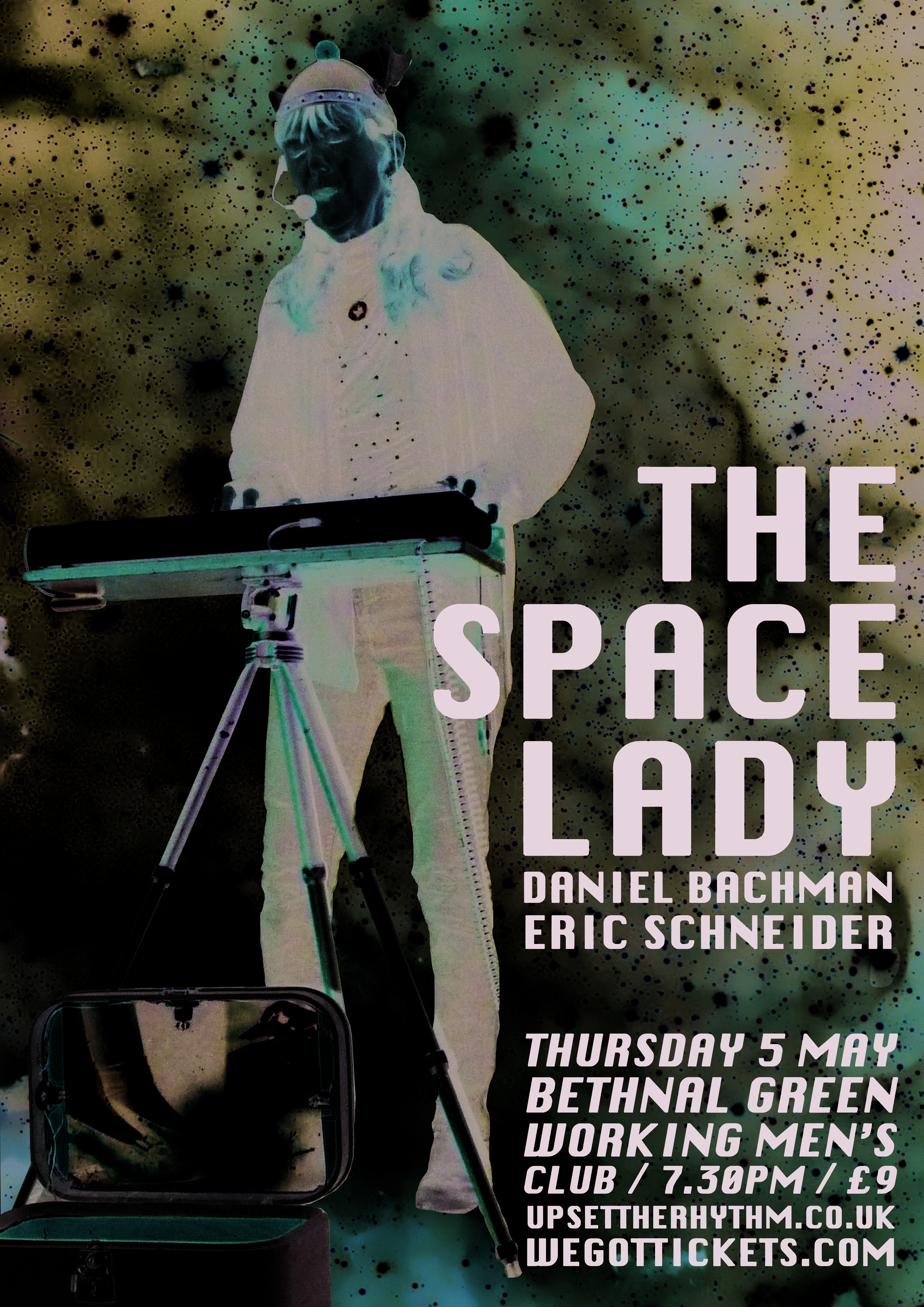 THE SPACE LADY
DANIEL BACHMAN
ERIC SCHNEIDER
Thursday 5 May
Bethnal Green Working Men's Club, 44 Pollard Row, Bethnal Green, E2 6NB
THE SPACE LADY
began her odyssey on the streets of San Francisco in the late 70s, playing versions of contemporary pop music an accordion and dressed flamboyantly, transmitting messages of peace and harmony. Following the theft of her accordion, The Space Lady invested in a then-new Casio keyboard, birthing an otherworldly new dimension to popular song that has captured the imaginations of the underground and its lead exponents ever since, with the likes of John Maus, Erol Alkan and Kutmah being devotees. Of her early street sets, only one recording was made, self-released originally on cassette and then transferred to a homemade CD. "The Space Lady's Greatest Hits" released in 2014 through Night School features the best of these recordings - mostly covers but with some originals - pressed on vinyl for the first time and features archival photographs and liner notes from The Space Lady herself. "Greatest Hits" contains The Space Lady's personal favourites; her haunting take on The Electric Prunes' "I Had Too Much To Dream (Last Night)," a frantic "Ballroom Blitz" amidst other reconstructed pop music. Following on from this wonderful record, The Space Lady released last year a split LP with the Burnt Ones on Castle Face records which included her spectral take on 'Across The Universe'.
https://soundcloud.com/dazedandconfused/sets/the-space-lady-greatest-hits
DANIEL BACHMAN
is a 6-string and lap guitar player from Fredericksburg, Virginia currently living in Chapel Hill, North Carolina. From 2008 to present he's been releasing material of almost exclusively an instrumental nature while touring everywhere from Istanbul to Los Angeles. He has been playing what he describes as "psychedelic appalachia" since he was a teenager, releasing small run editions of tapes, CDs and LPs for the past three years, with a sound that evolved from drones and banjos to a now guitar centered focus. Touring off and on since the age of 17, Bachman has managed to cover thorough ground across the US, sharing stages with like minded folk such as fellow Fredericksburg native Jack Rose, for whom he fashioned the artwork for the posthumous release of 'Luck In The Valley'. His newest effort is the full length LP 'River' (Three Lobed), and simply stated it's his best album. Unconventionally, it opens with the breathtaking and robust fourteen minute epic "won't you cross over to that other shore." Proving his ability to write music that keeps the listener engaged (even across such a long tune), Bachman successfully uses tempo changes, varied picking patterns and melodic exploration, all without ever getting lost in pointless improvisation too far from the overall theme. Bachman takes the listener on an aural journey through the back roads of the foothills of the blue-ridge to calm coastal waters.
https://www.facebook.com/danilbachman/
ERIC SCHNEIDER
is the Space Manager and husband of The Space Lady. Eric is an ex-New Yorker now living in Colorado, whose been writing "urban folk songs" and (spiritual) Songs of Awakening for many years. Check out his songs here, Eric sings for the beautiful, unlimited hearts we all have!
https://www.cdbaby.com/Artist/EricSchneider
Thanks for reading, catch you tomorrow!
Upset The Rhythm
x
UPSET THE RHYTHM
UPCOMING SHOWS
Friday 29 April
Tufnell Park Dome, 178 Junction Road, Tufnell Park, N19 5QQ
Thursday 5 May
Bethnal Green Working Men's Club, 44 Pollard Row, Bethnal Green, E2 6NB
Tuesday 10 May
Moth Club, Old Trades Hall, Valette St, Hackney Central, E9 6NU
Saturday 21 May
MOTH Club, Old Trades Hall, Valette Street, Hackney, E9 6NU
Monday 23 May
The Lexington, 96-98 Pentonville Rd, Angel, N1 9JB
Tuesday 31 May
The Victoria, 451 Queensbridge Rd, Dalston, E8 3AS
In collaboration with Caught by the River…
Saturday 4 June
Cafe OTO, 22 Ashwin Street, Dalston, E8 3DL
Tuesday 7 June
Bethnal Green Working Men's Club, 44 Pollard Row, Bethnal Green, E2 6NB
Friday 24 June
O2 Forum Kentish Town, 9-17 Highgate Road, London, NW5 1JY
Saturday 25 June
Cafe OTO, 22 Ashwin Street, Dalston, E8 3DL
Wednesday 27 July
Tufnell Park Dome, 178 Junction Road, Tufnell Park, N19 5QQ
Friday 7 October
Cafe OTO, 22 Ashwin Street, Dalston, E8 3DL