Hello there,

Hope you're dodging the snow with a degree of skill, just a dusting so far on UTR HQ, so we count ourselves lucky! Firstly, a huge thanks to all of you for coming out to see Greg Ashley and Chain And The Gang this last week, your attendance make these events possible so it's always appreciated. Hope you had a great time too!

With February up, we're here to tell you that Upset The Rhythm have some fantastic shows planned for you this March, including performances from Drag City's Ka Baird (of Spires That In The Sunset Rise), Shannon Lay with her plainspoken mysticism, avant-guitar squall from the great Alan Licht, hypnotic improvised rock bluster from James Sedwards/Steve Noble and Chris Corsano/Bill Orcutt and last but so far from least the dreamily expansive songwriting of Brigid Mae Power and Daniel O'Sullivan. We've outlined next week's trio of shows below for you, hope you like lots of words.
Look out! Here comes the Moody Balloon Baby. We're announcing this week London quartet, Dog Chocolate's forthcoming album for Upset The Rhythm, out May 11th, oh yeh! Have a listen to 'Dog Chocolate 1995', don some velvet and join the chorus: "When do I become the dog I'm meant to be!" Recommended if you like bonfires, hazelnuts, Supermalt, umbrella-themed weddings, lower back pain, Sweden and calculating your bmi!

What are Dog Chocolate bothering us with now? What is it? They have a new album called 'Moody Balloon Baby'. Musically it's as frantic and frayed as we've come to expect, loose and whittled to a sharp point, but the knots are visible. Following the album Snack Fans (2016) and Or, a spilt with Ravioli Me Away (2014), this time it's all faster and there are more textures.

Some textures that come to mind:




*A plastic broom that has been used to sweep up glowing embers and the bristles have melted.

*A pink chalk that got stepped on.

*A green beam from a laser-pen scuttling around on a pebbledash facade.

*A biro shoved through a custard doughnut.

Available to pre-order now:
It's that time again! Upset The Rhythm return with the

newest installment

of our radio show

here

, the sixth so far in the series! We've compiled two hours of the finest audio imaginable, tracks from Reptile Ranch, Klein, The Shriek and Shannon Lay all featuring. There's exclusive new songs from Dog Chocolate and No Babies cued up too, a plethora of field recordings from our recent concerts, and even a bit where we talk over the music inaudibly, classic!

Let's do this

…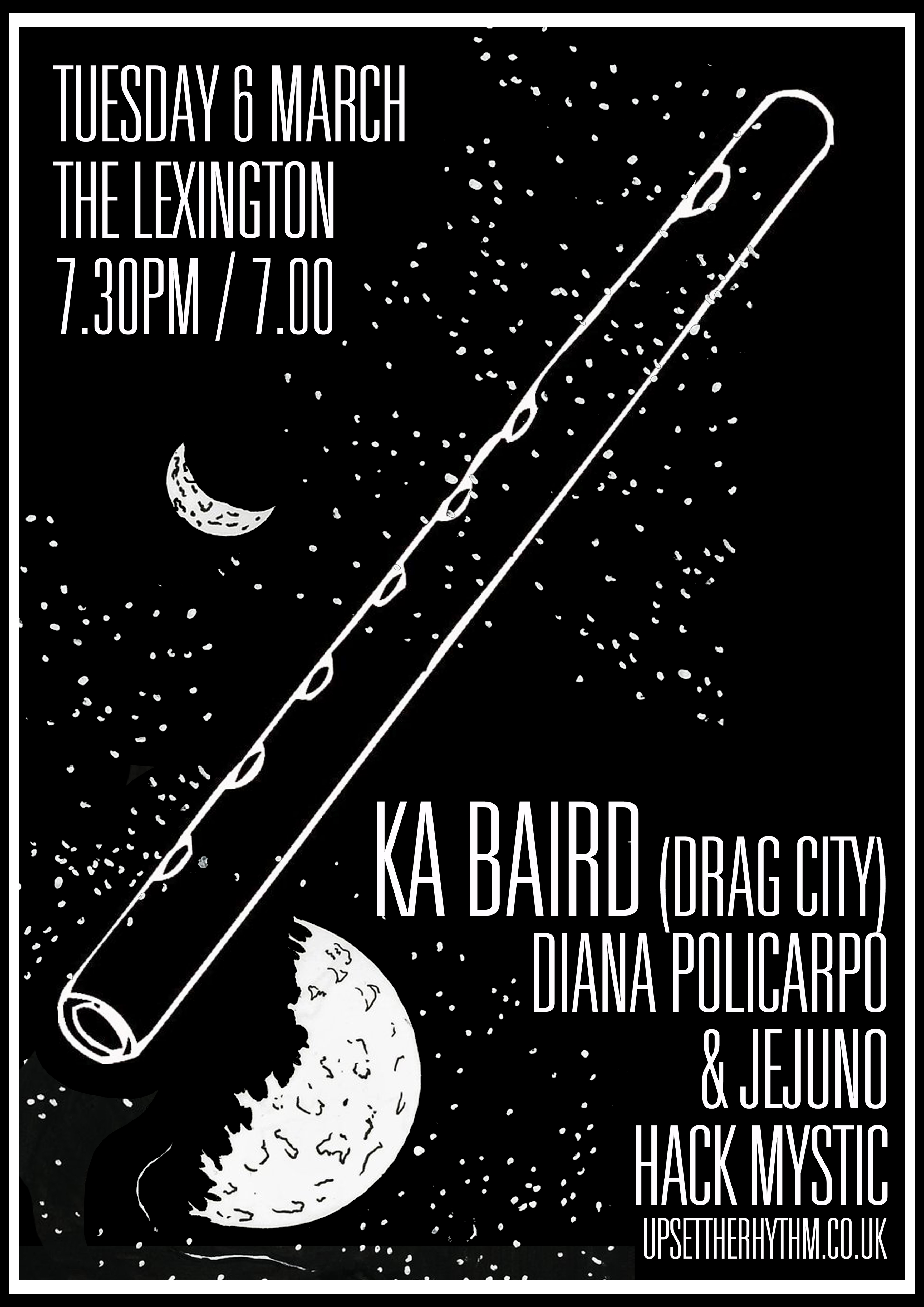 Upset The Rhythm presents…
KA BAIRD
DIANA POLICARPO & JEJUNO
HACK MYSTIC
Tuesday 6 March
The Lexington, 96-98 Pentonville Rd, Angel, N1 9JB
KA BAIRD is a multi-instrumentalist and vocalist living and working in NYC. She is one of the founding and continuing members of the long running avant-psych project Spires That In The Sunset Rise. Described by Jack Rose as a "female Sun City Girls," STITSR have contributed a different slant to the New Folk movement by incorporating various avant-garde and world music influences into their music. Their sound has been compared to the Raincoats, Meredith Monk, Comus and Harry Partch. Their most recent album "Beasts In The Garden" was described by Marc Masters as "some kind of long-lost Terry Riley/Angus MacLise collaboration, equally devoted to divine repetition and center-seeking ritual." Since 2001, they have released eight full length records and several side releases.

After relocating to NYC in November 2014, Baird has set off in numerous directions apart from Spires with new collaborations as well as honing in on her own solo work. Her current work explores piano improvisation, electroacoustic interventions, extended vocal techniques, physical movement, and her unusual electronic manipulation of the flute. She released an album of piano improvisations through Brooklyn label Perfect Wave "See Sun Think Shadow" in November of 2015 and a tribute record 'A Love Supreme' dedicated to John Coltrane through Chicago label No Index in January of 2016. Most recently Baird released 'Sapropelic Pycnic' through Drag City described as a possession, a catharsis, a transformation; an act of physical consumption, a much needed sacred gesture.
https://www.kabaird.com/
DIANA POLICARPO & JEJUNO
will collaborate on a piece for this concert. In a career defined by exploration, Sara Rafael AKA Jejuno and Diana Policarpo AKA Poly Garbo are still pushing themselves to discover new sounds through improvisation. They are Lisbon/London/Vienna based artists and will perform a unique set as a electronics/drums duo. Unpredictable beats, abstract noise, celestial synths and vocal swirls, to form an act not easily classifiable but entirely addictive.
HACK MYSTIC makes broken devotional music built from layers of doomy lounge guitar and cheap drones. Their music occupies a shadowy space between jazz and drone, swamped in tape hiss and fusing elements of Grouper and Actress with the soundtrack work of Angelo Badalamenti and Ennio Morricone. Live, hack mystic creates improvised guitar loops laden with reverb and delay, as tender as they are unsettling. 'Openwork', their first EP, was released on cassette by Buried in Space in 2017.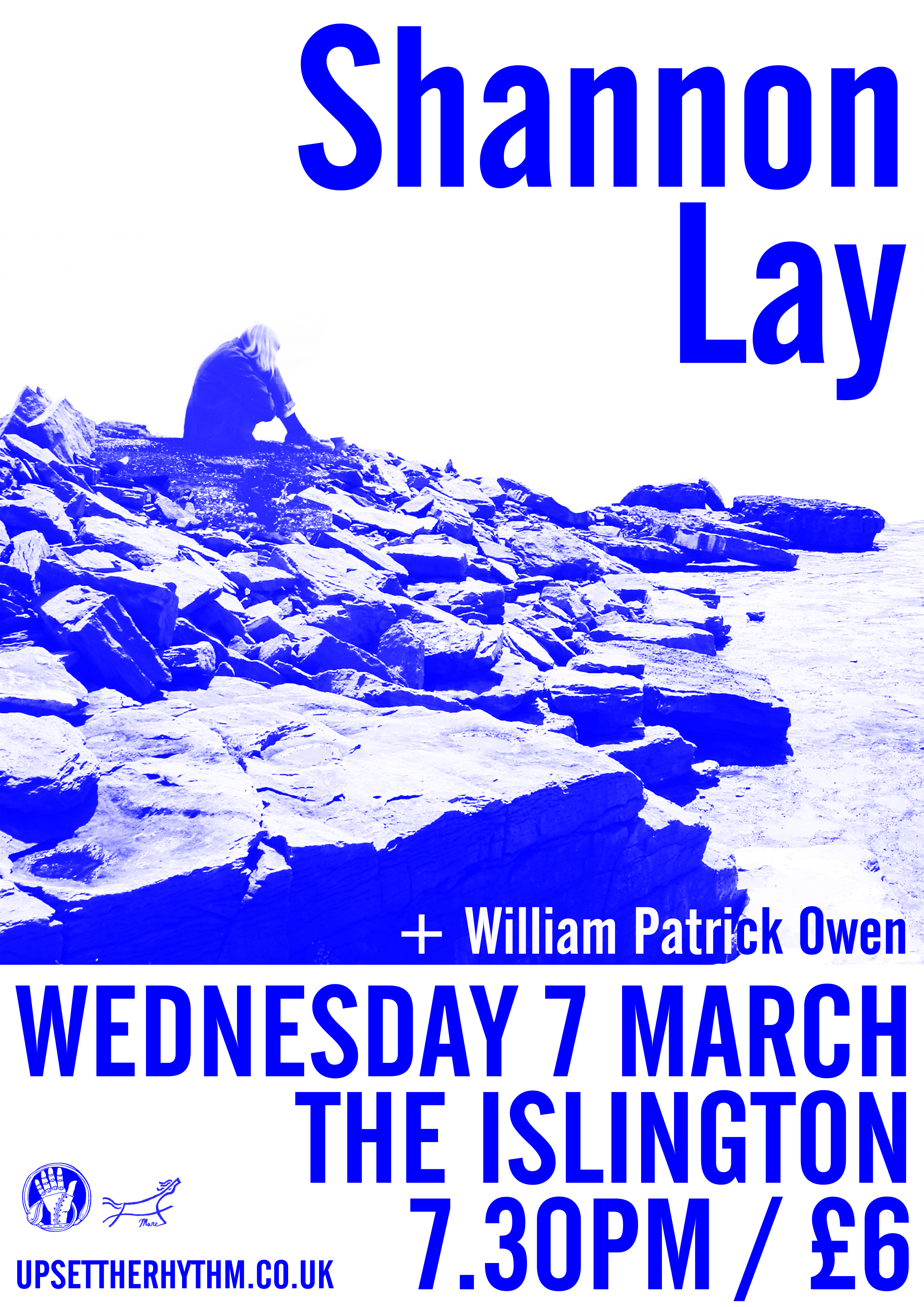 Upset The Rhythm presents…
SHANNON LAY
WILLIAM PATRICK OWEN
Wednesday 7 March
The Islington, 1 Tolpuddle St, Angel, London, N1 0XT
SHANNON LAY is a L.A. singer-songwriter whose new album, 'Living Water', is a work of plainspoken mysticism that goes to the small, bright truth of things, showcasing her unusual songwriting and quietly commanding voice. Shannon has been dominating the local scene in Los Angeles over the past two years, leaving everyone who witnesses completely breathless. 'Living Water' was recorded by Emmet Kelly (Cairo Gang, Bonnie Prince Billy, Ty Segall) in his Los Angeles home studio and you can even hear the room reacting to the music taking shape around it. Shannon has a voice that transcends time and space. You can't tell if she's old or new, if she's sitting next to you, on a mountain top, or down in some canyon. Already her second LP to be released in 2017, Shannon is a prolific songwriter, one who lives and breathes melody and with guitar skills to boot. Despite it's 14 tracks, Living Water comes in well under 40 minutes, but like Pink Moon or Just Another Diamond Day before it, this is music so potent it exists outside the realms of time - but in a world specific only to itself and the new feelings it creates. 'Living Water' is a life-affirming celebration of the wounds we all wear, captured with Shannon's deceptively straightforward approach. Like a late-summer sky the colour of a robin's egg, the album's outward simplicity masks the vastness of what lies behind. Having just finished a tour with Ty Segall, Shannon is set to support Kevin Morby on a national tour this winter.
https://shannonlay.bandcamp.com/
WILLIAM PATRICK OWEN
draws on a rich heritage of English fingerstyle folk guitarists like Nick Drake and James Blackshaw and applies to it a dreamy melancholy, creating introspective soundscapes with a deeply psychological lyricism. Debut album 'first person singular' lingers in a hangover haze of introspection coursing through themes as broad as identity, queer love and anxiety, and settling into its own distinct quotidian daydream.
https://www.williampatrickowen.com/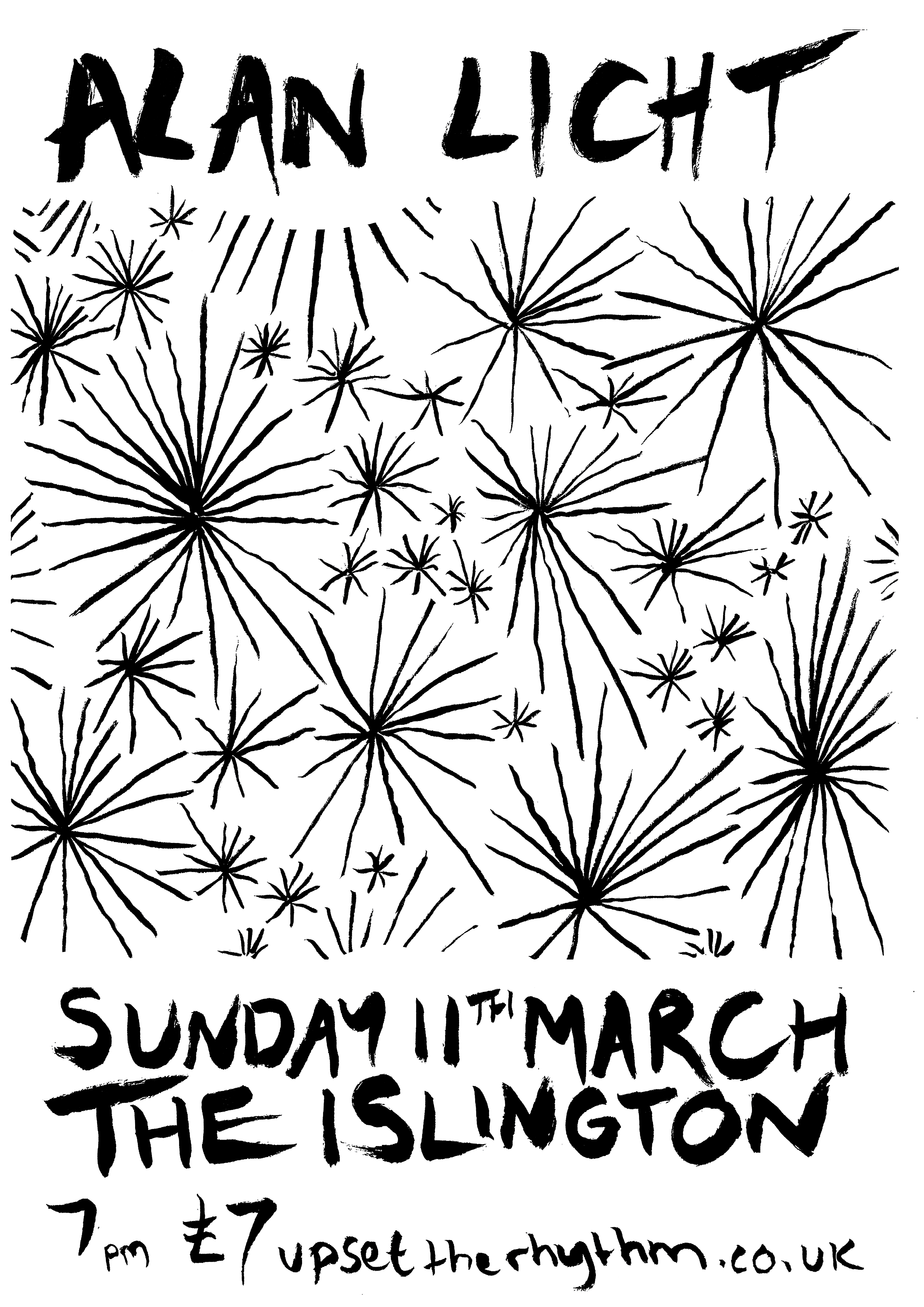 Upset The Rhythm presents…
ALAN LICHT
JAMES SEDWARDS / STEVE NOBLE
Sunday 11 March
The Islington, 1 Tolpuddle St, Angel, London, N1 0XT
ALAN LICHT is an American guitarist, composer and writer, revered for his work in the Blue Humans and Text of Light, and a key figure in the pantheon of experimental solo guitar players (such as Jim O'Rourke, Loren Mazzacane Connors, Bill Orcutt and Oren Ambarchi). Licht was born in New Jersey in 1968, began taking guitar lessons at the age of ten and went on to enrol at Vassar College, where he studied electronic music with Linda Fisher and composition with Annea Lockwood and Richard Wilson. By the time he graduated in 1990, Licht had already published articles on Minimalist composers La Monte Young, Tony Conrad, Rhys Chatham, and Charlemagne Palestine, and had recorded with former John Coltrane drummer Rashied Ali (on Rudolph Grey's Mask of Light LP). Licht then relocated to New York City, focusing on pursuing free improvisation (with Rudolph Grey's group the Blue Humans and guitarist Loren Mazzacane Connors) as well as indie rock (the bands Love Child and Run On), as well as a brief stint with legendary 60's psychedelic rock band Arthur Lee & Love.

Licht then began developing a repertoire of structured improvisation pieces for solo electric guitar, documented on a series of albums starting with 1994's 'Sink the Aging Process'. These brought together his interests in re-harmonisation, process, repetition, extended duration and the textural vocabularies of rock and noise music. The albums also include tape pieces and organ works. In 2001 Licht co-founded the ensemble Text of Light with Sonic Youth guitarist Lee Ranaldo, a project that brought together free improvisation with screenings of historic examples of experimental cinema. Some of Licht's most recent activities include recording and touring with Lee Ranaldo & the Dust, an improv trio with Aki Onda and artist/filmmaker Michael Snow, a duo with Yeah Yeah Yeahs drummer Brian Chase, and a book-length interview with Will Oldham, 'Will Oldham on Bonnie "Prince" Billy'. For this performance Licht will be performing a set similar in style to his Editions Mego album 'Four Years Older', a set of compelling guitar pieces that mine the rich seams of minimalism, noise and avant-garde, equal parts lyrical and corrosive.
http://alanlicht.tumblr.com/
JAMES SEDWARDS / STEVE NOBLE DUO
will present a special improvised set of guitar and drums. James Sedwards is known for his work in the avant-rock scene. He leads his own band Nøught and has collaborated on projects including Guapo, The Devil, Zodiac Youth, Alex Ward & The Dead Ends and Chrome Hoof. He currently plays guitar in the Thurston Moore band. Steve Noble is London's leading drummer, a fearless and constantly inventive improviser whose super-precise, ultra-propulsive and hyper-detailed playing has galvanized encounters with Derek Bailey, Matthew Shipp, Stephen O'Malley, Joe McPhee, Alex Ward, Rhodri Davies and countless more.
Thanks for your time! Wrap up warm!
Upset The Rhythm
UPSET THE RHYTHM
UPCOMING SHOWS

KA BAIRD
DIANA POLICARPO / JEJUNO
HACK MYSTIC
Tuesday 6 March
The Lexington, 96-98 Pentonville Rd, Angel, London, N1 9JB
7.30pm | £7 |
TICKETS
SHANNON LAY
Wednesday 7 March
The Islington, 1 Tolpuddle St, Angel, London, N1 0XT
ALAN LICHT
JAMES SEDWARDS / STEVE NOBLE DUO
Sunday 11 March
The Islington, 1 Tolpuddle St, Angel, London, N1 0XT
BILL ORCUTT & CHRIS CORSANO:
* DUO PERFORMANCE
RATTLE
Saturday 17 March
The Lexington, 96-98 Pentonville Rd, Angel, London, N1 9JB
* SOLO PERFORMANCES
Sunday 18 March
The Islington, 1 Tolpuddle St, Angel, London, N1 0XT
BRIGID MAE POWER
DANIEL O'SULLIVAN
Tuesday 27 March
Servant Jazz Quarters, 10A Bradbury Street, Dalston, London N16 8JN
JOSHUA ABRAMS - NATURAL INFORMATION SOCIETY
Monday 2 April
OSLO, 1a Amhurst Road, Hackney, London, E8 1LL
NO AGE
MIAUX
VITAL IDLES
Wednesday 4 April
Bethnal Green Working Men's Club, 44 Pollard Row, London, E2 6NB
JAMIE STEWART (Xiu Xiu)
ERIC CHENAUX
Monday 9 April
The Lexington, 96-98 Pentonville Rd, Angel, London, N1 9JB
ED SCHRADER'S MUSIC BEAT
Monday 7 May
Moth Club, Old Trades Hall, Valette St, Hackney Central, London, E9 6NU
NAP EYES
HALEY HEYNDERICKX
Tuesday 8 May
OSLO, 1a Amhurst Road, Hackney, London, E8 1LL
7.30pm | £10 |
TICKETS
MATANA ROBERTS & KELLY-JAYNE JONES
Wednesday 9 May
Ghost Notes, Peckham Levels, 95A Rye Lane, Peckham, London, SE15 4ST
PROTOMARTYR
ANA DA SILVA
RATTLE
Thursday 10 May
Scala, 275 Pentonville Road, King´s Cross, London, N1 9NL