Hello everyone!

Thanks to all of you for coming out to see Primo! and Sauna Youth in London, both bands headed up to Salford to record BBC 6Music sessions for the ever-excellent Marc Riley this week too. Joy of joys!

If you're fans of listening again or catching up through the digital medium, here's the

link

for you.
Today, with our new release in mind, I realise that there are two kinds of people in this world: not Terry, and Terry. I'm Terry. Melbourne quartet Terry return with their new album today and as always it's first-rate.

Terry have recorded three LPs in three years which continue to fulfill the promise of their first 7"s: one moment a witty "art" punk Wire scramble, the next moment a dumb "pub" rock oi stomper, the next a beautifully orchestrated shimmering soundscape of rudimentary melodies cascading over one another.
These are disparate but always succinct songs soaked in melodies, vocal harmonies that sing-song verses and terrace chant choruses, all peppered with flourishes of synths, horns and violins.

I'm Terry is an expression of a humbling kindness, and 2018 needs that more than ever! As we become culturally introverted, atomised and reduced to the best versions of ourselves / selfies, Terry moves from place to memory, now he moves to the very marrow of things. Terry has made time to put things right and now he's lending us his watch.

I'm Terry

is available now in all the best shops, its also uploaded into the web and holstered in our UTR

webshop

too.
Terry begin their tour with our first show of the new week too! They're supporting Shannon And The Clams at The Garage next Tuesday. Joining them will be Falmouth's Holiday Ghosts, so it's going to be a proper night to remember.

Next week is a busy one for Upset The Rhythm as on Thursday we follow that up with Prolapse at Moth Club, Friday with Lithics at The Islington, whilst Saturday night sees us pitch up at New River Studios with Patsy!

All things loud, angular, smart and bristling catered for then! Read on for full write-ups on all four events coming up next week, outstanding times…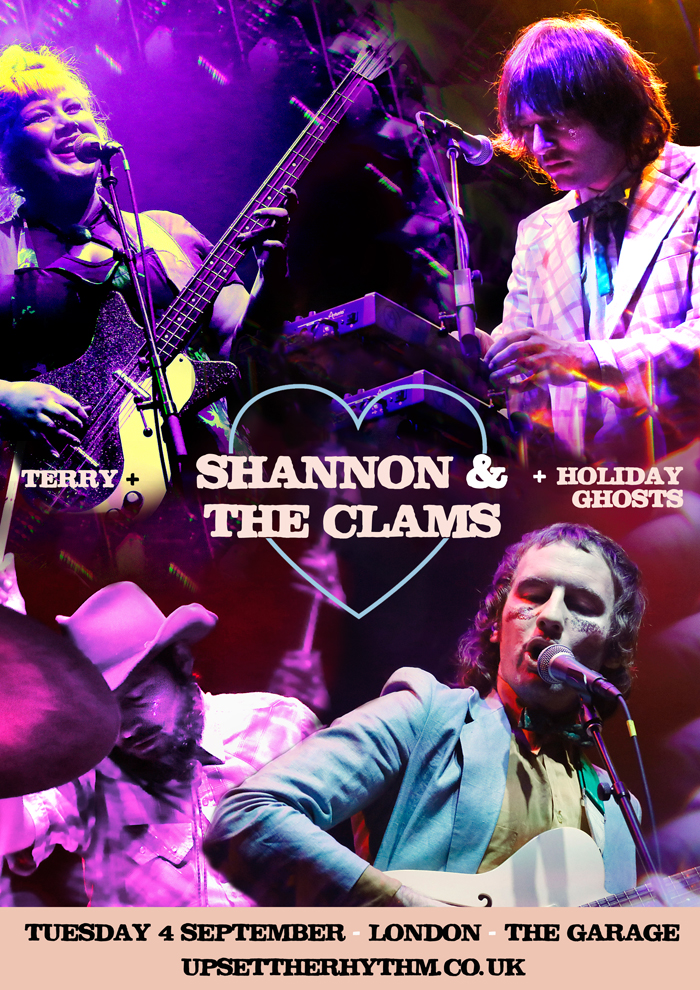 Upset The Rhythm presents…
SHANNON AND THE CLAMS
TERRY
HOLIDAY GHOSTS
Tuesday 4 September
The Garage, 20-22 Highbury Corner, London, N5 1RD
7.30pm | £12.50 |
TICKETS
SHANNON AND THE CLAMS
are from Oakland, California and comprise of Shannon Shaw (vocals, bass), Cody Blanchard (vocals, guitar), and Ian Amberson (drums, vocals). Sounding like a prom band from 1964 getting dosed with acid and having the sweetest lovelorn freak out, Shannon And The Clams defy expectations. Imagine a brawling Etta James, backed up by the 13th Floor Elevators singing Shangri La's tunes. Shannon has a voice that can go from a sweet girl group croon to a bluesy ballsy growl before you realize you're headed for the (dance) floor. It's total punk rock bop, brimming with doo-wop glory delivered to your door by the Homecoming Queen and Kings of weirdo rock 'n' roll. What started as an open mic project for a shy, young Shannon to try out some tunes ended with the Clams meeting and forming a band.
Many have said to have been possessed by thee (eerily similar at times) haunted howls and beautiful growls of their two lead vocalists, hypnotized by their heavy heartbeats, and mesmerized by their magical music. Your ears may become infested with a real Buddy Holly jolly kinda joy (oh boy) while you stutter along to a hiccupy song. Take a scratch and a sniff at these stickers and get bit by their bad-brained snarls. It's always Christmas (if you want it). It's your party time, and it's excellent. Cry-yi-yi if you want to, but be sure to surf a splish-splash with a laugh later. New album, 'Onion' (Easy Eye Sound) is monumental; immense, magnificent, and unforgettable. Shannon and the Clams have pioneered their way into a lonesome land where the past still lives in the long shadows of a hot afternoon, where whispering spirits follow high along canyon walls, and if you sink your fingers into the dusty hard-packed earth you pull out hands smeared with blood.
http://shannonandtheclams.com/
TERRY
is getting ready, combing his hair, buttoning his jacket, turning the key in the door. "I'm doing fine," sings Terry out loud, he knows. Divide him into four and you get Al Montfort (UV Race, Total Control, Dick Diver etc.), Amy Hill (Constant Mongrel, Primo, School Of Radiant Living), Xanthe Waite (Primo, Mick Harvey Band) and Zephyr Pavey (Eastlink, Total Control, Russell Street Bombings). Inevitably, Terry likes to make a noise. Drums, guitars and all his voices come into play, making a solid raft for Terry's inner musings to navigate the languid rapids. This all unravels at its own pace, sometimes drifting into glam punk and country backwaters, always conducting a conversation with the commonplace. Terry also make us a bit queasy at times, singing about police beatings and nationalism and all that. But they're not out to hurt you. They're like the kindly bearer of bad news. There's some awful stuff going on around the world. Terry puts it in terms that speak to all. It's a tragicomedy. I'm pretty certain Terry isn't perverse, they're just the harbinger of the encroaching perverse world. I'm pretty certain Terry wants to be my friend, and your friend. Our friend, Terry. 'I'm Terry', the band's third album in three years, is out this summer through Upset The Rhythm.
https://terryhq.bandcamp.com/
HOLIDAY GHOSTS
are a four-piece Rock 'n' Roll group, from the small town of Falmouth, UK. Starting as a solo project of Sam Stacpoole, of the The Black Tambourines, it has existed and evolved in the space between that band and running his studio since 2012. It is now a full collaboration between Sam, his partner Katja Rackin, Ryan Cleave and Charlie Fairbairn. Not just another product of the burgeoning DIY and garage rock scene in Falmouth, Holiday Ghosts have self recorded all their own material, set up gigs and developed a sound of their own rooted in their love of bands such as The Velvet Underground, Modern Lovers, The Clean e.t.c. Their debut album was released by the Swedish label PNKSLM records in September 2017 and another is in the works already.
https://holidayghosts.bandcamp.com/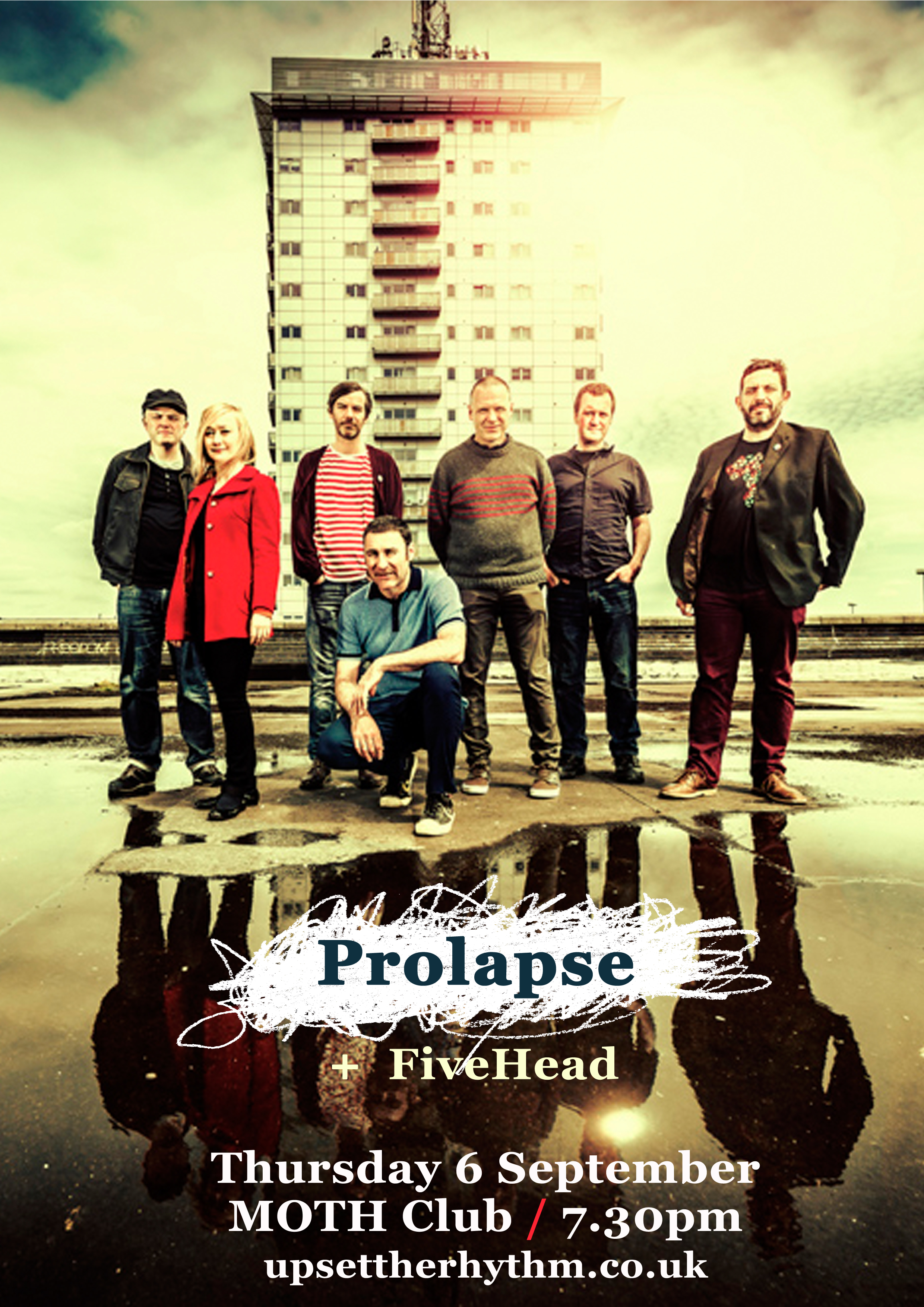 Upset The Rhythm presents…
PROLAPSE
FIVEHEAD
Thursday 6 September
Moth Club, Old Trades Hall, Valette St, Hackney Central, E9 6NU
7.30pm | £11 |
TICKETS
PROLAPSE originally formed in Leicester in the early 1990s and earned a cult following for their chaotic live sets, and tense and repetitious songs like 'Flex' and 'Tina This Is Matthew Stone'. They feature duelling vocalists Mick Derrick and Linda Steelyard, who play out an intense soap opera over a ferocious triple guitar assault and pummelling rhythm section. Their music is a heady brew of hacking guitars, Krautrock references, non sequitur lyrics and caustic narrative; messy and shambolic for sure, but a self-professed mess! The band released four albums between '94 and '99 (Pointless Walks To Dismal Places; backsaturday; The Italian Flag; The Ghost of Dead Aeroplanes), and each still manages to sound not only fresh and relevant, but also urgent, and very, very necessary. The band has received much critical acclaim, recorded four Peel sessions and toured with the likes of Stereolab and Sebadoh.

It has been said that no Prolapse experience can be deemed complete without having seen them live, when every gig felt as if it had been scripted by a quorum involving Samuel Beckett, Hunter S Thompson, Marjorie Proops and Mark E Smith. After a long hiatus, following a request from Mogwai, they reformed in 2015 to play live UK dates and have since begun work on new material. This rare outing will be Prolapse's first live performance in over three years.
FIVEHEAD
formed from necessity in mid-2017 Leicester. Since then they haven't wasted a second painting their world as they see it, operating incessantly, gaining a reputation for fanatic, confrontational and sometimes destructive live performances, in tow with an incessant output before unleashing "the first pages of the cosmonaut manifesto" in the form of their cataclysmic debut EP: How to Bombproof Your Horse. The band's "Post-Space" music draws from a plethora of influences that claw at your heart as they orbit from mind-bending psychedelia, dizzying grandiose post-rock heights, tragic post-punk, hypnotic Kosmische Musik, electronica or punishing walls-of-noise, or whatever else they were listening to as they ingested their vegan nails for breakfast. Their fanatic live shows are renowned for being a cathartic sonic rollercoaster of excessive volume levels, dazzling energy and glorious mayhem.
https://www.facebook.com/fiveheadleicester/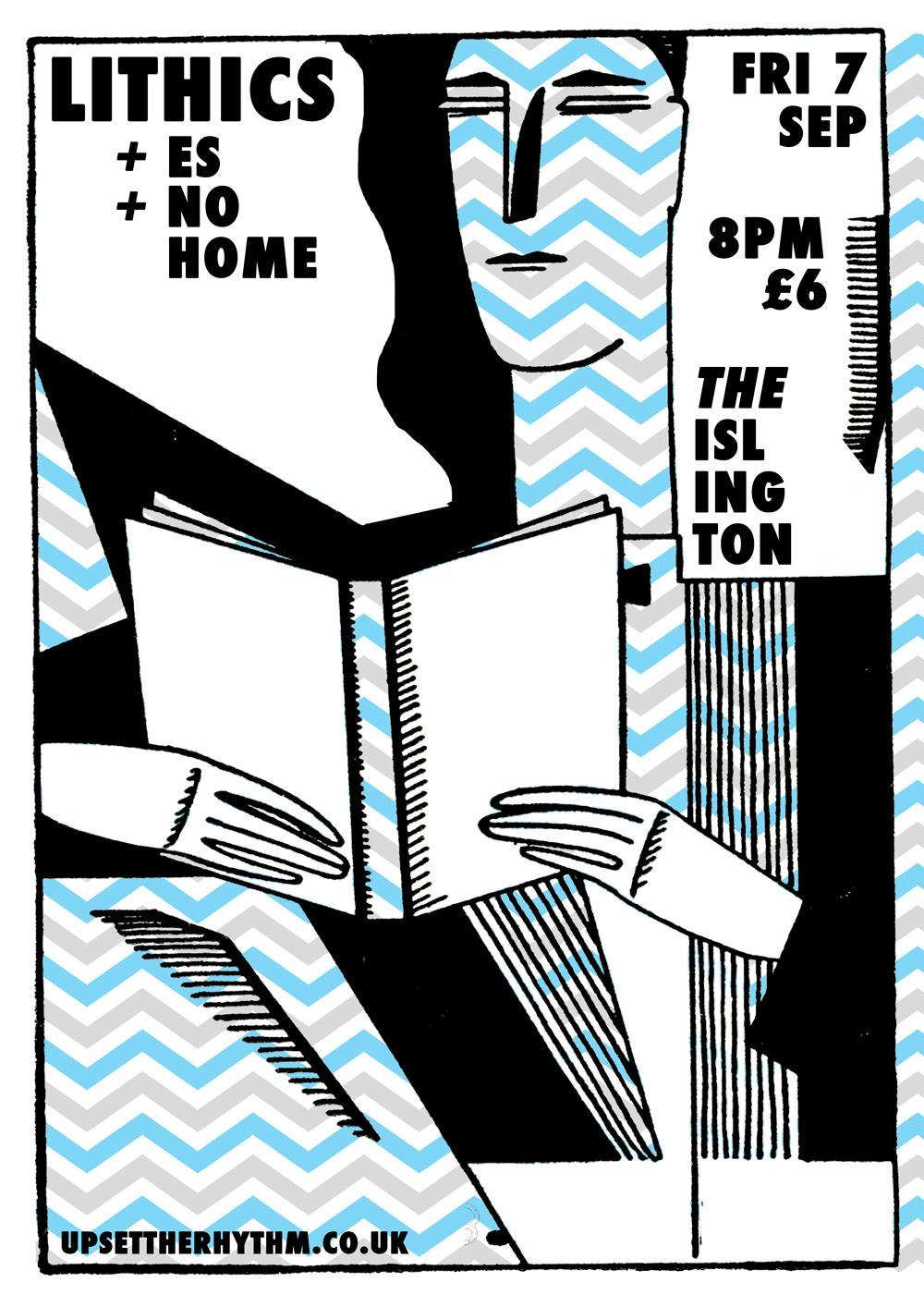 Upset The Rhythm presents…
LITHICS
ES
NO HOME
Friday 7 September
The Islington, 1 Tolpuddle St, Angel, London, N1 0XT
7.30pm | £6 |
TICKETS
LITHICS
exist in a nervous fragmented world, a propulsive future where anything can be consumed at any time, where any sound from any era can be conjured and reproduced and yet most of what we are stuck with seems like a trite reproduction of a sentiment long lost. Lithics fight this impossible dreary reality with a bold minimalist vision, "Can I be myself?" A stern danceable sound that summons cut up snapshots of Su Tissue and Mark E Smith, an imagined landscape where Captain Beefheart hits that Bush Tetras' beat. Aubrey Hornor's stark stilted vocal intones over the wired guitar parts, like lightbulb flashes and the whir of insects unspooled and playing off each other. Bob Desaulniers' basslines give both structure and dissonance to the endeavor, and along with Wiley Hickson on drums, this is a rhythm section recalling art damaged yet danceable noise made in the detritus of failing cities in the late 70s/early 80s (The Lower East Side, Cleveland, Manchester…). Except Lithics is happening now, a continuing part of the vital art punk DIY underground in Portland, Oregon. Lithics' new album 'Mating Surfaces' is out now on Kill Rock Stars.
https://lithics.bandcamp.com/
ES
are four women based between London and Glasgow making "mutant synth-punk for our dystopian present" (Jes Skolnik). Tense, bass driven and synth heavy with frantic drumming and cold, direct vocals, their debut 12", 'Object Relations', delivers 4 tracks of gelid guitar-less post punk that is equal parts sparse and cosmic. Think of a mix of KUKL with No Defences jamming with Xmal Deutschland and you may be getting there.
https://esband.bandcamp.com/releases
NO HOME
is the musical project of Charlie Joseph. Her most recent EP, Self Preservation, was written over the summer of 2017. On the EP, No Home tackles the toxicity of masculine power, realisations through Tinder dates, and how to preserve yourself. The project takes inspiration from Bon Iver, Frank Ocean and Mitski.
https://nohome.bandcamp.com/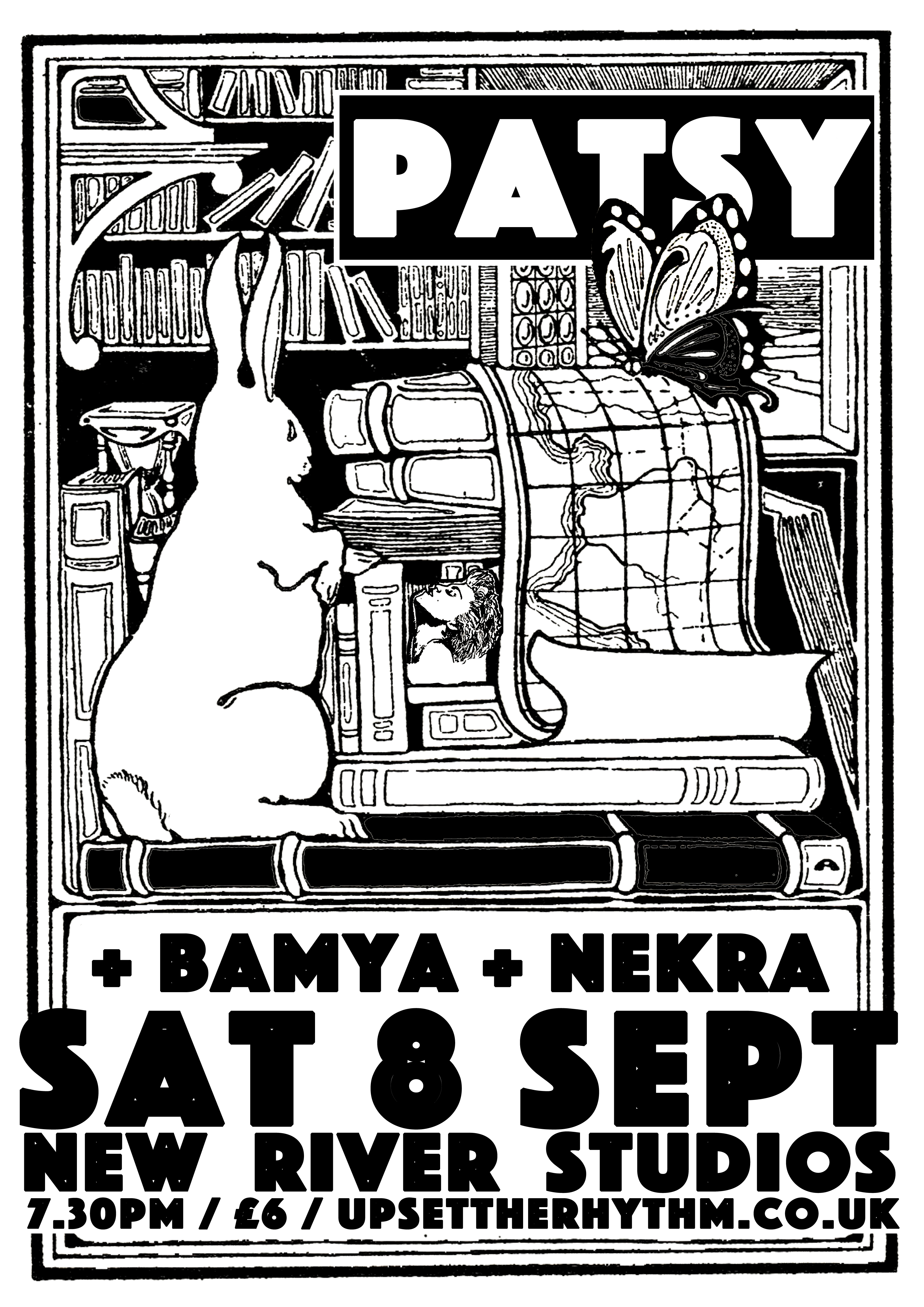 Upset The Rhythm presents…
PATSY
NEKRA
BAMYA
Saturday 8 September
New River Studios
199 Eade Rd, Harringay Warehouse District, London, N4 1DN
7.30pm | £6 |
TICKETS
PATSY
are a New Orleans band who make fast, slashing, catchy-as-hell punk rock. The band is led by one Candice, also a member of the band Mystic Inane, and their schoolyard-taunt snarl is one of the coolest things we've ever heard. After a series of excellent singles over the past couple of years, the band recently released their debut 'mini'-LP 'LA Women' (La Vida Es Un Mus Discos), which you can stream below. Where prior singles tended to stay firmly in the hardcore lane, 'LA Women' finds Patsy blending an inspired mix of surf, garage, 80s hardcore, skewed 80s new wave, and garage. Their straight ahead hardcore jams – including a re-recorded version of "Nazis are so Plain" from their 2015 demo – bear a slippery quality that reminds of DKs, particularly in the woozy guitar work (see, in particular, album highlight "Society Ape"). Elsewhere, tracks like the excellent "Heathen" and opener "Count it Down" bristle with a-go-go worthy garage energy. This will be the band's first time in London on their debut European tour!
https://itspatsy.bandcamp.com/
NEKRA
have riffs as wide as the Old Kent Rd, big drum rhythms falling on and off the rails and a pure velocity that could tear the roof off. NEKRA sounds confrontational, like a fight you don't know you've started yet. Nekra find themselves somewhere between the weight of Life's Blood and a solid continuation from the moves of punchy hardcore punk of recent years. Moshy, loud, aggressive, uncaring, vicious, London. Check out their demo tape from last year available on La Vida Es Un Mus.
https://nekra.bandcamp.com/releases
BAMYA
are a feast of dark rhythms dug up from the ground. The trio plays a music that is highly controlled, yet a liberated mix of krautrock, afrobeat, and eastern european tinged melodies. Undefinable, loose, post-punk/world influenced music touching on The Ex, Mars, Can and The Raincoats.
https://bamya-c.tumblr.com/
Thanks for your time, that was a lot of reading (phew), see you lot a lot next week! Keep it keen!
Upset The Rhythm
UPSET THE RHYTHM
UPCOMING SHOWS
SHANNON AND THE CLAMS
TERRY
HOLIDAY GHOSTS
Tuesday 4 September
The Garage, 20-22 Highbury Corner, London, N5 1RD
7.30pm | £12.50 |
TICKETS
PROLAPSE
FIVEHEAD
Thursday 6 September
Moth Club, Old Trades Hall, Valette St, Hackney Central, E9 6NU
7.30pm | £11 |
TICKETS
LITHICS
ES
NO HOME
Friday 7 September
The Islington, 1 Tolpuddle St, Angel, London, N1 0XT
7.30pm | £6 |
TICKETS
PATSY
NEKRA
BAMYA
Saturday 8 September
New River Studios, 199 Eade Rd, Harringay Warehouse District, London, N4 1DN
7.30pm | £6 |
TICKETS
SCREAMING FEMALES
SCRAP BRAIN
RODENTS
Tuesday 11 September
100 Club, 100 Oxford St, Oxford Street, London, W1D 1LL
ESCAPE-ISM (Ian Svenonius)
JEUCE
DOG CHOCOLATE
Thursday 13 September
Moth Club, Old Trades Hall, Valette St, Hackney Central, E9 6NU
TERRY
THE HOMOSEXUALS
RUSSELL WALKER

Tuesday 18th September
Moth Club, Old Trades Hall, Valette St, Hackney Central, E9 6NU
7.30pm | £9 |
TICKETS
WOLF EYES MUSIC: THREE DAY RESIDENCY
Friday 21st, Saturday 22nd, Sunday 23rd September
In collaboration with Cafe OTO, 22 Ashwin Street, Dalston, London, E8 3DL
21 SEPT:
WOLF EYES with YEAH YOU
WOLF EYES (short set)
AARON DILLOWAY / VICKY LANGAN (Duo)
22 SEPT:
UNIVERSAL EYES
(Nate Young, John Olson, Aaron Dilloway, Gretchen Davidson)
TRIPLE NEGATIVE
VICKY LANGAN (DJ set)
23 SEPT:
WOLF EYES with BEATRICE DILLON
AARON DILLOWAY (solo)
SHARON GAL (solo)
ROSE MCDOWALL
JETSTREAM PONY
Monday 1st October
St Pancras Old Church, Pancras Road, King's Cross, NW1 1UL
7.30pm | £10 |
TICKETS
VIRGINIA WING
Thursday 11 October
OSLO, 1a Amhurst Road, Hackney, London, E8 1LL
7.30pm | £8 |
TICKETS
THE SPACE LADY
SPINNING COIN
Tuesday 23 October
Moth Club, Old Trades Hall, Valette St, Hackney Central, E9 6NU
7.30pm | £10 |
TICKETS
EARTHEATER
Thursday 25 October
The Courtyard Theatre, 40 Pitfield Street, Shoreditch, N1 6EU
8pm | £10 |
TICKETS
JO PASSED
SLUMB PARTY
Thursday 25 October
The Victoria, 451 Queensbridge Rd, Dalston, London, E8 3AS
7.30pm | £7 |
TICKETS
Tompkins Square Records night featuring…
BRIGID MAE POWER
DUCK BAKER
GWENIFER RAYMOND
Friday 26 October
St John on Bethnal Green, 200 Cambridge Heath Rd, London, E2 9PA
7pm | £10 |
TICKETS
GROUPER
Monday 29 October
Hackney Arts Centre, 13 Stoke Newington Road, London, N16 8BH
7pm | £16.50 |
TICKETS