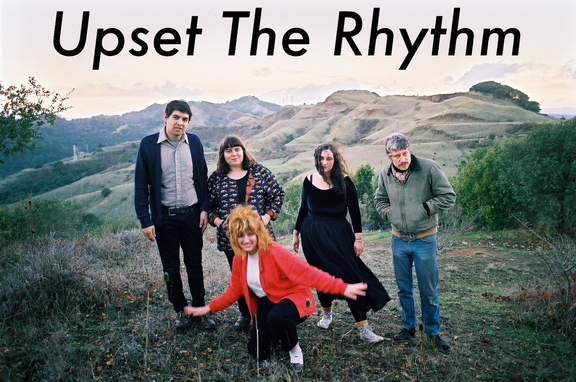 Hello you lot!

Upset The Rhythm has a teeming myriad of things going on right now, there are actual traces of steam about our ears, so we thought it well worth bombarding you with all the pertinent news and relevant drama, stand well back, take cover!

Tomorrow, we release the extraordinary debut 7" EP by

The World

from Oakland California. The World are all about the double sax attack, the tremolo of dub guitar, and those spare and sturdy drums, anchored by the gravitational pull of a propulsive bass. The World's a post-punk band, sure, but they're also a dance group, a wild and revolutionary art collective, with sounds from the past catapulted to the future. Limited to just 500 copies on neon yellow vinyl, you can pick one up in all good record shops from tomorrow morning or from our very own webshop

here

if that's more opportune.
Have a listen to lead track 'Managerial Material' to have any superfluous socks blown off into the void. It's contagious, utterly alive and a total pulse-grabbing cacophony, listen up!

We'll definitely be playing The World loud and proud tomorrow evening at DIY Space For London, as we're on DJ duties for an awesome show that sees

The Rebel

,

Ravioli Me Away

,

The Glugg

and

Score

all performing. Hope to see you there! No fooling, April 1st. More on that

here

.

We'll also be DJing on Saturday afternoon at the ever-excellent Independent Label Market in Spitalfields. Throughout the day we'll be selling UTR wares at pitch number 69, so please drop by and shout hello in our direction! We'll have plenty of things ready for your discerning purse including some rare and obscure items from our back cat alongside some of the freshest releases imaginable. I hear there are a fair amount of breweries going to be present too, so if you like music and drinks, drunken music or musical drunks this could be exceedingly up your alley.
In other news of a show nature, Upset The Rhythm confirmed this week that Aaron Dilloway and No Form will be joining Wolf Eyes for a colossal concert next month at the Tufnell Park Dome. Whilst today we also revealed that we have a show planned for July 27th also at The Dome for Memphis garage-punk legends The Oblivians. This is an extremely rare occurrence and on a European tour shorter than a week sees them make their only stop in the UK. Tickets for these events and all or future promotional ventures are listed at the end of this message and also include details of a new double headline show in October for Upsilon Acrux and Guapo too. Mouthwatering stuff!

Talking of shows, next week is one of our busiest weeks planned for this year, Monday we have Protomartyr playing a sold out event at The 100 Club. Then on Tuesday we head to OSLO in Hackney for a heaven-heavy tapestry of sound from U.S. Girls, Ed Dowie and Mat Riviere. The following Saturday we've arranged a corker of a show at DIY Space For London with The Intelligence, The Pheromoans and Black Mask. Whilst Sunday 10 April finds us at Café OTO with a label lineup special featuring cosmic post-punk collective Normil Hawaiians performing alongside some contemporary label mates in Bamboo, The Wharves and Dog Chocolate, all for an astonishing £7 ticket! Wah, I told you there was a lot to wade through, well hopefully it's all nourishing food for thought. The real nitty gritty follows…
U.S. GIRLS
ED DOWIE
MAT RIVIERE
Tuesday 5 April
OSLO, 1a Amhurst Road, Hackney, E8 1LL
U.S. GIRLS is Illinois-born, Toronto-based artist Meghan Remy. A captivating musical force who evolved from the raw, corrosive 4-track fidelity found on her early records to the more unabashed art-pop of U.S. Girls on KRAAK (2011) and Gem (2012) - albums which helped to "widen and universalize her music without losing a drop of what previously made it so special and personal" (Pitchfork) - her debut album for 4AD, Half Free, came out in 2015. Half Free focussed on characters in everyday struggles, with narratives inspired by the work of director John Cassavetes and Bruce Springsteen. Throughout, Remy explores themes relating to abuse and gender inequality, whether the broken wife in 'Sororal Feelings' (a track loosely based on the character Nora Bass in Michael Ondaatje's Coming Through Slaughter), or the exasperated war widow in 'Damn That Valley', soundtracked by its intoxicating combination of thick dub flavours and Wall of Sound dramatics.
ED DOWIE started making music in the late 1990s with Beta Band label mates, Brothers in Sound, releasing three EPs and an album on Regal Recordings and BMG. After spending several years composing scores for theatre and short films, Ed joined The Paper Cinema, a puppetry/ animation/ theatre/ music hybrid that tours around the world. In 2012, Ed embarked on a solo career that led him to release an EP to accompany the Paravion Press publication of a Walter Benjamin essay. His second EP received praise from No Fear of Pop, 20 Jazz Funk Greats and The 405. His music has been featured on various short films and TV programmes and has regularly featured on BBC Radio 3 and Resonance FM. He's recently completed his debut album, which will be released later in the year.
MAT RIVIERE sculpts the kind of soundscapes your brain wanders into after you've been given a co-codamol prescription. Active for a good few years now, self-releasing carefully crafted albums with names like 'Not Even Doom Music' and 'Follow Your Heart', Mat has woven together a tapestry of influences unique to himself - one where Xiu Xiu's noisepop and Trust Fund's vulnerability sit comfortably next to each other. Recent EP 'Terrible Trouble' came out on Super Smash Hit Records and sounds a bit like a lo-fi How To Dress Well cross-pollinated with Casiotone For The Painfully Alone and features additional vocals by Joel Midden of Chicago drone-pop outfit Bastardgeist.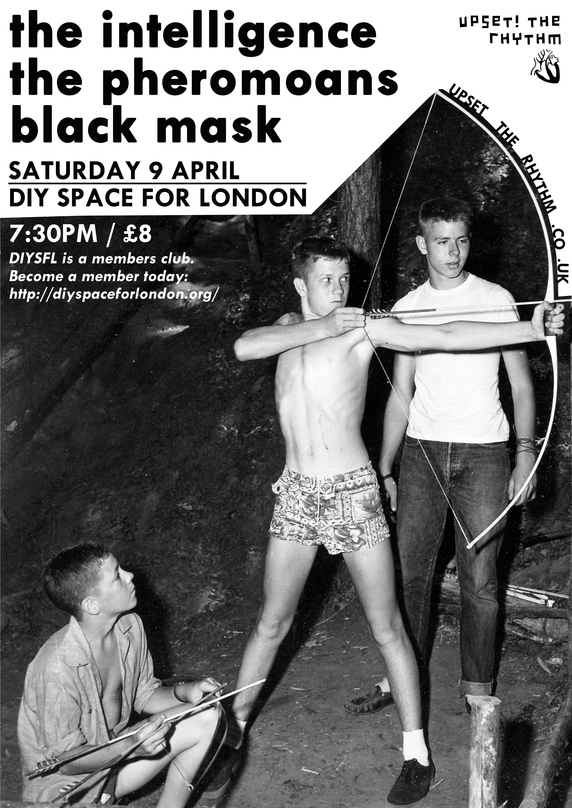 THE INTELLIGENCE
THE PHEROMOANS
BLACK MASK
Saturday 9 April
DIY Space For London, 96-101 Ormside St, South Bermondsey, SE15 1TF
DIYSFL is a members club, become a member here:
THE INTELLIGENCE
was born unto the world at the dawn of the 21st century and since its seen its brand of art-smarm surf become a touchstone for with-it rock n' roll of the era. Perhaps a surprising assertion, especially considering their primitive and personal origins, but one cemented by the dedication and continual reinvention fostered by main-brain Lars Aldric Finberg. For all their longevity and prolificacy, The Intelligence is a restless, ever-evolving vehicle for Finberg, showcasing his presumably patented knack for sharp pop songwriting that rides waves from both the past and heretofore unknown. Hence the emergence of 'Vintage Future', the band's latest album. Finberg has always playfully flashed fangs with The Intelligence, but the hard targeting here makes 'Vintage Future' the most thematically biting offering thus far. Across the record, Finberg combs over relationships, ambitions and his own values for trouble spots and indignities, highlighting his findings and skewering as needed. Jabs at the absurdities of band life have been a focus of since The Intelligence's inception, but tunes like "Nocturnal Admissions", "We Refuse To Pay The Dues" and "Platinum Janitor" confront living in rock n' roll with an honesty bordering on the sadistic. Songs like "Sex" and "Whip My Valet" (the band's most singularly aggressive and punk moment ever) manage to be intensely personal ruminations, nervously humorous and all-out rockers simultaneously, all with a wink. It's precisely that charm coupled with intensity that makes The Intelligence so crave-worthy. Well, that and the copious panic-stabs of guitar.
http://theintelligenceband.com/
THE PHEROMOANS
are a six-piece experimental rock band from the South East of England who deal in a deadpan DIY music. Married to the mundane yet surreal reportage of our lives, their music manages to address the truly restless boredom and absurdity of everyday life. The Pheromoans write songs for the end of the queue, songs that prowl the periphery, songs that stand up on the bus and stare out through the window, blasted through with brilliant sprawling sunshine. Over the last nine years the band have released a slew of records, including numerous EPs, 7"s, mini-albums and LPs through labels as diverse as Night People, Convulsive, Sweet Rot, Monofonus Press, Clan Destine and Upset The Rhythm. These recordings largely focused on a ramshackle, wayward rock ethic, underpinned by lyricist Russell Walker's dry, observational musings that tread an almost diary-like path throughout the songs. Brand new album 'I'm On Nights' was just released through Alter and features the band stalking into a world of drum machine clicks, spaced-out keyboard ditties and ennui-soaked rhymes.
BLACK MASK
are a SE London trio who make songs about love and crime and melting - broken synthesizer and frantic drums accompany desperate vocals. Their 1st single David Kronenberg 1664 (a tale inspired by a mysterious blood-tasting can of the brew bought in an Elephant and Castle off-license) is due this Spring on self released 7".
http://blackmaskblackmask.bandcamp.com/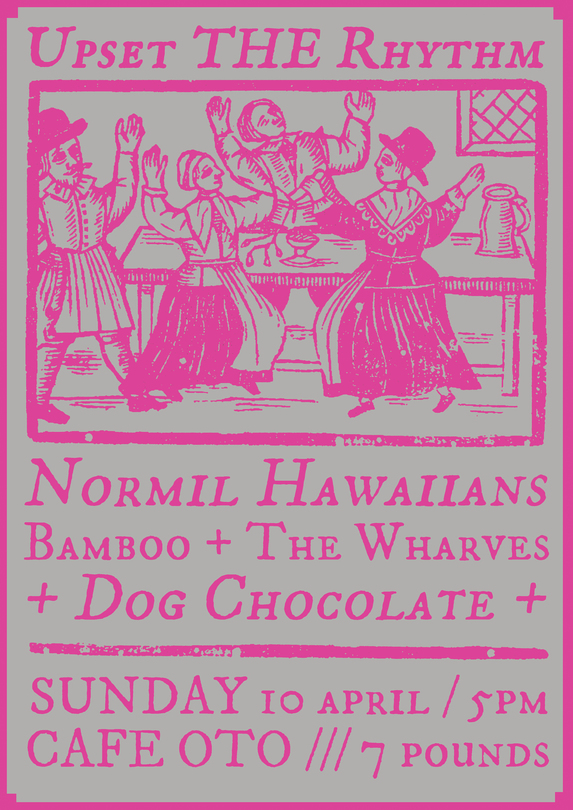 NORMIL HAWAIIANS
BAMBOO
THE WHARVES
DOG CHOCOLATE
Sunday 10 April
Cafe OTO, 22 Ashwin Street, Dalston, E8 3DL
NORMIL HAWAIIANS
have always operated as a collective of musicians rather than a band per se and for their third album, 'Return Of The Ranters', the group comprised of Guy Smith, Simon Marchant, Alun 'Wilf' Williams, Noel Blanden and Jimmy Miller. Recorded at Dave Anderson's Foel studio in Wales (sonic home of Amon Düül II and Hawkwind) in the Winter of 1985, a time and a place triangulated from political, social and geographical aspects, the album extended their free experiments in compelling arrhythmia and seemingly organised sound, taking a loose trajectory from their previous albums and earlier, more confrontational approach.
Lucid, candid, politically engaged, rarely metronomic but always humane, tired but still fighting, Normil Hawaiians' have waited patiently for thirty years. 'Return of The Ranters' was not released back in 1985 as with Guy, Jimmy and Wilf living in squatting communities in South London, and Simon and Noel re-locating their families to rural Kent - the Family Hawaii splintered and went its separate ways. In the intervening years, the band's reputation has grown considerably, far beyond the UK. With vast clouds of atmosphere, tape loops, found percussion, exalted synths and walls of guitar ambience, Normil Hawaiians sound more at home today. Now the causes and conditions have finally come good with Upset The Rhythm releasing 'Return Of The Ranters' last November to much acclaim and the band having prepared their spellbinding show for the road once more. All that falls, now falls into place...and all that was air now becomes solid.
http://normilhawaiians.com/
BAMBOO
is a sublime new project from Nick Carlisle (of Peepholes, Don't Argue) and Rachel Horwood (of Trash Kit, Halo Halo). Their music is vivid and deeply poignant, locking into a magnetic attraction between between Rachel's flawlessly resonant folk cadence and Nick's pristine synth pop production. Far from being a one off, or dare we say side-project, BAMBOO is very much a fully realised pursuit, with the band working on multiple records simultaneously from their Brighton and London base camps. 'Prince Pansori Priestess' is the first album to see the light from this pairing of talents (out now on Upset The Rhythm). 'Prince Pansori Priestess' was recorded between spring 2014 to spring 2015, this was before the band expanded to a four piece for live performances, showcasing BAMBOO as a very original duo with a sound-world very much their own. It feels very pure, prismatic and even mystical at moments without losing any of its human touch.
http://www.bamboosongs.co.uk/
THE WHARVES
combine gracefully minimal psyche-rock with fuzzed out folk. Their songwriting remains consistently rich, largely due to the startling harmonies of Gemma Fleet (bass) and Dearbhla Minogue (guitar) that bond together each song. They invoke the reverberated spook of 60s girl groups, the mid-fi guitar crunch of Kim Deal's The Amps, the vocal flavours of The Roches and the narrative and structural panache of 70s progressive folk. Marion Andrau's thunderous drumming drives through these compositions, ensuring the wealth of disparate influences remain focused and celebratory. Following on from last year's brilliant 'At Bay' album on Gringo Records, Upset The Rhythm released a brand new 7" single recently giving all a glimpse of what their next album 'Electa' will sound like this year.
https://thewharves.bandcamp.com/
DOG CHOCOLATE
sound like a crowded room but are actually four individuals from London. Having played in many other bands including Yeborobo, Limn and Gasp! Cracking Eggs, united they recognise Dog Chocolate as their one true love. Abandoning notions of elegance, cred and professionalism they embrace the ramshackle, instant and fun, capturing a vivid spontaneity with their music. Their sound is a shabby, fast, over-excited ball of wet fur falling down the stairs, knocking over plant pots along the way and staining the carpet. With an average song time of 2 minutes, Dog Chocolate are on to the next treat before fully digesting the last. Chewing up bits of punk, post-punk, noise and pop, Matthew and Robert's guitars race around each other like wasps, pitch-shifting and phasing all over the place while Jono's rolled-up-newspaper drums chase them round the room. The band's debut album 'Snack Fans' was released this month by Upset The Rhythm.
Thank you tremendously for taking the time to read this!
Upset The Rhythm
x
UPSET THE RHYTHM
UPCOMING SHOWS
Monday 4th April
100 Club, 100 Oxford St, Oxford Street, W1D 1LL
7.30pm | £10 | SOLD OUT
Tuesday 5 April
OSLO, 1a Amhurst Road, Hackney, E8 1LL
Saturday 9 April
DIY Space For London, 96-101 Ormside St, South Bermondsey, SE15 1TF
Sunday 10 April
Cafe OTO, 22 Ashwin Street, Dalston, E8 3DL
Friday 22 April
DIY Space For London, 96-101 Ormside St, South Bermondsey, SE15 1TF
Friday 29 April
Tufnell Park Dome, 178 Junction Road, Tufnell Park, N19 5QQ
Thursday 5 May
Bethnal Green Working Men's Club, 44 Pollard Row, Bethnal Green, E2 6NB
Tuesday 10 May
Moth Club, Old Trades Hall, Valette St, Hackney Central, E9 6NU
Saturday 21 May
MOTH Club, Old Trades Hall, Valette Street, Hackney, E9 6NU
Monday 23 May
The Lexington, 96-98 Pentonville Rd, Angel, N1 9JB
Tuesday 31 May
The Victoria, 451 Queensbridge Rd, Dalston, E8 3AS
In collaboration with Caught by the River…
Saturday 4 June
Cafe OTO, 22 Ashwin Street, Dalston, E8 3DL
Tuesday 7 June
Bethnal Green Working Men's Club, 44 Pollard Row, Bethnal Green, E2 6NB
Friday 24 June
O2 Forum Kentish Town, 9-17 Highgate Road, London, NW5 1JY
Saturday 25 June
Cafe OTO, 22 Ashwin Street, Dalston, E8 3DL