We're celebrating our 10th anniversary tomorrow at the Courtyard Theatre (Pitfield Street) with a show for FICTIONAL BOYS, MICKEY GLOSS and THE WHARVES. Astral-pop, party punk, heavy melodies galore! What a way to see out 2013! Extending the festive spirit to all, we're doing a quick competition to win 10 free pairs of tickets for tomorrow's show! Think 10 letters long and then send us your best made-up band name, the funnier/weirder the better. The first 10 that make us laugh will win tickets!
Submissions to upset_the_rhythm@yahoo.com
\\\\\\ TOMORROW /////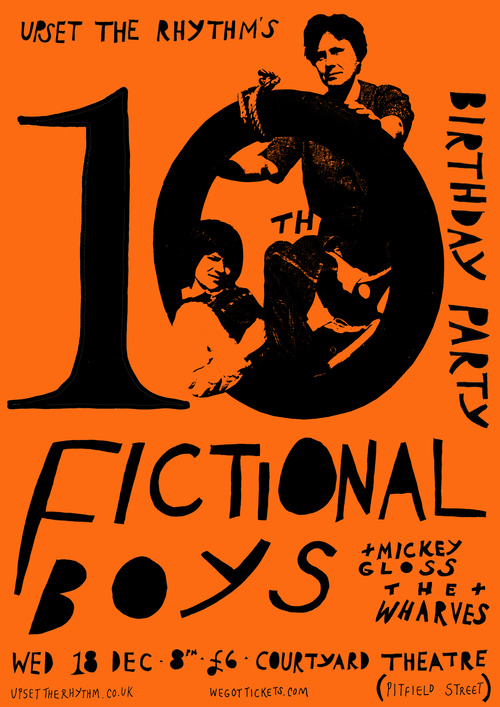 UPSET THE RHYTHM'S 10th BIRTHDAY PARTY
FICTIONAL BOYS
MICKEY GLOSS
THE WHARVES
Courtyard Theatre, Bowling Green Walk, 40 Pitfield Street, Shoreditch, N1 6EU
FICTIONAL BOYS is John Webster Johns AKA Jack Name, a songwriter that Tim Presley recently described as a 'stubborn genius'. Currently a touring guitarist for Presley's band White Fence, Johns spends much of his time releasing music under various monikers (Fictional Boys and Muzz) and working behind-the-scenes as a studio wizard /collaborator for the likes of Ariel Pink and Cass McCombs. Next year, the Los Angeles native will release his debut album under his latest project, Jack Name. Titled 'Light Show', it's due out January 21st via Drag City / Ty Segall's imprint God? Records. In anticipation, Johns has shared his lead single 'Pure Terror' with the interweb. It's a whirring psych-pop jam that couples his laid-back, cloaked vocals with rambunctious guitars, it nicely balances the low-key and lo-fi with straight-up wild, technicolor energy. He's singing about terror, and as the song comes to its conclusion, his voice is enveloped by these high, astral, childlike voices.
MICKEY GLOSS is a psychedelic/punk party experiment that left the east coast of Australia for London amidst the chaos and disorder of the riots in summer 2011. Their compelling new album, 'Astral Projections For The Kinetically Deranged', was released on November 18th through H Badger Records. Signposting their anarchy and energy is lead single 'Are You Happy?', where wry social commentary meets garage freakout in a distillation of antipodean sun and London melancholia.
THE WHARVES feature Marion Andrau on drums, Gemma Fleet on bass and Dearbhla Minogue on guitar. The latter pair duet in counter-harmony and joyful unison across their songs, a swirling, heavy, melodious mix of charged-up electric folk and splashes of girl-group wonder. Think Fairport Convention mixed with a primed Sleater Kinney vocal interplay. Check out their new split LP with The Rosy Crucifixion on Soft Power now!
UTR
http://www.upsettherhythm.co.uk
http://www.upsettherhythm.blogspot.com
> > > UPSET THE RHYTHM > > >
> > > UPCOMING SHOWS > > >
PETE SWANSON
HELM
DAVE CURRIE
LONDONEARS DJs
Tufnell Park Dome, 2 Dartmouth Park Hill, Tufnell Park, NW5 1HL
FUTURE ISLANDS
Hoxton Square Bar & Kitchen, 2 Hoxton Square, Shoreditch, N1 6NU