Hello there!

Colossal thanks to you all for coming out this last seven days to see Hygiene, Ana da Silva / Phew, Lankum and Chris Cohen, we've kept you extremely entertained right? We have just one more show this month, taking place tonight in fact! Legendary UK riff-quake, master-builders Bilge Pump will finally grace our stage for the first time tonight at The Islington. Like that proverbial pint of Guinness, it's been well worth the wait! We also have Witching Waves and Slagheap playing this evening too, so the roof is fully aware it's going to be blown clear off! Live sound kicks off 8.15pm, tickets on the door from 7.30pm, see you down the front.

Full show details follow below, alongside our upcoming June show listings for Sacred Paws, Patience and Elf Power too!
Bamboo will perform at that Elf Power show too! Today we're sharing their brand new single 'A World Is Born' with all wide and far! 'A World Is Born' features Rachel Horwood's flawless, resonant folk cadence and Nick Carlisle's pristine synth production, whilst drum machines and samples lock together with acoustic drums. This surprise single, out today on all digital platforms, is taken from the group's forthcoming album 'Daughters Of The Sky' out June 14th through Upset The Rhythm.

Accompanying this album track are remixes from

Rozi Plain

and

Bas Jan

that sound towering and ingenius. "Habits, habits"!

Enjoy

!
This Weekend Nots head out on their US tour around the East Coast. To celebrate, the Memphis powerhouse have released an epic new video/vision for 'Persona' in collaboration with visual art collective WWW.

We thought you'd like to take a look at that

here

! 'Persona' is taken from the trios new album '3', out now on Upset The Rhythm and Goner!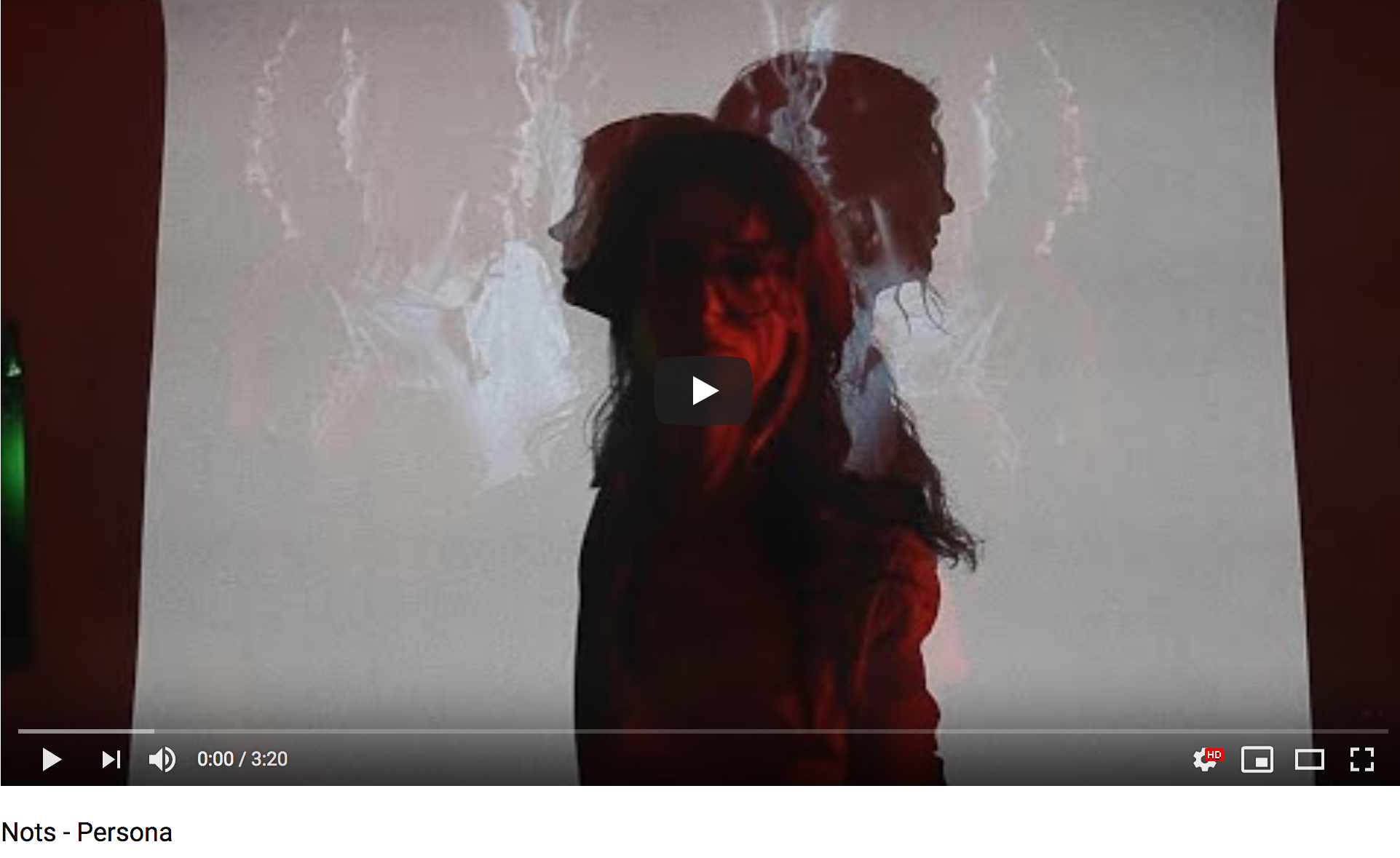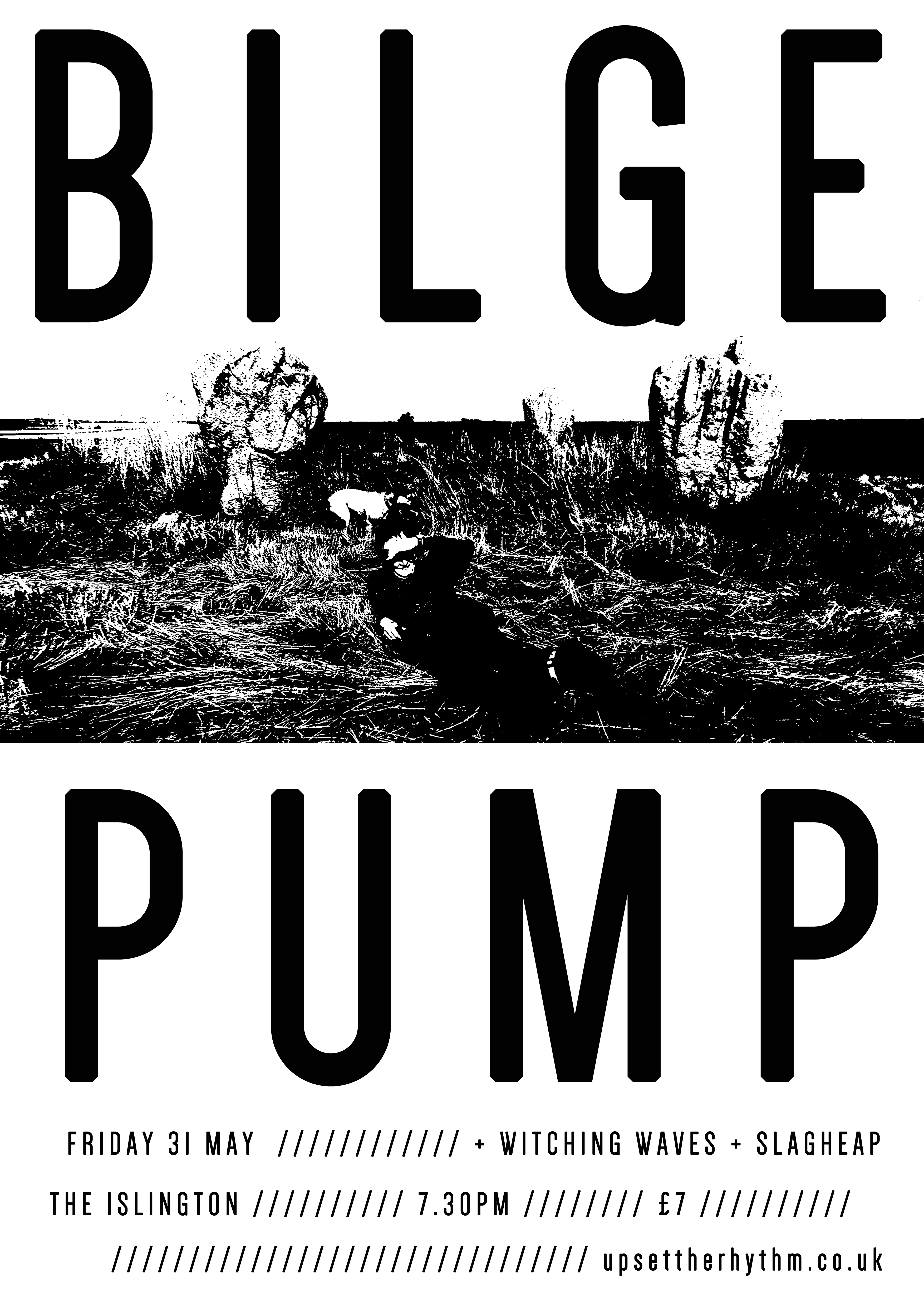 Upset The Rhythm presents…
BILGE PUMP
WITCHING WAVES
SLAGHEAP
Friday 31 May
The Islington, 1 Tolpuddle St, Angel, London, N1 0XT
BILGE PUMP
are long term linchpins of the Leeds DIY scene, they now follow their own paths; growing veg, running up hills, building musical paraphernalia. Every now and then the call goes out; the time comes to do another tour, put another record out. With new album 'We Love You' (their first in 10 years) out now via Gringo Records, Bilge Pump unveiled a new single, 'Wheel of Yew' - it's PiL bass lines, Spacemen 3 guitar and a blistering Butthole Surfers-esque solo are all held together with the tightest drumming this side of Bill Ward. They have spent a while getting this album right, writing songs that describe a world where the council lets it rot and the kids make trouble, or sometimes music. For Bilge Pump, who first formed in 1996, this isn't a career, it is more important than that, feeling the right moment, not forcing it. Drummer Neil Turpin says "A gig is good when the rhythm created and projected propels the crowds arms and legs, looping into a glorious reciprocal exchange of energy." Anyone who has ever seen them will tell you they are loud. But loud and clear, defined patterns, riffs smoulder into drones and then catch fire again lyric's trimmed of fat, precise and witty.
https://bilgepump.bandcamp.com/
WITCHING WAVES
formed in 2013 by Emma Wigham and Mark Jasper and released a tape EP on Suplex Records. They then released an album on Soft Power entitled Fear Of Falling Down in late 2014. This was followed up with their second LP Crystal Cafe in February of 2016, after which they toured the U.S. and Europe. In 2017 Estella Adeyeri of Big Joanie joined the group on bass, and the band continued a relentless schedule of touring and recording. Witching Waves are now set to release a new album on Specialist Subject called Persistence on April 6th.
https://witchingwaves.bandcamp.com/
SLAGHEAP
play energetic post punk nonsense from their HQ of Bristol. Melodic, naive and raucous songs about our experience of the world.
https://soundcloud.com/slagheapbristol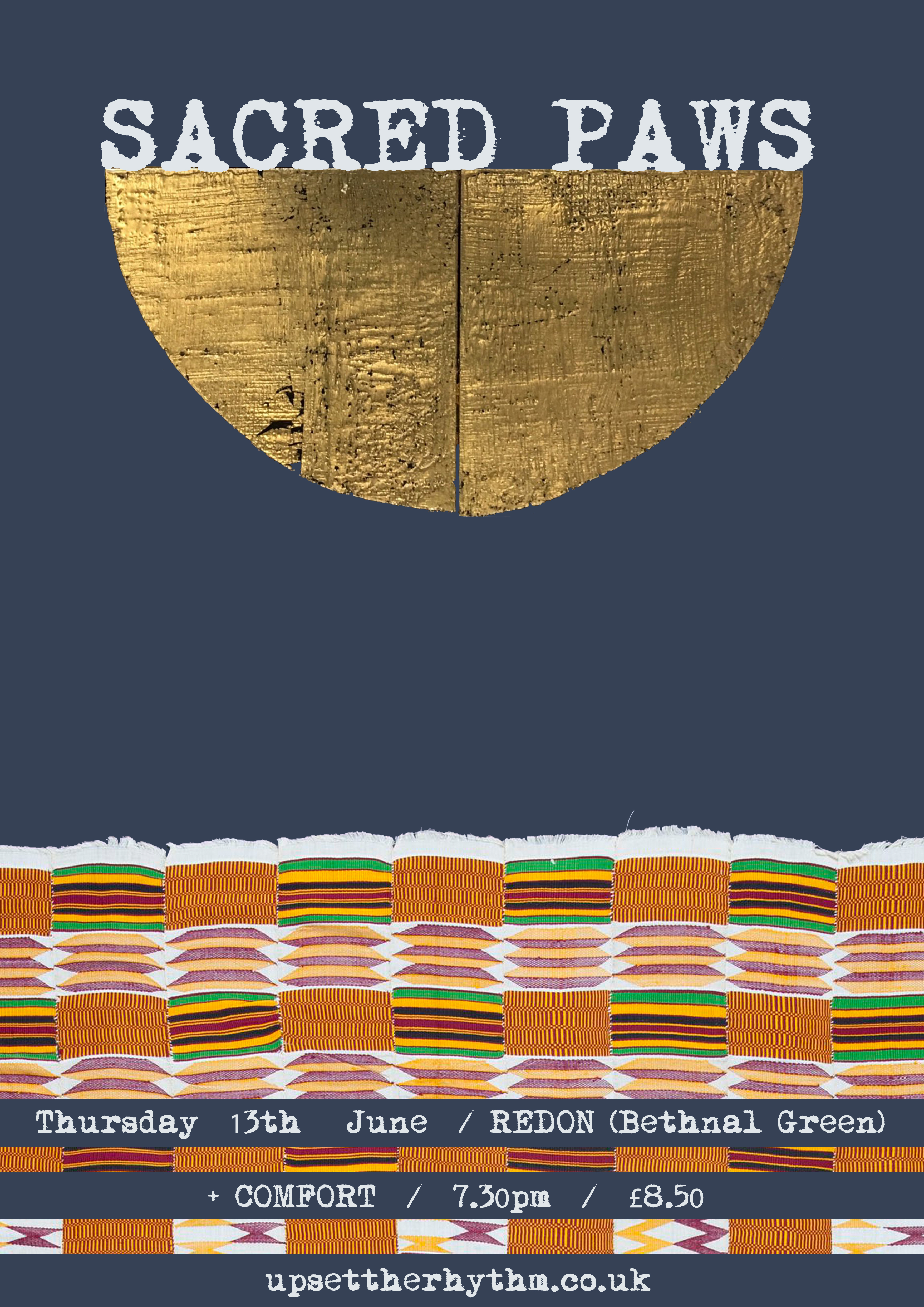 Upset The Rhythm presents…
SACRED PAWS
COMFORT
LEATHER.HEAD

Thursday 13 June
Redon, Railway Arches, 289 Cambridge Heath Rd, London, E2 9HA
7.30pm | £8.50 |
TICKETS
SACRED PAWS are a fantastic, intuitive dream punk duo, comprising Eilidh Rodgers of Golden Grrls on drums, and Rachel Aggs from Trash Kit and Shopping on guitar. Raw Soweto high-life riffs and rolling Afrobeat grooves are filtered through post-punk sass and ramshackle K Records charm. It's an utterly joyous sound, the duo trading giddy melodies and righteous chants over febrile rhythms and chunky, infectious riffage. Rock Action released the band's debut album 'Strike A Match' in 2017 and it received a slew of incredible reviews from the likes of Q, DIY, Clash, Loud & Quiet, The Skinny and was voted Scottish Album of the Year too! Forthcoming album 'Run Around The Sun' (out May 31st on Merge / Rock Action) brims with upbeat reflections on growing up and looking back. Shimmering guitar riffs dance between snappy beats and swooning melodies that will have crowds committing to far more than a simple head-bob. "I think we'd get bored if it was too slow," Eilidh says. "We'd never want to play something live that people couldn't dance to. It would feel really strange to us. It's kind of the whole point."
COMFORT are a Glasgow duo who bring a radical approach to musical representation, a drums and sampler attack that is vicious and transporting. Post-industrial blocks of sound are hammered into the ground by the drums while vocalist Natalie McGhee's rasp-throated incantations and vivisections of societal norms bring a powerful presence to Comfort's sharp-toothed, broken funk. Look out for debut album on Night School soon.
LEATHER.HEAD deal in janky rhythms and soaring saxophone which walk through shadows of This Heat and Lounge Lizards. They are still yet to release a single song but have been forging a name for themselves with their anxious/dynamic live shows.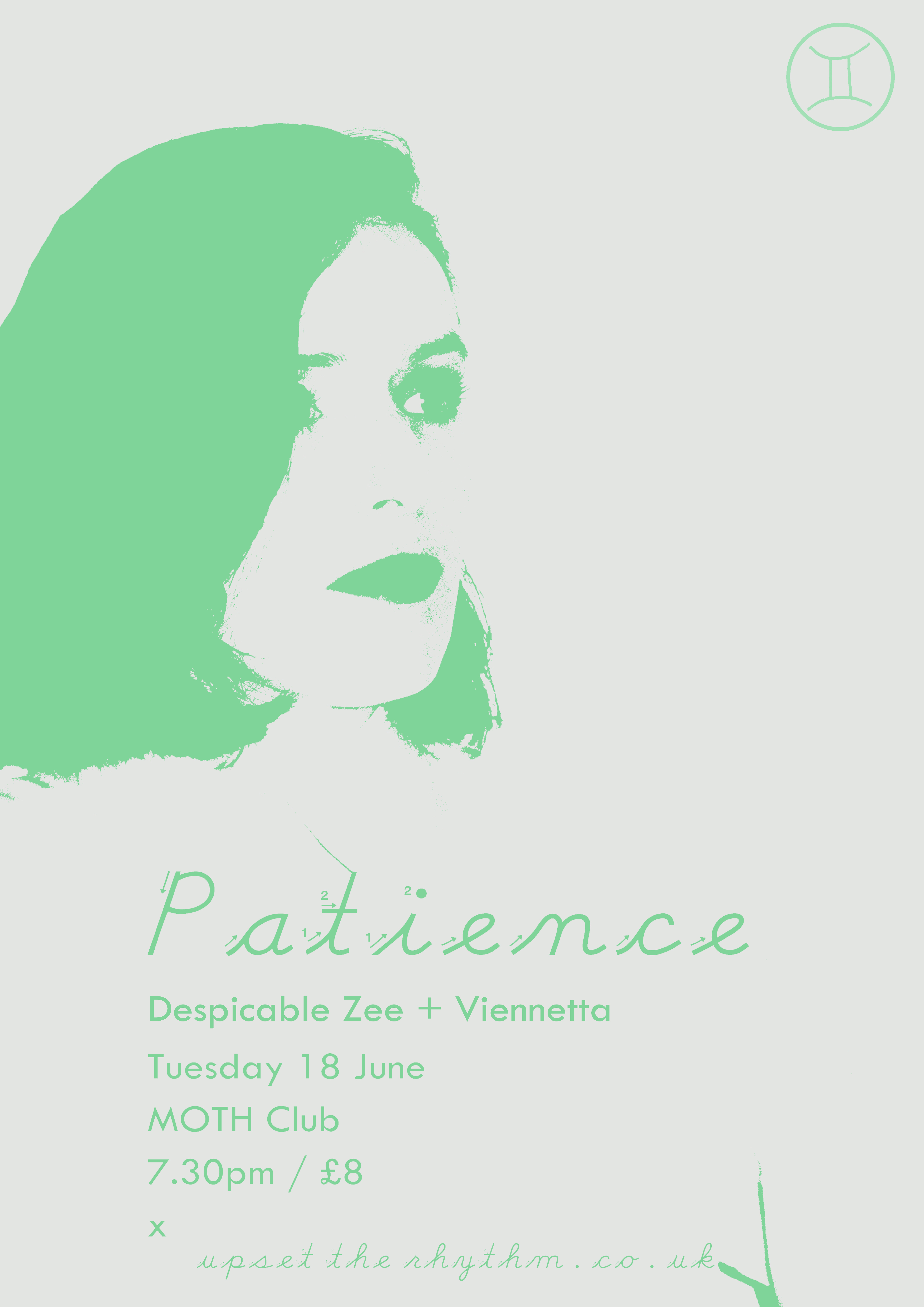 Upset The Rhythm presents…
PATIENCE
DESPICABLE ZEE
VIENNETTA
Tuesday 18 June
MOTH Club, Old Trades Hall, Valette Street, London, E8 1EL
7.30pm | £8 |
TICKETS
PATIENCE
began as bedroom synth project for songwriter Roxanne Clifford after the break up of her acclaimed indie pop band Veronica Falls. Born out of a desire to experiment with a new sound and analogue synthesisers, the project has since grown to become an all-encompassing persona and serves as the main vehicle for the full emotional spectrum always latent in Clifford's songwriting. From her first long-sold-out 7" singles on Night School, her knack for melodic hooks and oblique emotional stances already contained a glistening sheen of promise. Debut album, Dizzy Spells, serves as an intimate portrait of Clifford's creative adventure, almost diaristic, conceived and recorded in her home studio, as well as with collaborators Todd Edwards (Daft Punk/Uk Garage fame), Lewis Cook (Free Love/Happy Meals) and engineer Misha Hering (Virginia Wing). Dizzy Spells delivers a debut album that twists Clifford's songwriting into new shapes and ecstasies. The album dances around melancholy, thrown to the floor like a bad dream to be circled, emerging bright-eyed into the early morning full of hope.
https://patienceworld.bandcamp.com/album/dizzy-spells
DESPICABLE ZEE
is the solo project of Zahra Haji Fath Ali Tehrani, who has been writing and performing for more than 15 years. She is the director of the Young Women's Music Project, which continues to inspire her. Zahra specialises in leftfield, electronic lo-fi-pop – wonky yet meditative tunes, punctuated by biting rhythms. With echoes of The Knife, Tirzah, CocoRosie and Madame Gandhi, her recent EP sounds like longing, like searching, like hacking away at old vines to reach what's behind them.
https://despicablezee.bandcamp.com/
VIENNETTA
melt gently into your ears from the melancholy serving platter of a chintzy cruise ship cafeteria. Pensive waves of crisp, desire-dusted synthpop are topped with yearning, heartbreak-laden confessionals—a bleary epiphany at the end of another desperate night.
https://viennetta.bandcamp.com/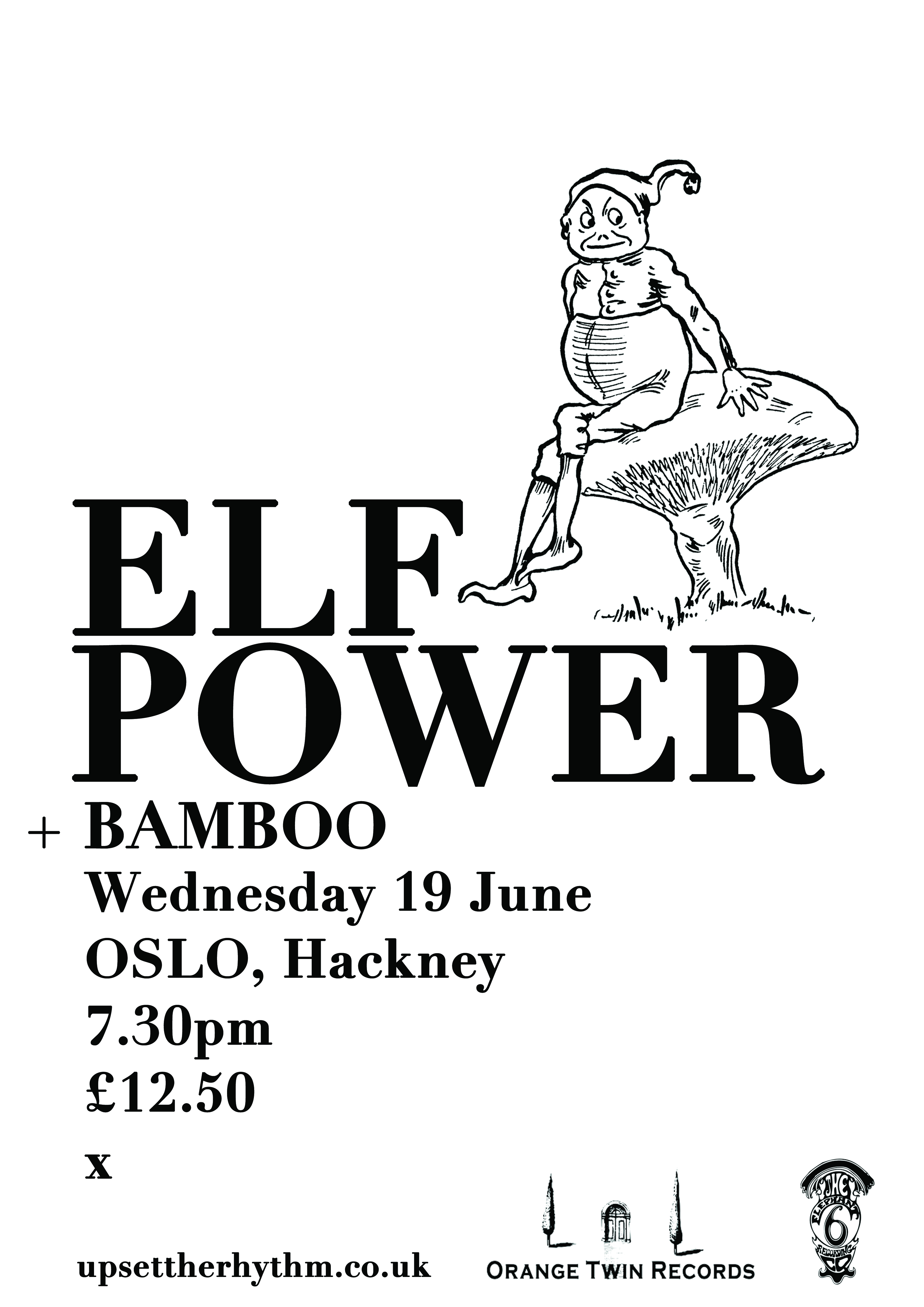 Upset The Rhythm presents…
ELF POWER
BAMBOO
Wednesday 19 June
OSLO, 1a Amhurst Road, Hackney Central, E8 1LL
7.30pm | £12.50 |
TICKETS
ELF POWER
are among the few bands from the Elephant 6 Recording Company that continue to make music to this day, and their prolificacy has been an absolute treat to fans. Elf Power formed in 1994 and over the last 23 years have released thirteen albums, two eps, and a handful of singles, while touring North America, Europe, and Japan many times. Albums such as 1998's Dave Fridmann-produced "A Dream In Sound" and 2008's collaboration with the late Vic Chesnutt, "Dark Developments" have cemented the bands' reputation as the finest purveyors of modern melodic psychedelic folk rock around. Their tour in support of their last album , 2013's "Sunlight on the Moon", took them on an extensive tour in support of Neutral Milk Hotel's much acclaimed reunion tour, as well as dates with Broken Bells and headlining dates.
Their latest album "Twitching in Time" (Orange Twin, 2017) combines experimental arrangements and sublime songwriting with their powerful live bombast, into their strangest, most cohesive, and most exciting sounding album yet. Opening track "Halloween Out Walking" combines minimal and beautiful folk rock arrangements with otherworldy Moog synthesizer gurglings to awe-inspiring effect. Other highlights include "Watery Shreds", a piano ballad that transforms itself into an explosive an unexpected distorted guitar drone freakout, sounding like an unlikely marriage of avant-garde keyboardist Laurie Anderson and drone metallers Sunn 0)) . Songs like the title track and "Cycling Aimlessly" are classic fuzzed out melodic rock songs the likes of which the band has become known for , while songs like "Gorging on the Feast" explore a jazzy, melancholy terrain before descending into a shredding heavy rock assault. The constant shifting of sounds and styles makes for one of the band's most diverse and satisfying albums yet. On this album, singer/songwriter Andrew Rieger and longtime collaborator multi-instrumentalist Laura Carter are joined by Matthew Garrison on bass, Peter Alvanos on drums, and Davey Wrathgabar on guitar.
https://orangetwinrecords.bandcamp.com/album/twitching-in-time
BAMBOO
is the majestic pop project of Nick Carlisle and Rachel Horwood. Their music is vivid and deeply poignant, locking into a magnetic pull between Rachel's flawlessly resonant folk cadence and Nick's pristine synth pop production. Bamboo's second studio album, The Dragon Flies Away, was released last year on Upset The Rhythm. The Dragon Flies Away tells a story loosely associated with the Hannya demon mask of Noh theatre plays such as Dojoji, and reflects the range of emotion the Hannya mask is capable of displaying: obsession, jealousy, sorrow and rage. The album presents its story in two acts and is presented with a gatefold sleeve and lyric / artwork sheet. Horwood's evocative paintings are given centre stage with the packaging, allowing the album's story to grow beyond sound, making the journey all the more immersive. Bamboo are currently a live quartet and have just finished off their new record, 'Daughters of the Sky', look out June 14th!
http://www.bamboosongs.co.uk/
Thanks for reading! See you all later London!
Upset The Rhythm
UPSET THE RHYTHM
UPCOMING SHOWS
BILGE PUMP
WITCHING WAVES
SLAGHEAP
Friday 31 May
The Islington, 1 Tolpuddle St, Angel, London, N1 0XT
SACRED PAWS
COMFORT
LEATHER.HEAD
Thursday 13 June
Redon, Railway Arches, 289 Cambridge Heath Rd, London, E2 9HA
7.30pm | £8.50 |
TICKETS
PATIENCE
DESPICABLE ZEE
VIENNETTA
Tuesday 18 June
MOTH Club, Old Trades Hall, Valette Street, London, E8 1EL
7.30pm | £8 |
TICKETS
ELF POWER
BAMBOO
Wednesday 19 June
OSLO, 1a Amhurst Road, Hackney Central, E8 1LL
7.30pm | £12.50 |
TICKETS
CONSTANT MONGREL
SLUMB PARTY
PETER SIMPSON
SNIFFANY & THE NITS
Saturday 22 June
New River Studios
199 Eade Rd, Harringay Warehouse District, London, N4 1DN
7.30pm | £7 |
TICKETS
CURRENT AFFAIRS
POWERPLANT
LIVID
Friday 5 July
The Islington, 1 Tolpuddle Street, Angel, London, N1 0XT
7.30pm | £6 |
TICKETS
ADVANCE BASE
ALICE HUBBLE
Monday 22 July
Redon, Railway Arches, 289 Cambridge Heath Rd, London, E2 9HA
7.30pm | £12 |
TICKETS
TIM PRESLEY'S WHITE FENCE
ROBERT SOTELO
Wednesday 21 August
OSLO, 1a Amhurst Road, Hackney Central, London, E8 1LL
MARY LATTIMORE
Thursday 29 August
The Courtyard Theatre, 40 Pitfield Street, Shoreditch, N1 6EU
7.30pm | £10 |
TICKETS