Morning everyone!

Firstly, huge thanks to all of you who came out to see Terry and Wolf Eyes (three times) last week, what a rare treat! You all helped make those events happen with your attendance, it's always appreciated, go you!

Since then, we've been booking new shows left, right and centre, when will we ever learn to take things easy? Check out our upcoming live programme at the end of this message as it contains newly listed concerts for Sir Richard Bishop, Pan American (kranky) and two special events with Kristin Hersh next March at Bush Hall as part of her 'Live & Loud' tour with extra bass and drums, electrifying stuff!
In terms of London shows of the more imminent nature, we have three glinting tantalizingly on the horizon during the next two weeks. Our first sees us decamp Monday evening to St Pancras Church for an atmospheric set from the incredible Rose McDowall (of Strawberry Switchblade, C93 and of course Sorrow, whose material this set takes its lead from). Rose is always a mesmerizing performer and on these hallowed grounds it'll make for a very special event indeed, happy to have Jetstream Pony supplying support duties on this one too.

Limited tickets left for this show now, so well worth buying some in advance.
As we stride into October (where's this year vanished to?) on Thursday the 11th, we crop up again at OSLO in Hackney for an evening of inventive psych pop, galloping polyrhythmic ecstasy and unapologetic sincerity courtesy of Virginia Wing, Trash Kit and Mich Cota, now that's a gold-plated lineup! Counting the days here.

A few days later on October 15th we're lucky enough to have Hekla, Ingrid Plum / Alex Ward / Yoni Silver and A Lily all performing at Servant Jazz Quarters. Acting as the album release for Berlin-residing Icelander Hekla's debut album of theremin and vocal otherworlds, this show is going to explore new rooms of ambient sound and exploratory improvisation. Full details on all three of these events can be studied below, along with our listings for the rest of the year too.
Here's a little more required reading for your weekend, let us direct you to this

tour de force of an interview

with

Guttersnipe

, up on The Quietus by Kevin McCaighy.

It's really something, quite the trip into their world of incendiary noise and bristling ideas, dig deep!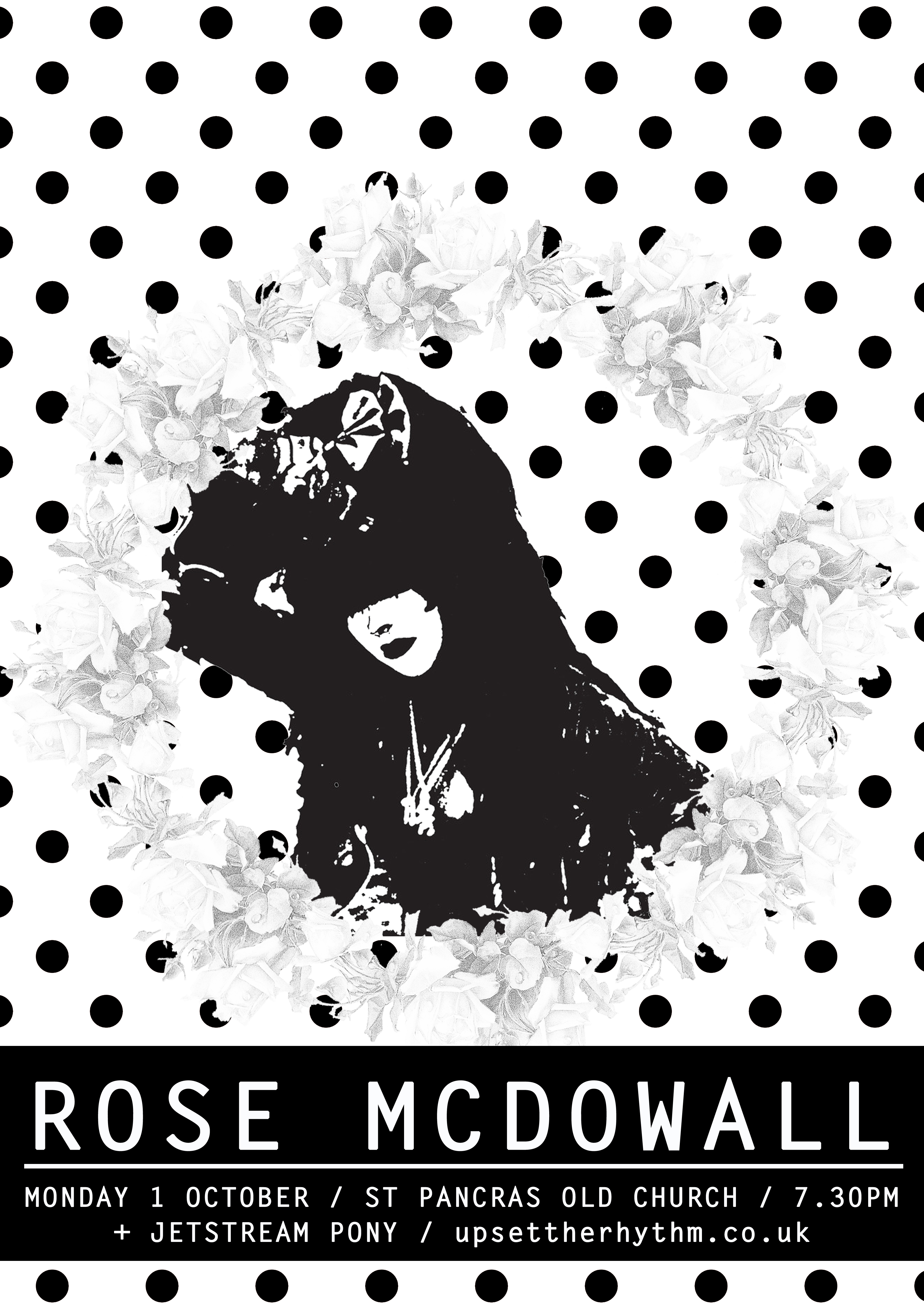 Upset The Rhythm presents…
ROSE MCDOWALL
JETSTREAM PONY
Monday 1 October
St Pancras Old Church, Pancras Road, King's Cross, NW1 1UL
7.30pm | £10 |
TICKETS
ROSE MCDOWALL
's trajectory from punk provocateur to chart-subverting pop star to underground neo-folk musician has been one peppered with unknowns and adventure. McDowall began her career in her hometown of Glasgow, operating within the nascent punk scene with her first group The Poems. After a meteoric rise to pop stardom with Strawberry Switchblade (along with friend Jill Bryson), McDowall submerged herself in the post-industrial landscape, becoming a member of Current 93 during their purple patch and a guest on records by artists as diverse as Psychic TV, Felt, Coil and Nurse with Wound, McDowall's status as the unofficial queen and muse of the underground is well deserved. After the recording of several demos which resulted in the 'Cut With The Cake Knife' album (Night School/Sacred Bones, 2015), McDowall formed Sorrow to further explore her interest in psychedelic, folk music. Considerably darker in tone than Strawberry Switchblade, but still resplendent in McDowall's angelic, heartfelt vocal, 'Under the Yew Possessed' is a cult album that belies a classic pop song writing sensibility. Issued in a limited gold vinyl edition for Record Store Day 2018, 'Under the Yew Possessed' enjoys a full Night School reissue later this summer, followed swiftly by 'Gem'( in October) a new album of recordings with Canadian musician Shawn Pinchbeck. This Oct 1st concert will be a rare performance from Rose with her new live band, comprising of several members of Scotland's ever burgeoning music scene featuring Russel Burn ex of Fire Engines/WIN/Spectorbullets and Jeremy Thoms ex-Revillos/Strawberry Tarts and currently The Cathode Ray amongst them.
https://rosemcdowall.bandcamp.com/
JETSTREAM PONY
write and perform shambling post punk and pulsing indie pop, featuring former Wedding Present drummer Shaun Charman (who featured on the band's early classic albums George Best and Tommy) on guitar, with vocals by Beth Arzy of Trembling Blue Stars and former Sarah Records artistes, Aberdeen. The band's line-up is completed by Kerry Boettcher on bass and Sarah Boyle on drums. Kerry and Shaun were previously in the John Peel-supported Turbocat, during the late '90s. Shaun and Beth have also previously been in Fireworks. Check out their recent 7" on German label Kleine Untergrun Schallplatten.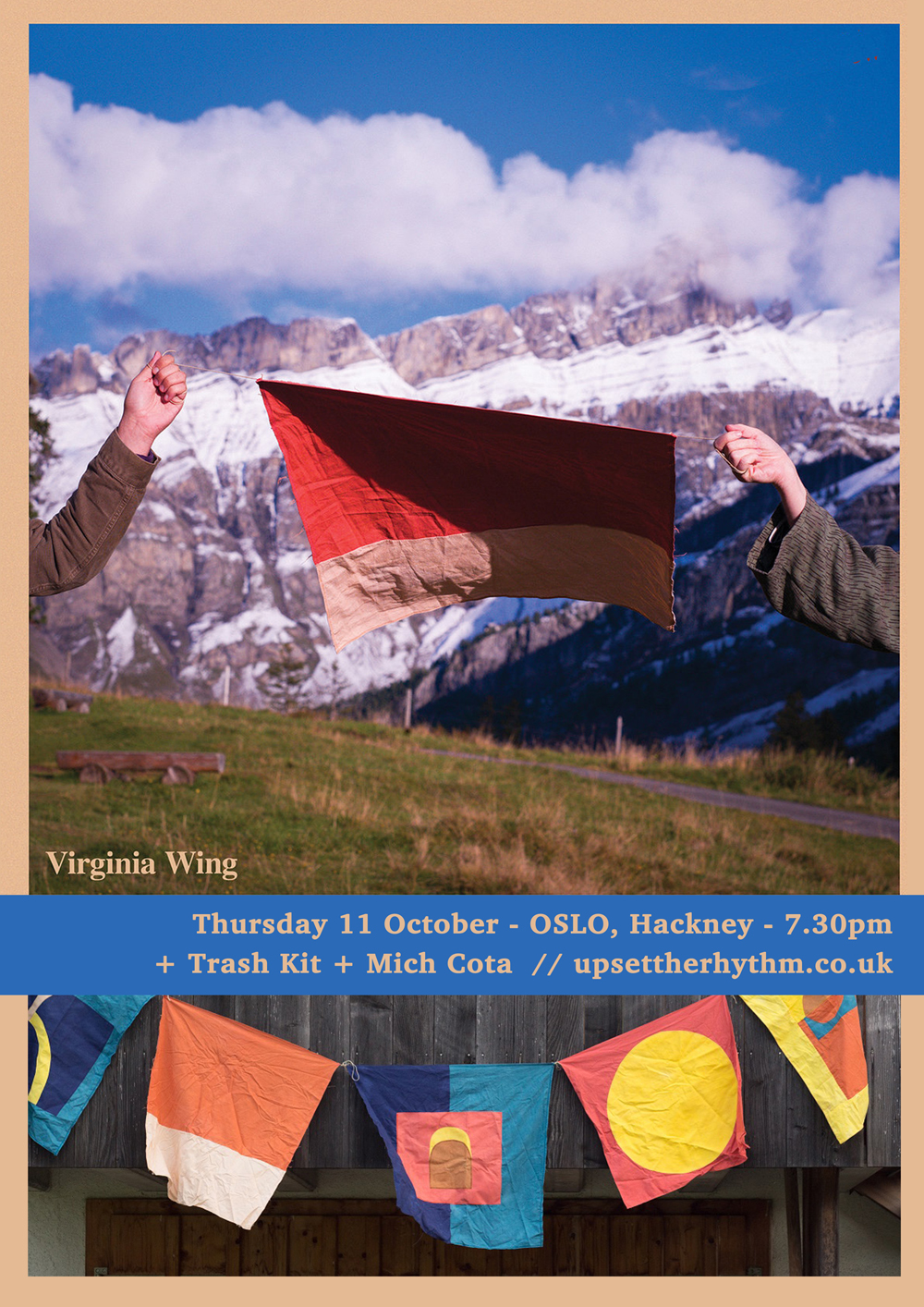 Upset The Rhythm presents…
VIRGINIA WING
TRASH KIT
MICH COTA
Thursday 11 October
OSLO, 1a Amhurst Road, Hackney, London, E8 1LL
7.30pm | £8 |
TICKETS
VIRGINIA WING
are an inventive psych-pop duo based in Manchester, who take their name from Grace Slick's mother. Consisting of Alice Merida Richards (Vocals, Synths, Organ) and Samuel Pillay (Synths, guitar, noises, bass), their music is a sprawling amalgamation of experimental pop songs with texture, depth and nuance; daring, progressive and forever bold. After two previous stunning albums, Virginia Wing return on June 8th with renewed strength, optimism and clarity for their new album 'Ecstatic Arrow' (Fire Records).
'Ecstatic Arrow' borrows from the heterogeneous terrain of The Flying Lizard's 'Fourth Wall', the exuberant technology assisted pop of Yellow Magic Orchestra and the playful sophistication of Lizzy Mercier Descloux, arriving at the evergreen intersection of pop music and conceptual art. The voice of Alice Merida Richards is more compelling and expressive than ever. The glacial deadpan of previous records has given way to a more candid, self-possessed delivery, showing an appreciation for the humour and tragedy innate in the downtown Arcadia of Laurie Anderson, Robert Ashley or even Lynn Goldsmith's Will Powers. It's with this voice that Richards outlines a simple ideality that fortifies the entirety of the album - inequality pervades, destructive behaviours are inherited and each subsequent generation has to reconcile the debts of its precursor - yet a space exists within ourselves and each other that houses a fact we must be reminded of - we have the ability to choose.
https://virginiawingmusic.bandcamp.com/
TRASH KIT
are Rachel Aggs, Rachel Horwood and Gill Partington. They have a wild feel for melody, writing songs that pull at the reins with a spontaneous charm. Their music is primal yet thoughtful, affirming yet sincere, drawing on the potential of post-punk and the naturalism of an internal folk music. Although Trash Kit have their forebears in bands like X-Ray Spex, The Ex and The Raincoats, their sound is very much their own take on facing forwards. Galloping polyrhythms, overlapping sung-spoke lyrics and entwining guitars are all drawn together into a taut unity, sounding wilfully alive. Both Rachels tangle their vocals with each other whilst expressive drumbeats and restless guitar flurries provide the rhythmic drive. Trash Kit's music is full of pauses, woven silence and punctuation too, and this is where the resonant bass lines find a perfect home. With two albums under their belt for Upset The Rhythm, Trash Kit are currently adding the finishing touches to their incredible third record.
https://www.facebook.com/TRASH-KIT-329766302806/
MICH COTA
's identity has always been ingrained with the language of sound. As a two-spirit woman, raised by a native father and a white mother in Southern Ontario, Cota began composing small melodies on the piano from the age of three to create her own sacred space in an intensely religious home. Inspired by her countryside surroundings, she would ingrain herself in nature, imagining herself in a place free of theology and restraint. This is something Cota has carried with her throughout her creative existence. Her music is a way of navigating past traumas while exploring her queer experience, with open, unapologetic sincerity. It's through her artistic expression that she relates to others, to build collective understanding and empathy, with the intention to heal and to challenge normative ways of being.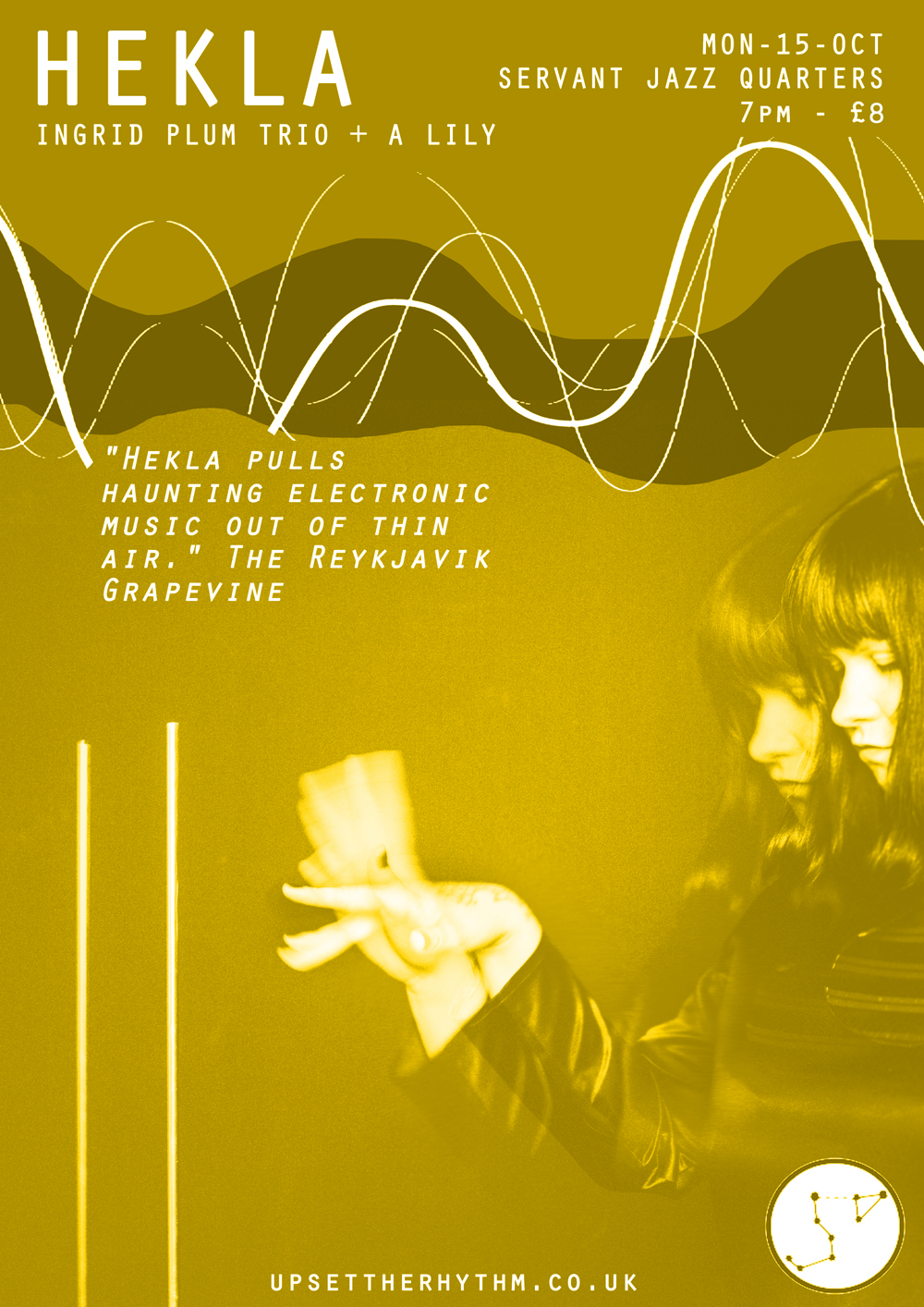 Upset The Rhythm presents…
HEKLA
INGRID PLUM / YONI SILVER / ALEX WARD TRIO
A LILY

Monday 15 October
Servant Jazz Quarters, 10A Bradbury Street, Dalston, N16 8JN
7.30pm | £8 |
TICKETS
HEKLA is a Berlin-residing Icelander whose sparse, delicate, fractal music exists within these two worlds: dark and magical as Iceland's permanight folklore; and as deeply sonic and intense as Berlin's electronic scene. A long-term scholar of solo theremin, Hekla (shortened from her own name Hekla Magnúsdóttir) uses her instrument as an otherworldly and highly evocative Siren-call. A spectral, wailing, howling, lamenting yearning second-voice that underpins a soft vocal delivery, as if her studio had been haunted with a chorus of ghostly backing singers. Hekla's debut album for solo theremin and voice 'Á' is out on September 14th through Phantom Limb Records (this show is the album launch). The album was written and self-recorded by Hekla in her home studio in Berlin around her son's daycare schedule. Icelandic super-musician Mr Silla (a part-time múm member) guests on a number of tracks. Tallinn-based engineer Jose Diogo Neves - a stalwart of Icelandic and Portuguese music - mixed and mastered the record.

While a handful of reference points share similar ground, Colleen's interplay of voice and instrumentation; the richly immersive filmscore work of sadly passed fellow Icelander Jóhann Jóhannsson; "grandmother of theremin" Clara Rockmore's close relationship with such a singular instrument; Julia Holter's intelligent and classically-aligned songwriting - Hekla's music still exists singularly. A one-off talent, emerging from no particular scene, ascribing to no particular rules.
https://phantomlimblabel.bandcamp.com/album/-
INGRID PLUM
uses her voice with extended technique, improvisation, field recordings and electronics, to create layered soundscapes, spoken word and songs. Described by The Guardian as "gorgeously atmospheric vocal techniques woven around field recordings & electronics" she has performed and exhibited installation art internationally since 2002, creating work that combines sound art, contemporary classical and folk music. Incorporating her research into folk traditions with field recordings and studying directly with Meredith Monk her recent performances have been described as "succinct and nourishing... a luxuriant space between almost excessive precision and looser improvisation" by The Wire.
http://www.ingridplum.com/
YONI SILVER
is a bass-clarinetist and multi-instrumentalist whose activities include hyper-spectral adventures with Iancu Dumitrescu's Hyperion Ensemble; a bass clarinet and percussion duo with Steve Noble; a bass clarinet/violin and possessed vocals duo with Sharon Gal; Denis D'or with Grundik Kasyansky and Tom Wheatley; bass clarinet and drums duo with Crystabel Riley, and solo performances on amplified bass clarinet. He has appeared on labels such as Creative Sources, Confront Recordings, Wasted Capital, Chocolate Monk and Edition Modern.
https://www.youtube.com/watch?v=VtgtBwE8QLM
ALEX WARD
is a composer, improviser, and performing musician, working primarily with clarinet and guitar. His involvement in freely improvised music dates back to 1986, when he met the guitarist Derek Bailey. He subsequently took part regularly in Bailey's Company events, and has gone on to become a major figure in British improvised music. His current work includes the avant-rock duo Dead Days Beyond Help in which he plays guitar, sings and co-writes the material; various groups which perform his compositions-for-improvisers including Forebrace, the Alex Ward Quintet/Sextet, and the Item series of ensembles; and improvising collaborations both regular and ad-hoc with musicians including Steve Noble, Dominic Lash, Kay Grant, Joe Morris and Weasel Walter. Besides his own groups and improvisational work, he also performs in ensembles including the Duck Baker Trio/Quartet, Thurston Moore's recent multi-guitar projects Galaxies and New Noise Guitar Explorations, and Charles Bullen and Charles Hayward's This Is Not This Heat. He brings a unique energy and inventiveness to all these projects, elevating them far above the ordinary and injecting them with a thrilling sense of danger and possibility. Much of his work is documented on the label Copepod, which he co-runs with Luke Barlow.
https://alexward.bandcamp.com/
A LILY
is James Vella, who is also a writer. Based in Brighton, UK, and bringing together influences as diverse as ambient drone, delicate indie-folk, pop songwriting, electronic music and modern classical, A Lily is a solo project with a far-reaching net. James has released a handful of A Lily records with Blank Editions, Kingfisher Bluez, Fierce Panda, Dynamophone Records and Sound in Silence among other labels. The son of a choral / operatic soprano and music theory lecturer, he grew up around music and saw his first record release as a teenager. Using the 'A Lily' name to encompass all of his solo music, his releases have covered broad stylistic ranges, from dark alt-pop to piano solos to mechanically-hearted electronica to abstract avant-garde.
Have a wonderful weekend, thanks for all your time and consideration,
See you on Monday at Rose McDowall!
Upset The Rhythm
UPSET THE RHYTHM
UPCOMING SHOWS
ROSE MCDOWALL
JETSTREAM PONY
Monday 1st October
St Pancras Old Church, Pancras Road, King's Cross, London, NW1 1UL
7.30pm | £10 |
TICKETS
VIRGINIA WING
TRASH KIT
MICH COTA
Thursday 11 October
OSLO, 1a Amhurst Road, Hackney, London, E8 1LL
7.30pm | £8 |
TICKETS
HEKLA
INGRID PLUM / YONI SILVER / ALEX WARD TRIO
A LILY

Monday 15 October
Servant Jazz Quarters, 10A Bradbury Street, Dalston, London, N16 8JN
7.30pm | £8 |
TICKETS
THE SPACE LADY
SPINNING COIN
Tuesday 23 October
Moth Club, Old Trades Hall, Valette St, Hackney Central, London, E9 6NU
7.30pm | £10 |
TICKETS
EARTHEATER
CUCINA POVERA
RICHARD RIGGS
Thursday 25 October
The Courtyard Theatre, 40 Pitfield Street, Shoreditch, London, N1 6EU
8pm | £10 |
TICKETS
JO PASSED
SLUMB PARTY
PET HATES
Thursday 25 October
The Victoria, 451 Queensbridge Rd, Dalston, London, E8 3AS
7.30pm | £7 |
TICKETS
Tompkins Square Records night featuring…
BRIGID MAE POWER
DUCK BAKER
GWENIFER RAYMOND
Friday 26 October
St John on Bethnal Green, 200 Cambridge Heath Rd, London, E2 9PA
7pm | £10 |
TICKETS
GROUPER
Monday 29 October
Hackney Arts Centre (EartH), 13 Stoke Newington Road, London, N16 8BH
EARLY SHOW : 7pm - 9pm SOLD OUT
LATE SHOW : 9pm - 11pm ON SALE NOW!
7pm-9pm / 9pm-11pm | £16.50 |
TICKETS
PAN AMERICAN
Wednesday 7 November
Redon, Railway Arches, 289 Cambridge Heath Rd, London, E2 9HA
7.30pm | £8 |
TICKETS
SIR RICHARD BISHOP

Thursday 8 November
Bethnal Green Working Men's Club, 44 Pollard Row, London, E2 6NB
7:30pm | £10 |
TICKETS
MARY LATTIMORE

Monday 19 November
The Lexington, 96-98 Pentonville Rd, Angel, London, N1 9JB
7.30pm | £8 |
TICKETS
HEN OGLEDD
Friday 30 November
The Courtyard Theatre, 40 Pitfield Street, Shoreditch, London, N1 6EU
7.30pm | £12 |
TICKETS
KRISTIN HERSH
With ROB AHLERS (drums) & FRED ABONG (bass)

Sunday 10 March & Tuesday 12 March
Bush Hall, 310 Uxbridge Rd, Shepherd's Bush, London, W12 7LJ
7.30pm | £25 |
TICKETS MARCH 10
/
TICKETS MARCH 12