Hello there!

Constant Mongrel's rollicking new 'Experts In Skin' record greets the world today! Here's the riotous aforementioned 7" trying to turn the lights on in broad daylight! Classic!

'Experts in Skin' is the Melbourne bands' little sister follow-up to 2018's 'Living In Excellence' LP. The A side single holds the familiar post-post punk angst Constant Mongrel is known for, only building ever higher with a triple saxophone flurry and singer Tom Ridgewell's mutters on the often awkward nature of mainstream consumerism.
The flip side sees the band turn to its pop sensibilities producing the tough but sweet sounding 'Schnuki'. Bassist Amy Hill's bouncing vocals make for a contrast to the anarcho-punk growl below. The subject matter this time occupied by 'fake nice' people. Can I help you darling? Honey? Sweetie? Deary? Pumpkin?...... no thanks.

Constant Mongrel's new 7" can be purchased in all good shops now, as well as from our 'online presence' (sounds tech-spooky) here:
You'll also find below full show listings for our next three hurrahs in the capital, including next Friday's jaunt at The Islington with Current Affairs, Powerplant and Livid, July 11th Café OTO shindig with Normil Hawaiians, Rattle and Erasers, plus July 16th's concert for Oakland's Rays, Design A Wave and Maedchen 84 at The Shacklewell Arms!

Other live plans for July include Daniel Higgs, Prison Religion and last but not least Advance Base, you'll find more details on those in our listings section, enjoy…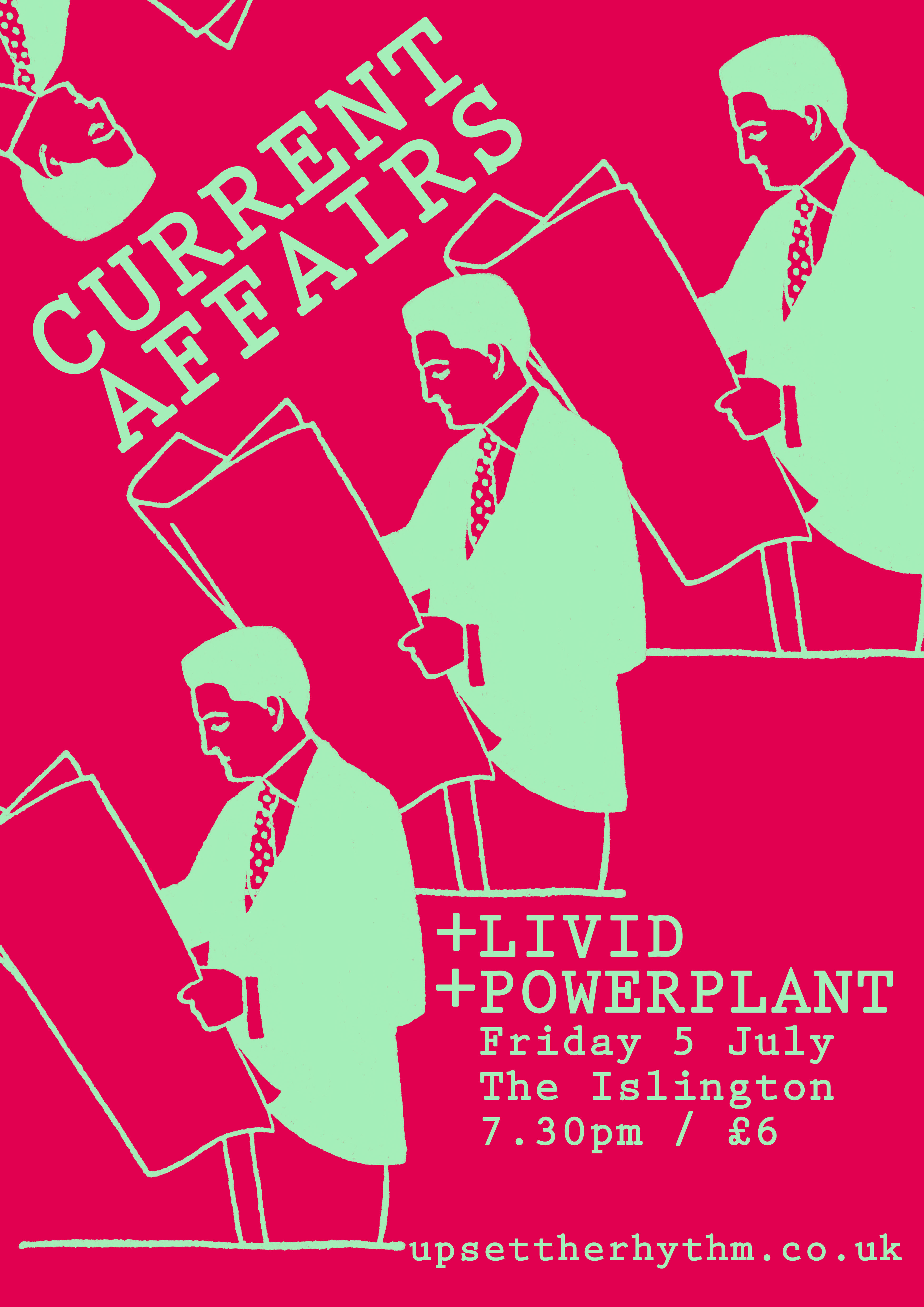 Upset The Rhythm presents…
CURRENT AFFAIRS
POWERPLANT
LIVID
Friday 5 July
The Islington, 1 Tolpuddle Street, Angel, London, N1 0XT
7.30pm | £6 |
TICKETS
CURRENT AFFAIRS
are a post punk band from Glasgow, neatly navigating the line between new wave and goth. Formed in 2016 and Comprising Joan (ex-The Royal We/Seconds/Rose McDowall's band), Seb (ex-Anxiety/Pissy), Josh (The Downs/Kaspar Hauser/ex-Rose McDowall's band) and Andrew (Shopping/As Ondas). Collectively they present a muscular unity, with a pounding post-punk rhythm section augmented by wild, effected guitar and the impressive, soulful-but-gothic vocal. A demo cassette was released along the way and In December 2018 the band's first 7" Breeding Feeling -bw- Draw The Line was put out into the world by Not Unloved records. Another 7" is imminent via the IRRK label.
https://currentaffairs.bandcamp.com/
POWERPLANT
embark on an eternal crusade with sizzling synthesisers & pleading vocals. They are the true essence of synth-punk released into thin air. They truly are the last of man.
https://www.youtube.com/watch?v=DcyyEqoJ2pc&feature=youtu.be
LIVID
are a blazing new punk group, fight or flight vocals, pummelsome drums and decidedly frenzied riffs galore. Nothing online yet, featuring ex-Nachthexen members.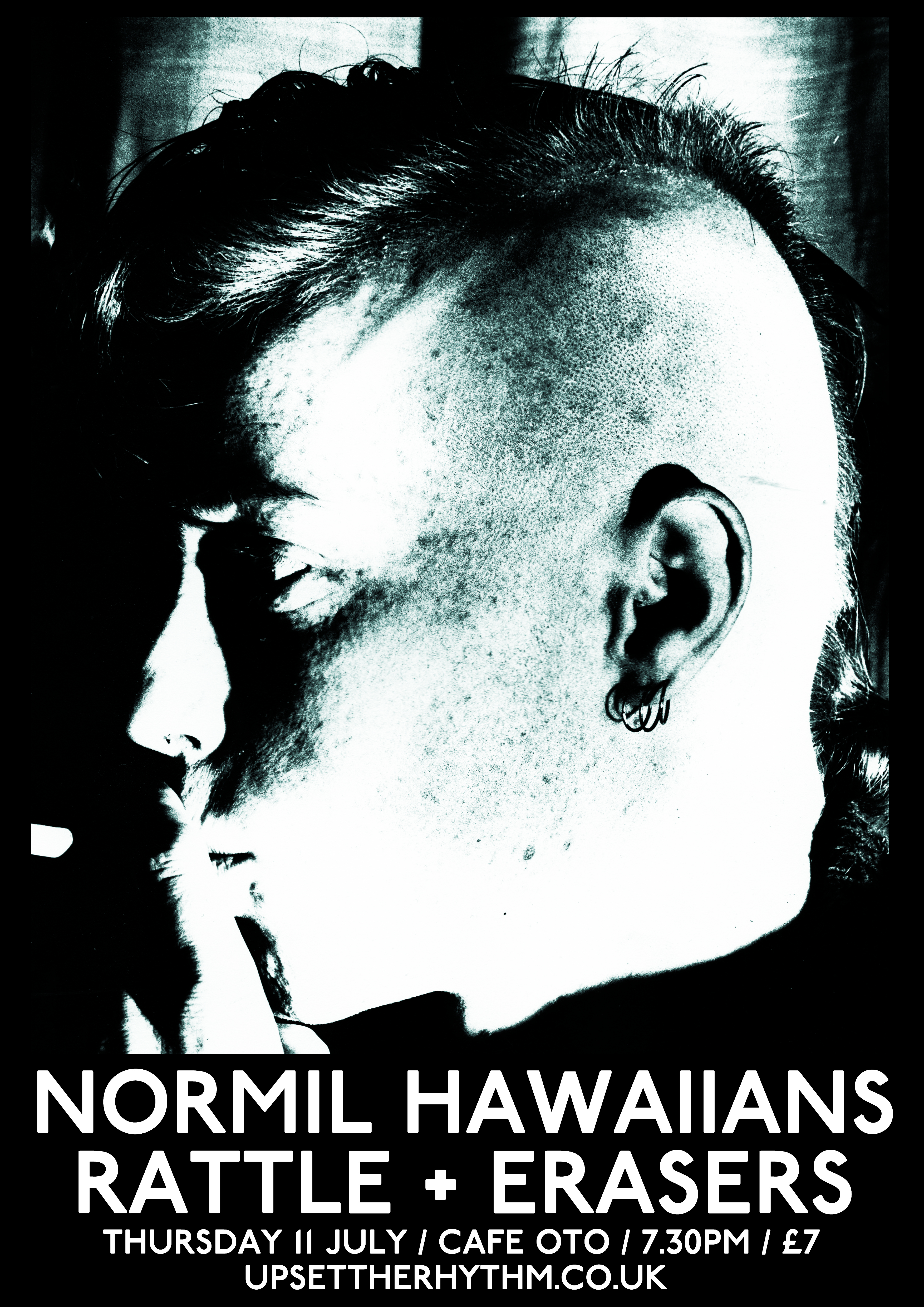 Upset The Rhythm presents…
NORMIL HAWAIIANS
RATTLE
ERASERS
Thursday 11 July
Cafe OTO, 18-22 Ashwin St, London, E8 3DL
7.30pm | £7 |
TICKETS
NORMIL HAWAIIANS
communal take on post punk sprouted leaves from its mouth in 1982, and began carving out a new furrow. Greater emphasis was awarded to improvisation within the group and as a result their songs embarked on longer, freer journeys towards the beaten bounds. They wanted these new songs to bear the weight of their new collective spirit so comfort zones had to be left behind. Tape loops, echo boxes, extended percussive sessions and duteous faith in the tones emanating from a particular old wah-wah pedal were all employed by Normil Hawaiians to stretch their sonic fabric into wild and redolent new dimensions. Within three years the band went on to record three astonishing records, their ambitious double-LP debut 'More Wealth Than Money', 'What's Going On?' with its radical collage of movements and 'Return Of The Ranters' which teamed up their free experiments in compelling arrhythmia with a more confrontational approach. Upset The Rhythm have released 'More Wealth' and 'Ranters' recently in remastered form, and this special live manifestation at Cafe OTO celebrates the reissue of 1984's 'What's Going On?' masterstroke (out June 28th). Lucid, candid, politically engaged, rarely metronomic but always humane, Normil Hawaiians conjure vast clouds of atmosphere. Their songs are bedecked with exalted synth trails, clustering guitar rapture, motorik beats, and spun-out raw polemics. Still light years ahead of us all!
http://normilhawaiians.com/
RATTLE
are a Nottingham based duo, Rattle focus almost exclusively on drums and more drums, beneath a delicate overlay of vocal harmonies and percussive effects. Formed by Katharine Eira Brown (also of Kogumaza) and Theresa Wrigley (also of Fists), Rattle began as an experiment in crafting rich songs and melody using drums and voice alone. Their music weaves and intertwines post-punk, minimalism and experimental rock, through off-kilter rhythms, patterns and counter melodies. Often starting by picking out the ghost notes from the drums to develop a melody, the song then reveals itself in rounds and harmonies with layer upon layer of rhythm and vocal, lending a choral feel to some of the tracks. Rattle effortlessly blend the avant-garde with irresistible melodies and hypnotic drum beats, using rhythm and harmony to create a refreshing sound that is utterly new - a pretty rare feat these days when we're saturated with so much music. Rattle's impressive 'Sequence' album came out last November through Upset The Rhythm.
https://rattleon.bandcamp.com/
ERASERS
deliver up rhythmic and mood-driven music that sits between kosmische and post-punk. Forming as a home recording project in 2009 the Perth, West Australian based Erasers (Rebecca Orchard, Rupert Thomas) released a steady flow of cd-rs, tapes and a 7" before eventually releasing their debut full length 'Stem Together' in 2015. In 2017 the duo followed up with the tape release 'Fault Lines'. In the live sphere Erasers have shared the stage with the likes of Low, Grouper, Acid Mothers Temple, Prince Rama, High Wolf and The Soft Machine as well as multiple shows with long time musical heroes My Disco, Love Of Diagrams and Pikelet. After an extensive recording and mixing process, 2019 sees Erasers with two new releases to share; a 5 track tape titled 'Forecast' (through Solid Melts) and the duo's second full length 'Pulse Points' (through Fire Talk and Pouring Dream).
https://erasers.bandcamp.com/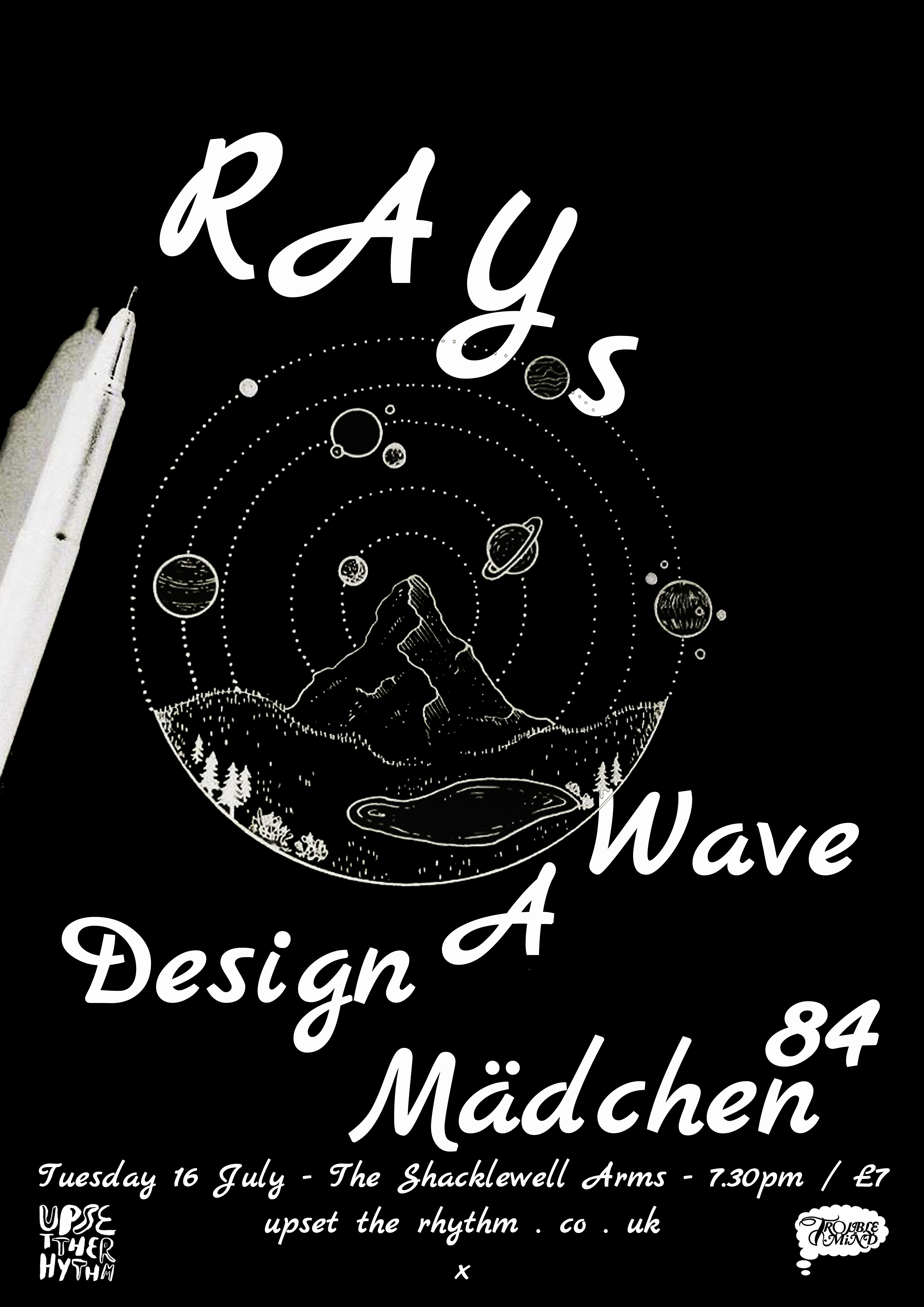 Upset The Rhythm presents…
RAYS
DESIGN A WAVE
MAEDCHEN 84

Tuesday 16 July
Shacklewell Arms, 71 Shacklewell Lane, Dalston, London, E8 2EB
7.30pm | £7 |
TICKETS
RAYS
returned to the fray with their second album, You Can Get There From Here, their first release since their eponymous Trouble In Mind debut in 2016. Rays formed in the fertile crescent of the California Bay Area, a hotbed of musical growth in the past decade, and Rays' members pull not only from that recent miasma but also from a wealth of Bay Area musical history. You Can Get There From Here represents a turning point for the band, angling their scrappy, post-punk fury into a more refined & melodic pop sensibility, drawing inspiration from UK DIY pop & punk like Dolly Mixture, Cleaners From Venus, Television Personalities & more. Straight from the gate, songs like "Fallen Stars" & "The Garden" temper their sonic crunch ever so slightly, relying more on the harmonic wallop of a solid hook than the sheer volume of guitars & cymbal crashes. This is urgent, chiming guitar pop of the highest order that clangs with a sonorous melancholy & a ramshackle grace. Rays can still lay it down with the rest of 'em; tunes like "Subway" & "Work of Art" shuffle & stumble forward, skirting chaos in a flurry of strums, recalling recent antipodean pop groups like UV Race, Dick Diver or The Shifters who cull inspiration from idiosyncratic UK greats like Mark E. Smith or Robyn Hitchcock. With You Can Get There From Here, Rays add their voice to the chorus. The new album finds the core group of Stanley Martinez, Eva Hannan, Troy Hewitt & Alexa Pantalone augmented by new member & keyboardist Britta Leijonflycht, whose synth flourishes add melodic embellishments, sonic heft or psychedelic swirl where needed.
http://www.troubleinmindrecs.com/artists/rays/
DESIGN A WAVE
aka Tom Hirst is a London based artist who has recently released music on Rush Hour's No Label, as well as contributing to Ravioli Me Away's opera. Design A Wave also has past releases on Alien Jams, Subsubtropics and the Alter label. Tom Hirst has been making music for many moons. Initial buds featured tape collages, distangled pop music, various dictaphone experiments, and over time all this meshed and warped into his solo musical venture known as Design A Wave. Initiated in the late 90s, the project was loosely named after one of the gangs in the Troma film Surf Nazis Must Die which, alongside other similar movies and music of it's time, informed a particular vision of an idealised weird - a trashy synth orientated 80s B-movie soundtrack, which provided an aesthetic platform on which to dive, surf and ride.
https://soundcloud.com/deswav

MÄDCHEN 84
put a dent in ya head! A sample square of vinyl from wickes and a tearout guardian review of minaj's latest is available to be sent in the post for anyone who needs to feel real.
https://maedchen84.bandcamp.com
That's all for now! Thanks for your time and consideration.
Have the best weekend imaginable!
Upset The Rhythm
UPSET THE RHYTHM
UPCOMING SHOWS
CURRENT AFFAIRS
POWERPLANT
LIVID
Friday 5 July
The Islington, 1 Tolpuddle Street, Angel, London, N1 0XT
7.30pm | £6 |
TICKETS
ADVANCE BASE
ALICE HUBBLE
Monday 22 July
Redon, Railway Arches, 289 Cambridge Heath Rd, London, E2 9HA
7.30pm | £12 |
TICKETS
MOUNT EERIE

Thursday 8 August
EartH, 11-17 Stoke Newington Rd, Dalston, London N16 8BH
7.30pm | £15 |
TICKETS
J. McFARLANE'S REALITY GUEST
THE PHEROMOANS
Wednesday 14 August
The Islington, 1 Tolpuddle St, Angel, London, N1 0XT
7.30pm | £7 |
TICKETS
TIM PRESLEY'S WHITE FENCE
ROBERT SOTELO
Wednesday 21 August
OSLO, 1a Amhurst Road, Hackney Central, London, E8 1LL
MARY LATTIMORE
NUMMO TWIN
Thursday 29 August
The Courtyard Theatre, 40 Pitfield Street, Shoreditch, N1 6EU
7.30pm | £10 |
TICKETS