Two shows coming up this week for you. Tomorrow at the Old Blue Last we have the equally irrascible/wonderful SLEAFORD MODS performing/venting for us, with THE PHEROMOANS and SPOILS & RELICS both in support. Whilst Thursday sees us head to the Dalston Victoria to spend a noisy, kinetic and thrilling Halloween with PLEASE, API UIZ and ARNAUD RIVIERE. Read on for everything you need to know, tickets will be available on the door for both shows, thanks for reading and for attending our Nate Young show last weekend too!
\\\\\\ TOMORROW /////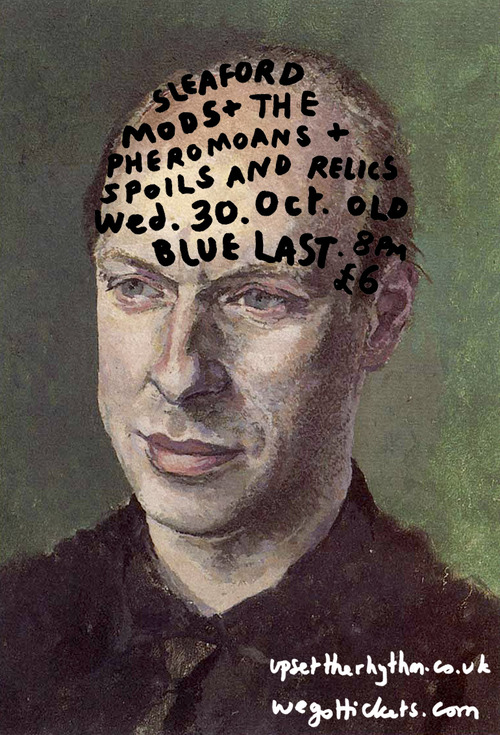 SLEAFORD MODS
THE PHEROMOANS SPOILS & RELICS
Wednesday 30 October
Old Blue Last, 38 Great Eastern Street, Shoreditch, EC2A 3ES
8pm | £6.00 | TICKETS
SLEAFORD MODS are the product of Britain's harsh reality. "You've got to be able to sell yourself ,so I stuck my life on eBay. £ 25 mate". Sleaford Mods make aggro punk poetry that sounds like the bastard child of John Cooper Clarke's Beasley Street grown up on hard knocks, rave culture and the Wu-Tang Clan. Jason Williamson is the voice: a big man with an angry face, used to be one of that "door-swings-open, swagger-to-the-bar-crew" but now grown older and wiser. His delivery is venomous, confrontational, but often funny and delighting in twists of language: eyeballing the "scaly-faced booze pricks" and the geezers with their "concrete dagger swaggers". True Allan Sillitoe heritage and the artistic proof that, outside of the The Cameleon Pub, Notthingham will always be the wrong side of the river Styx. Their new LP Austerity Dogs was just released through the Harbinger Sound label and it sounds amazing!
THE PHEROMOANS are a six piece experimental rock band from the South East of England who deal in a deadpan DIY music. Wedded to the mundane, surreal reportage of our lives as reflected in the media, their music manages to address the truly restless boredom of everyday life. These are songs for the back of the queue, songs from underneath the ergonomic desk, a glimpse through the commuter window, blasted through with brilliant suburban sunshine. Over the last three years the band have released a slew of releases, including numerous EPs, 7"s and three albums through labels as diverse as Night People, Convulsive, Sweet Rot, Monofonus Press and their own imprint Savoury Days. These releases, along with their recent album on Upset The Rhythm 'Does This Guy Stack Up?' focus on a ramshackle, wayward rock ethic, underpinned by lyricist Russell Walker's dry, observational musings that tread an almost diary-like pathway through the songs.

SPOILS & RELICS cast a mutating web of feedback, choral echoes and lo-fi loops of various howling, rattling found sounds, settling gently into certain texture combinations before testing the stasis through jolts of pitch bend or slow fades into somewhere else. It's a real nightmare collage: one minute it's a blast of screaming electronics, like someone tampering with the cockpit controls, and the next it's tornado of factory noise and alien sex. Musique concrete for the mind's darker, more paranoid recesses, with a gorgeously sparse latter half of noise squeals fed through some sort of intercom.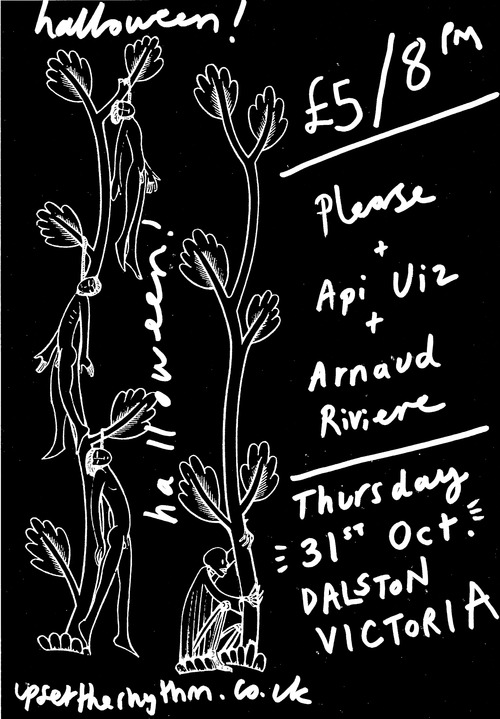 Halloween Spooktacular...
PLEASE
API UIZ
ARNAUD RIVIERE
Dalston Victoria, 451 Queensbridge Road, Dalston, E8 3AS
8pm | £5.00 | TICKETS
PLEASE are a trio comprised of duelling guitarists and an activated drummer. Together the threesome offer up ramshackle rhythms and trippy aerobic guitars played alongside unmannered vocals. Delivered with the heady rush you'd expect of punk, Please race 60's garage slap and wrong-footed prog through an obstacle course. Please tap into a rich vein of collective celebration manifest in the hypnotic patterns of strings swirling around the Maypole, popular vaudeville's raucous call and response, the gaudy splashes of colour in the death-wish incarnations of the funfair, and the uplifting DIY happening where hegemony busting attitudes are nourished with lovely music and homemade cakes. They have a debut 10" on Ouse and a split LP on Upset The Rhythm available now!
API UIZ are instrumental rock fire gods from France. They have a constant energy, where an unclassifiable rock guitarist leads the way without effects or debauchery, whilst the rhythm section, without flinching, find themselves just as gone. Favourites of THE EX, Api Uiz's hectic rhythms similarly defy expectations.

ARNAUD RIVIERE specialises in amazingly broken electronics and weirdo junk noise. From Paris, Riviere looks for accidents at every turn, chasing the unrepentant feedback ever onwards.
UTR
GARY WAR & PURPLE PILGRIMS
'October / November' – UK TOUR
30.10 - Dublin - Workmen's Club
31.10 - Nottingham - JT Soar
01.11 - Manchester - Gullivers
02.11 - Glasgow - Nice N Sleazy
07.11 - Rotterdam - Roodka Pje
08.11 - Hamburg - Kraniche
09.11 - Berlin - Team Titanic
10.11 - Vienna - Rhiz
11.11 - Prague - Pilot Club
13.11 - Utrecht - DB's
16.11 - London - Shacklewell Arms
NO JOY FEAR OF MEN
Monday 11 November
Bethnal Green Working Men's Club, 42 Pollard Row, Bethnal Green, E2 6NB
8pm | £6.00 | TICKETS
GARY WAR
PURPLE PILGRIMS
BOMBER JACKETS
Shacklewell Arms, 71 Shacklewell Lane, Dalston, E8 2EB
MAGIK MARKERS
Bethnal Green Working Men's Club, 42 Pollard Row, Bethnal Green, E2 6NB
LONNIE HOLLEY
DURGA
Cafe Oto, 22 Ashwin Street, Dalston, E8 3DL