Festive times to all!

Here's our final UTR newsletter of the decade, we'll return in 2020 all fresh-faced and renewed, we promise! 2019 has been one of our best and busiest years so far. We've had many live highlights this last year, from The Stallion warping all minds in January, to Xiu Xiu at Islington Assembly Hall, Coolies and their stunner of short, sharp set, Prison Religion, Daniel Higgs, White Fence, Mary Lattimore, Exek, Deerhoof at EartH, Lankum quaking The Dome with collective audience stomping too! The list is long, but our 15th anniversary label tour in March comes at the very top, dream realised and now reserved in a special place in our hearts. Really was the best of times, thank you all for sharing your time with us throughout these last 365!
Talking of Upset The Rhythm in label guise, 2019 has seen us continue our brisk release schedule too, with so many bona fide high points. We've released some absurdly great albums from Kaputt, Robert Sotelo, Lunch Lady, Normil Hawaiians, Trash Kit, Bamboo, Hygiene, Nots, Hash Redactor and Xiu Xiu. A host of essential 7" EPs from Vital Idles, Red Channel, Terry and Constant Mongrel rolled out into the world also! What an honour to be associated with these class acts one and all!

All of those vinyl documents from our class of 2019 are available in our

webshop here

.
You'll also find in our shop the pre-order link for our first new album of 2020, Handle's debut album 'In Threes'! Incorporating a diverse range of influences, from samba to no wave, Handle, a three-piece from Manchester (now based between Manchester/ London/ Brussels) make a uniquely minimal sound, buoyed by a startling poetic tenacity.

Handle are made up of Giulio Erasmus and Nirvana Heire (former members of D.U.D.S) and Leo Hermitt, a genderqueer multidisciplinary artist. With this project they've trained their focus on looping, hypnotic synth lines, flexes of bass, clangorous percussion and expeditious vocals that cordially sprint.

Handle is just the first of many releases we have lined up already!

We've also been busy plotting out a host of exciting new live shows for 2020 too. Check out our listings section for newly confirmed concerts from Limpe Fuchs (concert and workshop), Old Time Relijun, The Silver Field, Massicot & Slagheap, Shopping, Pan American, Islet, En Attendant Ana, Trash Kit & Handle! Read on for more info on our first three shows of the year too, see you on the other side of yuletide.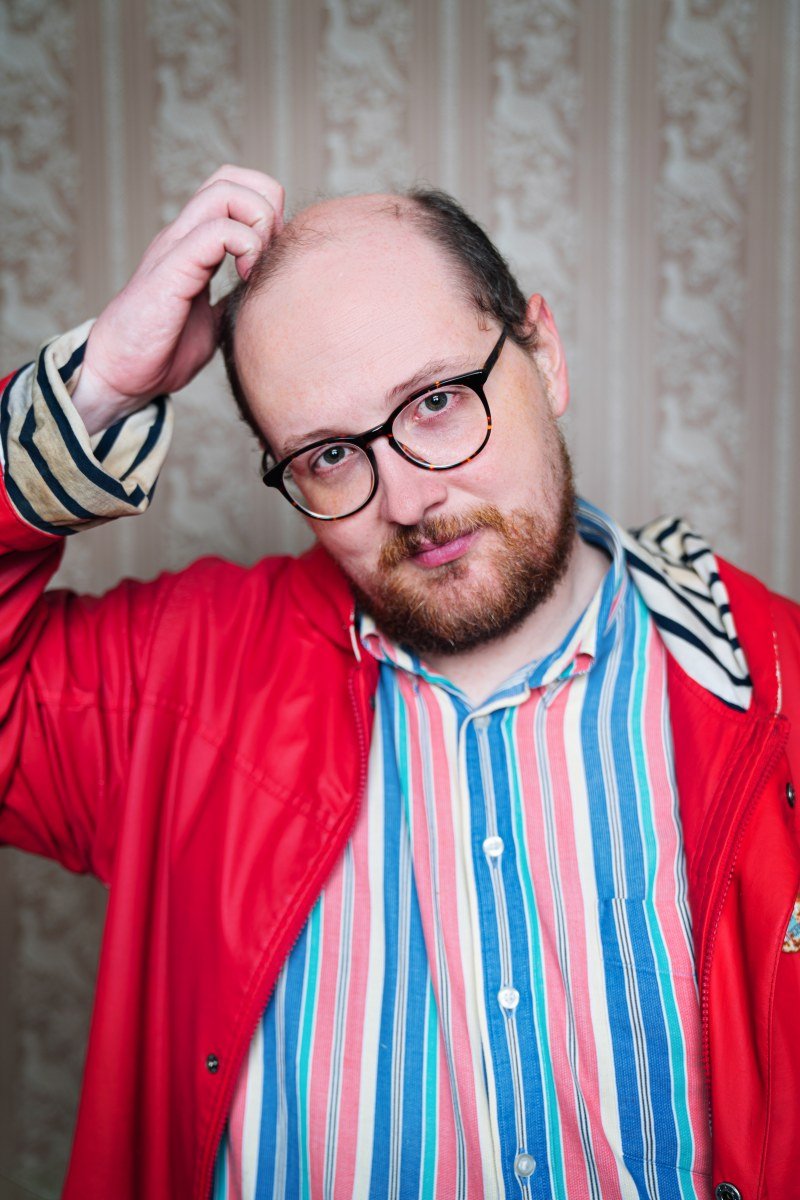 Upset The Rhythm presents…
DAN DEACON
Thursday 6 February
Scala, 275 Pentonville Road, London, N1 9NL
7.30pm | £15 |
TICKETS
DAN DEACON
returns in February 2020 with 'Mystic Familiar', his first album in five years and the stunning result of years of obsessive work, play, and self-discovery. It's not only his most emotionally open record but also his most transcendent! Eleven kaleidoscopic tracks of majestic synth-pop that exponentially expand Deacon's sound with unfettered imagination and newfound vulnerability. Since 2015's 'Gliss Riffer', Deacon has branched out from his core body of work into a dizzying array of collaborative projects: scoring eight films, collaborating with the New York City Ballet's resident choreographer Justin Peck on the dance piece The Times Are Racing; performing expanded arrangements of his music with the Baltimore Symphony Orchestra; and for the first time producing and co-writing an album with friends Ed Schrader's Music Beat. Throughout all this Deacon was also working on a new suite of songs that wield the profundity of a philosopher and the absurdity of a jester. These songs make up his forthcoming 'Mystic Familiar' album, painting life as a psychedelic journey brimming with bliss and disruption, darkness and light.
Opening track "Become a Mountain" immediately announces itself as something new, for the first time ever on record presenting Dan's natural singing voice, unprocessed and with only minimal accompaniment. When Deacon proclaims "I rose up" here, it is Dan Deacon singing in the first person as Dan Deacon—a startlingly vulnerable shift in a songbook abundant with characters, metaphors, and distorted vocals. "Hypnagogic" takes us deeper into Deacon's mind, a synth swirl similar to those which have begun his recent performances, absorbing the pulse of the room and extending that abstract moment in which a journey begins. From there, 'Mystic Familiar' then takes a propulsive leap with the robotic drums and soaring melodies of "Sat By a Tree" and the four-part "Arp" suite offering up a dialectic view of life. It's an album that captures an artist mindfully evolving his music from playful beginnings to encompass a prismatic cosmos of addictive ideas, melody and purpose! This special Scala show celebrates the release of 'Mystic Familiar' and Dan's long-awaited return to his spiritual kingdom of London!
https://dandeacon.com/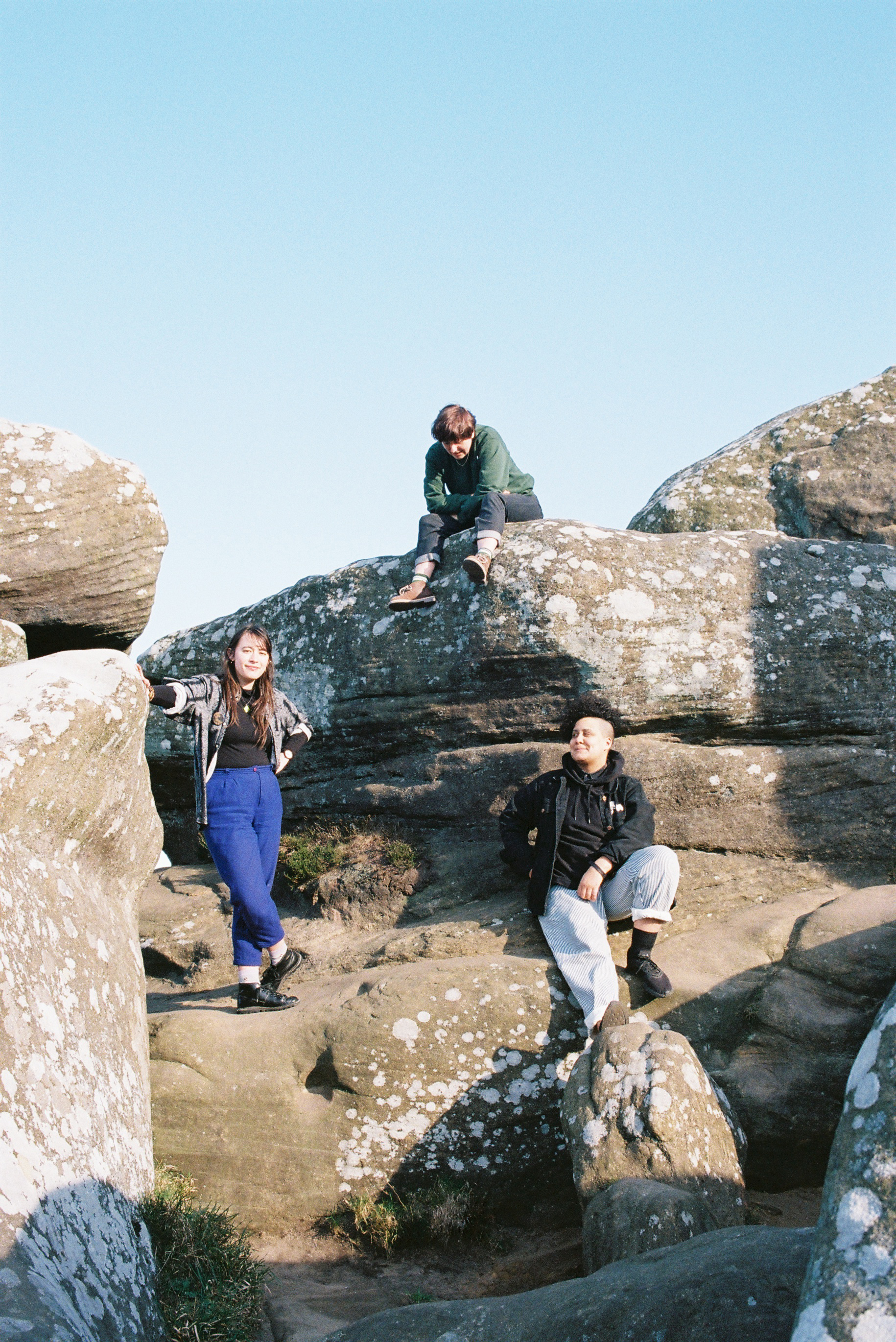 Upset The Rhythm presents…
TRASH KIT
HANDLE
Friday 14 February
The Lexington, 96-98 Pentonville Rd, Angel, London, N1 9JB
7.30pm | £9 |
TICKETS
TRASH KIT
are Rachel Aggs (guitar, vocals), Rachel Horwood (drums, vocals) and Gill Partington (bass). Three deeply creative individuals who play in a multitude of other groups including Bas Jan, Sacred Paws, Shopping and Bamboo, united by a shared decade of spry musicality that surges through their bodies, hearts and heads with Trash Kit. Their songs once succinct, patchwork post-punk numbers of an honest diary-like nature now tussle more with long-form songwriting, expeditious polyphony and cascades of sung-spoke vocals. This new focus began with their second album 'Confidence' (2014) and has now grown into something exhilarating and rapturous. New songs like 'Disco' have had their very fabric stretched into smart new shapes, allowing the band to run away with refrains and unlock the dancefloor.
Although Trash Kit have their forebears in bands like Sleater Kinney, The Ex and The Raincoats, their sound is still very much their own take on facing forwards and relies as much on the naturalism of an internalised folk music as on their sincerity of vision. Since forming in 2009, Trash Kit have released three albums for Upset The Rhythm and a selection of singles, last July however they made their most majestic move yet with their resoundingly huge 'Horizon' album. Garnering countless glowing reviews and featuring in many end of year lists for 2019 'Horizon' is an album that forever listens for the next moment and will meet you once more at the vanishing point.
https://www.facebook.com/TRASH-KIT-329766302806/
HANDLE
incorporate a diverse range of influences from samba to no wave. The three-piece from Manchester (now based between Manchester/London/Brussels) make a uniquely minimal sound, buoyed by poetic, urgent vocals. Each instrument (bass, drums, keyboard and voice) is permitted its own space, yet somehow the result is a brilliantly unified yet understated sonic experience that demands then commands your attention. Handle is made up of Giulio Erasmus and Nirvana Heire (former members of D.U.D.S) and Leo Hermitt, a genderqueer multidisciplinary artist, renowned for their challenging, thought-provoking work on the city's arts and literary scenes. The group mesh politics with a trans experience of time and a vibrant, avant-garde freedom of approach. Powered by looping, hypnotic synth lines, quaking flexes of bass, clattering tribal percussion and expeditious, often agitated vocals that cordially sprint, Handle's songs - all of which clock in around the two minute mark - owe as much to performance poetry as they do to the vibrancy of post-punk. Handle's debut album 'In Threes' will be released March 6th by Upset The Rhythm and Maternal Voice and is a collection of frenetic sounds for frenzied forms.
https://soundcloud.com/upset-the-rhythm/handle-punctured-time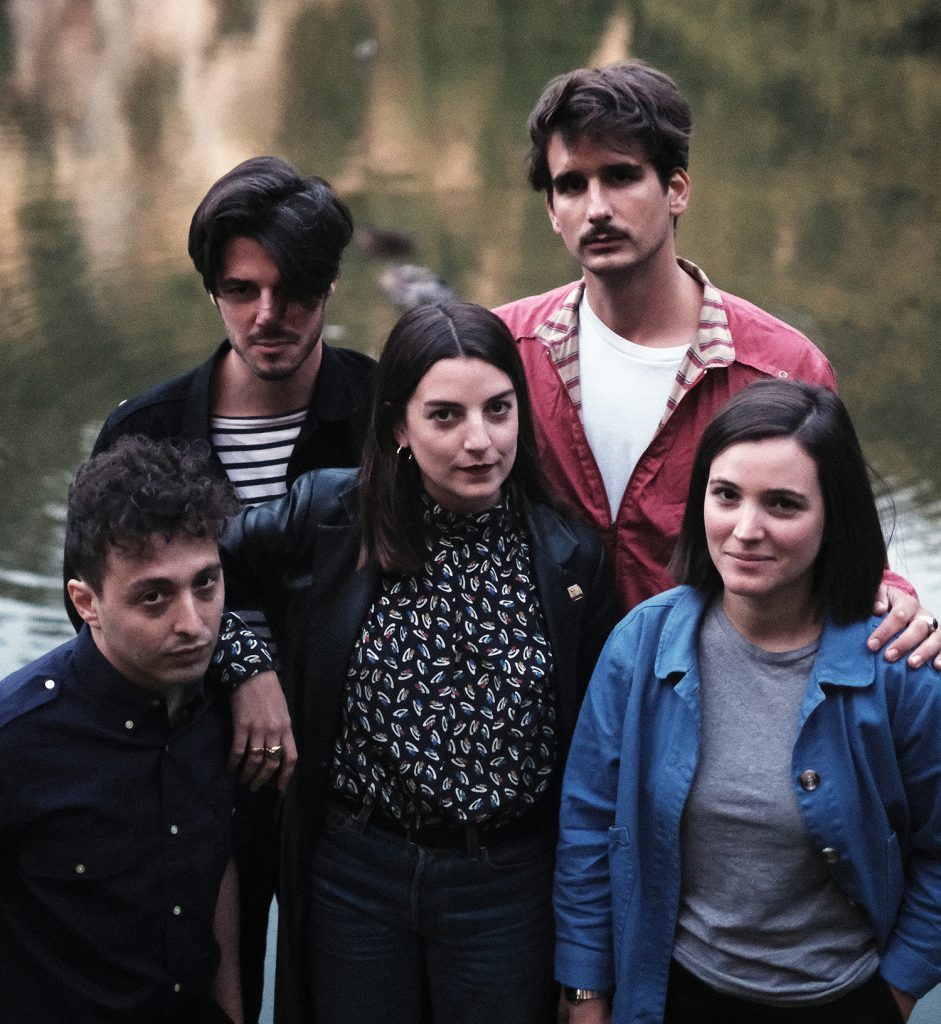 Upset The Rhythm presents…
EN ATTENDANT ANA
Saturday 15 February
PinUps (formerly The Islington), 1 Tolpuddle Street, Angel, London, N1 0XT
7.30pm | £6 |
TICKETS
EN ATTENDANT ANA
are a Parisian quintet who diligently craft songs that shimmer, glide and sway with sophistication. Trouble In Mind recently released the group's second album 'Juillet'. Many of the songs on 'Juillet' feel hopeful, despite their melancholic tone, lacing a lilting melody or triumphant trumpet swell (courtesy of multi-instrumentalist Camille Fréchou) or charging guitar riffs from Tomasso or Bouchaudon. Whereas the tunes on their debut 'Lost and Found' felt wild & reckless, the songs on 'Juillet' feel focused, a set of songs that feel bonded together by the magnetic pull of each other; viewed as a whole, they dazzle. Songs like "Do You Understand?" and the first single "Words" point toward a new frontier for the group, effortlessly sharpening their razor-sharp hooks to such a fine point, you almost don't realise their complexity. Elsewhere, songs like "Flesh or Blood" and opener "Down The Hill" revel in a push/pull dynamic. Finally, songs like "From My Bruise To An Island" and the sparse "When It Burns" bridge a confessional narrative atop an amorphous ambient float. They feel important, and hint at an exciting future for a band letting go of its past and entrusting fate with its future.
https://enattendantana.bandcamp.com/
Thanks for all your support this year as always! Onwards into the '20s!
Have a wonderful Xmas and we'll see you next year.
Upset The Rhythm
UPSET THE RHYTHM
UPCOMING SHOWS
DAN DEACON
Thursday 6 February
Scala, 275 Pentonville Road, London, N1 9NL
TRASH KIT
HANDLE
Friday 14 February
The Lexington, 96-98 Pentonville Rd, Angel, London, N1 9JB
7.30pm | £9 |
TICKETS
EN ATTENDANT ANA
Saturday 15 February
PinUps (formerly The Islington), 1 Tolpuddle Street, Angel, London, N1 0XT

7.30pm | £6 |
TICKETS
MASSICOT
SLAGHEAP
Monday 24 February
New River Studios, 199 Eade Rd, Harringay, London, N4 1DN
ISLET
Thursday 5 March
Space 289, Railway Arches, 289 Cambridge Heath Rd, London, E2 9HA
7.30pm | £9 |
TICKETS
THE SILVER FIELD
Friday 6th March
SET, 27A Dalston Ln, Dalston, London, E8 3DF
LIMPE FUCHS
Saturday 14 March
IKLECTIK, Old Paradise Yard, 20 Carlisle Lane, London, SE1 7LG
LIMPE FUCHS - Workshop
Sunday 15 March
IKLECTIK, Old Paradise Yard, 20 Carlisle Lane, London, SE1 7LG
1pm-3pm |£15 | Very limited places:
TICKETS
SPINNING COIN
Wednesday 18 March
The Lexington, 96-98 Pentonville Rd, Angel, London, N1 9JB
7.30pm | £8 |
TICKETS
Upset The Rhythm & The Barbican present…
RICHARD DAWSON: Delight is Right
Barbican Hall, Silk St, Barbican, London, EC2Y 8DS
Saturday 28 March
PAN AMERICAN
MIYAGI-LAMMARDO DUO
Tuesday 21 April
Cafe OTO, 18-22 Ashwin St, London, E8 3DL
OLD TIME RELIJUN
Wednesday 29 April
PinUps (formerly The Islington), 1 Tolpuddle Street, Angel, London, N1 0XT
SHOPPING
Tuesday 5 May
The Lexington, 96-98 Pentonville Rd, Angel, London, N1 9JB