It's a busy Monday for us at Upset The Rhythm, tonight we have the brilliant NO JOY and FEAR OF MEN playing tonight at Bethnal Green Working Men's Club, plus we also have two new releases leaping into the world today. Our first record is a split LP between GARY WAR and PURPLE PILGRIMS who are touring Europe presently (playing London on Saturday!), 180g silver-n-black vinyl, 500 copies only, maximal wave and orbiting melancholia! Our second is WAY THROUGH's new album 'Clapper Is Still', 180g white vinyl and digipak CD, described by Caught By The River as "an ecstatic survey of England: clattering and chopped music of concrete, crops, rosettes and rituals." Both are available in shops across the land now, including from our webshop where they cost £10 (including postage in the UK).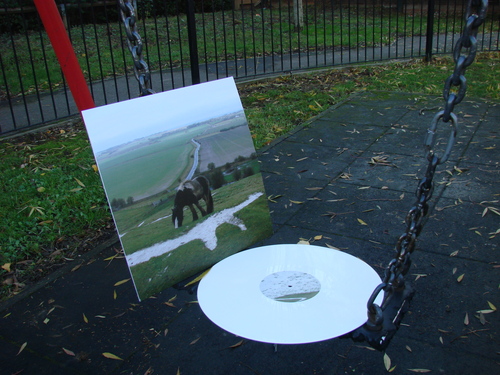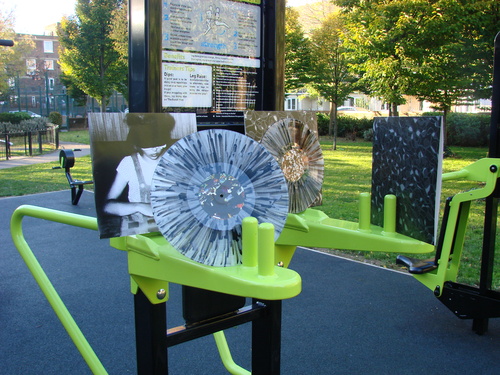 Thanks for reading, listening, looking…
\\\\\\ TONIGHT /////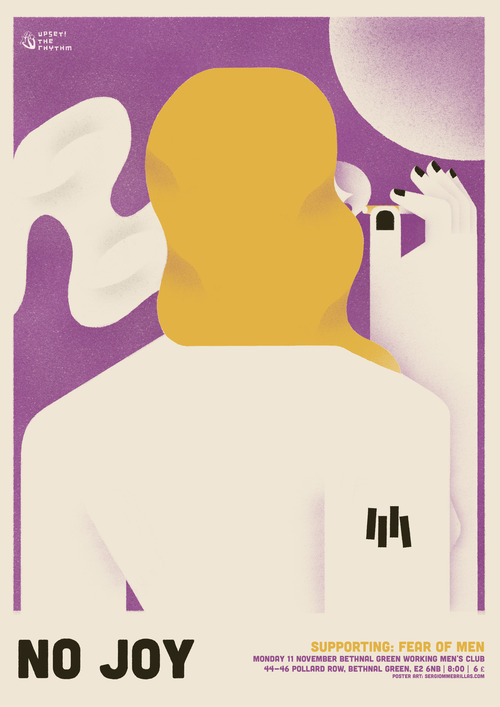 NO JOY FEAR OF MEN
Monday 11 November
Bethnal Green Working Men's Club, 42 Pollard Row, Bethnal Green, E2 6NB
8pm | £6.00 | TICKETS
NO JOY are a Montreal noise-pop band, rooted heavily in shoegaze ripcurls and devastating melody. Jasamine White-Gluz, Laura Lloyd and Garland Hastings knock down the fence between nostalgia and modernity, chaos and control. On new album 'Wait To Pleasure' you can hear what's happening under the surface, a work that subverts the expectations of where a latter-day approach to that genre might be able to take the listener. "We get a lot of the obvious comparisons," Laura says about the band's music, favorably likened to the stormier side of the pond, where bands like Lush and Swervedriver used to reside, as well as the templates for that sound in groups like Hüsker Dü. 'Lunar Phobia' finds Jasamine's ethereal vocal harmonies prismatically split in the studio environment, with syncopated and chopped-up rhythms last heard in Alan Moulder's work with groups of yore like Curve, a seamless blend of digital tricks and analog guitar crunch. Better to drill into your skull before you realize what's happening – better to let all of their sometimes-stinging, sometimes-syrupy music into that new hole in your head.
FEAR OF MEN draw their inspiration from art and philosophy, deliberately juxtaposes iconic museum imagery and lyrical themes of loneliness and fragmentation with buoyant pop melodies. Fans of Broadcast and Julie Doiron will instantly gravitate toward their tender vocals and melodies. The songs are beguilingly sweet while the lyrics are often bleakly nihilistic, meaning that you'll find yourself singing along to these intelligent, well-crafted pop songs while unwittingly sinking deeper into Fear of Men's world. 'Early Fragments' (Kanine Records) was released earlier this year, a reverse chronological collection of their previous single releases, many of which were only available on limited edition 7" and cassette pressings.
\\\\\\ SATURDAY /////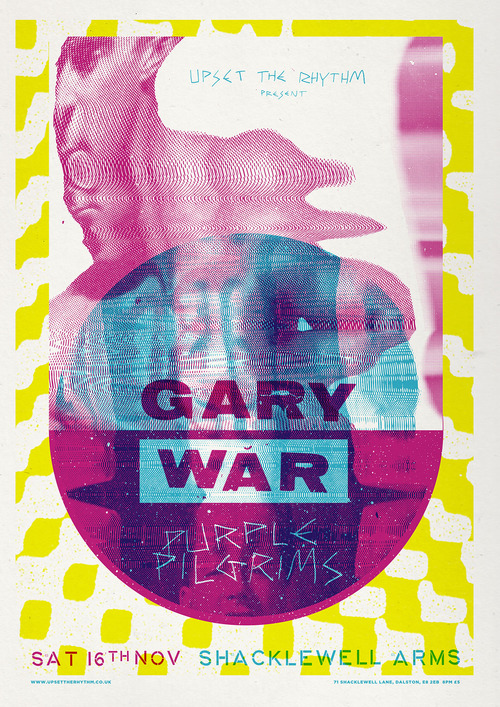 GARY WAR
PURPLE PILGRIMS
BOMBER JACKETS
Shacklewell Arms, 71 Shacklewell Lane, Dalston, E8 2EB
7.30pm - 10.30pm | £5.00 | TICKETS
GARY WAR has previously served alongside John Maus and Ariel Pink in Haunted Graffiti and also has a burgeoning catalogue of solo material released on Captured Tracks, Spectrum Spools and Knife Slits Water, and Sacred Bones. Gary War makes awesome zonked-out future music oozing with a disembodied soul and draped in heavy drones, unafraid to deploy feedback and thick waves of analogue fuzz for a luciously head-warping effect. War is touring in support of his new split LP on Upset The Rhythm which takes deeper step into a pool of progressive maximal wave and distinctly modern psychedelia.

PURPLE PILGRIMS are an outsider dream pop duo of sisters from Christchurch via Hong Kong. Clementine and Valentine Nixon make delicate, hypnotic vocals hover gently above spectral waves of guitar and exotic abstraction, as subtle beds of rhythm lock step in the distance. The Pilgrims have distilled the mysterious hybrid of shimmering distortion and je ne sais quoi that have long attracted global purveyors of the N.Z. underground into it's absolute purest form. As perfect a soundtrack to observe the latest night transform into the earliest morning as one could ever dream of hearing. Following on from their first lathe cut, Upset The Rhythm will be releasing a split LP with Gary War to coincide with their European tour.
BOMBER JACKETS are the London based trio of Russell Walker, Daniel Bolger and Sian Dorrer. The former two names you may recognise from their roles in prolific post-punk nitwits The Pheromoans, whilst the latter has played in various groups in London's thriving DIY scene and opened the notorious London venue Power Lunches. 'The Lister' is their first full length and the most focussed statement of their singular and somewhat awkward aesthetic. Musical reference points could be directed towards early Legendary Pink Dots, Hype Williams, early European minimal synth and even Angelo Badalamenti's Twin Peaks score, whilst evoking a scenario that feels a somewhat uneasy - a hungover / slightly drunk train journey to somewhere you don't really want to be but at the same time can't avoid, trying to step outside of yourself to raise a wry and knowing smile at the misfortune along the way.
One last thing before we sign off, our friends at Baba Yaga's Hut and Bleed are organizing a show for JAMES FERRARO tomorrow at Corsica Studios, interested parties, check this out interesting party.
UTR
GARY WAR & PURPLE PILGRIMS
'October / November' – UK TOUR
11.11 - Prague - Pilot Club
13.11 - Utrecht - DB's
16.11 - London - Shacklewell Arms