Thanks so much to all of you who came out to see Brendan Fowler and The Pheromoans over the weekend, two special shows for us at Upset. It meant a lot to see so many of you in attendance. This week we've continued to keep the pace confirming new events for THE UV RACE, TY SEGALL and THE INTELLIGENCE, as well as an amazing MISSISSIPPI RECORDS film presentation and label showcase with MARISA ANDERSON, LORI GOLDSTON and DRAGGING AN OX THROUGH WATER all performing!
Onto next week, we have two more opportunities to Upset The Rhythm. Monday sees us pitch up at Café OTO for a very rare appearance from France's NATURAL SNOW BUIDINGS, their vivid drone-zones perfectly complimented by BEN NASH and STEREOCILIA in support. Then on Tuesday at Bethnal Green Working Men's Club we have a free screening of 'POSITIVE FORCE: MORE THAN A WITNESS', a feature length film by Robin Bell documenting the punk collective Positive Force DC, including electrifying live performances from Fugazi, Bikini Kill, Rites Of Spring, Scream, Beefeater, Nation of Ulysses etc. MARK ANDERSEN as a co-founder of Positive Force will be in attendance for a follow up Q & A too, exciting stuff I'm sure you'll agree! Read on for everything and more…
\\\\\ MONDAY /////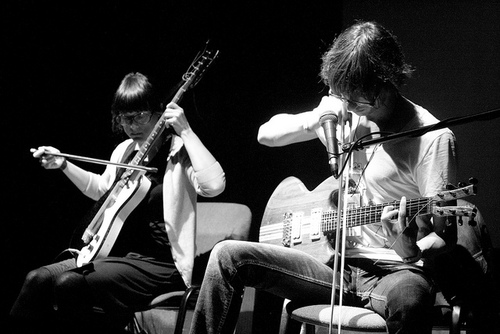 NATURAL SNOW BUILDINGS
BEN NASH
STEREOCILIA
Café OTO, 22 Ashwin Street, Dalston, E8 3DL
NATURAL SNOW BUILDINGS make make melodic, orchestrated, droning compositions with layers of guitars, chants, woodwinds, percussive bells, distortion and delay. This French duo are almost mythic in stature, their live shows proving an even more rare jewel than their records, which seem to briefly appear in limited numbers before instantly being devoured. The Brittany-based duo of Mehdi Ameziane and Solange Gularte began creating music together after meeting at university in the late 90s, armed with little more than cello, guitar and voice. They began issuing tapes and CDRs in miniscule quantities, word slowly spreading through the exclamations of such devoted advocates as Digitalis and Time Lag.
Despite their minimal means, Natural Snow Buildings' music is never less than all-consuming, be it in their ethereal and windswept epics or their moments of close-mic'd vocal-and-guitar tenderness. Their releases always materialise on a grand scale, usually of two discs or more, always adorned by Mehdi and Solange's quasi-mystical artwork, like the tracks inside, each one seems like a fully realised dream. 2006's 'The Dance Of The Moon And The Sun' was perhaps a watershed, the duo finding their work hyperbolised online as a "monumental masterpiece", "the history of all things" and "perfection defined". Popol Vuh, Flying Saucer Attack, Dead C and Grouper comparisons abound and uniformly fail to do them justice. Soon began their relationship with Sheffield's Blackest Rainbow label and a series of releases that continue to sell out almost before the label takes delivery. Following their one and only UK tour from March 2012, Natural Snow Building will return to play for us at Cafe OTO later this month!
BEN NASH weaves a tapestry of sound that is as warm and welcoming as it is timeless in character. Vocal drones, singing bowls, motorik loops and epic guitars are all keen elements of his sound; capturing fleeting emotions within his electro-acoustic net. Nash's debut album 'The Seventh Goodbye' (on Aurora Borealis) was a collage of so many layers, patterns and textures, that it became as dazzling as the plummage of the finest peacock in paradise. Musical elements as diverse as folk, raga, Eastern percussion, drone, prog and noise coalesce on the record. Last year he released 'Oh Lordy Me (My Heart Is Wandering Again)' for Blackest Rainbow, a record which saw him drop his guitar and create an entire LP using an iPad with the Tenori-on app. Perhaps an unexpected turn, but then this year has been a pretty interesting one for Ben, returning to playing live after a long hiatus, surprising people by playing live in Sheffield and London for separate sets with Mehdi and Solange from Natural Snow Buildings as a trio. Recent album, 'The Mineral Victim' is available now also on Blackest Rainbow.
STEREOCILIA is London based guitarist and sound artist, John Scott. John uses his guitar and live looping techniques to create dense, rich layers of sound. Over the past 10 years John has performed all over the UK and Europe with various projects. He has also presented work for live radio broadcasts, and soundtracks to short films. He has twice performed in Rhys Chatham's guitar Orchestras. In 2012 at the Biennial festival in Liverpool cathedral performing 'A Crimson Grail', and more recently in San Francisco performing 'A Secret Rose' – Both for 100 guitars. John's Debut album 'Mumurations' is out now on his Echoic Memory imprint.
\\\\\ TUESDAY /////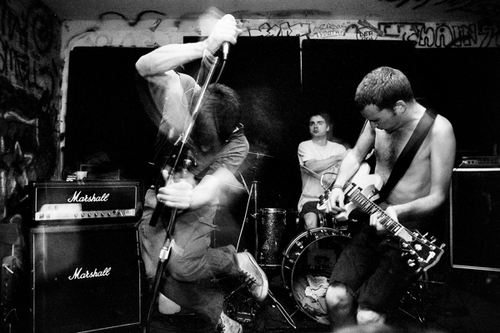 POSITIVE FORCE: MORE THAN A WITNESS
30 Years of Punk Politics In Action
(Film screening and Q & A with Mark Andersen)
Bethnal Green Working Men's Club, 44 Pollard Row, Bethnal Green, E2 6NB
8pm | FREE (donations welcomed)
You are cordially invited to our screening of 'More Than A Witness: 30 Years of Punk Politics In Action', a feature film about punk activist collective Positive Force DC, followed by a Q&A with PF co-founder Mark Andersen, co-author of Dance of Days.

Punk activist collective Positive Force DC emerged in 1985, rising from the creative, politically-charged ferment of DC punk's Revolution Summer. Born in a dynamic local scene sparked by Bad Brains, Minor Threat, and Rites of Spring, a handful of young activists also drew inspiration from UK anarcho-punks Crass as well as the band Seven Seconds and the original Positive Force affinity groups in Nevada to become one of the most long-lasting and influential exponents of punk politics.

This feature-length film by Robin Bell skillfully mixes rare archival footage - including electrifying live performances from Fugazi, Bikini Kill, Rites Of Spring, Scream, Beefeater, Nation of Ulysses, Crispus Attucks, Anti-Flag, and The Evens- with new interviews with Mark Andersen, Ian MacKaye, Penny Rimbaud of Crass, Kathleen Hanna, Allison Wolfe, Kevin Seconds, Jenny Toomey, Ted Leo, Dave Grohl, Danbert Nobacon of Chumbawamba and many more.

Covering a span of 30 years, More Than A Witness documents PF's Reagan-era origins, the creation of its communal house, FBI harassment, and the rise of a vibrant underground that burst into the mainstream amidst controversy over both the means and the ends of the movement.

Through it all, Positive Force has persisted, remaining deeply rooted in their hometown, reaching out to those in need and building bridges between diverse communities, while regularly bringing punk protest to the front doors of the powers-that-be. Encompassing an ever-evolving cast of characters, the all-volunteer group has helped to nurture several generations of activists. In the best punk fashion, PF has applied creative DIY tactics and radical critiques to issues of homelessness, hunger, racism, corporate globalization, sexism, homophobia, war, gentrification, and animal/earth liberation, while struggling to constructively address conflicting dynamics and visions within the group itself.

Run time: 70 minutes.
Thanks for reading as usual!
UPSET THE RHYTHM
x
\\\\\ UPSET THE RHYTHM /////
///// UPCOMING SHOWS \\\\\
NATURAL SNOW BUILDINGS
BEN NASH
STEREOCILIA
Café OTO, 22 Ashwin Street, Dalston, E8 3DL
POSITIVE FORCE: MORE THAN A WITNESS
30 Years of Punk Politics In Action
(Film screening and Q & A with Mark Andersen)
Bethnal Green Working Men's Club, 44 Pollard Row, Bethnal Green, E2 6NB
8pm | FREE (donations welcomed)
GUARDIAN ALIEN
DON'T ARGUE
Power Lunches, 446 Kingsland Road, Dalston, E8 4AE
NO BALLS
(Drajan Bryngelsson and Dan Råberg from BRAINBOMBS)
TORTURING NURSE
SEALINGS
The Grosvenor, 17 Sidney Road, Stockwell, SW9 0TP
SLEAFORD MODS
THE LOWEST FORM
MARK WYNN
The Lexington, 96-98 Pentonville Rd, Angel, N1 9JB
THE UV RACE
SEEDS OF DOUBT
PRIME TIME
Corsica Studios, 5 Elephant Street, Elephant & Castle, SE17 1LB
PROTOMARTYR
SAUNA YOUTH
FEATURE
The Lexington, 96-98 Pentonville Rd, Angel, N1 9JB
JULIE BYRNE
The Lexington, 96-98 Pentonville Rd, Angel, N1 9JB
JACK OBLIVIAN
STRAIGHT ARROWS
THE SHEIKS
Bethnal Green Working Men's Club, 44 Pollard Row, Bethnal Green, E2 6NB
Mississippi Records on tour: 'A Cosmic and Earthly History of Recorded Music according to Mississippi Records' (A film & talk presentation)
Including live performances from…
MARISA ANDERSON
LORI GOLDSTON
DRAGGING AN OX THROUGH WATER
Café OTO, 22 Ashwin Street, Dalston, E8 3DL
SPRAY PAINT
TENSE MEN
Friday 31st October
The Victoria, 451 Queensbridge Rd, Dalston, E8 3AS
8pm | £5 | TICKETS
FUTURE ISLANDS
O2 Shepherd's Bush Empire, Shepherd's Bush Green, W12 8TT
TY SEGALL
THE INTELLIGENCE
Electric Ballroom, 184 Camden High St, London, NW1 8QP
7.30pm | £15.00 | TICKETS