We have but two shows left for you this year! Next Tuesday, GUERILLA TOSS make their British debut, playing a UK exclusive show at The Old Blue Last with USA NAILS and DIYOA in support. Hailing from Boston, Mass. GUERILLA TOSS are extreme, absurd and unflinchingly brilliant, check out their live performance at Issue Project Room for more proof of their shock and awe!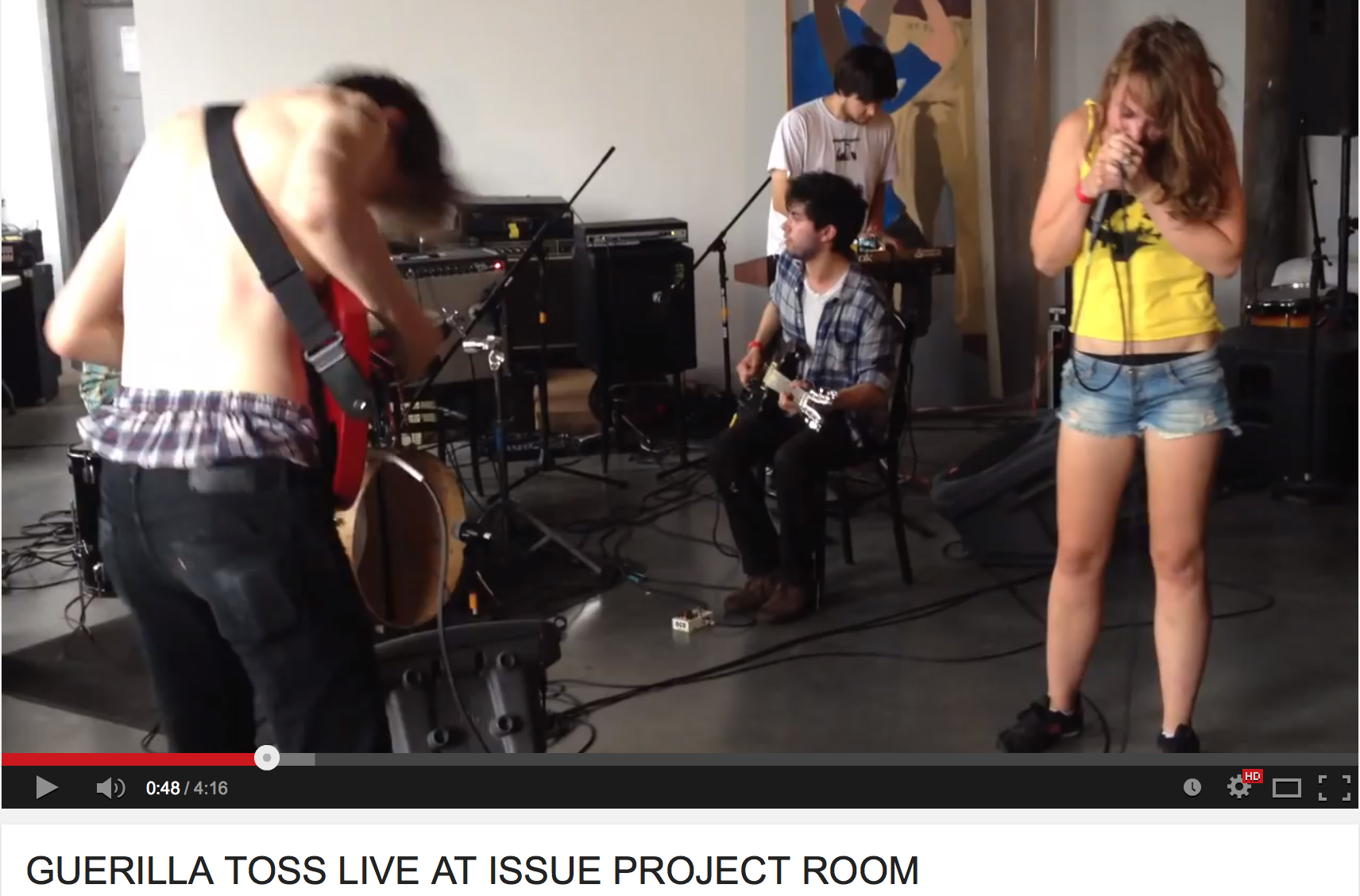 Every single American band we've had play for us this year have heaped enthusiastic words upon total admiration for them, so we're super excited for next week's show. Read on for lots more detail on that one along with our album launch party for TRASH KIT on December 4th, which sees ANA DA SILVA, ARRINGTON DE DIONYSO and AS ONDAS all performing too!

We've announced some new shows this week, so look up our listings below for news on events for DOPE BODY, DARK BLUE and a special series of events with RICHARD YOUNGS in January we're calling 'A Tower Hamlets Trilogy'. This will entail three very different performances in three very different places including the Balfron Tower Community Cabin, St George's German Lutheran Church and Mile End Ecology Pavilion. Tickets are available for each performance independently, although there are a imited number of three day passes available for an amazing £20 if you're feeling compelled.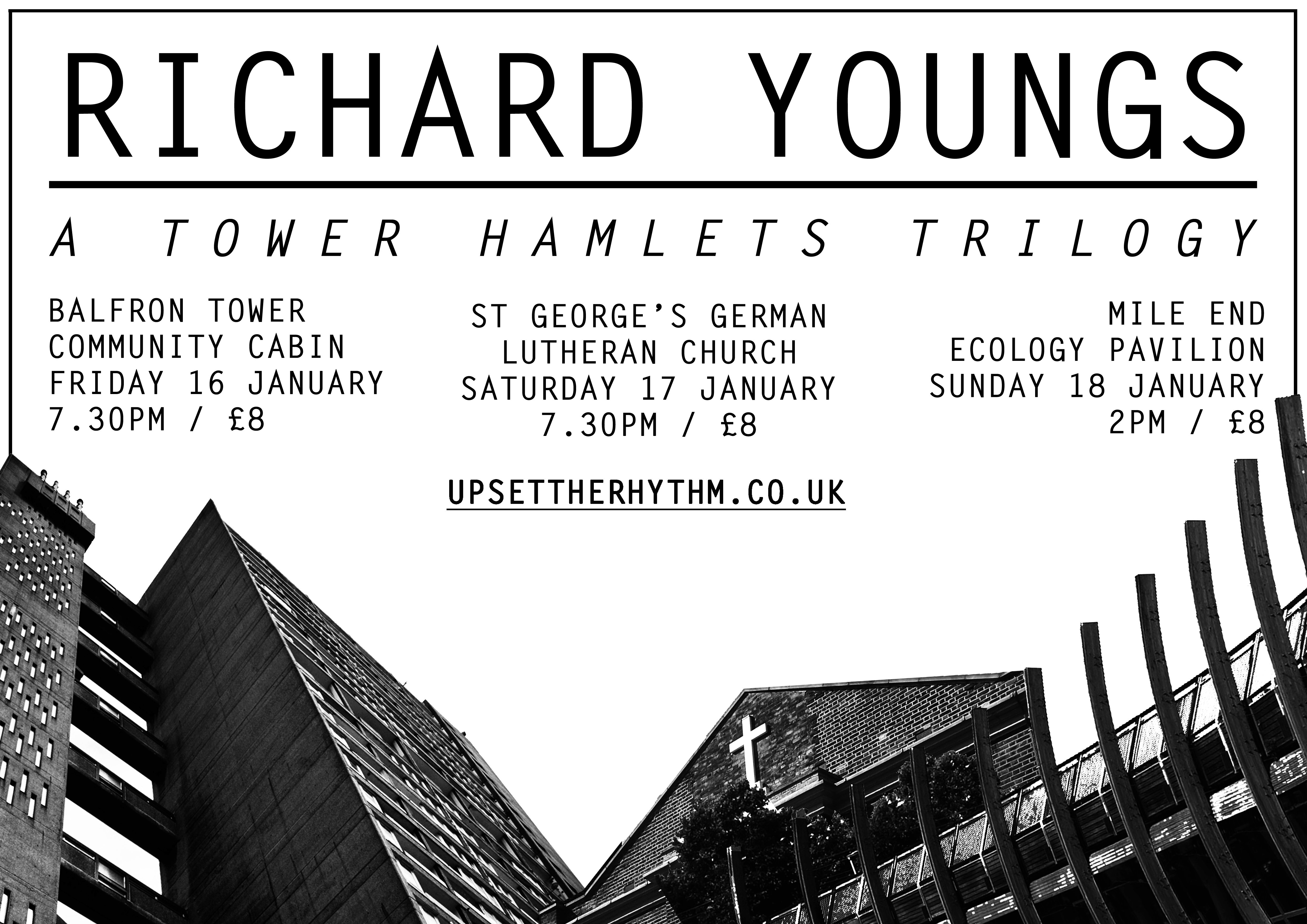 OK, open the flood gates to words…
\\\\\ TUESDAY /////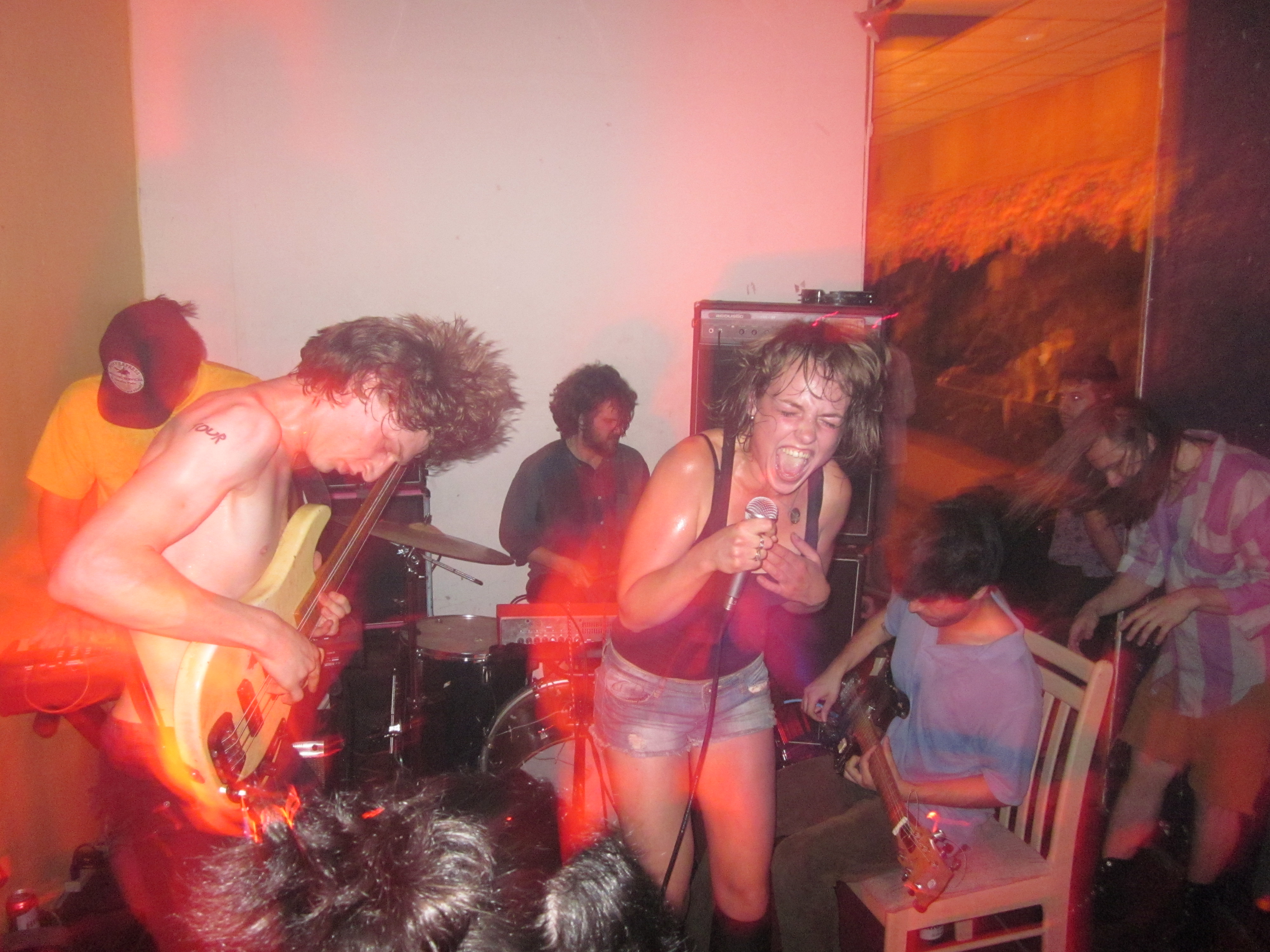 GUERILLA TOSS
USA NAILS
DIYOA
Old Blue Last, 38 Great Eastern St, Shoreditch, EC2A 3ES
GUERILLA TOSS were birthed from the depths of the sweaty basements of Boston, Massachusetts and are nowadays considered to be a New England underground staple by the freaks and weirdos that inhabit the region. The band have churned out numerous cassettes, records, and CDs in the past two years on on labels such as Feeding Tube Records, John Zorn's Tzadik, Sophomore Lounge, and Digitalis Ltd. By touring relentlessly and providing their audience with an unforgettably intense live show that demands, and encourages, ravaging physical body movement of the listener, Guerilla Toss have quickly garnered a cult following. Their newest record, 'Gay Disco' (released by NNA Tapes), is an album that draws influence from new wave and no wave dance music, extreme dementia, drug problems, and absurdist humor.

Kassie Carlson's ferocious vocals run the gamut of the human voice, blasting with jet engine shrieking and boiling over with urgency, while at the same time presenting a deranged and direct spoken narrative with surreal conversational lyrics. Peter Negroponte's full force drumming spews forth alongside her like a tentacled beast, whilst guitarists Simon Hanes and Arian Shafiee duel to the death with angular and jagged riffs. The glue that binds is Ian Kovac's synth work, which adds a healthy dose hyperactive danceability and electronic flourishing that contributes to the album's overall doped-up disco flavor. As messy as it sounds, it all lends itself to Guerilla Toss' ability to shape-shift seamlessly between hardcore rawness, jazzy meanderings, and squealing noise rock. Guerilla Toss succeeds in using the power of dissonance, aggression, and disorientation to derail the dancefloor harnassing the essence of a high-energy live band in its loudest, rawest embodiment to date. Guerilla Toss succeed in using the power of dissonance, aggression, and disorientation to derail the dancefloor, whilst maintaining high-energy spectacle in its loudest, rawest embodiment to date.
http://guerillatoss.bandcamp.com/
USA NAILS do drawn out psychedelic punk with nods to the likes of Neu, The Stooges, and Swans. They feature current and ex-members of Kong, Silent Front and WhoresX3. Their debut album "Sonic Moist", is out on tape and vinyl in November on a bunch of European DIY labels (Unwork, I Hate My Records, Bigoût and Smalltown America).
http://usanailsmusic.tumblr.com/
DIYOA (dee-oh-ah) is a one man band from Rochester, Kent. Towing the line between improvisation and structure, DIYOA uses a blend of guitar and electronics to create an eclectic set that ranges from loose, free flowing soundscapes, to riff driven pop.
\\\\\ DECEMBER 4 /////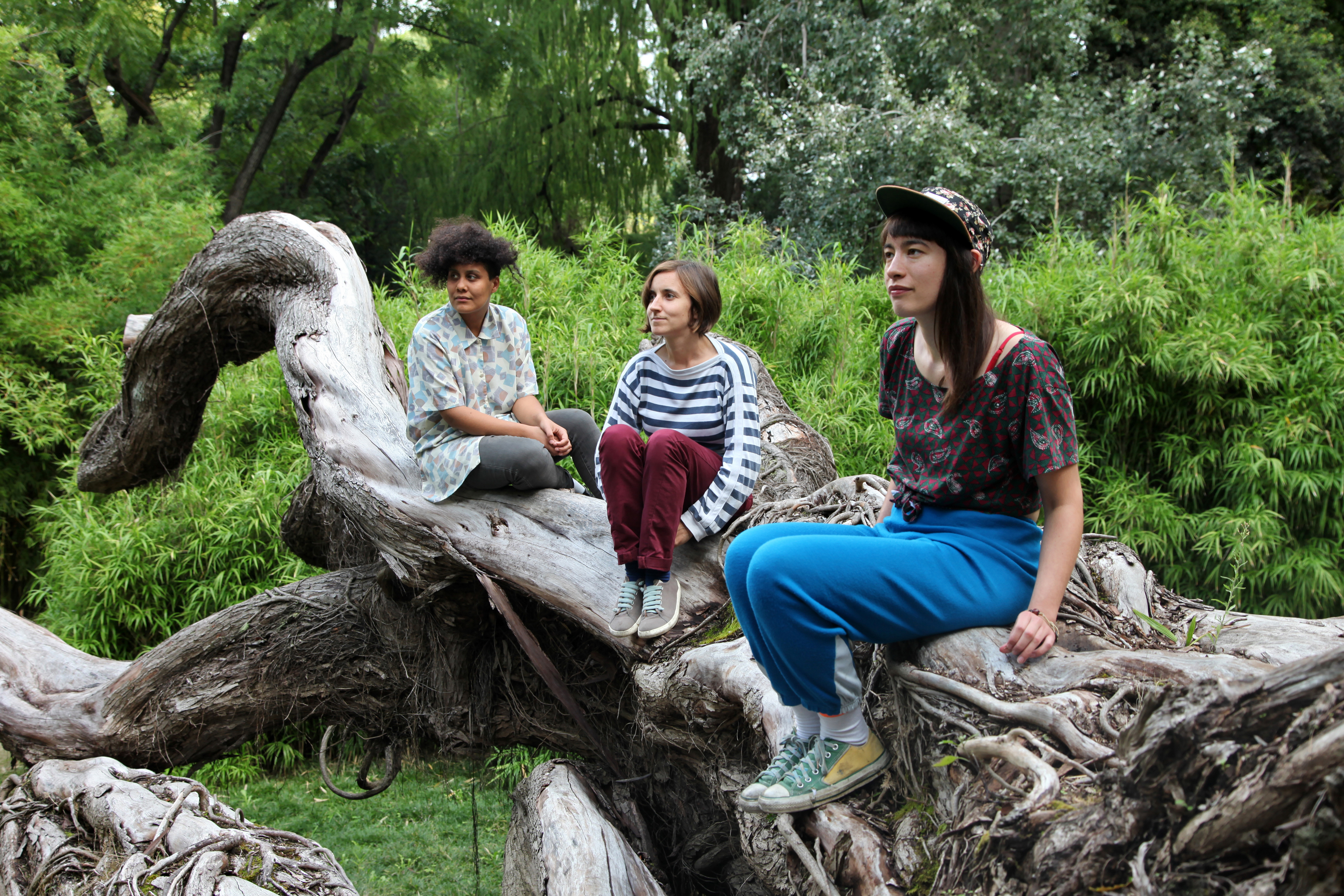 TRASH KIT - 'Confidence' Album Launch!!!
ANA DA SILVA
ARRINGTON DE DIONYSO
AS ONDAS
Bethnal Green Working Men's Club, 42 Pollard Row, E2 6NB
TRASH KIT have a wild feel for melody, writing songs that pull at the reins with a spontaneous charm. Having formed the band in 2009, Rachel Aggs, Rachel Horwood and Ros Murray have since become the glowing core of London's DIY underground. Their music is primal yet thoughtful, affirming yet sincere, drawing on the potential of post-punk and the naturalism of an internal folk music. Although Trash Kit have their forebears in bands like X-Ray Spex, The Ex and The Raincoats, their sound is very much their own take on facing forwards. Galloping polyrhythms, overlapping sung-spoke lyrics and entwining guitars are all drawn together into a taut unity, sounding willfully alive. Both Rachels tangle their vocals with each other whilst expressive drumbeats and restless guitar flurries provide the rhythmic drive. Aggs' guitar playing is as much informed by African fingerstyle patterns as the percussive attitude of various no wave shredders. Horwood approaches her drumkit with an untamable freedom, pushing it into the realm of a vivid lead instrument. Trash Kit's music is full of pauses, woven silence and punctuation too and this is where Ros Murray and her resonant, soulful bass work finds a perfect home.

As a follow up to their exuberant debut album, 'Confidence' sticks with the "play it all live" pluck we've come to expect from Trash Kit. There's a minimal bent, a lyrical directness, an unadorned ethic that all evokes the sense that the song is being written at the same time as it's performed. Yet whilst the first album at times felt too fleeting, its succinct songs flashing by so fast, 'Confidence' is startlingly more assured, allowing ideas to develop, conclusions to be gathered. Tracks like 'Hair', 'Skin' and 'Boredom' embrace dynamics like never before. Their clatter and chime are complimented through subtler passages of introspection and the occasional noisy breakdown, with snare and cymbals approaching roar. Ros is joined by her previous bandmate Verity Susman (of Electrelane) on a few tracks including the adventurous 'Shyness' and lead single 'Medicine', lending some fluently inventive saxophone flourishes. It all adds to the heady, sensation of free-falling through the album. A feeling that the horizon has become broader. 'Confidence' will be released by Upset The Rhythm on December 1st.
http://trashkitrules.blogspot.co.uk/
ANA DA SILVA is a founding member of the pioneering female punk band The Raincoats. Ana has continually worked on music, in some shape or form, since the group disbanded in 1984. Soon after the release of The Raincoats' final album album, 'Moving', Da Silva collaborated with This Heat drummer Charles Hayward on a project called Roseland; they recorded a few demos together, but the duo faltered after that. She also wrote music for choreographer Gaby Agis' productions, but spent much of the '80s and early '90s painting and working in an antique shop. The Raincoats' reunion spurred Da Silva and the rest of the group to write new songs, resulting in the band's fifth album, 1996's 'Looking in the Shadows'. Da Silva resurfaced in 2005 with her solo record 'Lighthouse', a largely electronic collection of songs that she wrote, recorded, and produced herself for Chicks On Speed records.
http://www.theraincoats.net/
ARRINGTON DE DIONYSO makes trans-utopian world music for a world that exists in fever dreams and hallucinations. Using performance and visual art, he traverses the nameless territories held between surrealist automatism, shamanic seance, and the folk imagery of rock and roll. He clarified his eccentric brew of ecstatic lunacy and prophetic madness during his 15 year tour-of-duty with Olympia's Old Time Relijun. De Dionyso's most recent project, Malaikat dan Singa, is a trance-punk outfit featuring bass clarinet, guitars, multiple drummers and his trademark wild vocals (multi-spectral harmonic throatsinging combined with grunts, yelps, and barks) often sung in Indonesian. Pushing the envelope between musicality and pure energy, between ecstacy and lunacy, he enwraps rooms with a deeply resonant sound.
http://arrington.bandcamp.com/
AS ONDAS are a band with fresh ideas, featuring members of Dog Legs, Shopping and Wachi Wachi they start their race with a sprint. With a spartan drum, bass and guitar lineup, As Ondas deliver up a delirious, chorus-drenched prom punk alongside the occasional post punk meditation.
Thank you for reading this!
UPSET THE RHYTHM

\\\\\ UPSET THE RHYTHM /////
///// UPCOMING SHOWS \\\\\

GUERILLA TOSS
USA NAILS
DIYOA
Old Blue Last, 38 Great Eastern St, Shoreditch, EC2A 3ES

TRASH KIT - 'Confidence' Album Launch!!!
ANA DA SILVA
ARRINGTON DE DIONYSO
AS ONDAS
Bethnal Green Working Men's Club, 42 Pollard Row, E2 6NB

RICHARD YOUNGS
A Tower Hamlets Trilogy
'Three different performances in three different places'
Balfron Tower Community Cabin, 82 St Leonard's Rd, Poplar, E14 0QU
St George's German Lutheran Church, 55 Alie St, Aldgate East, E1 8EB
Mile End Ecology Pavilion, Haverfield Rd off Grove Rd, Mile End, E3 5TW

WHITE FENCE
ULTIMATE PAINTING
FAMILY
100 Club, 100 Oxford St, London, W1D 1LL

RICHARD DAWSON
The Lexington, 96-98 Pentonville Rd, Angel, N1 9JB
DOPE BODY
Montague Arms, 289 Queen's Rd, New Cross Gate, SE14 2PA

DARK BLUE
The Victoria, 451 Queensbridge Rd, Dalston, E8 3AS
FUTURE ISLANDS
In collaboration with Parallel Lines…
The Roundhouse, Chalk Farm Road, London NW1 8EH
7pm | £20 | SOLD OUT