Evening everyone!
Thank you for coming out recently to see Ian William Craig and Ducktails & Co play live, it was great to see so many of you! Our next concert takes place on Monday with Xiu Xiu, that one has just sold out, so look out below for details of our other two shows in May that are still onsale.
Washington DC's Priests will be performing for us next Thursday at OSLO in Hackney, along with some very special guests and The Snivellers too!

Rarely has a show felt so hotly anticipated, counting down the days now. Heads up – there are only a handful of tickets left for this one so please do book in advance to avoid missing out, details below.
Our second upcoming show this month falls on May 30th, this time at Kamio in Old Street. Featuring an extremely scarce live performance from Yoshimi from The Boredoms' joyous quartet OOIOO, this concert will showcase their primitivist rhythms, psychedelic tones and joyous abandon.

Bamboo

will be providing an equally otherworldly set to open proceedings too. Bamboo have a new album out through Upset The Rhythm around this date too, check out their brand new single

Wake Up Your Heart

for a flavour!
In terms of other future live shows this week we also announced a further Future Islands performance at Brixton for November 21st. November 20th sold out surprising fast so Baltimore's finest will be gracing us with a second show. Lucky London!
Donning our record label hat for a minute now, I'm happy to say that we're looking forward to a very fruitful 2017.

With new releases planned from Bamboo, Pega Monstro, Robert Sotelo, Pikacyu-Makoto, Normil Hawaiians, Gen Pop, The World and Terry we're going to be rushed off our feet.
Remember Terry is the newest album that we've recently announced, just today in fact.

Following on from the Melbourne glam-pop country-bop punks superb Terry HQ album of 2016, this record is full of wish fulfilment, critiqued characters, memorial muscle and historical hustle. New ideas are pursued and new ground explored.

Throughout this expansion of sound and subject-matter though, Terry remain committed to telling it you straight, reporting from the frontline of the political made personal. Terry's new album is available to

pre-order

now!
I'll leave you now with a collection of three amazing videos from the UTR stable that dropped since we last chatted, so much spectacle, enjoy!
Terry – 'Take Me To The City'
Rat Columns – 'Blinded By The Shadow'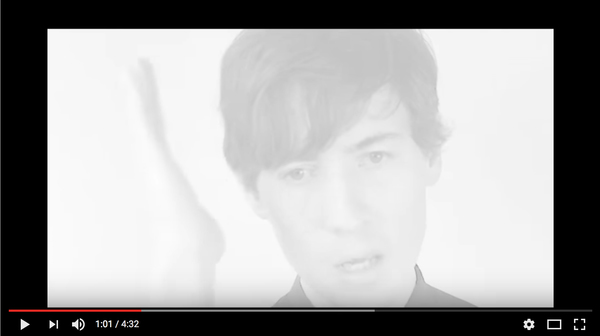 Upset The Rhythm presents…
PRIESTS
SPECIAL GUESTS
THE SNIVELLERS
Thursday 25 May
OSLO, 1a Amhurst Road, Hackney, London, E8 1LL
PRIESTS are Daniele Daniele (drums), Katie Alice Greer (vocals), G.L. Jaguar (guitar), and Taylor Mulitz (bass). Formed in 2011 in Washington DC, the band has proven a valuable force for strangeness in a city that is increasingly terraformed by norms. At a time when few groups were making serious moves beyond the Beltway, Priests toured throughout North America and Europe. More significantly, they've helped to raise the general standard of show-going at home through cassettes and singles released on Sister Polygon, including music by bands like Sneaks, Snail Mail, Pinkwash, Cigarette, Downtown Boys, and numerous Priests-affiliated groups like Gauche and Flasher. Still, even amidst thriving hometown creativity, Priests possess a singular gravity. They are physical and combustible, urgent and visceral. This January, Nothing Feels Natural, the band's first full length LP was released on their own label Sister Polygon Records. It's the bands most stylistically diverse set of songs to date, expanding on their lo-fi post-punk bona-fides with ideas drawn from pop, R&B, and industrial noise. Thematically, Nothing can be understood as a series of vignettes - nine stories that crystallize into a bigger picture about the economics of human relationships, the invisibility of feminized labor, and the dual purpose of art for both the group and the individual. It's a record that thrives amid the tension between that what is valued and what is dismissed; between what is desired and what is presented.
THE SNIVELLERS are prime purveyors of groveling punk music from Brighton, featuring members of Joanna Gruesome, Garden Centre & Shecket.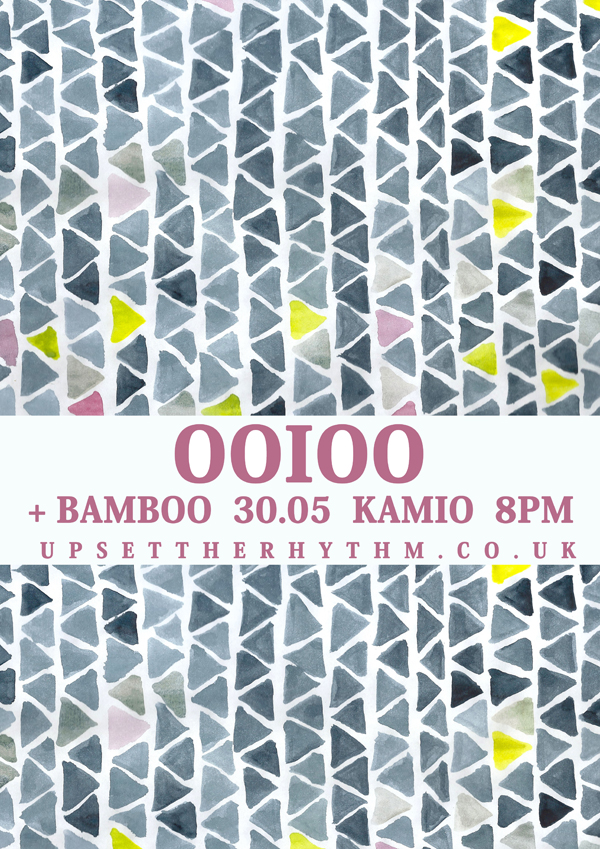 Upset The Rhythm presents…
OOIOO
BAMBOO
Tuesday 30 May
Kamio, 3 Rivington Street, London, EC2A 3JL
NB. New date for April's postponed event, original tickets remain valid.
OOIOO has always created a musical language all its own. Under the leadership of Yoshimi, also a founding member of Boredoms, the group has recorded six albums that have subverted expectations and warped perceptions of what constitutes pop and experimental music. Four years of work went into to making Gamel, their bold new album inspired by the Javanese style of gamelan and the first new music from Yoshimi in over five years. Gamelan is an ancient form that has inspired a great many composers and musicians over the past century, from Erik Satie and Claude Debussy to Mouse on Mars and Sun City Girls. The introduction of this traditional form transformed the group into a super tribe, side-stepping the road between the past and the future. Their focus is not to replicate these ancient styles, but to incorporate them into their consistently inventive, constantly shifting musical frameworks. They take their love of indigenous music into an entirely new dimension by freely weaving organic and electric tones into a vivid tapestry, employing their keen sense of color and texture.
Yoshimi began her music career in 1986 playing drums in UFO or Die with vocalist Eye, and later joined him in the revolutionary noise-pop group Boredoms. Her explosive drum performances captivated audiences and even inspired Wayne Coyne to name a now-famous Flaming Lips album in her honor. While the band's tours of the United States are infrequent, they are as the New York Times has stated, transcendent.
BAMBOO is the sublime project from Nick Carlisle (of Peepholes, Don't Argue) and Rachel Horwood (of Trash Kit, Halo Halo). Their music is vivid and deeply poignant, locking into a magnetic attraction between Rachel's flawlessly resonant folk cadence and Nick's pristine synth pop production. Bamboo's second studio album, The Dragon Flies Away, is due 26th May on Upset The Rhythm on LP, CD and digitally. Initially released last winter on a limited run of 50 cassettes with an accompanying zine designed by Horwood, The Dragon Flies Away tells a story loosely associated with the Hannya demon mask of Noh theatre plays such as Dojoji, and reflects the range of emotion the Hannya mask is capable of displaying: obsession, jealousy, sorrow and rage. 'The Dragon Flies Away' presents its story in two acts and is now presented newly re-mastered with a gatefold sleeve and lyric / artwork sheet. Horwood's evocative paintings are given centre stage with the packaging, allowing the album's story to grow beyond sound, making the journey all the more immersive.
Thanks as always for your time!
Upset The Rhythm
x
UPSET THE RHYTHM
UPCOMING SHOWS
XIU XIU
ICE CREAM
SCOTT HARDWARE
Monday 22 May
Kamio, 3 Rivington Street, London, EC2A 3JL
8pm | £12 | SOLD OUT
PRIESTS
SPECIAL GUESTS
THE SNIVELLERS
Thursday 25 May
OSLO, 1a Amhurst Road, Hackney, London, E8 1LL
OOIOO
BAMBOO
Tuesday 30 May
Kamio, 3 Rivington Street, London, EC2A 3JL
NB. This is the new date for April's postponed event, original tickets valid.
NOTS
THE WORMS
Wednesday 7 June
Cafe OTO, 22 Ashwin Street, Dalston, London, E8 3DL
THE SPACE LADY
FLOWERS MUST DIE
Tuesday 20 June
Cafe OTO, 22 Ashwin Street, Dalston, London, E8 3DL
8pm | £10 |
TICKETS
RICHARD DAWSON (Full band show)
STILL HOUSE PLANTS
Thursday 22 June
St John on Bethnal Green
200 Cambridge Heath Rd, Bethnal Green, London, E2 9PA
7pm | £15 |
TICKETS
TERRY
CHILD'S POSE
Friday 30 June
The Lexington, 96-98 Pentonville Road, Islington, London, N1 9JB
7.30pm | £8.00 |
TICKETS
SHEER MAG
Thursday 20 July
Islington Assembly Hall, Upper Street, Islington, London, N1 2UD
PIKACYU-MAKOTO
Saturday 12 August
The Islington, 1 Tolpuddle St, Angel, London, N1 0XT
7.30pm | £7.50 |
TICKETS
SPRAY PAINT
THE REBEL
Tuesday 15 August
The Lexington, 96-98 Pentonville Road, Islington, London, N1 9JB
7.30pm | £7 |
TICKETS
NAP EYES
H. GRIMACE
GARDEN CENTRE
Thursday 31 August
Bethnal Green Working Men's Club, 44 Pollard Row, Bethnal Green, London, E2 6NB
DEERHOOF
LE TON MITÉ
Monday 4 September
Village Underground, 54 Holywell Lane, Shoreditch, London, EC2A 3PQ
NB. This is the new date for February's postponed event, original tickets remain valid.
LOWTIDE
Tuesday 5 September
The Islington, 1 Tolpuddle St, Angel, London, N1 0XT
FUTURE ISLANDS
Monday 20 November - SOLD OUT
In collaboration with Parallel Lines
O2 Academy Brixton, 211 Stockwell Rd, Brixton, London SW9 9SL