Evening all!
We're delighted to share with you the newest record to hatch from Upset The Rhythm's nest, it's a stunningly alive album by Pega Monstro entitled Casa de Cima. Pega Monstro are sisters Julia Reis (drums) and Maria Reis (guitar), both sing. They share the same birthday but are not twins and have always lived in Lisbon, Portugal. They play a raucous yet at times deeply poignant garage rock peppered with their very own intuitive sense of harmony.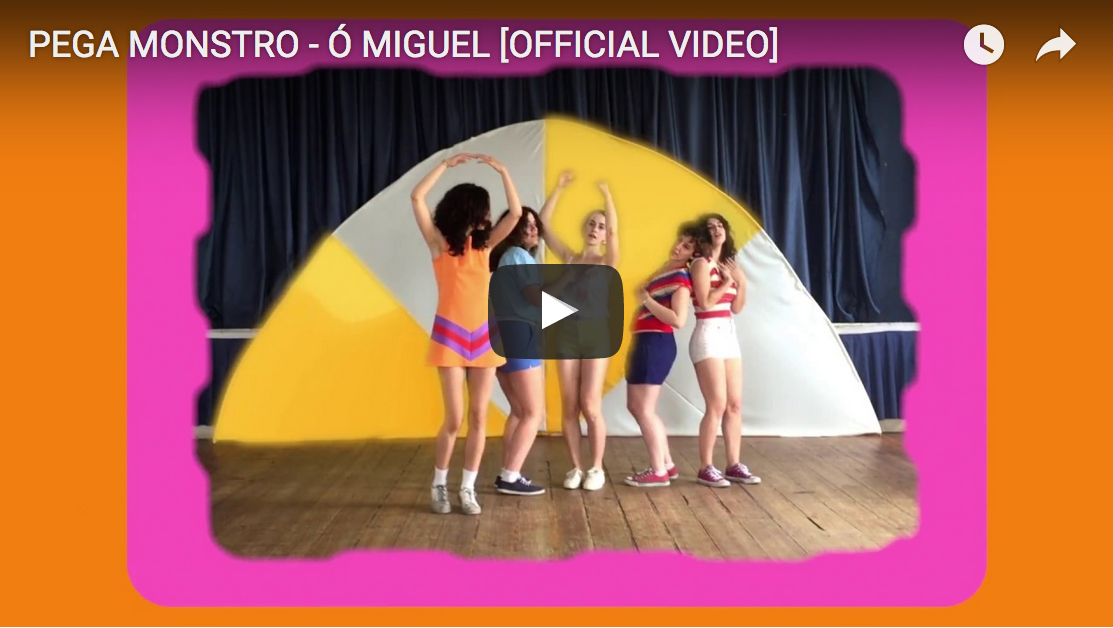 Casa de Cima, translates into English as 'Upper House', sharing its name with the Villa in which the album was recorded, nestled amongst the pine-scattered terrain of the Sintra mountains. With this new record Pega Monstro constantly reach for something beyond plain comprehension, stretching songs to their limits before collapsing them back into new interesting forms.

Pega Monstro nurture their songs, letting them follow tangents, take risks, fall over even if it means they sound more vibrant. There's a sense of sisterly oneness and provision apparent in their music allowing the album to sound instinctual and awash with ideas. Casa de Cima is a record with its eyes firmly set on the heavens and courageous enough to climb mountains to get closer to them.
Casa de Cima
is available in shops all over the world as of now and can also be purchased on CD or LP directly from our well-stocked
webshop here
!
| | | |
| --- | --- | --- |
| You'll also notice in our webshop new pre-order links for Robert Sotelo and Pikacyu-Makoto's forthcoming albums through Upset The Rhythm too. We'll have some music to share from Mr Sotelo soon, but we can treat you now to the title track of Pikacyu-Makoto's August 4th album Galaxilympics. Featuring two figureheads of underground Japanese music; PIKA from Afrirampo and Makoto Kawabata of legendary psychedelic avatars Acid Mother's Temple, this duo embrace both sides of the coin, chaos and order, male and female, the angel and the devil. PIKA brings her skills of mystifying performance to the table, all free-drum bluster and vocals veering between shrine maiden and wild spirit. Kawabata's guitar-work moves from a roar to a whisper, a yell to a sob, he's working on the same canvas of extremes. The aim of their unity is to write truly celestial hymns for the outer world and odes of love for the inner cosmic context, have a listen! | | |

Later this month we're in the privileged position of releasing Melbourne glammy punks Terry's second album, Remember Terry. Today we unveiled a brand new video of them performing new track 'Glory' whilst driving around and being taken to task by a paper mache executioner. Check that out below, off with their heads!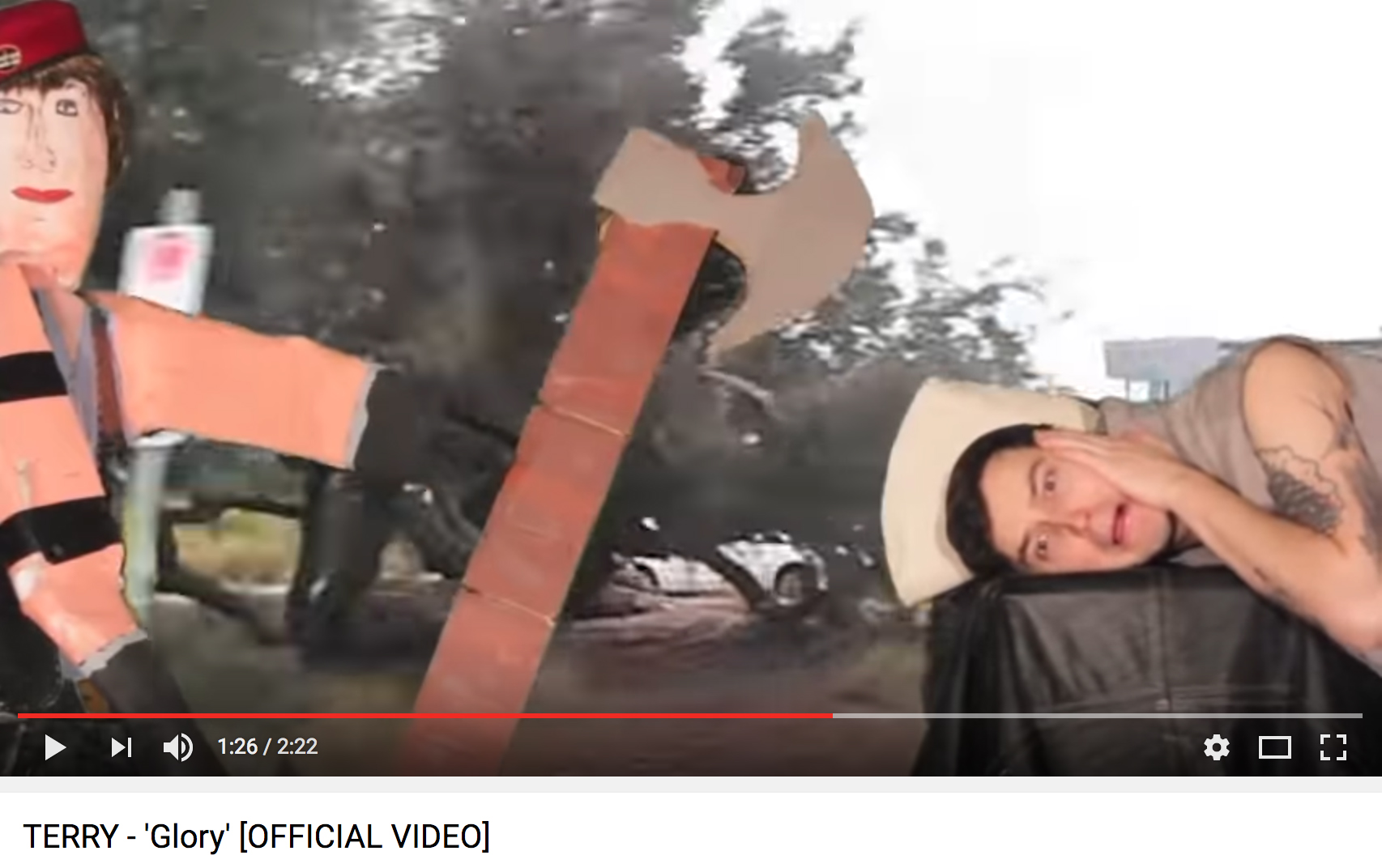 'Remember Terry' is released on June 30th, they'll also be touring all over Europe throughout late June and July too, full dates can be found on our
website
along with upcoming tour dates for
Bamboo
,
Deerhoof
,
Pega Monstro
,
Pikacyu-Makoto
,
Rat Columns
,
Rattle
,
Xiu Xiu
and
The World
. Everyone is getting in a van this summer,
go see them play live
.
We'll leave you with out show listing for Terry's upcoming London concert (an album release party no less!) seeing that next week's concerts for Richard Dawson and The Space Lady are already sold out. This week we did confirm two brilliant new shows for you, one in late August with Warm Digits and one in early October for Shannon And The Clams. Both are total winners, tickets on sale now, details found in our concluding listings section.
Read on for all and more, enjoy…
-->
\ \ \ \ \

JUNE 30

/ / / / /
TERRY
is getting ready, combing his hair, buttoning his jacket, turning the key in the door. "I'm doing fine," sings Terry out loud, he knows. Divide him into four and you get Al Montfort (UV Race, Total Control, Dick Diver etc.), Amy Hill (Constant Mongrel, School Of Radiant Living), Xanthe Waite (Primo, Mick Harvey Band) and Zephyr Pavey (Eastlink, Total Control, Russell Street Bombings). Inevitably, Terry likes to make a noise. Drums, guitars and all his voices come into play, making a solid raft for Terry's inner musings to navigate the languid rapids. This all unravels at its own pace, sometimes drifting into glam pop and country backwaters, always conducting a conversation with the commonplace. Love is a highway, but you're not likely to find Terry there anymore. He's on the plane. Terry saw the light, he put on his sunhat and is heading to Europe. Debut album, 'Terry HQ' was released last year by Upset The Rhythm, brand new album 'Remember Terry' is due out June 30th.
CHILD'S POSE
are a new band who like to chop up that un-snappable beat, building high a framework of sound with drums and guitars onto which Sophie Brown pours he don't-care sass-fired brogue. Early doors for this art-prone quartet, fixated on the blunt end of the rhythmic stick, feeling as wild as free. No recordings quite yet, members of Woolf, Sauna Youth, Nekra and Sarcasm .
HOME ENTERTAINMENT
find themselves at the intersection where avant garde experimentalism meets garage rock music. Drawing upon a palate of literary, artistic and sonic influences, Home Entertainment create primal, unrefined walls of sound adorned with jagged shards of english low life lyricism. Their debut, cassette garnered praise from The Quietus describing them as '"a
weird mix of Sebadoh's crumbling charm, Les Rallizes Dénudés' noisy squall, and the blues pop grooves of ZZ Top".
Thanks as always for your time!
Upset The Rhythm
x
UPSET THE RHYTHM
UPCOMING SHOWS

THE SPACE LADY
FLOWERS MUST DIE
Tuesday 20 June
Cafe OTO, 22 Ashwin Street, Dalston, London, E8 3DL
8pm | SOLD OUT

RICHARD DAWSON (Full band show)
STILL HOUSE PLANTS
Thursday 22 June
St John on Bethnal Green
200 Cambridge Heath Rd, Bethnal Green, London, E2 9PA
7pm | SOLD OUT

TERRY
CHILD'S POSE
HOME ENTERTAINMENT
Friday 30 June
The Lexington, 96-98 Pentonville Road, Islington, London, N1 9JB
7.30pm | £8 |
TICKETS

SHEER MAG
SPECIAL GUESTS
TV CRIME
Thursday 20 July
Islington Assembly Hall, Upper Street, Islington, London, N1 2UD

PIKACYU-MAKOTO
Saturday 12 August
The Islington, 1 Tolpuddle St, Angel, London, N1 0XT
7.30pm | £7.50 |
TICKETS

SPRAY PAINT
THE REBEL
Tuesday 15 August
The Lexington, 96-98 Pentonville Road, Islington, London, N1 9JB
7.30pm | £7 |
TICKETS

WARM DIGITS
Friday 25 August
The Lexington, 96-98 Pentonville Road, Islington, London, N1 9JB

NAP EYES
H. GRIMACE
GARDEN CENTRE
Thursday 31 August
Bethnal Green Working Men's Club, 44 Pollard Row, Bethnal Green, London, E2 6NB

DEERHOOF
LE TON MITÉ
Monday 4 September
Village Underground, 54 Holywell Lane, Shoreditch, London, EC2A 3PQ
NB. This is the new date for February's postponed event, original tickets remain valid.

LOWTIDE
Tuesday 5 September
The Islington, 1 Tolpuddle St, Angel, London, N1 0XT

SHANNON AND THE CLAMS
Monday 9 October
Tufnell Park Dome, 178 Junction Road, Tufnell Park, London, N19 5QQ
Wednesday 18 October
Tufnell Park Dome, 178 Junction Road, Tufnell Park, London, N19 5QQ
7.30pm | £12 |
TICKETS

FUTURE ISLANDS
Monday 20 November - SOLD OUT
In collaboration with Parallel Lines
O2 Academy Brixton, 211 Stockwell Rd, Brixton, London SW9 9SL