Hello everyone!
Firstly huge thanks for coming out last week to see Priests, Downtown Boys and Big Joanie. It was such a treat to see all three bands play together and I trust you had as much fun as we did.
Here we are bending your ear with a quick reminder about our upcoming Carla dal Forno concert this Tuesday at the Shacklewell Arms. Carla's music swirls with gothic sensibility and meditative majesty, an electronic dark pop melancholy brimming with dubbed-out atmospherics. Joining Carla in celebrating the release of her new EP on Blackest Ever Black will be Protection Spells, known for their imagist pop and gnostic ambience. Tickets cost £8 and we will have a limited amount available on the door from 8pm.

Read on for the whole story, including our future write-up for our Shopping, Gauche (members of Priests and Downtown Boys) and The World concert at Kamio on Friday 10 November!
Since we last talked Upset The Rhythm have confirmed a brand new show for Spirit Fest, an impromptu super group of bewitching avant pop talents in the shape of Tenniscoats, Markus from The Notwist and members of Jam Money and Joasihno too. This one off concert will take place on December 7th, so ring that date with a highlighter! We're also very pleased to announce a second show for Ian Svenonius (Escape-ism) on November 17th at The Islington too, now that's what we call by pop demand!

The World's debut tour of Europe starts tonight in Nottingham too, so what better excuse do we need to share their awesome tour poster with you again, go see them shake up some funk in a town near you imminently.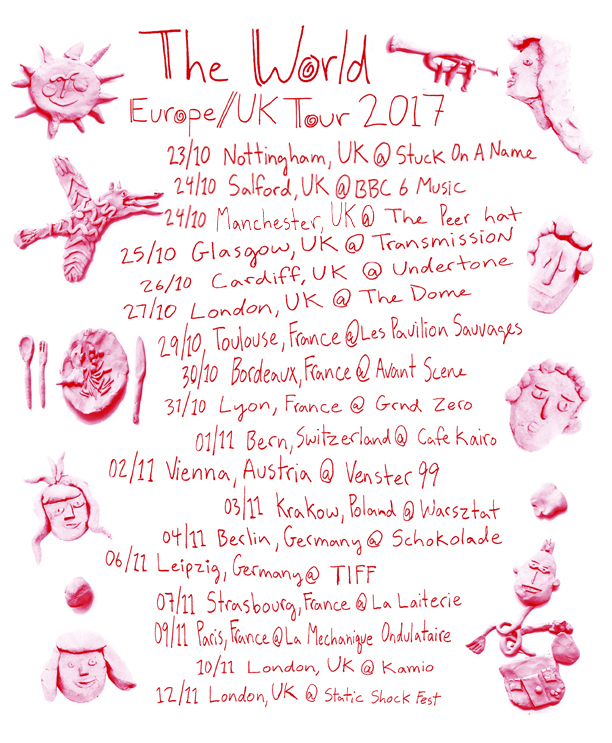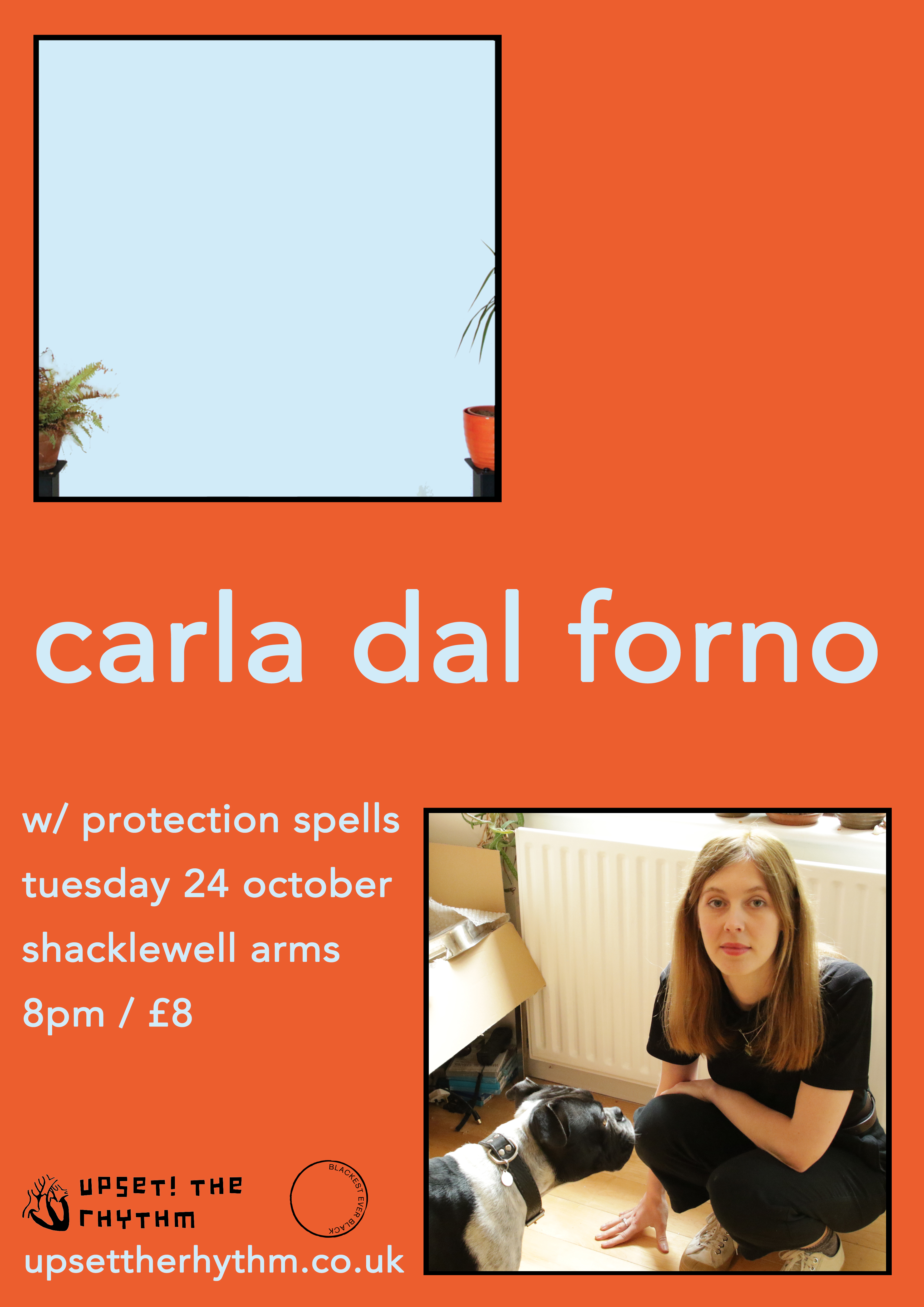 Upset The Rhythm presents...
CARLA DAL FORNO
PROTECTION SPELLS
Tuesday 24 October
The Shacklewell Arms, 71 Shacklewell Lane, London, E8 2EB
CARLA DAL FORNO specialises in obliquely confessional dispatches from the edge zones of feeling. Her new EP 'The Garden' marks both a refinement of the dub-damaged, inward-looking bedsit pop essayed on her 2016 debut album 'You Know What It's Like', and an evolutionary leap. More than anything, it represents the full flowering of an effortlessly brilliant and uniquely resourceful songwriter, singer and producer - one with the uncanny gift of creating music which feels immediately as though you've known it, or it's known you, all your life. While there is warmth and intimacy to come, The Garden opens with a cold hard stare: 'We Shouldn't Have To Wait', an unexpectedly confrontational companion piece, or response, to her own first single and calling card, 'Fast Moving Cars'. This is not a dazed reverie, but forceful, fatalistic, void-chasing drone-rock led by a stalking, venus-in-furs bassline that levels everything in its path. No longer gazing from afar at fast moving cars, but behind the wheel of one, driving pretty recklessly. No particular destination in mind, but impatient to get there. New EP The Garden (out Oct 6th on Blackest Ever Black) is a compact masterpiece from a remarkable artist who - frighteningly, excitingly - has only just begun to hit her stride.
PROTECTION SPELLS are a London based band making minimalist pop music. Brought together in 2016 by their mutual love of each other, they spend their time bleaching runes into t-shirts and trying to figure out if Imagism can be applied to music. Their music has been described as "a witch in an echo chamber" and "like a shrine maiden with the irritability of a kitten".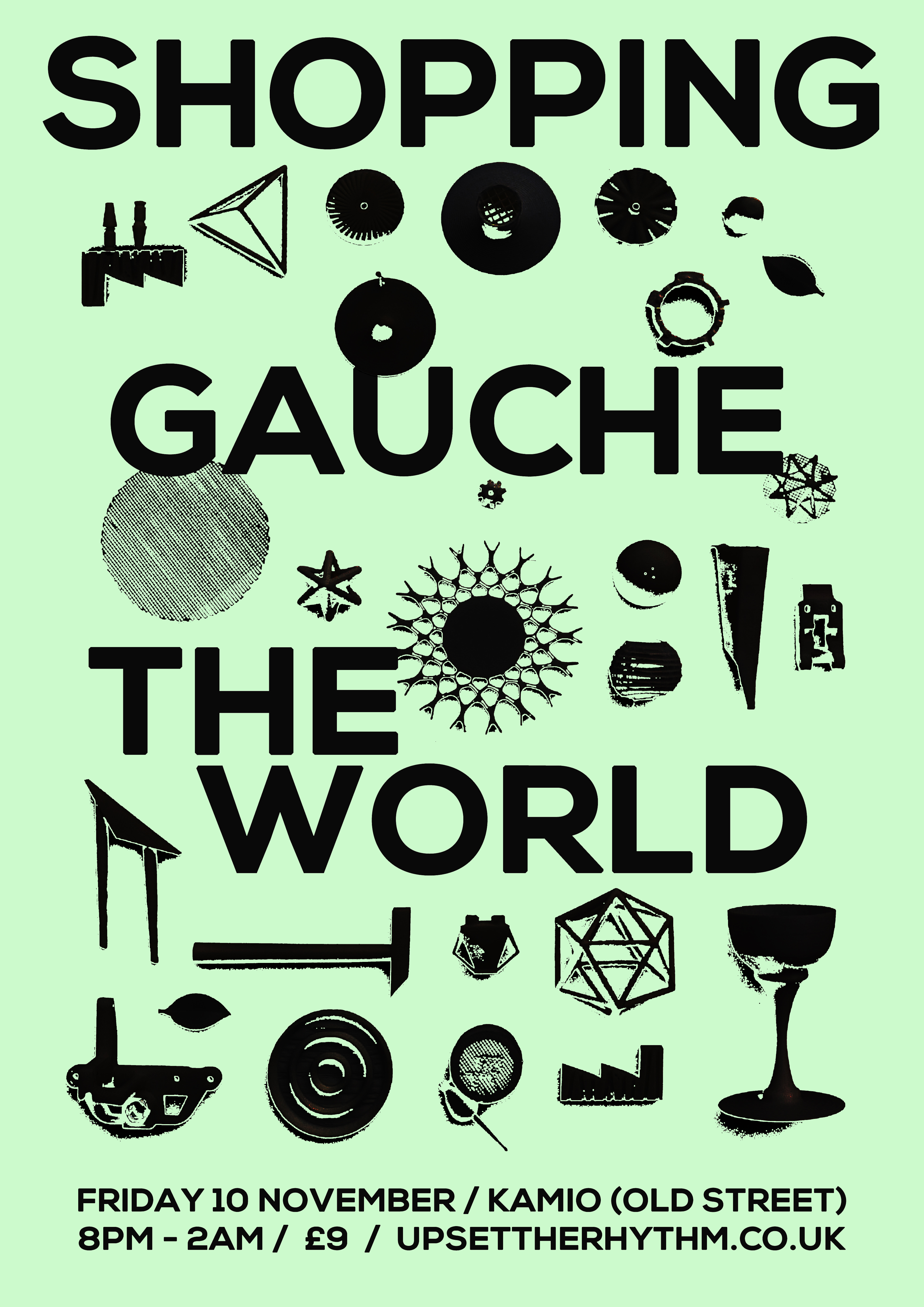 Upset The Rhythm presents…

SHOPPING
GAUCHE
THE WORLD
Friday 10 November
Kamio, 3 Rivington Street , London, EC2A 3JL

SHOPPING are propulsive bass lines, primitive disco-not-disco drums and guitar lines sharp as broken glass. The band was formed in 2012 by members Rachel Aggs (guitar), Billy Easter (bass) and Andrew Milk (drums), who've all done time in a plethora of notable UK DIY bands including Trash Kit and Wet Dog. They pull from a well of 70's post-punk with a voraciousness seldom seen these days, bringing to mind the jagged aggression of Gang of Four, the voracious yelp of The Slits and the dance inducing thrust of Delta 5 . Their debut LP 'Consumer Complaints' was released November 2013 in the UK via MILK records and quickly sold out its first pressing. A US re-issue of 'Consumer Complaints' came out in 2015 via Fat Cat records, followed up by their excellent second album 'Why Choose?' The band are tirelessly committed to taking their sound to new audiences and spreading the Shopping gospel, securing impressive gigs along the way including main support for ESG and Gang Of Four as well as a BBC 6 Music session for Marc Riley. They have toured in the UK and throughout Europe numerous times over the last few years and last year toured the USA with also awesome Gauche, look out for a new album imminently!
GAUCHE
are made up of Daniele Yandel of Priests and Mary Regalado & Adrienne Berry of Downtown Boys, plus a cast of friends. Gauche bring a funked groove to scratchy, minimal post-punk on their debut Get Away With.... Originally released on cassette via Sister Polygon Records, it is now also available on LP through Danger Records. Taking elements of Young Marble Giants, ESG (who they have played with) and Grass Widow, the DC band inject an explosive energy into songs about fraught relationships, a dependency on technology and social media and unfair working conditions.
https://g-a-u-c-h-e.bandcamp.com/releases

THE WORLD are from Oakland, California. The year is 2017 and The World offer the only glimmers of hope in a city rapidly transforming into a wasteland of artisanal toast and succulent shops right before our very eyes. They've awed all those who have seen them play in San Francisco basements, beach town bars, crowded East Bay lofts - who knew the sight of bongos could be so titillating? And now The World is ready for the world. Their debut LP is all double sax attack, the tremolo of dub guitar, and those spare and sturdy drums, anchored by the gravitational pull of Amber's propulsive bass. Every member of this band feels like the secret weapon, and together, the combination is deadly, the particular alchemy of musicians who voraciously consume music of all kinds. Members have done time in Andy Human and the Reptoids, Rays, Pang, and Penny Machine - devotees of all those will find much to like here. The World's a post-punk band, sure, but they're also a dance group, a wild and revolutionary art collective, sounds from the past catapulted to the future. 'First World Record' is due out October 6th through Upset The Rhythm.
Talk again soon! Thanks for your time!
Upset The Rhythm
UPSET THE RHYTHM
UPCOMING SHOWS
CARLA DAL FORNO
PROTECTIVE SPELLS
Tuesday 24 October
The Shacklewell Arms, 71 Shacklewell Lane, London, E8 2EB
JOHN MAUS
GARY WAR
Thursday 26 October
The Victoria, 451 Queensbridge Rd, Dalston, London, E8 3AS
7.30pm | SOLD OUT
JOHN MAUS
THE WORLD
GARY WAR
Friday 27 October
Tufnell Park Dome, 178 Junction Road, Tufnell Park, London, N19 5QQ
7.30pm | £12 | SOLD OUT
SHOPPING
GAUCHE
THE WORLD
Friday 10 November
Kamio, 3 Rivington Street , London, EC2A 3JL
8pm - 2am | £9 |
TICKETS
MOUNT EERIE

Monday 13 November
Tuesday 14 November
St John on Bethnal Green
200 Cambridge Heath Rd, Bethnal Green, London, E2 9PA
7.30pm | £15 |
TICKETS
PROTOMARTYR
SAUNA YOUTH
BOMBER JACKETS
Tuesday 14 November
Tufnell Park Dome, 178 Junction Road, Tufnell Park, London, N19 5QQ
7.30pm | £12 | SOLD OUT
ESCAPE-ISM

(Ian Svenonius)
Friday 17 November
Saturday 18 November –
SOLD OUT
The Islington, 1 Tolpuddle St, Angel, London, N1 0XT
7.30pm | £9 |
TICKETS
FUTURE ISLANDS
Monday 20 November - SOLD OUT
Tuesday 21 November - SOLD OUT
In collaboration with Parallel Lines
O2 Academy Brixton, 211 Stockwell Rd, Brixton, London SW9 9SL
ROY MONTGOMERY
ALEXANDER TUCKER
Thursday 23 November
In collaboration with Café OTO
Cafe OTO, 22 Ashwin Street, Dalston, London, E8 3DL
7.30pm | £10 |
TICKETS
SPIRIT FEST
(Tenniscoats & members of The Notwist, Joasihno and Jam Money)
Thursday 7 December
The Islington, 1 Tolpuddle St, Angel, London, N1 0XT
RICHARD DAWSON
(Live band show)
Wednesday 20 December
Islington Assembly Hall, Upper Street, Islington, London, N1 2UD
7pm | £15 |
TICKETS