Seasonal salutations!

We're getting very near our final show of the year now, this coming Wednesday we have rather excitingly… Richard Dawson & Normil Hawaiians both playing at Islington Assembly Hall.

Richard released our favourite album of the year, whilst Normil Hawaiians' 1982 debut just saw a timely re-issue through Upset The Rhythm this very month. It'll be a meeting of musical minds that's for sure. As we're down to the last few dozen tickets now, it's well worth picking one up in advance if you haven't already as it will be the perfect way to see off 2017 in style.
You can also find below the whole write-up alongside our newly announced show listings for Jamie Stewart (Xiu Xiu), Eric Chenaux and Joshua Abrams & his Natural Information Society.

Grasping the record label baton for a swift passage, this week Upset The Rhythm also announced our first release of 2018. This January we're beyond happy to help The Green Child release their self-titled debut into the world. 'The Green Child' is due for release on January 12th through Upset The Rhythm on 180g black vinyl, accompanied by some spirited sleeve design by James Vinciguerra.

Noisey

just helped us announce the record by premiering the duo's colossal closing statement 'Destroyer'! Have a listen here…

The Green Child is the long distance musical collaboration of Mikey Young and Raven Mahon, who met in 2013 when their bands, Total Control and Grass Widow played a show in Oakland, California. They started writing songs together in Australia in 2014 and the project has been on a slow burn since.

Their music is broadly retro-futuristic in scope, with Mikey's verdant acres of lushly evocative synthesizers and blippy drum machines underpinning most of their upbeat yet decidedly uncanny songs. Raven's calmly scenic and measured vocal flits like a will-o'-the-wisp throughout the tracks, proffering a guiding hand as she walks us through the often eerie, electronic concoctions.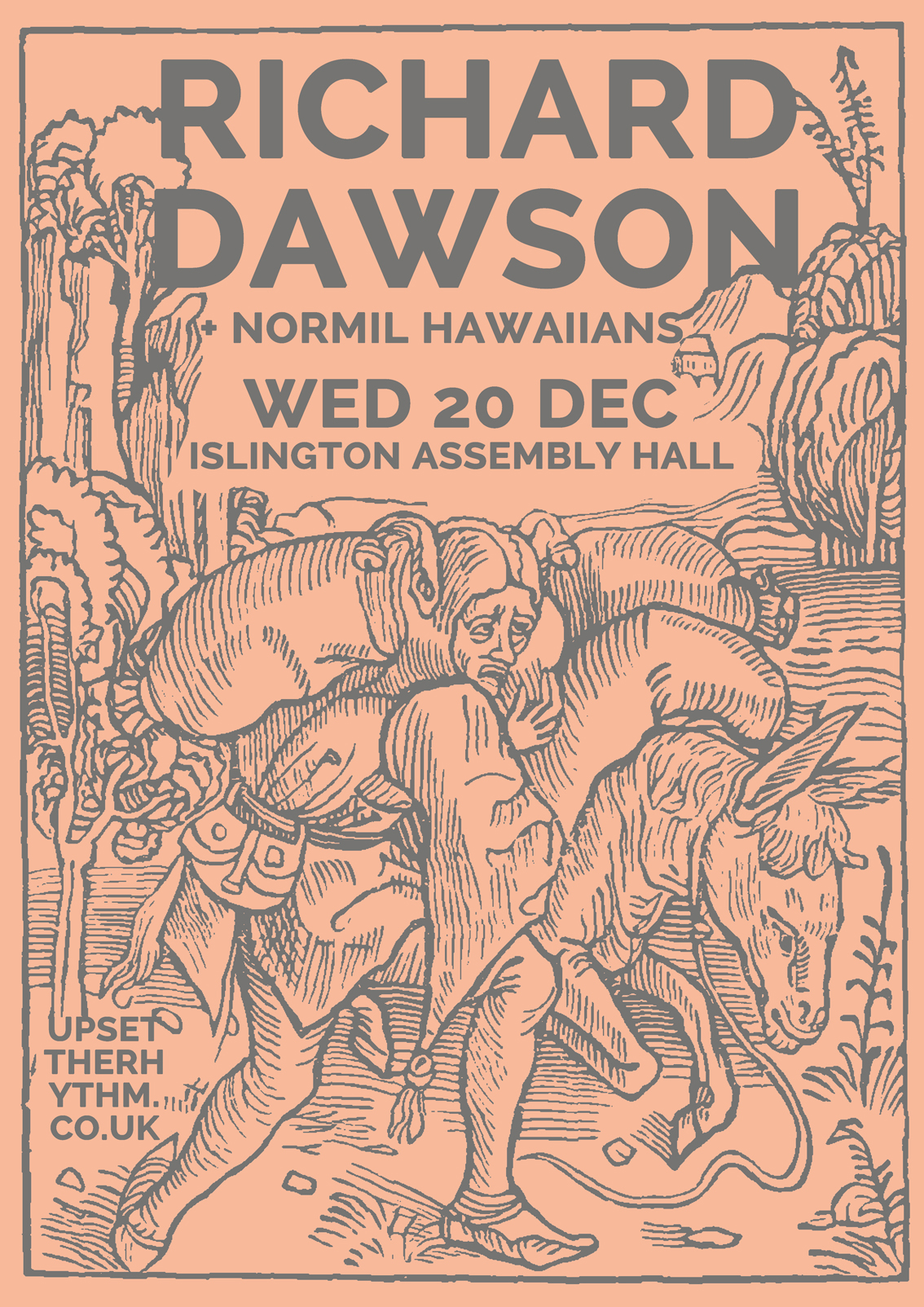 Upset The Rhythm presents…
RICHARD DAWSON
NORMIL HAWAIIANS
Wednesday 20 December
Islington Assembly Hall, Upper Street, Islington, London, N1 2UD
7pm | £15 |
TICKETS
RICHARD DAWSON can never been accused by listeners of a lack of artistic ambition. Whether they got on at the last stop - the 4 track Tyneside-Trout-Mask-through a-Vic and Bob-filter of 'Nothing Important' - or earlier in the journey, with 'The Glass Trunk's visceral song cycle or 'The Magic Bridge's sombre revels. Devotees of his earlier recordings will be at once intrigued by and slightly fearful of the prospect of a record that could make those three landmark releases look like formative work. 'Peasant' is that album, released on June 2nd through Weird World / Domino. From its first beguilingly muted fanfare to its spectacular climax exploring a Dark Ages masseuse's dangerous fascination with a mysterious artefact called the Pin of Quib, it will grab newcomers to Dawson's work by the scruff of the neck and refuse to let them go until they have signed a pledge of life-long allegiance.
Driven forward by exhilarating guitar flurries, Qawwali handclaps and bursts of choral ferocity, 'Peasant's eleven tracks sustain a momentum worthy of the lyrics' urgent subject matter. Dawson describes the themes of these songs as "Families struggling, families being broken up by circumstance, and - how do you keep it together? In the face of all of these horrors that life, or some system of life, is throwing at you?" The fact that these meticulously wrought narratives all unfold in the pre-mediaeval North Eastern kingdom of Bryneich - "any time from about 450AD to 780AD, after the withdrawal of the Roman Empire"- only makes their contemporary relevance more enduring.
Dawson's objective was to create "A panorama of a society which is at odds with itself and has great sickness in it, and perhaps doesn't take responsibility - blame going in all the wrong directions". But encountering 'Peasant's captivating sequence of occupational archetypes ('Herald', 'Ogre', 'Weaver', 'Scientist'), listeners might find themselves wondering if these multitudes could somehow be contained with one person. Dawson has already supported the release of 'Peasant' with a full UK tour - his first featuring a full live band. After wowing audiences at St John On Bethnal Green this June, it's a pleasure to welcome Richard back for an Xmas show with live band to play the esteemed Islington Assembly Hall.
NORMIL HAWAIIANS communal take on post punk sprouted leaves from its mouth in 1982, and began carving out a new furrow. Greater emphasis was awarded to improvisation within the group and as a result their songs embarked on longer, freer journeys towards the beaten bounds. They wanted these new songs to bear the weight of their new collective spirit so comfort zones had to be left behind. Tape loops, echo boxes, extended percussive sessions and duteous faith in the tones emanating from a particular old wah-wah pedal were all employed by Normil Hawaiians to stretch their sonic fabric into wild and redolent new dimensions.
At this very moment the group existed solely for the music, living together in a small cottage in the shadow of Foel Studios in the Welsh hills, sharing everything together and working long days to nurture and then burnish the music they had discovered between them. This is how the band's debut album 'More Wealth Than Money' was formed, through trial and close listening, through cultivation and patient growth. Of course there were significant amounts of mushrooms involved too and several UFO sightings, but when the sheep began to march in time to the music Normil Hawaiians knew they were creating something unique. 'More Wealth Than Money' will be re-issued lavishly on double LP this December through Upset The Rhythm, they are celebrating this release by performing t this special Xmas show at Islington Assembly Hall too.
See you next week, thanks for your time!
Upset The Rhythm
UPSET THE RHYTHM
UPCOMING SHOWS
RICHARD DAWSON
NORMIL HAWAIIANS
Wednesday 20 December
Islington Assembly Hall, Upper Street, Islington, London, N1 2UD
7pm | £15 |
TICKETS
MOOR MOTHER
NO HOME
Wednesday 10 January
The Islington, 1 Tolpuddle St, Angel, London, N1 0XT
DAVID NANCE
Monday 5 February
The Islington, 1 Tolpuddle St, Angel, London, N1 0XT
SHOPPING
Tuesday 6 February
Moth Club, Old Trades Hall, Valette St, Hackney Central, London, E9 6NU
GUN OUTFIT
Tuesday 20 February
Moth Club, Old Trades Hall, Valette St, Hackney Central, London, E9 6NU
7.30pm | £10 |
TICKETS
CHAIN AND THE GANG
Monday 26 February
OSLO, 1a Amhurst Road, Hackney, London, E8 1LL
SHANNON LAY
Wednesday 7 March
The Islington, 1 Tolpuddle St, Angel, London, N1 0XT
JOSHUA ABRAMS - NATURAL INFORMATION SOCIETY
Monday 2 April
OSLO, 1a Amhurst Road, Hackney, E8 1LL
NO AGE
Wednesday 4 April
Bethnal Green Working Men's Club, 44 Pollard Row, London, E2 6NB
JAMIE STEWART (Xiu Xiu)
ERIC CHENAUX
Monday 9 April
The Lexington, 96-98 Pentonville Rd, Angel, N1 9JB
PROTOMARTYR
Thursday 10 May
Scala, 275 Pentonville Road, King´s Cross, London, N1 9NL