Hello there!
Thank you so much for coming out earlier this week to see No Age and Joshua Abrams both return to London, was brilliant to see so many of you!
| | | |
| --- | --- | --- |
| | | Our next Upset The Rhythm event will take place this Monday at The Lexington with an exceptional dual headline show from Jamie Stewart and Eric Chenaux. Jamie Stewart of Xiu Xiu will be interpreting his songs in intimate solo mode, upping the drama and the vulnerability, which promises to be as intense as it will be exultant. Whilst, Eric Chenaux is set to perform a suite of songs off the back of his stunning new album 'Slowly Paradise' (Constellation). Expect some serious frazzled fretwork and softly sung vocals, making for a masterful take on sculptural sound, warped jazz and free balladry. This is going to be extraordinary! Tickets will be £12 on the door from 7.30pm, with live music beginning from 8.15pm. Read on for everything and more... |
| | | |
| --- | --- | --- |
| This week we also confirmed an exciting new concert for June featuring Yoshimio (Boredoms, OOIOO), Robert Aiki Aubrey Lowe (Lichens, Om) and the astonishing percussionist Susie Ibarra. Doubling up on drums, vocals and electronics as Yunohana Variations, June 26th will mark their London debut performance. Tickets are now on sale for this event (check out our upcoming programme below), well worth getting some in advance as this promises to be very special indeed. | | |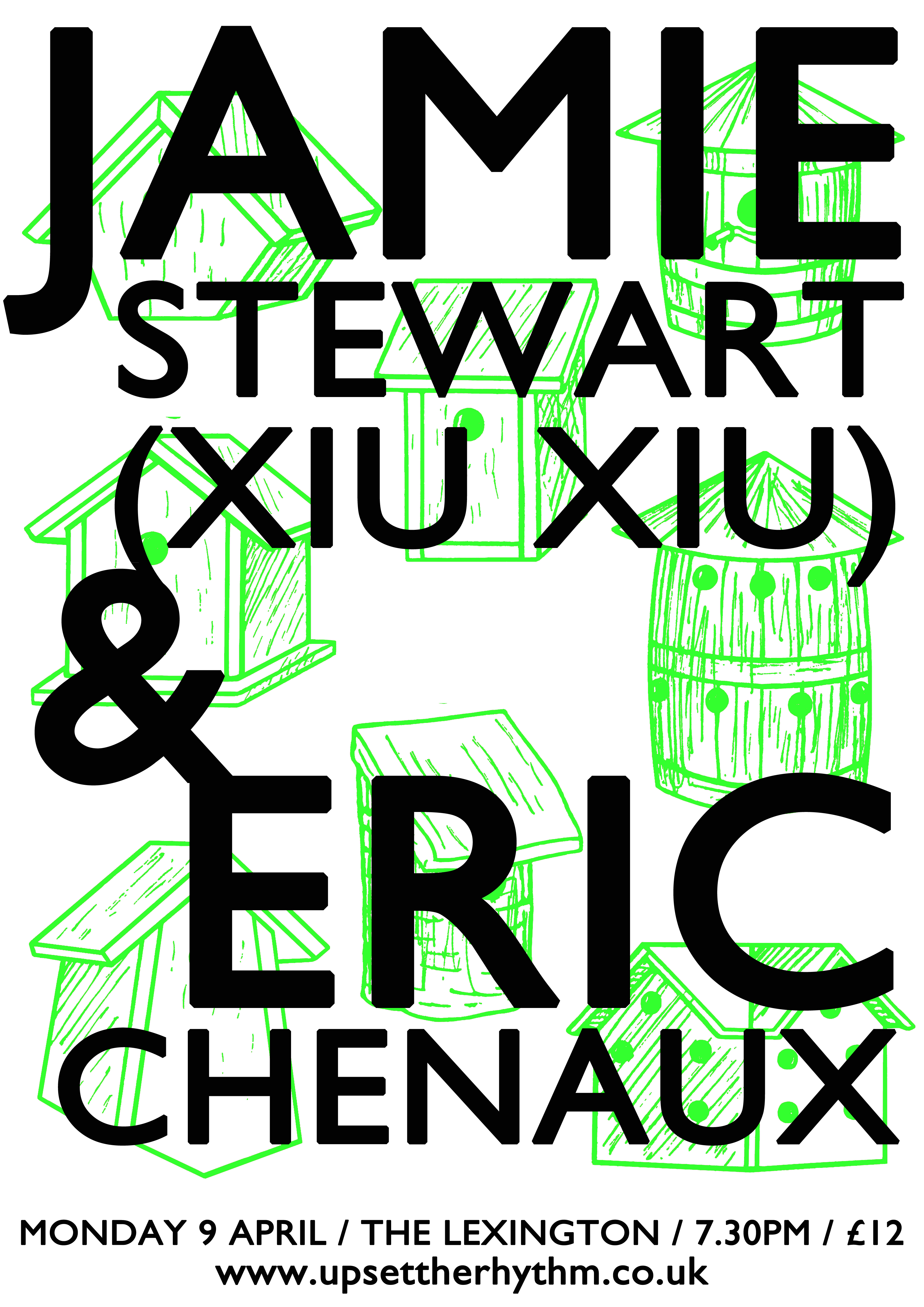 Upset The Rhythm presents…

JAMIE STEWART (Xiu Xiu)
ERIC CHENAUX
Monday 9 April
The Lexington, 96-98 Pentonville Rd, Angel, N1 9JB
JAMIE STEWART has spent 2017 showing how skilled he is at multi-tasking, having toured the most recent Xiu Xiu album 'Forever', piled on the sonic pressure with Lawrence English as HEXA and having paid final homage to The Music Of Twin Peaks. 2018 sees that all change with Jamie committing to some rare solo performances. The format is simple: Jamie, electric guitar and voice, reducing the Xiu Xiu songs you know and love down to their most fragile husk state. As the principle songwriter, musician and vocalist behind avant-pop legends Xiu Xiu, Jamie Stewart is very much one of UTR's favourite artists. Jamie draws heavily from wildly disparate sources - cacophonous noise, gamelan, folk and the lush hooks of 80s UK post-punk, to name a few - while his tortured lyrics and anguished delivery consistently deal with the morose, suspected and the taboo. Expect new material, unusual covers and favourite tracks from the Xiu Xiu back catalogue, making for a truly memorable experience.

ERIC CHENAUX is an adventurous guitarist, singer and composer based in Paris. Having been an active player in Toronto experimental music circles with a host of group and collaborative works, Chenaux has more recently amassed a body of solo work across five albums on the Constellation label, centering around his dextrous, fried guitar playing as juxtaposed with a gorgeously lyrical vocal style. An ingenious recombinant use of traditional folk, psychedelic pop and consort music in earlier albums has over time evolved into a wholly uncategorisable form of balladry, shot through with a singular vernacular of guitar improvisation.
Thanks a lot for reading, have a wonderful weekend!
Upset The Rhythm
UPSET THE RHYTHM
UPCOMING SHOWS
JAMIE STEWART (Xiu Xiu)
ERIC CHENAUX
Monday 9 April
The Lexington, 96-98 Pentonville Rd, Angel, London, N1 9JB
ED SCHRADER'S MUSIC BEAT
DOG CHOCOLATE
CHARISMATIC MEGAFAUNA
Monday 7 May
Moth Club, Old Trades Hall, Valette St, Hackney Central, London, E9 6NU
NAP EYES
HALEY HEYNDERICKX
Tuesday 8 May
OSLO, 1a Amhurst Road, Hackney, London, E8 1LL
7.30pm | £10 |
TICKETS
MATANA ROBERTS & KELLY-JAYNE JONES
COBY SEY
Wednesday 9 May
Ghost Notes, Peckham Levels, 95A Rye Lane, Peckham, London, SE15 4ST
PROTOMARTYR
ANA DA SILVA
RATTLE
Thursday 10 May
Scala, 275 Pentonville Road, King´s Cross, London, N1 9NL
MARY OCHER
Friday 18 May
Cafe OTO, 22 Ashwin Street, Dalston, London, E8 3DL
7.30pm | £8 |
TICKETS
SCREAMING FEMALES
WITCHING WAVES
PORRIDGE RADIO
Wednesday 23 May
OSLO, 1a Amhurst Road, Hackney, London, E8 1LL
APOSTILLE
STATIC PALM
Saturday 26 May
The Victoria, 451 Queensbridge Rd, Dalston, London, E8 3AS
7.30pm | £6 |
TICKETS
JOHN MAUS
Thursday 14 June
Electric Ballroom, 184 Camden High St, London, NW1 8QP
7.30pm | £15.00 |
TICKETS
YUNOHANA VARIATIONS:
YOSHIMIO & ROBERT AIKI AUBREY LOWE & SUSIE IBARRA
Tuesday 26 June
OSLO, 1a Amhurst Road, Hackney, London, E8 1LL
7.30pm | £12 |
TICKETS