Hey there!
It was great to see so many of you at the label market last Saturday, thanks for keeping us entertained throughout the day with your top chat! Upset The Rhythm have got three shows coming up over the next week or so, here's our resulting heads up!
| | | |
| --- | --- | --- |
| | | Tomorrow, we're heading to Café OTO for a night of fantastical pop and melody warping galore from the incomparable Mary Ocher. Mary is a multi-media artist whose songs jump around from synth pop to folk to ambient soundscapes. Uniting this eccentric approach to song is her incredible vocal and attention to detail that wins over all when fervidly performed live with a quickened pulse. We have Coldnose providing some improv electronics and Stal Kingsley upping the outsider songwriter stakes too, so there's no better place to be! Tickets are £8 on the door from 7.30pm, with live music kicking off from 8.15pm. |
| | | |
| --- | --- | --- |
| You can read all about tomorrow's show plus next week's two concerts for Apostille, Sauna Youth, Static Palm, Dog Chocolate, Witching Waves and Molejoy all below in expansive detail. Our upcoming programme boasts a newly announced event for Shopping in August at OSLO too. We've just announced supports for John Maus and Kristin Hersh today too. Check that all out at the very end of this humble missive, enjoy! | | |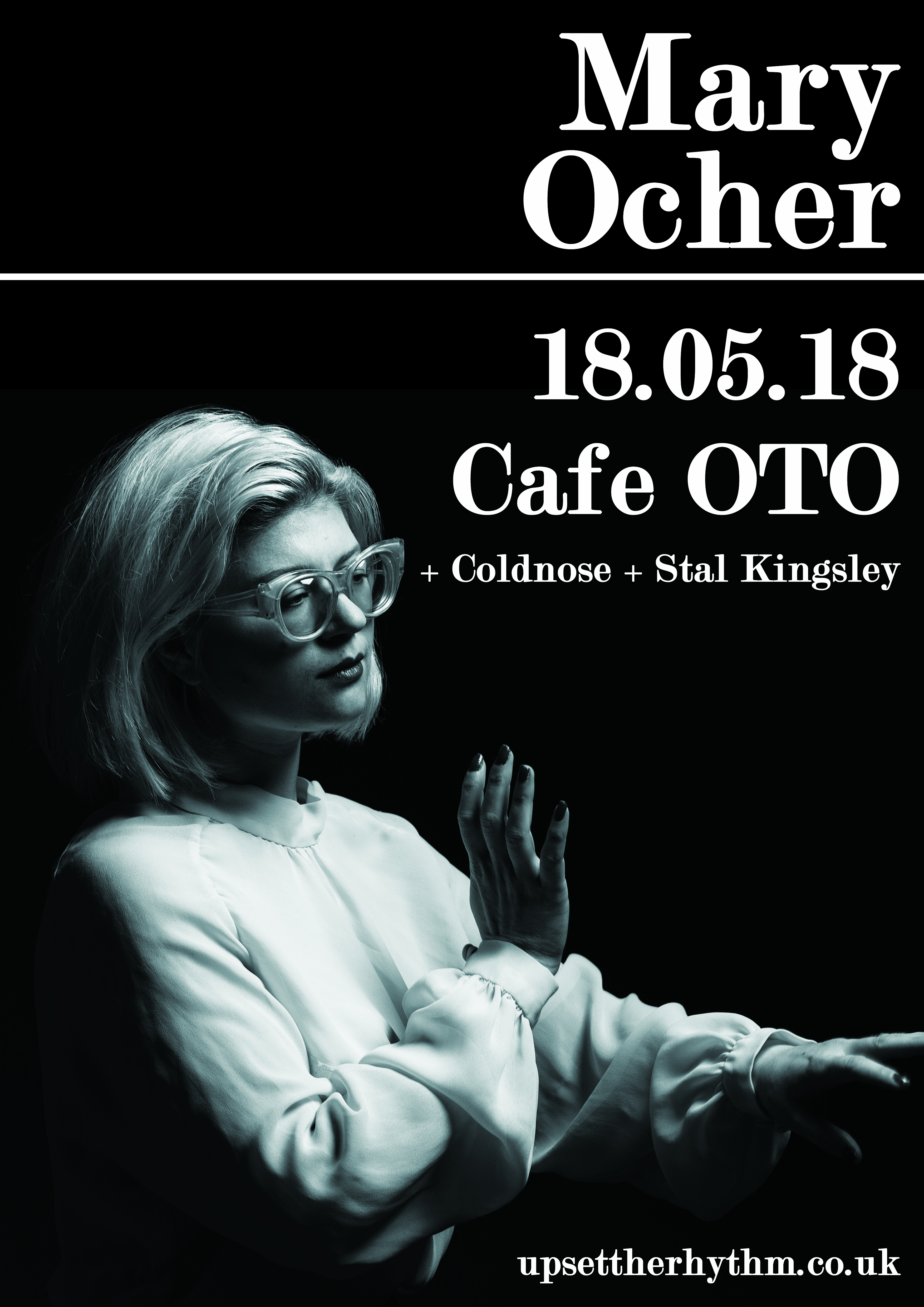 Upset The Rhythm presents...
MARY OCHER
COLDNOSE
STAL KINGSLEY
Friday 18 May

Cafe OTO, 22 Ashwin Street, Dalston, London, E8 3DL
MARY OCHER
is back, following last year's UK dates with 'The West Against The People', Ocher returns with a new 10"/tape of 'Faust Studio Sessions'. Mary has been persistently creating passionate, uncompromising work, raw, thought provoking, socially and creatively pushing against the current, dealing with subjects of authority, identity and conflict. Her work is as enchanting as it is polarizing, ranging from traditional folk to raw 60s garage, ambient with ethereal vocals and abstract synths, to experimental pop with African and South American rhythms, when accompanied by her drummers. 'The West Against The People' was released on the German label Klangbad in spring 2017 and recorded with Hans Joachim Irmler of Krautrock pioneers Faust. It features solo tracks, as well as tracks with her two drummers Your Government, and elusive cult legends Die Todliche Doris and Felix Kubin. 'Faust Studio Sessions' showcases additional collaborations with cello player Julia Kent and German experimental artist Hans Unstern. Her previous solo release was produced by Canadian Psych Rock&Roll guru King Khan.
https://maryocher.bandcamp.com/
COLDNOSE
is Jin Botani's project that blends her Kurdish heritage with partly improvised dance music. Incorporating elements of acid, electro and industrial alongside her vocal. Check out her two tape releases on the Swedish labels Zeon Light and Funeral Fog and a track on the French label Hylé for her only released material so far. Four new tracks were recorded at Goldsmiths Studio with Francine Perry (La Leif/Orka) last year and will be out later this year on vinyl.
https://coldnose.bandcamp.com/
STAL KINGSLEY
is a London-based artist who released 2 EPs last year entitled 'Useless Boy' and 'Odaxelagnia'. His songs are inventive and catchy yet melodically experimental, something akin to Ariel Pink and Cleaners From Venus in his love of the lo-fi pop swirl and head spin.
https://soundcloud.com/stal-kingsley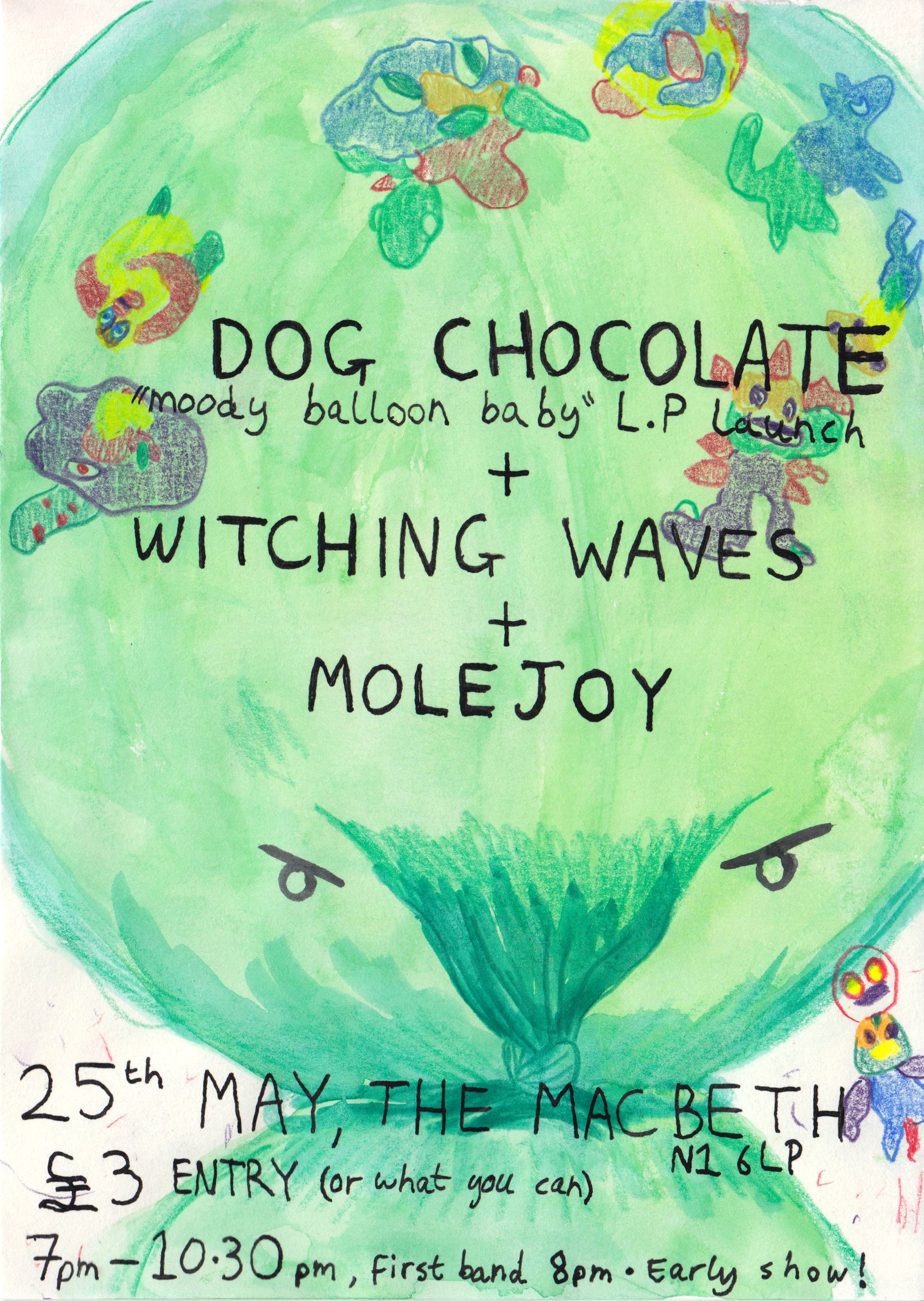 DOG CHOCOLATE
WITCHING WAVES
MOLEJOY
Friday 25 May
The Macbeth, 70 Hoxton St, Hoxton, London, N1 6LP
7pm-10.30pm | £3 | Tickets on the door!
DOG CHOCOLATE sound like a crowded room but are actually four individuals from London. Abandoning notions of elegance, cred and professionalism they embrace the ramshackle, instant and fun, capturing a vivid spontaneity with their music. Their sound is a shabby, fast, over-excited ball of wet fur falling down the stairs, knocking over plant pots along the way and staining the carpet. With an average song time of 2 minutes, Dog Chocolate are on to the next treat before fully digesting the last. Chewing up bits of punk, post-punk, noise and pop, Matthew and Robert's guitars race around each other like wasps, pitch-shifting and phasing all over the place while Jono's rolled-up-newspaper drums chase them round the room. This party is a celebration in honour of the band's new album 'Moody Balloon Baby' (out May 15th) through Upset The Rhythm, who also released their debut 'Snack Fans' in 2016.
WITCHING WAVES are a post-punk trio from London, writing songs that are a satisfying mix of pop sensibility and tumult. Emma and Mark's dual vocals juxtapose brilliantly – from calm composure to world-weary petulance; their aptitude for combining melody with belligerence being the most triumphant facet. Check out both their brilliant albums to date on Soft Power.
MOLEJOY is a band, undermining with joyous anger pangs. On their own terms. non-heroic beats for anyone who wants them. Songs/sounds about microwaves, banging yourself and radicalising your children. Kind of like .... we don't really know. Sometimes there's a flute. Molejoy is Gyles Brunch, Sophie Chapman and Kerri Jefferis.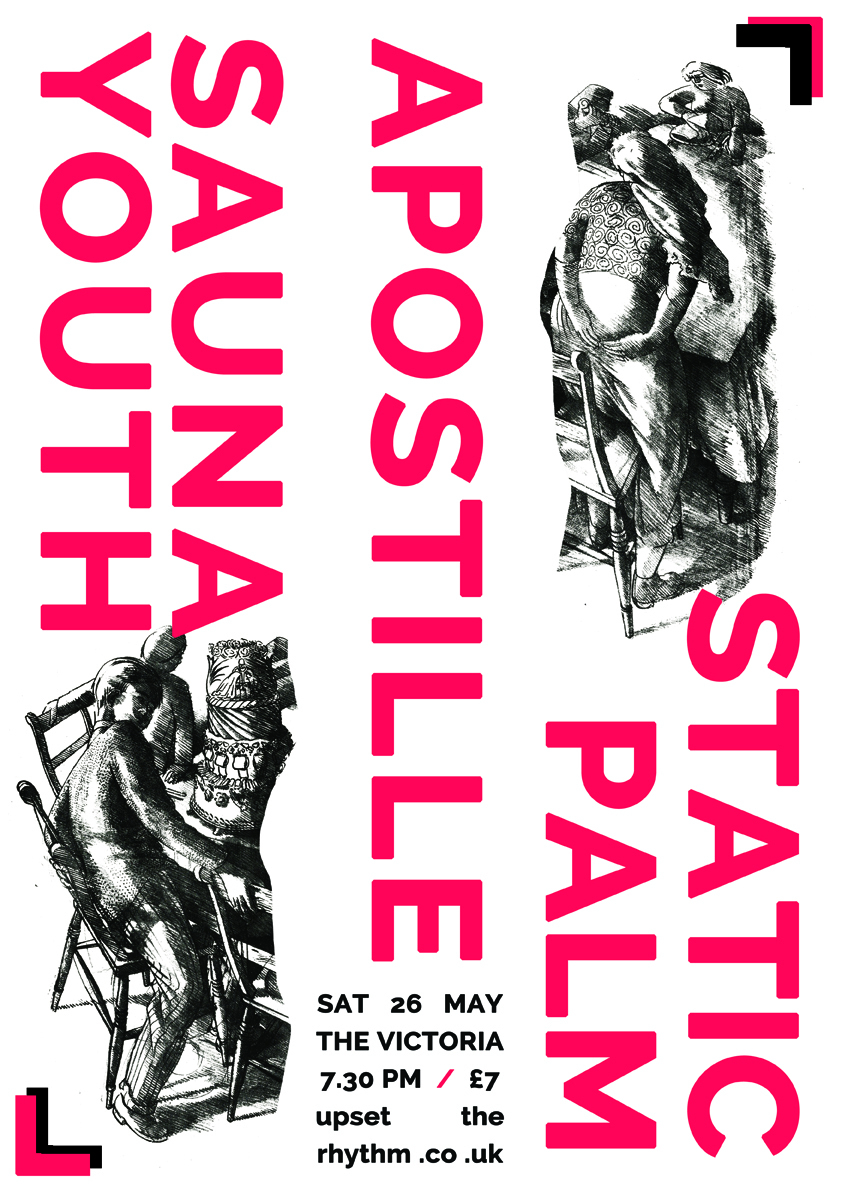 Upset The Rhythm presents…
APOSTILLE
SAUNA YOUTH
STATIC PALM
Saturday 26 May
The Victoria, 451 Queensbridge Rd, Dalston, London, E8 3AS

7.30pm | £7 |
TICKETS
APOSTILLE is a man who's torn through enough sound-systems to know the difference between gesture and meaning. Alongside running his own DIY record label, Glasgow native, Michael Kasparis has spent the last few years making forays into the realm of hardcore punk with his groups Anxiety and The Lowest Form. Throughout all this, his solo electronic venture, Apostille has continued to evolve with each twist and turn of the world. What started off as a quest to whip up a mood and force that into a song has steadily become more of a mission in communication. His audacious 2015 debut album 'Powerless' self-released through Night School set the template by hooking up his honest delivery to some manic expositions in electronic pop. At once minimal and courageous with intent to connect, Apostille songs race off with unchecked abandon, skittering drum machines, thick walls of sequenced synth and decidedly elastic basslines. 'Choose Life' (out June 8th on Upset The Rhythm) is both the album Apostille chose to make and had to make. He dialled down the clown, built up a new-found confidence in his voice and melody in general and began to feel more at home in the refuge of pop music (with a capital P). All the truest pop music speaks to us of escape and through this new album Apostille allows its transformative power to fully manifest. It's an album full of life and energy, and like his live show as disobedient as it is heroic in its pursuit of liberation.
https://apostille.bandcamp.com/
SAUNA YOUTH
are an evolving band of future humans making truly irregular punk, not quite comparable to anything else. "Weird" is a meaningless platitude and "art punk" is a classifier that shouldn't be required. Consisting of Boon (drums, vocals), Pines (guitar), Ecke (vocals, sampler) and Mince (bass), Sauna Youth are a punk band that's happy to embrace all of the contradictions that go along with that notion. On paper, Sauna Youth sound considered - live, they can barely be contained. They are at times furious, unstoppable and severe, with the sampler wailing like an alarm coming from a parallel universe - then chugging, poppy, harmonious and fun. Forever loud. 2015's totemic 'Distractions' album (Upset The Rhythm) is a record that feels instinctive and natural, flowing freely from a band that have come to terms with the sum of its parts.
http://lostinidea.blogspot.co.uk/
STATIC PALM
is the solo project of James Burgess, featuring his synth & drum-machine led brooding post-punk. Fans of John Maus, Total Control, Tuxedomoon and other practitioners of ice-cold music will enjoy.
Thanks as always for reading, see you tomorrow!
Upset The Rhythm
UPSET THE RHYTHM
UPCOMING SHOWS

MARY OCHER
COLDNOSE
STAL KINGSLEY
Friday 18 May
Cafe OTO, 22 Ashwin Street, Dalston, London, E8 3DL
7.30pm | £8 |
TICKETS
SCREAMING FEMALES
WITCHING WAVES
PORRIDGE RADIO
Wednesday 23 May
OSLO, 1a Amhurst Road, Hackney, London, E8 1LL
7.30pm | SOLD OUT
DOG CHOCOLATE
WITCHING WAVES
MOLEJOY
Friday 25 May
The Macbeth, 70 Hoxton St, Hoxton, London, N1 6LP
7pm-10.30pm | £3 | Tickets on the door!
APOSTILLE
SAUNA YOUTH
STATIC PALM
Saturday 26 May
The Victoria, 451 Queensbridge Rd, Dalston, London, E8 3AS
7.30pm | £7 |
TICKETS
JOHN MAUS
NICK NICELY
COLIN POTTER
Thursday 14 June
Electric Ballroom, 184 Camden High St, London, NW1 8QP
7.30pm | £15.00 |
TICKETS
KRISTIN HERSH
FRED ABONG
Monday 18 June
Cecil Sharp House, 2 Regent's Park Road, Camden, London, NW1 7AY