Hello there!

Our final show of the year is at hand and what a replete sensation it's set to be. This Thursday we're hosting Still House Plants at Servant Jazz Quarters to celebrate the release of their debut album 'Long Play' on Bison Records. Described deftly in this month's WIRE magazine as a "strategic collision of visual art, improv and pop", the experimental trio from Glasgow make emotionally-charged songs that race, stretch and twist the rock format into new, expansive horizons. Their approach is disciplined and considered, the result is always a thorough head-rush.

We're lucky to have American composer / performer Ashley Paul and Glasgow's Ailie Ormston both playing this concert too, so expect free-form radiance and scrambling sonics aplenty. Tickets will be available on the door from 7.30pm, with live music sounding out from 8.20pm, read on for the full write-up!
Since we last caught up, Upset The Rhythm announced a brand new album by Xiu Xiu for this coming February. Xiu Xiu is the conduit for the uncompromising and unnervingly personal musical works of Los Angeles-based multi-instrumentalist Jamie Stewart, accompanied for this album by Thor Harris, Jordan Geiger and Angela Seo.

'Girl with Basket of Fruit' was produced by Xiu Xiu's Angela Seo and Greg Saunier of Deerhoof and proves a rowdier, more stylistically splenetic offering than previous efforts. The album features the usual eye-catching list of collaborators including Eugene Robinson (Oxbow), Devin Hoff and Haitian percussionists Emmanuel Obi and Ayo Okafor. Here's the first opportunity to listen to what they came up with. '

Scisssssssors

' is the opening video from the record: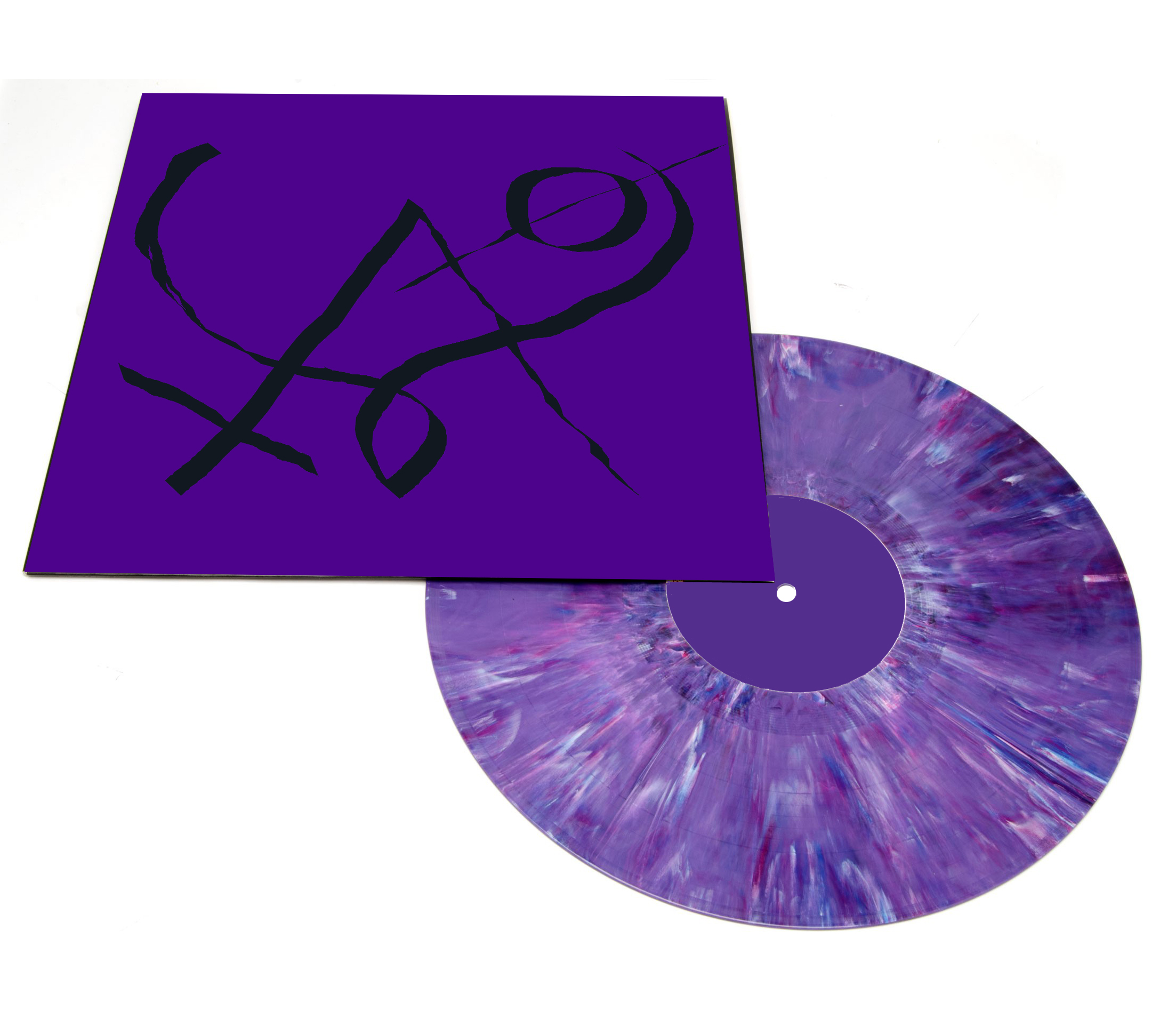 'Girl with Basket of Fruit' is available to pre-order now on limited purple/black/white marbled vinyl and on also on CD through our
webshop here
.
We've also announced a London show for Xiu Xiu next March 26th at Islington Assembly Hall to celebrate the album's release. Tickets on sale now, check our listings for links.
Now it's properly December are your eyes full of tinsel and fire yet? Well don't worry we've got the perfect festive jumpstart for you! Upset The Rhythm just released a double A-side single by Bamboo suffused with the magical spirit of the season. Available now on all the most digital of platforms, the Xmas themed double header features a deeply resounding cover of Greg Lake's classic 'I Believe In Father Christmas', alongside a reworked version of their 'Stay Another Day' (East 17, as if you didn't know) smash from last year!

Let's all hope we get the Xmas we deserve, stream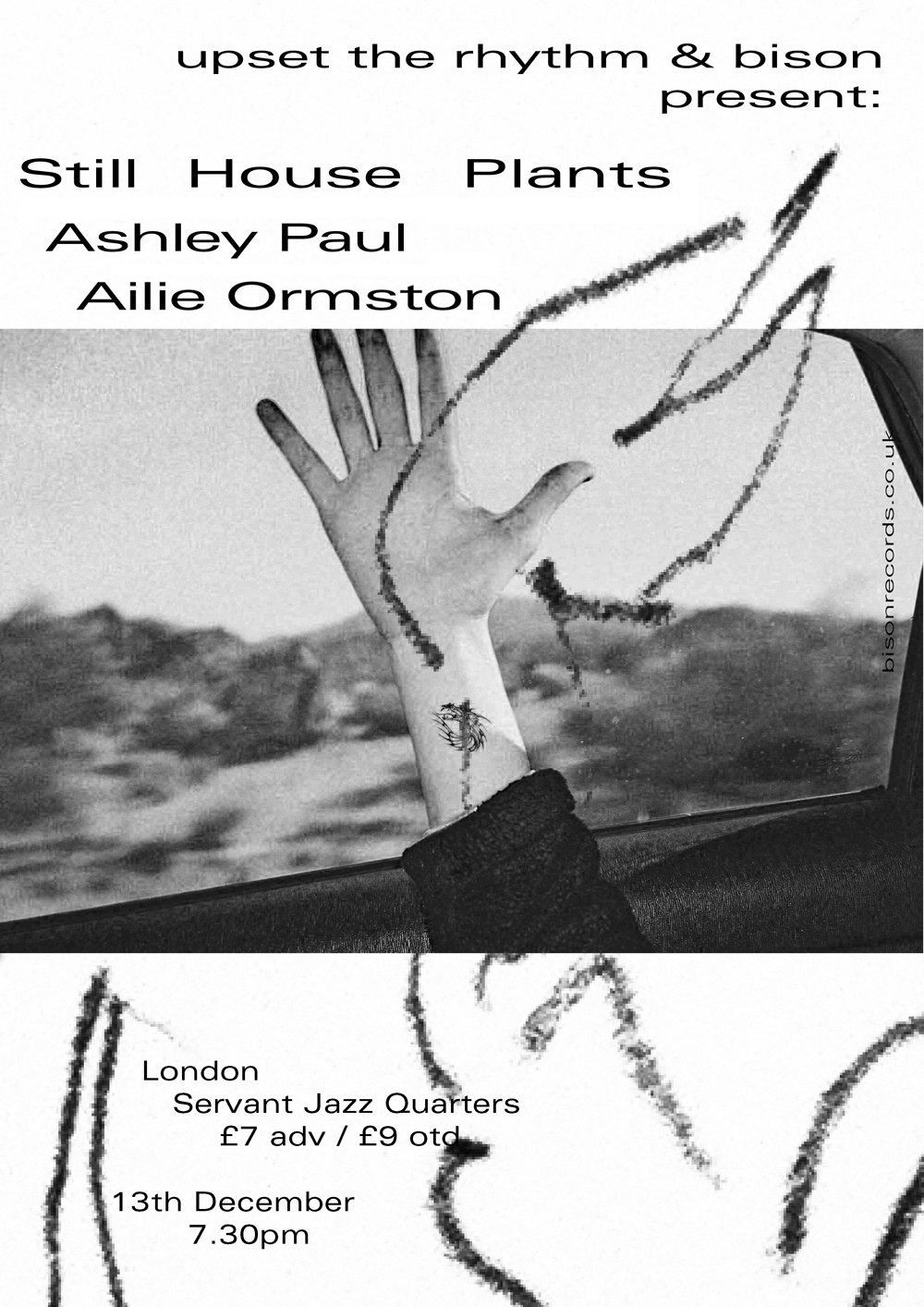 Upset The Rhythm & Bison Records presents…
STILL HOUSE PLANTS
ASHLEY PAUL
AILIE ORMSTON
Thursday 13 December
Servant Jazz Quarters, 10A Bradbury Street, Dalston, London, N16 8JN
STILL HOUSE PLANTS
are an experimental three-piece from Glasgow. This December they'll return to London in support of the release of their debut LP, 'Long Play' (Bison Records). Combining visual strategies, free improvisation, garage and punk, Still House Plants build melodic hierarchies scaffolded around ambiguities and intimacy. Fresh from being selected for the Cafe OTO x Jerwood Foundation Artistic Development fund, and following two sold out tapes on Glasgow label GLARC, 'Long Play' collects the group's raw guitar-drum-vocal palette and stretches it to include violin, piano and home recording. Ranging from seconds-long to seven:minute:somethings, the album coagulates to form a heady meld of rudimentary phrases, kinetic repetition and malleable samples. Experimental songwriting is rarely so forthcoming, emotive, or approachable. Still House Plants have also been artists-in-residence for the CCA/AC Projects Music Residency and at The Pipe Factory. The trio have performed internationally too, touring with Mette Rasmussen to perform at Ultra Eczema's 20th Anniversary, Fasching Jazz Club with Rasmussen and Richard Dawson, as well as at KRAAK festival.
https://bison-records.bandcamp.com/releases
ASHLEY PAUL
is an American composer/performer whose intuitive process integrates free form song structures with a focused approach to sound and clatter. A complexity of instruments including saxophone, clarinet, voice, prepared strings, bells and percussion create a delicate palette, uniquely her own. Her solo albums have received critical acclaim being chosen in The Wire: Top 50 Albums of 2013, Pitchfork's "The Out Door" best experimental sounds of 2013, number one on Byron Coley and Thurston Moore's "Tongue Top Ten" in Arthur Magazine. Paul's recent LP on Slip, 'Lost In Shadows', is a bewitching, expansive, deeply personal excavation of recent motherhood, told through songs dissolving and re-crystallising at the threshold of free improvisation. At the LP's heart is Paul's mercurial multi-instrumental style, which renders the primal wails, clunks, and twangs of clarinet, saxophone, percussion, and guitar uncannily melodic, alchemised by frank, vulnerable vocals. The deft negotiation of the fragile and the coruscating evidenced on Paul's 'Line The Clouds' (2013) and 'Heat Source' (2014) has now reached a kind of hesitant sublime.
AILIE ORMSTON is an artist from Glasgow who attempts to convey a form of a contemporary condition through music and visual means. She recently performed with Still House Plants in Glasgow and Bradford, so it's great news that she can make the trip down to London for this show too. Ailie will be working with material from her new record. 'The Sedate / Tony Soprano Fashion Inspo' - co-written alongside one drum machine and one synth and presented with live visuals which embrace elements of chance and coincidence. Ailie explains further, "The Sedate / Tony Soprano Fashion Inspo" is a group of compositions; each track is a chef white. Part of the same team, but a representation of multiplicity within music making, and as oneself making music. When I feel that I'm losing it, I remind myself that I prefer to use my KeepCup without it's lid anyway. 'The Sedate / Tony Soprano Fashion Inspo' is out soon through 50% PURE.
Thank you for reading and of course for your time!
See you on Thursday and until then…
Upset The Rhythm
UPSET THE RHYTHM
UPCOMING SHOWS
STILL HOUSE PLANTS
ASHLEY PAUL
AILIE ORMSTON
Thursday 13 December
Servant Jazz Quarters, 10A Bradbury Street, Dalston, London, N16 8JN
THE STALLION:
'THE DARK SIDE OF THE WALL' TRIPLE ALBUM LAUNCH!
EVANGELINE LING OF AUDIOBOOKS (DJ SET)

Friday 18 January
Moth Club, Old Trades Hall, Valette St, Hackney Central, London, E9 6NU
7.30pm | £7 |
TICKETS
AIR WAVES
Thursday 31 January
The Islington, 1 Tolpuddle St, Angel, London, N1 0XT
KRISTIN HERSH
With ROB AHLERS (drums) & FRED ABONG (bass)

Sunday 10 March & Tuesday 12 March
Bush Hall, 310 Uxbridge Rd, Shepherd's Bush, London, W12 7LJ
7.30pm | £25 |
TICKETS MARCH 10
/
TICKETS MARCH 12
THE SHIFTERS
COOL GREENHOUSE
Thursday 14 March
The Islington, 1 Tolpuddle Street, Angel, London, N1 0XT
7.30pm | £7 |
TICKETS
DAVID NANCE
GROUP
Monday 25 March
The Shacklewell Arms, 71 Shacklewell Lane, Dalston, London, E8 2EB
8pm | £7 |
TICKETS
XIU XIU
(Jamie Stewart, Thor Harris & Jordan Gieger)
JOHN BENCE
Tuesday 26 March
Islington Assembly Hall, Upper St, Islington, London, N1 2UD
7pm | £13.50 |
TICKETS
Upset The Rhythm 15th anniversary label party!
SAUNA YOUTH
TRASH KIT
GUTTERSNIPE
VITAL IDLES
RATTLE
DOG CHOCOLATE

Wednesday 27 March
Tufnell Park Dome, 2A Dartmouth Park Hill, London, NW5 1HL
5.30pm - 11pm | £10 |
TICKETS