Hello there!

Hopefully 2019 is treating you well already, may this be your best one yet! Upset The Rhythm had a very short festive hibernation (think power nap) as we've been busy lining up some terrific new releases for the year, watch this space! The first release is an incendiary new album from Xiu Xiu called 'Girl with Basket of Fruit' out on Feb 8th, we'll have a new video to share with you next week!

With this communiqué though we're focusing on our first three events for 2019.
We're kicking things off with The Stallion next week at Moth Club. Alastair Mackinven and Ben Wallers (of Country Teasers and The Rebel notoriety) comprise The Stallion and Friday week they'll be treating us to their warped take on Pink Floyd's canon. It's a launch party in celebration of In The Red's triple album from the duo 'The Dark Side Of The Wall'.

All looks set to be perfectly odd with promises of music, films and props too, plus we're lucky enough to have Evangeline Ling of Audiobooks DJ-ing throughout the night too, perfect!
Then at the very end of the month we have prismatic pop planned from Air Waves and Upset Stomach who play The Islington on Thursday 31st January.

The following day, Friday 1 February, New River Studios witnesses the glorious excess of an Amor concert with The Golden Filter and Alexis Taylor (DJ set) booked in too. So there you go, our first three forays into live music promotion for the year! Read on for details galore.
Since we last talked we've also confirmed a new, exciting show with Big Joanie and Secret Power in top new spot HQI for next month (Feb 15th), plus we're welcoming back Priests to London on May 16th too.

Check our listings for details and ticket info, we've also added John Bence as main support to our Xiu Xiu lineup for March 26th at Islington Assembly Hall. Whilst, Mésange will now be joined by Historically Fucked and John Hannon (of Liberez) for their Islington show on Feb 7th too.

OK, here's what's on the horizon!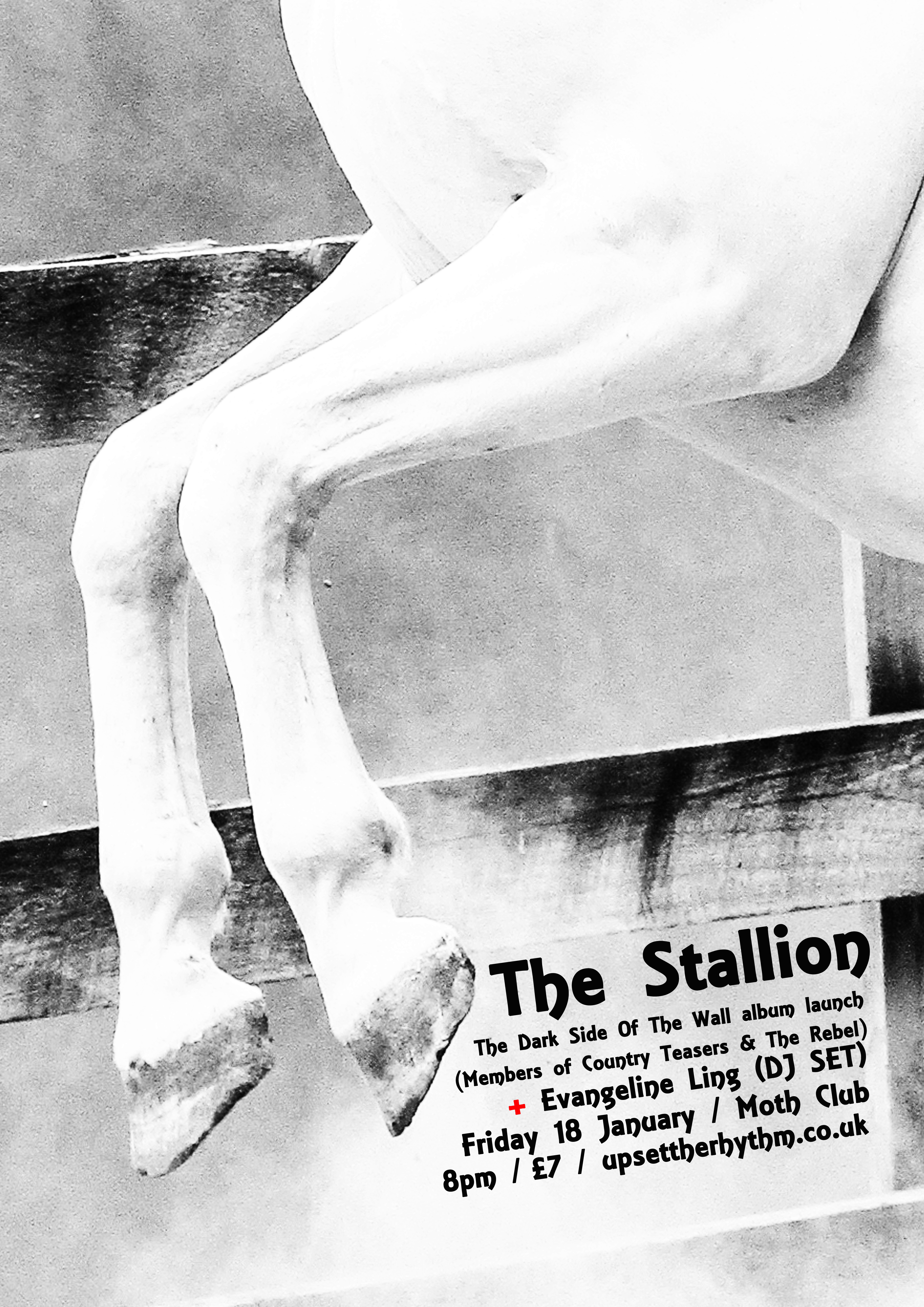 Upset The Rhythm presents…
THE STALLION:
'THE DARK SIDE OF THE WALL' TRIPLE ALBUM LAUNCH!
EVANGELINE LING OF AUDIOBOOKS (DJ SET)
Friday 18 January
Moth Club, Old Trades Hall, Valette St, Hackney Central, London, E9 6NU

THE STALLION can't believe it's happening at last. Put the date in your diaries, Elves, before you drop them into all the children's stockings all along the fireplace or at the foot of their beds. Ssshhh! Don't wake them up! They are having nightmares about being made into sausage meat! They have no noses, and instead of eyes and mouths, large dark holes! Clutching their homework they shuffle along the conveyor belt towards the meat grinders and so into the sausage meat buckets. Yum! School sausages! Who can forget the Grange Hill theme song and animated credits roll? NO LESS ICONIC is The Stallion's six-sided LP for In The Red entitled 'The Dark Side Of The Wall'. That's a hexagonal performance ("cover" is too weak, and "homage" to reverent) of Pink Floyd's The Wall, which is known on the street as 'The Dark Side Of The Wall'.
Country Teasers survivalists Alastair Mackinven and Ben Wallers are The Stallion and they will be performing 'THE DARK SIDE OF THE WALL', including film projections, on Friday January 18th 2019 at The Moth Club, in the Hackney Central area. The films were shot in LoganBerry Finite Quilt on the PC4 MacPro WorkBook. I am only a Sinclair c5 on the Zx spectrum, do you like talk like that? Do you like to do bad things? Are u a bad person? For this show The Stallion have promised a multi-media spectacular with music, projections, smoke, lights and props!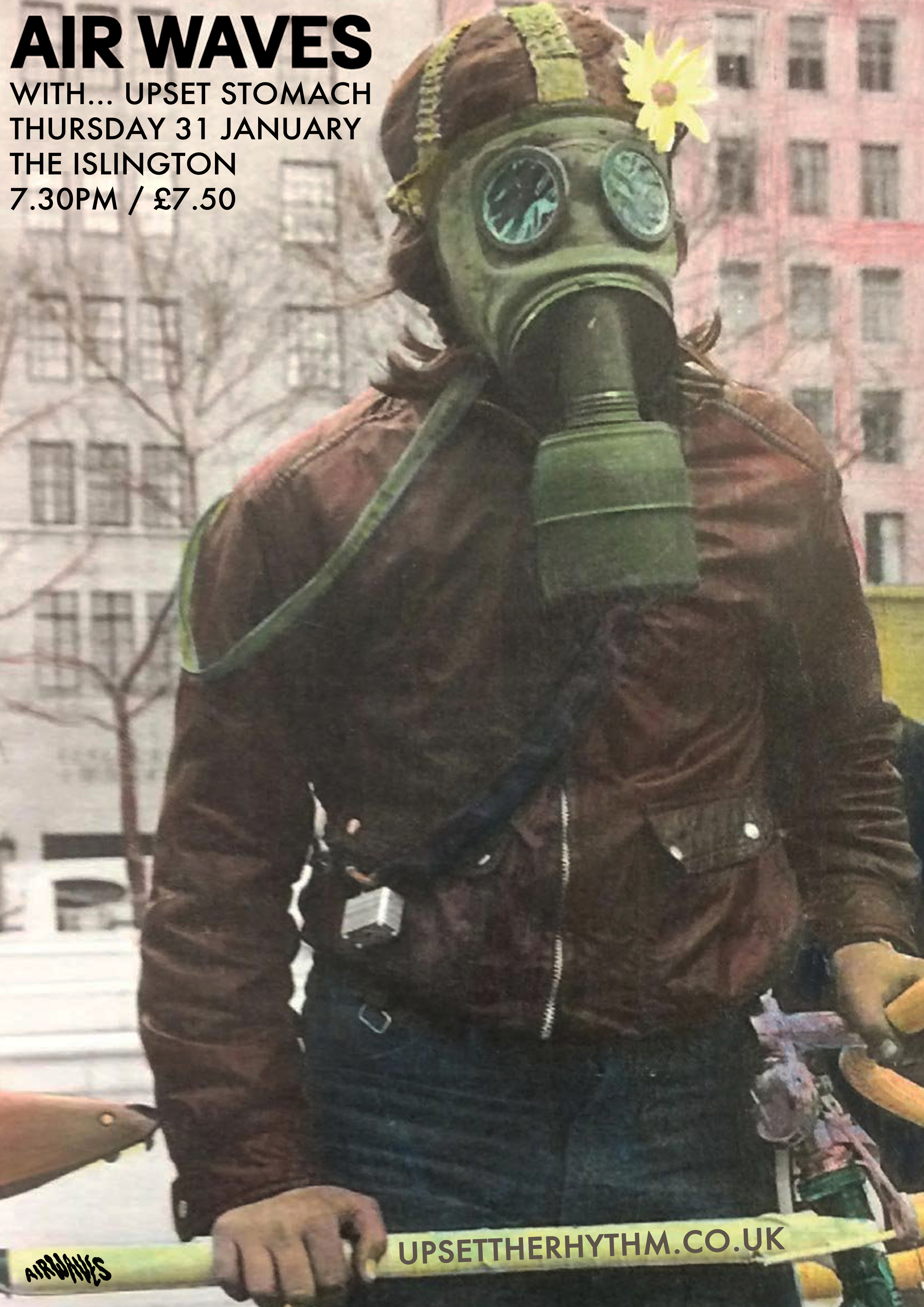 Upset The Rhythm presents…

AIR WAVES new album Warrior, the third full-length by Brooklyn-based musician, features a ominous, androgynous figure standing with a bicycle, wearing a gas mask adorned with a daisy. The remarkable image was taken on April 22nd, 1970 at the inaugural Earth Day celebration in New York City by Nicole Schneit's dad, Martin Schneit. Forty-seven years later, artist Em Rooney hand-painted Schneit's original black & white photo, resulting in an image that radiates with Warrior's indefatigable spirit, strength, and love.

Like many queer women, Nicole Schneit is a warrior by necessity, fighting for basic rights, dignity, and acceptance. Such determination in the face of hardship and injustice runs in Schneit's family; her new album was inspired in part by her mom who was diagnosed with cancer last year. So the title 'Warrior' and the song are about her. The dignified fighter archetype referenced in the album's title is explored on each of Warrior's eleven pieces of bittersweet, empowering indie pop. According to Schneit the song 'Gay Bets', written after the 2016 election is "about being gay and being proud and open. I was thinking about hate crimes spiking and the current state of the world. Warrior's highlights, and all of the unmissable, satisfying pieces that tie them together show Schneit's perseverance and resilience through crumbling relationships, personal adversity, and the current political climate, all leading to her most powerful collection of songs to date. Understated, subtly sophisticated, and equally empowering and comforting, Warrior (out now on Western Vinyl) launches Air Waves above the apolitical complacency of too many of the group's contemporaries.
Upset The Rhythm presents…
AMOR
THE GOLDEN FILTER
ALEXIS TAYLOR (DJ SET)
Friday 1 February
New River Studios, 199 Eade Rd, Harringay Warehouse District, N4 1DN
AMOR is a quartet based largely in Glasgow, consisting of Richard Youngs, Luke Fowler, Michael Francis Duch and Paul Thomson. AMOR is a master-class in blissful, searching, avant-disco fuelled by telepathic ensemble playing and an untouchable, higher joy. Though a young grouping, AMOR's members have separate exceptional histories in modern music. Richard Youngs has a 140+ long discography covering any number of musics often invented by Youngs himself, while Luke Fowler is an award winning film-maker and visual artist, as well as an electronic musician in his own right. Paul Thomson is a drummer and percussionist with Franz Ferdinand and The Yummy Fur and Michael Francis Duch is a double bassist based in Norway with deep roots in the world of improvisation and minimalist composition. Most important, however, is that AMOR is the sound of a band, as one.

Collectively, AMOR strike a balance between hefty, bass-thick kicks and crisp percussion, an elastic double bass that lends bounce and class to the groove and floating piano chords recalling a warped take on Philadelphia International Records or a version of Can decimating the disco charts of late 70s USA. Steeped in de-constructivist disco practices similar to Arthur Russell yet fully immersed in a higher love, never forsaking movement and joy for ego, AMOR's embrace of the avant garde and the simplicity of feeling brings forth light. While at times the focal point, Richard Youngs' vocals are immeshed in the mix, a plaintive, cosmic call and response with the outside. AMOR's debut album, titled 'Sinking Into A Miracle', was released in December via Night School Records, who also released the group's previous couple of stupendous EPs.
https://amor-glasgow.bandcamp.com/
THE GOLDEN FILTER
is the communal guise of Penelope Trappes & Stephen Hindman. Part art project, part electronic experimentation, part disco party, The Golden Filter were born in 2008 in NYC as a disruption to the pop music status quo. Now based in London & firmly welcomed into the Optimo Music family, with releases set for 2019 on Dischi Auotunno and their own 4GN3S imprint. Their raw, minimal wave live sets and audio creations push the limits of accessible analogue beat-heavy soundscaping & angular vocals.
http://www.thegoldenfilter.com/
ALEXIS TAYLOR
is a solo artist, DJ and frontman of Hot Chip and About Group. His brilliant, recent album, 'Beautiful Thing', was released last year on Domino. Alexis will be performing a DJ set throughout the night for this this event.
https://www.facebook.com/alexistaylorsoloofficial/
Thanks for reading, here's to great times in 2-0-1-9!
Upset The Rhythm
UPSET THE RHYTHM
UPCOMING SHOWS
THE STALLION:
'THE DARK SIDE OF THE WALL' TRIPLE ALBUM LAUNCH!
EVANGELINE LING OF AUDIOBOOKS (DJ SET)
Friday 18 January
Moth Club, Old Trades Hall, Valette St, Hackney Central, London, E9 6NU
7.30pm | £7 |
TICKETS
AIR WAVES
UPSET STOMACH
Thursday 31 January
The Islington, 1 Tolpuddle St, Angel, London, N1 0XT
AMOR
THE GOLDEN FILTER
ALEXIS TAYLOR (DJ SET)
Friday 1 February
New River Studios, 199 Eade Rd, Harringay Warehouse District, N4 1DN
7.30pm | £7 |
TICKETS
MÉSANGE
HISTORICALLY FUCKED
JOHN HANNON
Thursday 7 February
The Islington, 1 Tolpuddle Street, Angel, London, N1 0XT
7.30pm | £7 |
TICKETS
BIG JOANIE
SECRET POWER
Friday 15 February
HQI, The Rotunda, Wood Lane, White City Place, London, W12 7TP
(3 min walk from White City tube up Wood Lane. Behind the green gates)
7.30pm | £7 |
https://link.dice.fm/big-joanie-hqi
KRISTIN HERSH (Electric trio)
With ROB AHLERS (drums) & FRED ABONG (bass)
THE SHIFTERS
COOL GREENHOUSE
Thursday 14 March
The Islington, 1 Tolpuddle Street, Angel, London, N1 0XT
7.30pm | £7 |
TICKETS
DAVID NANCE GROUP
YERBA MANSA
Monday 25 March
The Shacklewell Arms, 71 Shacklewell Lane, Dalston, London, E8 2EB
8pm | £7 |
TICKETS
XIU XIU
(Jamie Stewart, Thor Harris & Jordan Gieger)
JOHN BENCE
Tuesday 26 March
Islington Assembly Hall, Upper St, Islington, London, N1 2UD
7pm | £13.50 |
TICKETS
Upset The Rhythm 15th anniversary label party!
SAUNA YOUTH
TRASH KIT
GUTTERSNIPE
VITAL IDLES
RATTLE
DOG CHOCOLATE
Wednesday 27 March
Tufnell Park Dome, 2A Dartmouth Park Hill, London, NW5 1HL
5.30pm - 11pm | £10 |
TICKETS
PRIESTS
Thursday 16 May
100 Club, Oxford Street, London, W1D 1LL
(Tickets onsale this Friday at 10am)