Hello again!

Thanks so much for coming to see us at last weekend's label market and this week's shows for Daniel Higgs and Rays, it's been brilliant to see you! Tonight we're very fortunate to have Richmond, Virginia's Prison Religion make their London debut. Their music is a chaotic slap of noise, punk and glitchy hiphop marking them out as Halcyon Veil's most innovative artists. Tonight's show at The Lexington is a must if you want your head to spin a full 360 with tonal traps, industrial maximalism, mic-burning vitriol and lysergic dimensions. Hyperstition Duo, who feature members of Blood Sport, will open the show too, tickets £8 on the door from 8pm. Prepare to be floored!
Our final show of July takes place next Monday at Redon in Bethnal Green and will include two impressive sets of reflective reverie from Advance Base (Owen from Casiotone For The Painfully Alone) and Alice Hubble too. Clicky drum machines, loops of omnichord, walls of heart-breaking keyboard swoon and lyrics that tug at your empathy for dear life, it'll really be something!

Full write-ups follow below, along with our overview for Mount Eerie and Keel Her's London concert on August 8th at EartH, and news of our just-announced show for EXEK and The Rebel in September too.
OK, let's talk record label! Today, Melbourne post-punk wags Terry return with their new EP 'Who's Terry?' on Upset The Rhythm. Following on from last year's huge-sounding 'I'm Terry' album, this third 7" EP from the band brings you right up to date with their wobbly politico-pop.

'Spud' is a class A toe-tapper that sees the band don fatigues and set their sights on the enemy. The rough and the tough, wrestled wrists and fools with crooked smiles all make an appearance as Terry sing as one over snare snaps and keyboard croaks. 'Bizzo and Tophat' follows with a stride across the underbelly, a thick slice of bop-heavy observation that gives way to one of Terry's most elegiac refrains… "holding on and going forth"!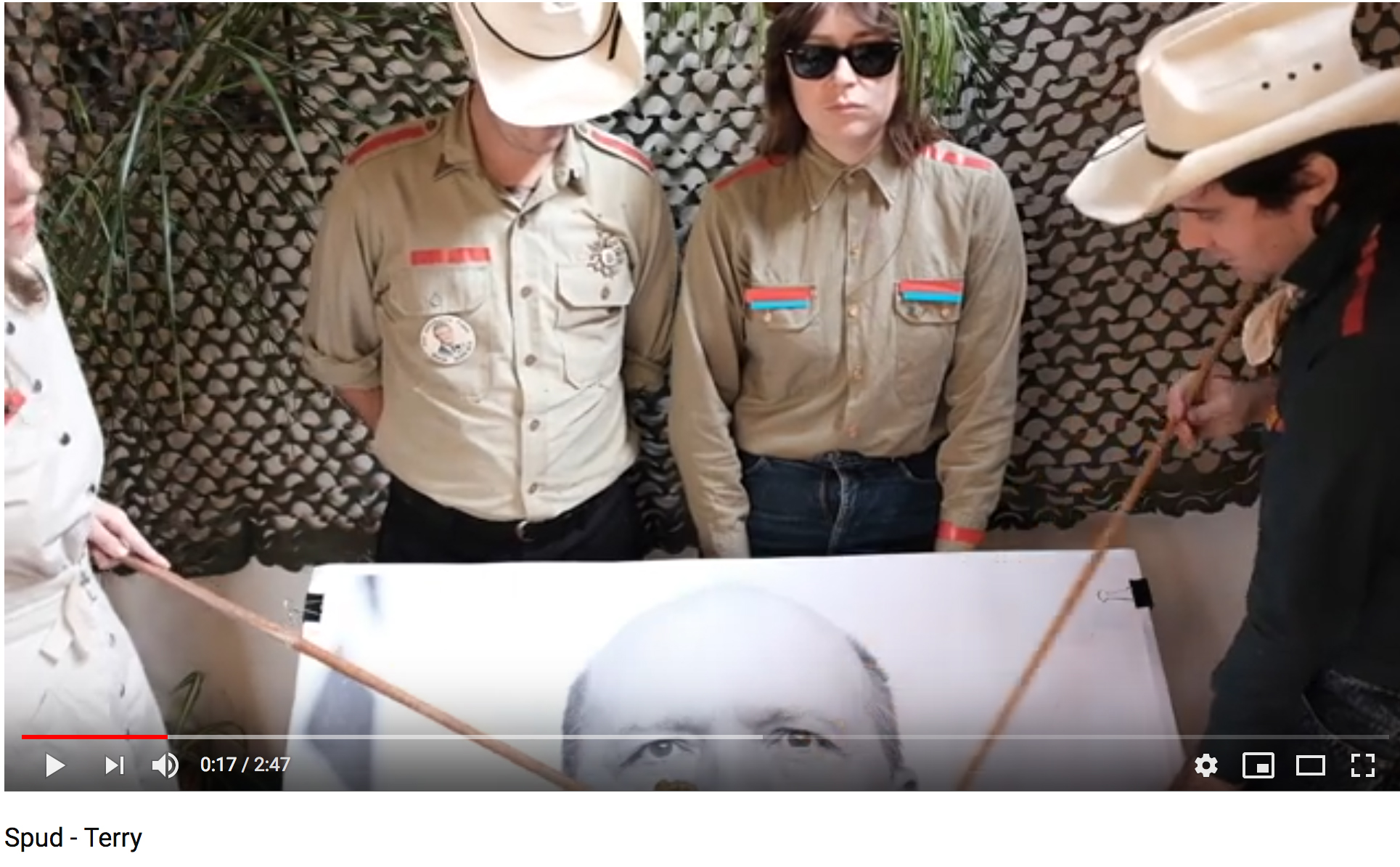 'Who's Terry' encapsulates what Terry does best, the queasy marriage of the upbeat and traumatic, the catchy instant and the nagging distance. Their alliterative lyrics always sharp as tacks, their sense of melody and beat sunk deep in the heart of now.
'Who's Terry?' is available now on black vinyl in our
webshop
, it's also possible to pre-order
Lunch Lady
's newly announced debut album 'Angel' on CD and LP too.
We're over the moon to inform you that we'll be releasing Lunch Lady's debut album on August 23rd! Lunch Lady are a sparky group from Los Angeles redolent of the desert heat, pining hearts and that chorus-soaked cloak of sound held dear by followers of British early 80s post-punk. Numbering four, Lunch Lady consist of Rachel Birke (vocals), Juan Velasquez (guitar), Victor Herrera (bass) and Robert Wolfe (drums).

The band began in 2017 when Velasquez asked Birke if she'd like to start a new music project with him, their respective other groups Abe Vigoda and Heller Keller having co-existed in LA's DIY orbit. Birke explains that they "immediately decided upon making the new band a kind of love letter to Kitsch." Lunch Lady's dreamy punk forays into country ballad territory certainly swoop into sentiment, but its the melancholy of artifice that defines their outlook. Here's their first video 'Window'!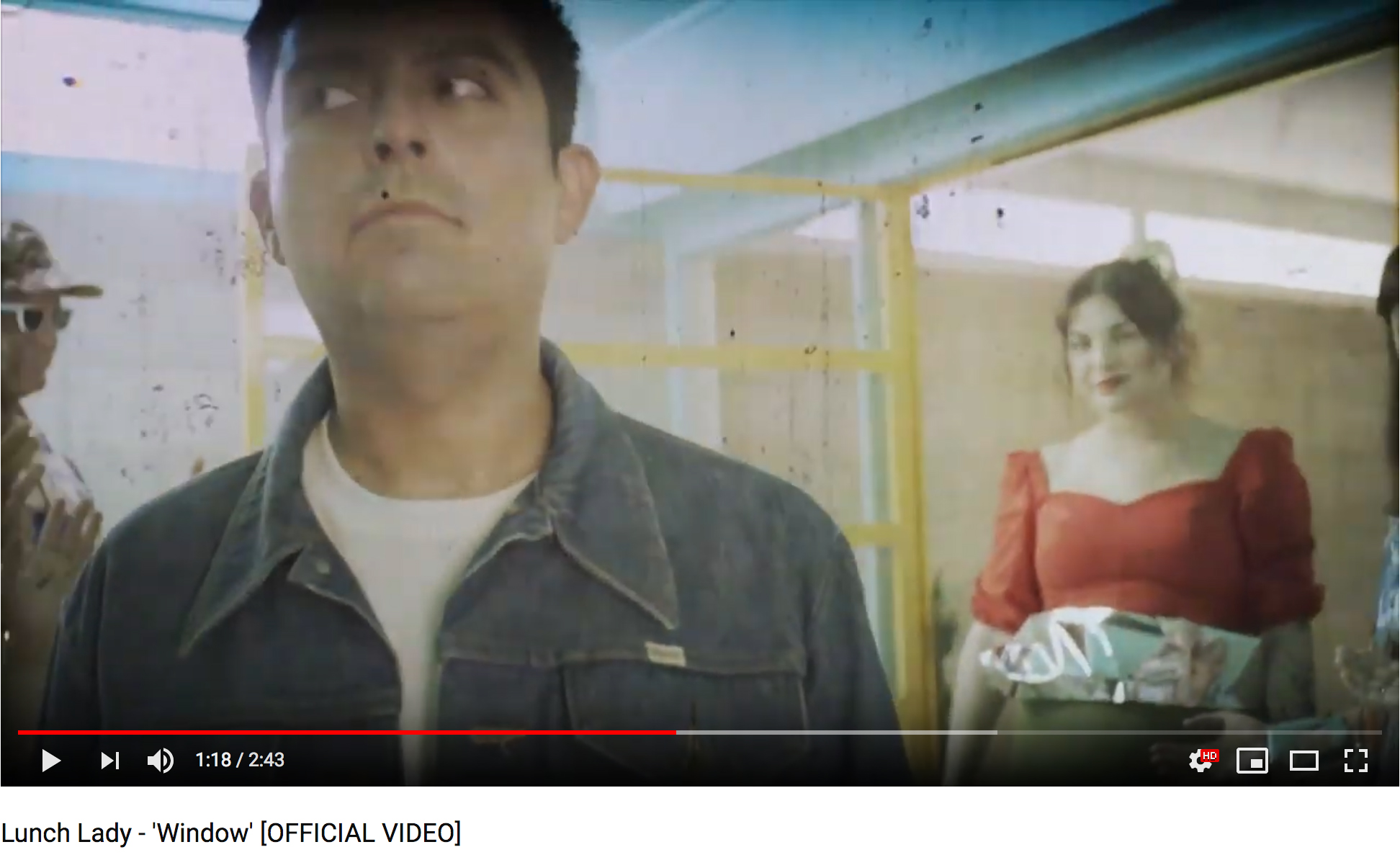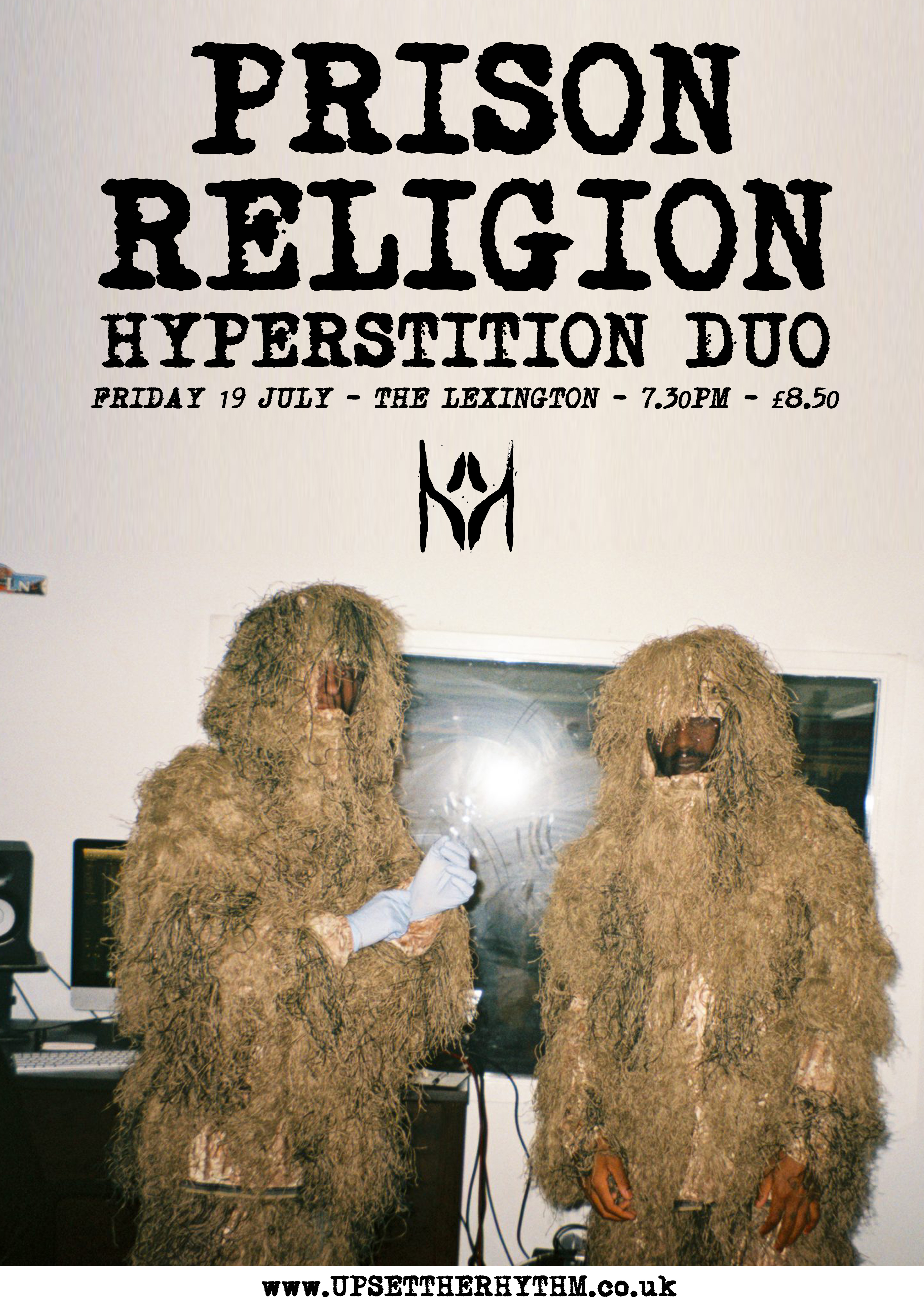 Upset The Rhythm presents…
PRISON RELIGION
HYPERSTITION DUO
Friday 19 July
The Lexington, 96-98 Pentonville Rd, Angel, London, N1 9JB
7.30pm | £8.50 |
TICKETS
PRISON RELIGION
are a hardcore noise project from Richmond, Virginia, comprised of Poozy and False Prpht. Though the two are solo artists in their own right, they collaborate regularly to make collages together that are indebted yet flippant to hip hop, punk, and techno. Working together since 2016, the duo have dived deep into the space between blown-out trap (2016's Cage With Mirrored Bars) and contemporary destructive club music (2018's O Fucc Im On The Wrong Planet). Since linking up with Texas-based experimental label Halcyon Veil, they've connected a global crewsof likeminded collaborators for a remix album including Rabit, Endgame, Swan Meat, Lee Gamble and Bonaventure. The production destroys any notion of comfort afforded in dance music, with cold industrial and glitchy hip hop textures serving as the stylistic anchor of the record. With close ties to NON Worldwide, Prison Religion are also ushering in a new wave of vocal-based club performance.
https://prisonreligion.bandcamp.com/
"The barely tonal beats of tracks like "Shots Fired" have this way of making it feel like the 808s are falling apart or dissociating, like a crowd dispersing as Jones and Black spin kick in the centre… acid drenched tracks draw on the history of industrial music, metal iconography and experimental club music." (Noisey)
"Prison Religion are one of the most hardcore, rap-related acts we've heard in years. Philip Best levels of mic-burning bile and vitriol shrieked and expectorated over bludgeoning beats, field recordings and charred electronics." (Boomkat)
HYPERSTITION DUO
plunge deep to deliver a maximalist collective immersion into their own lysergic phonosphere. Lurching, polyrhythmic pathways crumble and re-assemble; elastic dynamics snap; propulsion sparks from the nerve-centre of machine and corporeal entanglement. Featuring ex-members of Blood Sport, templexing, möbius loops and cybernetic subjectivities abound in an attempt to conjure escape vectors in a world of ubiquitous sound.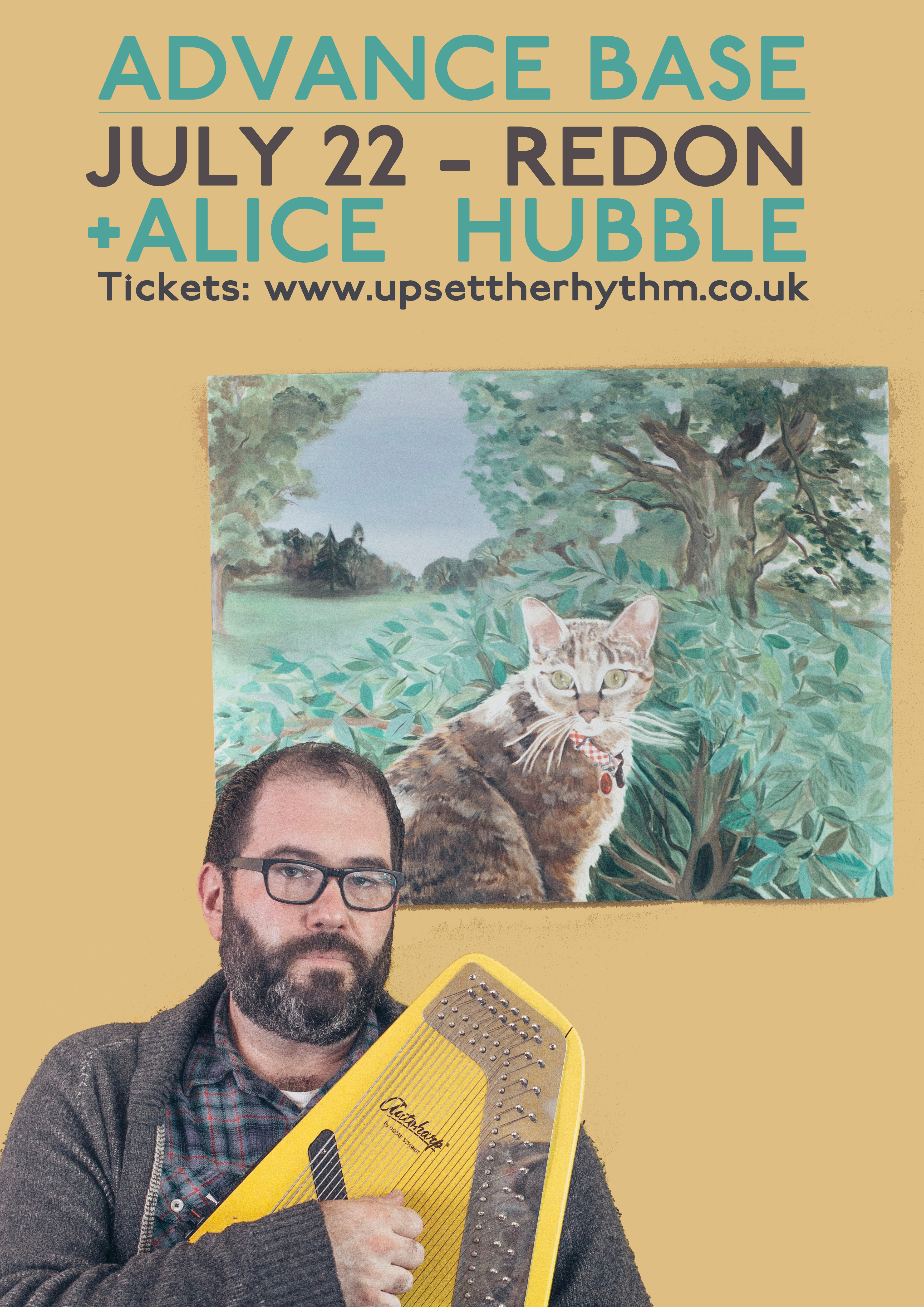 Upset The Rhythm presents…
ADVANCE BASE
ALICE HUBBLE
Monday 22 July
Redon, Railway Arches, 289 Cambridge Heath Rd, London, E2 9HA
7.30pm | £12 |
TICKETS
ADVANCE BASE
is the electronic solo project of Chicago, IL singer/songwriter Owen Ashworth (formerly of Casiotone for the Painfully Alone). Using a two-handed arsenal of electric pianos, autoharps, Omnichords, loops, samples & drum machines, Ashworth builds minimalist, heavy-hearted, & nostalgia-obsessed tunes around his conversational, baritone vocals. The sound of Advance Base has been described as "lo-fi," "depressed" & "weirdly uplifting." Advance Base has supported live dates for The Postal Service, Pedro the Lion, The Mountain Goats, Dean Wareham, Alan Sparhawk, Mark Kozelek & Stephin Merritt. The debut Advance Base album, 'A Shut-In's Prayer' (2012), was released by Caldo Verde Records & Ashworth's own Orindal Records. 'Nephew in the Wild', the second album by Advance Base, was released in 2015 by Orindal Records & Tomlab Records. PopMatters named 'Nephew in the Wild' the number 1 Indie Album of 2015. 'Animal Companionship', the third & most recent album by Advance Base, was released last September. The sound of the album is soft and thick and comforting. And when we're working with songs as sad as the ones that Ashworth writes, that level of comfort really comes in handy. He used to write sad love songs, or sad songs about love. He's still doing that, really, except that he's now middle-aged, with a wife and kids, living in suburban Chicago, and the songs reflect that. The songs on 'Animal Companionship' are full of a whole life's worth of regrets and missed opportunities and moments of acceptance and dead friends. It's not as bleak, either; there are moments of happiness, or at least sustenance, sprinkled all through 'Animal Companionship'. But in its sharp and unrelenting and empathetic specificity, this is some real masterly heart-wrecker music.
http://advancebasemusic.com/
ALICE HUBBLE
is the new project of Alice Hubley (Mass Datura, Cosines, Arthur and Martha), the product of one lady locked at home with her collection of analogue synthesisers. Inspired by 70's recordings by Tangerine Dream, Delia Derbyshire, Mike and Sally Oldfield, hers is a distinctly feminine take on the sometimes pompous 70's sound. Her new album will be available on Happy Robots in Summer 2019.
https://www.facebook.com/alicehubblemusic/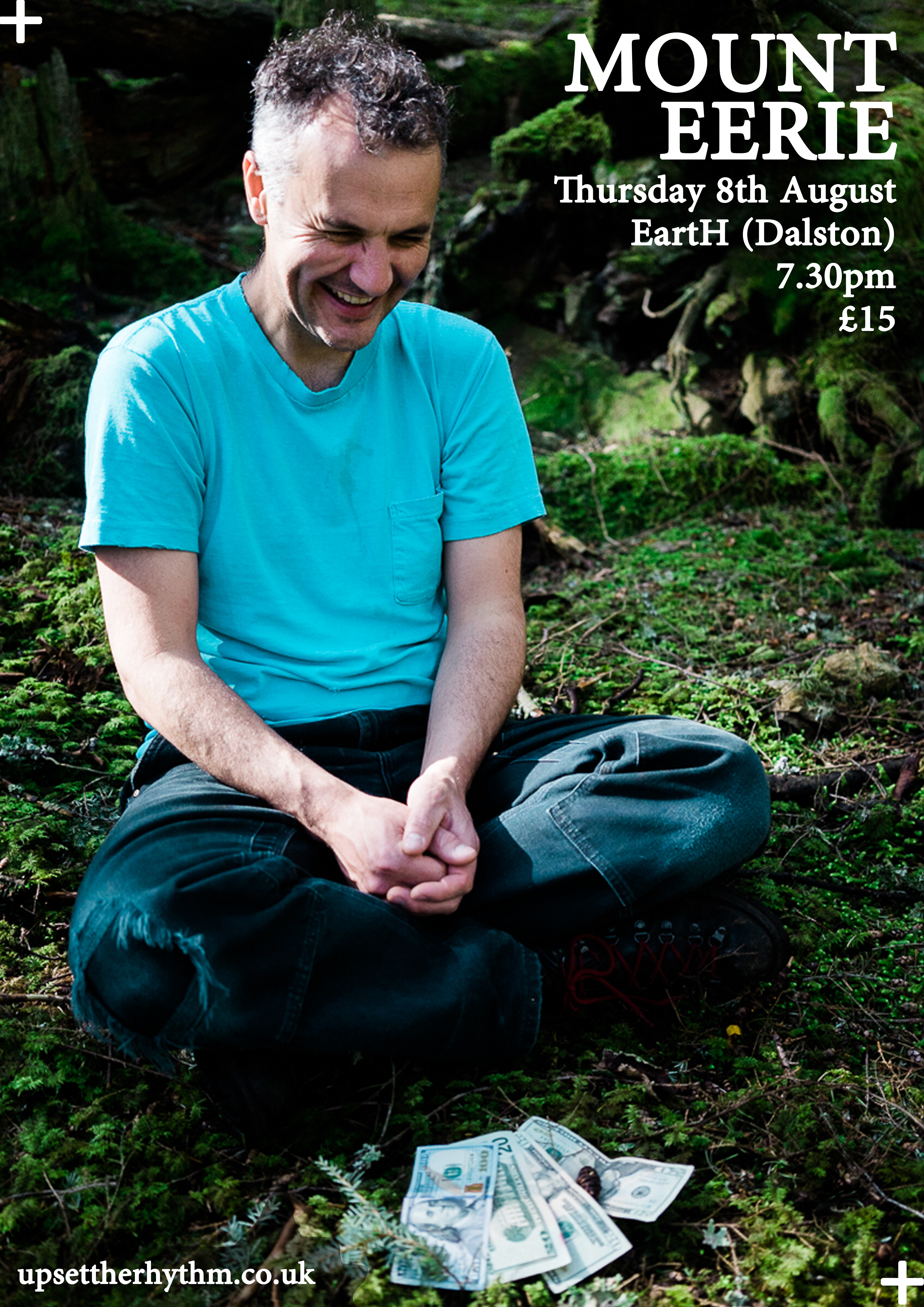 Upset The Rhythm presents…
MOUNT EERIE
KEEL HER

Thursday 8 August
EartH, 11-17 Stoke Newington Rd, Dalston, London N16 8BH
7.30pm | £15 |
TICKETS
MOUNT EERIE
is still the name of the songs that come from Phil Elverum, a 41 year old artist/writer from rural maritime Washington state, USA. Over the past couple decades these songs have sprawled across sounds and atmospheres, sometimes cacophonies, sometimes gentle questions. In 2019, in the shadow of death and love and always head-on direct, there will be a performance in London.
http://www.pwelverumandsun.com/
KEEL HER's
musical output can rightfully be called prolific. Originally from Winchester, Rose Keeler Schaefler has been writing and recording her own songs from the age of 14 on instruments found in charity shops and at car boot sales, culminating in a cassette release back in 2011 on Maximum Violence Records. Since then Keel Her has made an album with lo-fi legend R Stevie Moore and has released a single on O Genesis Recordings, alongside multiple releases on Critical Heights. Brand new album 'With Kindness' is a collection of Keel Her's experiences over the past few challenging years. Her introverted, thoughtful nature is obvious within the lyrics of tracks such as 'self-sabotage' and her deep running empathy effects all aspects of her life, be it others' feelings, nature or the planet.
https://keelher.bandcamp.com/
Thanks as always for your time, see you tonight!
Upset The Rhythm
UPSET THE RHYTHM
UPCOMING SHOWS
PRISON RELIGION (Halcyon Veil)
HYPERSTITION DUO
Friday 19 July
The Lexington, 96-98 Pentonville Rd, Angel, London, N1 9JB
7.30pm | £8.50 |
TICKETS
ADVANCE BASE
ALICE HUBBLE
Monday 22 July
Redon, Railway Arches, 289 Cambridge Heath Rd, London, E2 9HA
7.30pm | £12 |
TICKETS
MOUNT EERIE
KEEL HER
Thursday 8 August
EartH, 11-17 Stoke Newington Rd, Dalston, London N16 8BH
7.30pm | £15 |
TICKETS
J. McFARLANE'S REALITY GUEST
THE PHEROMOANS
BISCOTTI
Wednesday 14 August
The Islington, 1 Tolpuddle St, Angel, London, N1 0XT
7.30pm | £7 |
TICKETS
TIM PRESLEY'S WHITE FENCE
ROBERT SOTELO
Wednesday 21 August
OSLO, 1a Amhurst Road, Hackney Central, London, E8 1LL
MARY LATTIMORE
NUMMO TWIN
Thursday 29 August
The Courtyard Theatre, 40 Pitfield Street, Shoreditch, N1 6EU
7.30pm | £10 |
TICKETS