Afternoon everyone!

I trust your dodging the April showers with flair, as we seem to have all seasons at once thrown at us today! Some more predictable forecasting comes in the shape of our live music program that sees us organising a show next Friday at DIY Space For London for underground party legends Quintron & Miss Pussycat.

A must for anyone who loves offbeat, dreamlike puppetry as much as dancing the room to ruin, this show also features conceptual kindred spirits Ravioli Me Away and looks set to soar. Quintron & Miss Pussycat concerts are rarer than hen's teeth outside of New Orleans, so I can't emphasize enough how special this will be.

Talking of one off events, our final show of the month features trip metal pioneers Wolf Eyes reunited with their prodigal tape-n-mic gnawer Aaron Dilloway in support.
Opening April 29th's show at the Tufnell Park Dome will be out-punk thrashers No Form, so the speakers are going to be well and truly tested to their limits for this! Full listings for both concerts can be found in full below.
This week we also confirmed new concerts in July for Lucky Dragons and Sonic Boom (of Spacemen 3, Spectrum, EAR).

Lucky Dragons is the long-term collaboration between LA-based artists Luke Fischbeck and Sarah Rara that investigates notions of participation, dissent and ritual through their inventive performances.
Whilst Sonic Boom, will be pursuing his verdant, visionary-hypnogogia with the help of Spectrum guitarist Jason Holt. Tickets on sale

now

!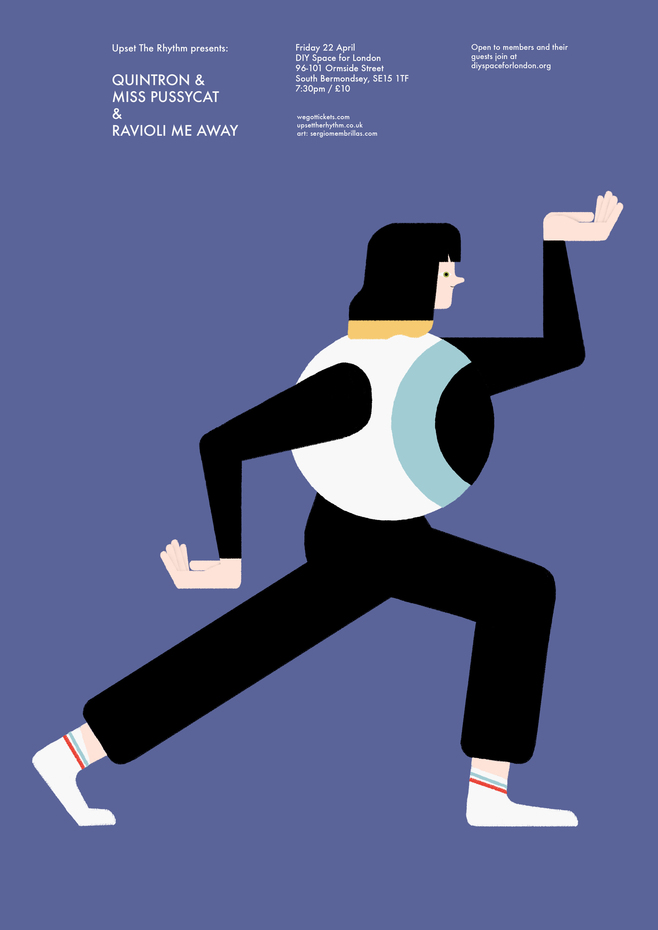 QUINTRON & MISS PUSSYCAT
RAVIOLI ME AWAY
Friday 22 April
DIY Space For London, 96-101 Ormside St, South Bermondsey, SE15 1TF
DIYSFL is a members club, become a member
here
.
QUINTRON & MISS PUSSYCAT have been making genre-defying noise and "Swamp-Tech" dance music in New Orleans for over fifteen years. The majority of their ten full-length albums have the psychedelic soul of New Orleans garage R&B filtered through a tough distorted Hammond B-3 and a cache of self-made electronic instruments. Quintron has also released strange soundscapes based on inner-city field recordings of frogs and neighborhood ambiance. Quintron regards his most significant creation to be his patented instrument called the DRUM BUDDY, a light activated analog synthesizer that creates murky, low-fidelity, rhythmic patterns.
Miss Pussycat, otherwise known as Panacea Theriac, is a New Orleans based puppeteer. Born in Antlers, Oklahoma, she began learning puppetry at the Christian Puppet Youth Ministry at the First Baptist Church of Antlers. She began her professional career in New Orleans and assisted in founding the influential night club "Pussycat Caverns." For the past fifteen years she has travelled internationally conducting puppet shows in rock clubs and at international festivals. She is the President of Rhinestone Records and produces vinyl LPs of her puppet's many bands. The Quintron and Miss Pussycat live show is one of barely controlled electronic chaos, crazed dance beats, small explosions, colourful clothes, and entertaining puppet stories; in short always a revelation.
RAVIOLI ME AWAY are a dangerously ambitious and delusional all-girl jazzy, post-pop-punk, hip-funk outfit with a stylistic theme spanning all past, present and future human cultures and subcultures. Consider vintage Bananarama played with twice the sass and urgency, only reflected in the eyes of a much overworked and downright exhausted Julie Burchill on acid. Check out their excellent debut album on Good Job and their split LP with Dog Chocolate on Upset The Rhythm now for proof of their genius.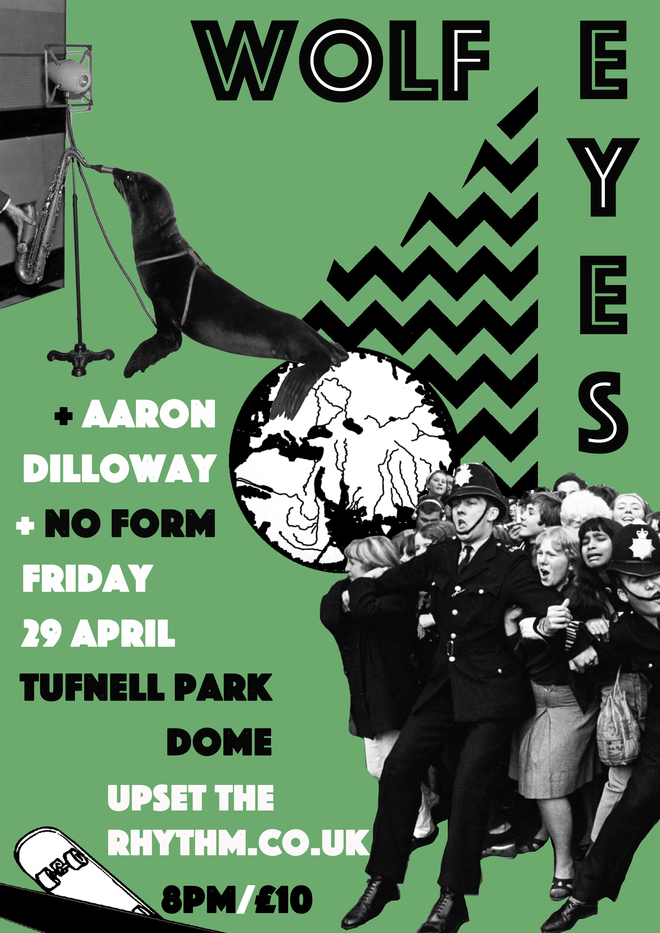 WOLF EYES
AARON DILLOWAY
NO FORM
Friday 29 April
Tufnell Park Dome, 178 Junction Road, Tufnell Park, N19 5QQ
WOLF EYES are the foremost trip metal band in the multiverse. Whilst their infamous blistering noise propelled them from being a dank Ann Arbour, Michigan basement sensation to the upper ranks of Sub Pop, their music has since mutated into a meticulous cudgel of creeping dread, halting rhythms and snarled melodics. From touring with Sonic Youth and Andrew W.K., Wolf Eyes have crossed borders into popularity which few other such confrontational units of their ilk have been able to and kept straight and narrow on their blazing path. Originally started as the solo project of former Nautical Almanac member Nate Young, he was soon joined by Aaron Dilloway in 1998, John Olson in 2000 then Mike Connelly and now Crazy Jim. They has released over 150 recordings in their relatively short lifespan, on labels such as Bulb Records, Troubleman Unlimited, Fusetron, and Sub Pop, as well as on Olson's American Tapes label, Dilloway's Hanson Records, Mike Connelly's Gods of Tundra label and Nate Young's AA Records. This show sees Wolf Eyes play a headline show drawing from their stunning new album "I am a problem: mind in pieces", out now on Jack White's Third Man Records.
AARON DILLOWAY
hails from Michigan, and is perhaps best known as a founding member of formidable trip metal gods Wolf Eyes. Since he left that band a decade ago, he's delicately extended his exploration of tape manipulations, ritualised performance and found-sound appropriation, simultaneously bringing warmth and acidity, high-end assault and dreamy dislocation in a way that could be said to unwittingly form a bridge between Robert Ashley and hauntology. A serial collaborator, he's also made great records in cahoots with Jason Lescalleet, C. Spencer Yeh and many more and been compared to Maryanne Amacher and Nurse With Wound. Currently based in Malta this show follows on from his recent electrifying appearances in London with Sissy Spacek, Vicky Langan and Evan Parker.
https://www.facebook.com/Aaron-Dilloway-136620113037549/
NO FORM invoke a dark portal, bathing in the murk, devoid of all light. This is punk, as antagonistic and cleansing as it ever can be. No Form's notorious live power is finally captured on their debut LP (co-released by Reagent Records and Muscle Horse), with four shorter pulsating numbers on Side A and one long jam on Side B that approaches the outer limits. Shrill, disconcerting guitar leads and tormented vocals slither over an affirmative pummel that exists at the meeting point between outlier hardcore punk and proto-industrial at its most confrontational. Deceptively catchy thrashing coexists with sinister, siren-call sax wails. This is music for the perennially despondent, music as life ritual.
Thank you so much for attending our recent concerts for Normil Hawaiians and The Intelligence and to all of you who've been enjoying our new records by The World and Dog Chocolate. Have a fantastic weekend, thanks always for your time!
Upset The Rhythm
x
UPSET THE RHYTHM
UPCOMING SHOWS
Friday 22 April
DIY Space For London, 96-101 Ormside St, South Bermondsey, SE15 1TF
Friday 29 April
Tufnell Park Dome, 178 Junction Road, Tufnell Park, N19 5QQ
Thursday 5 May
Bethnal Green Working Men's Club, 44 Pollard Row, Bethnal Green, E2 6NB
Tuesday 10 May
Moth Club, Old Trades Hall, Valette St, Hackney Central, E9 6NU
Saturday 21 May
MOTH Club, Old Trades Hall, Valette Street, Hackney, E9 6NU
Monday 23 May
The Lexington, 96-98 Pentonville Rd, Angel, N1 9JB
Tuesday 31 May
The Victoria, 451 Queensbridge Rd, Dalston, E8 3AS
In collaboration with Caught by the River…
Saturday 4 June
Cafe OTO, 22 Ashwin Street, Dalston, E8 3DL
Tuesday 7 June
Bethnal Green Working Men's Club, 44 Pollard Row, Bethnal Green, E2 6NB
Friday 24 June
O2 Forum Kentish Town, 9-17 Highgate Road, London, NW5 1JY
Saturday 25 June
Cafe OTO, 22 Ashwin Street, Dalston, E8 3DL
Wednesday 27 July
Tufnell Park Dome, 178 Junction Road, Tufnell Park, N19 5QQ
Friday 7 October
Cafe OTO, 22 Ashwin Street, Dalston, E8 3DL