Hey everyone!

We have two events coming up in the next few days that are so great we had to remind you about them both. Tomorrow night we find ourselves at Bethnal Green Working Men's Club for an evening of elegant slacker rock and purity of vision. The fantastically intoxicating Nap Eyes will be making an appearance playing lots of new songs from their new album in the works alongside sets from H. Grimace and Garden Centre too.

To say we're looking forward would be an understatement, get ready and primed for the raucous ramble and conversational jams.
This Saturday we're also very lucky to bring the truly inimitable Laraaji to Kilburn's Tin Tabernacle. With decades of new age minimalism and cosmic drone under his belt, Laraaji will be delivering up his hymnal transcendence throughout two separate sets of shimmering metallics. Sounds like it'll be very special indeed.

We have tickets available for both of those shows linked below and if you care to read on full listings too.
Yesterday, we were overjoyed to announce the return of John Maus back to London this October too. Toting a new live band and a brand new album entitled 'Screen Memories', John will perform an energising live set at Tufnell Park's Dome on Oct 27th and joining him on the bill are Oakland, California's post-punk revolutionaries The World.

I'm sure you're as excited as we are, tickets on sale now and flying out of the door! Full details to follow…
Upset The Rhythm presents…
NAP EYES
H. GRIMACE
GARDEN CENTRE
Thursday 31 August
Bethnal Green Working Men's Club, 44 Pollard Row, Bethnal Green, London, E2 6NB
NAP EYES
hail from Nova Scotia and make crooked, literate guitar pop refracted through the gray Halifax rain. Recorded live to tape with no overdubs, their songs are equal parts shambling and sophisticated, with one eye on the dirt and one trained on the starry firmament, inhabiting a skewed world where odes to NASA and the Earth's magnetic field coexist easily with lyrics about insomnia and drinking too much. In the world of Nap Eyes, workaday details punctuate (and puncture) cosmic concerns, as songwriter, singer, and rhythm guitarist Nigel Chapman wrestles with air and angels, struggling (and often failing) to reconcile the Romantic rifts, both real and imagined, that define our lives: between chaos and order; solipsism and fellowship; the anxiety of social (dis)orders both big and small; and the various intersections and oppositions of religion, art, and science. It's the sound of being young and alive in the city, a tenuous and impermanent counterpoise of recklessness and anxiety, archness and earnestness. Following the reissue of their 2014 debut 'Whine of the Mystic' on Paradise of Bachelors, Nap Eyes released an album of all-new material entitled 'Thought Rock Fish Scale' last year, following that up with two incredible London shows!
https://napeyes.bandcamp.com/
H. GRIMACE
are a London-based quartet with a penchant for exhilarating rock music, having released their debut album this year it looks set to cement their status as one of the UK's brightest prospects. Ripping between shoegaze and post-punk influences, H. Grimace are a no-holds-barred explosion of sound and energy, the foundations of which are laid by the integral guitar pairing of Marcus Brown and Hannah Gledhill, from Yorkshire and Melbourne respectively. Debut LP 'Self Architect' is out now on Opposite Number records and has received glowing reviews.
https://h-grimace.bandcamp.com/
GARDEN CENTRE
is a band formed out of necessity. The specific function of the band was to tell the story of a group of people who found themselves drawn to an abandoned plant nursery in southern England. The band hoped that their messages were transmitted efficiently, broadcast via audio in the form of their debut album 'Garden Centre'. With this task well and truly complete, the members of Garden Centre have become distracted. Some members still obsess over semi-rural boredom and exploration. Others have the audacity to write love songs. The most cretinous members opt to write about energy drinks exclusively. Their distracted and unfocused efforts come to the fore in their new album 'Monster Energy'.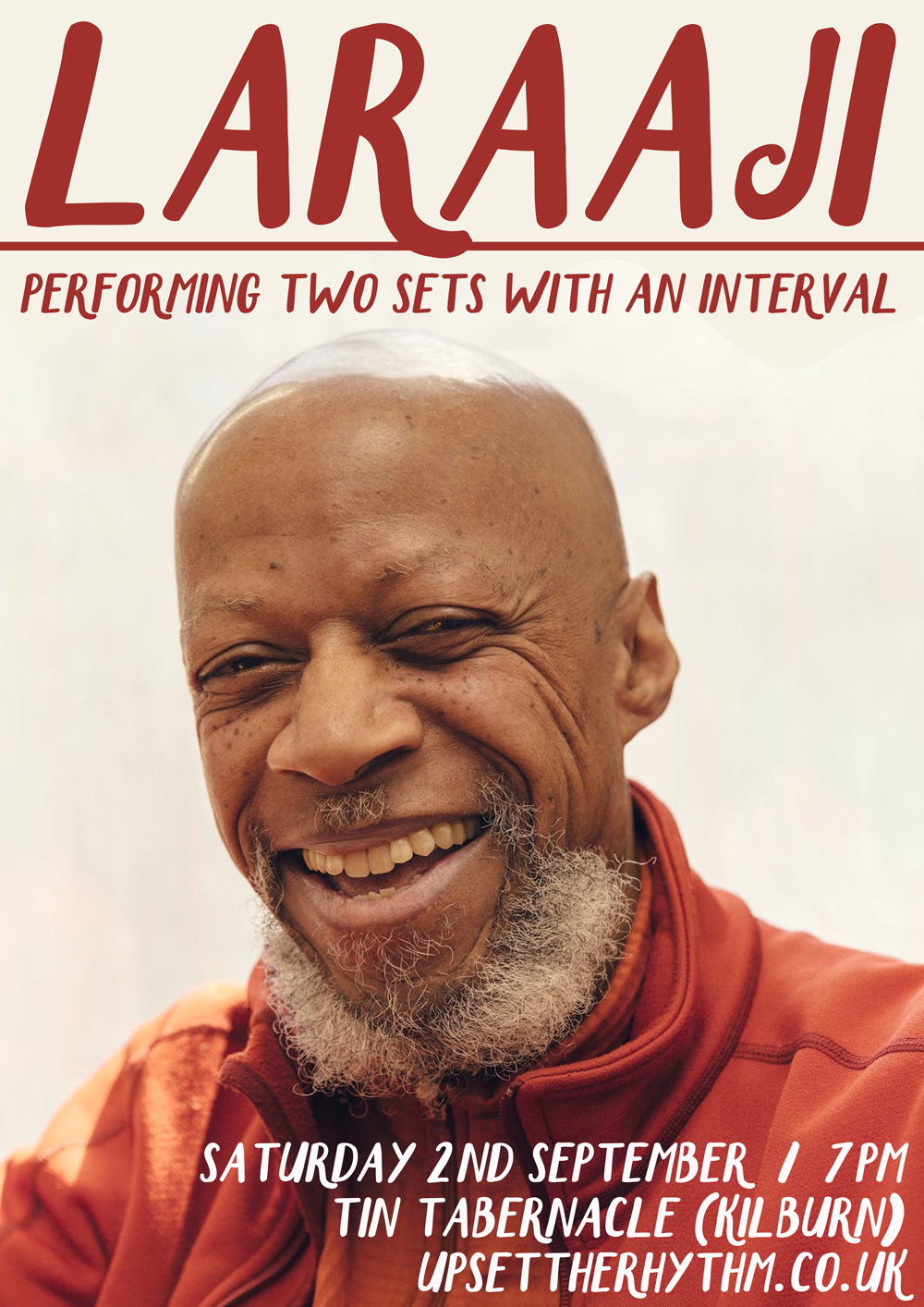 Upset The Rhythm presents…
LARAAJI
(Performing two sets with an interval)
Saturday 2 September
The Tin Tabernacle
12-16 Cambridge Avenue, Kilburn, London, NW6 5BA
LARAAJI is a musician, mystic and laughter meditation practitioner based in New York City. He began playing music on the streets in the 1970s, improvising trance-inducing jams on a modified autoharp processed through various electronic effects. Brian Eno saw him playing one night in Washington Square Park and invited him to record an album for his seminal Ambient series (Ambient 3: Day Of Radiance, released 1980). Laraaji went on to release a prolific series of albums for a wide variety of labels, many of which he recorded himself at home and sold as cassettes during his street performances.
In recent years he has had his career celebrated extensively, with two All Saints/Warp retrospectives Celestial Music 1970-2011 and Two Sides of Laraaji - as well as reissues on Glitterbeat and Leaving Records/Stone Throw. He has also collaborated with a new generation of underground musicians such as Sun Araw, their new LP Professional Sunflow (Superior Viaduct) being the fruit of the live shows they played together in 2014.
This September sees All Saints release a stunning pair of LPs of new studio recordings by the celestial music pioneer. Bring On The Sun is a magical mixtape of tracks that run the full gamut of 'Laraaji music', from blissed-out percussive jams to reflective vocal hymnals to trance-inducing drones. A perfect Laraaji entry-point on his never-ending creative journey through inner light. The record is recorded by Davey Jewell (Peaking Lights/Flaming Lips) and mixed by Carlos Nio (Leaving Records). This will be preceded by Sun Gong, a major new self-contained work experimenting with gong micro-tonalties processed through various electronic effects. The results are unlike any music he has made before - two side-long long-form pieces that evoke the sound of a shimmering metallic eternal wave.
Thanks for your time, see you tomorrow!
Upset The Rhythm
x
UPSET THE RHYTHM
UPCOMING SHOWS
NAP EYES
H. GRIMACE
GARDEN CENTRE
Thursday 31 August
Bethnal Green Working Men's Club, 44 Pollard Row, Bethnal Green, London, E2 6NB
LARAAJI
(Performing two sets with an interval)
Saturday 2 September
The Tin Tabernacle
12-16 Cambridge Avenue, Kilburn, London, NW6 5BA
DEERHOOF
LE TON MITÉ
ROBERT SOTELO
Monday 4 September
Village Underground, 54 Holywell Lane, Shoreditch, London, EC2A 3PQ
NB. This is the new date for February's postponed event, original tickets remain valid.
LOWTIDE
ICE BATHS
Tuesday 5 September
The Islington, 1 Tolpuddle St, Angel, London, N1 0XT
ROBERT SOTELO - 'Cusp' album launch!
CLEMENTINE MARCH
POZI

Friday 8 September
New River Studios, 199 Eade Rd, Manor House, London, N4 1DN
7.30pm | £5.00 |
TICKETS
AMOR
BAMBOO
MIDDEX
UPSET THE RHYTHM DJs
Sunday 17 September
The Islington, 1 Tolpuddle St, Angel, London, N1 0XT
7.30pm | £6 |
TICKETS
SHANNON AND THE CLAMS
TV CRIME
Monday 9 October
Tufnell Park Dome, 178 Junction Road, Tufnell Park, London, N19 5QQ
PRIESTS
DOWNTOWN BOYS
BIG JOANIE
Wednesday 18 October
Tufnell Park Dome, 178 Junction Road, Tufnell Park, London, N19 5QQ
7.30pm | £12 |
TICKETS
JOHN MAUS
THE WORLD

Friday 27 October
Tufnell Park Dome, 178 Junction Road, Tufnell Park, London, N19 5QQ
7.30pm | £12 |
TICKETS
SHOPPING
GAUCHE
THE WORLD
Friday 10 November
Kamio, 3 Rivington Street , London, EC2A 3JL
8pm - 2am | £9 |
TICKETS
MOUNT EERIE

Monday 13 November
Tuesday 14 November
St John on Bethnal Green
200 Cambridge Heath Rd, Bethnal Green, London, E2 9PA
7.30pm | £15 |
TICKETS
PROTOMARTYR
SAUNA YOUTH
BOMBER JACKETS

Tuesday 14 November
Tufnell Park Dome, 178 Junction Road, Tufnell Park, London, N19 5QQ
7.30pm | £12 |
TICKETS
FUTURE ISLANDS
Monday 20 November - SOLD OUT
Tuesday 21 November - SOLD OUT
In collaboration with Parallel Lines
O2 Academy Brixton, 211 Stockwell Rd, Brixton, London SW9 9SL
RICHARD DAWSON
(Live band show)
Wednesday 20 December
Islington Assembly Hall, Upper Street, Islington, London, N1 2UD
7pm | £15 |
TICKETS