Morning all!

Today we're releasing our new album from Pikacyu-Makoto entitled rather suitably Galaxilympics. Pikacyu-Makoto are a self-proclaimed "intergalactic love and peace duo", featuring two figureheads of Japan's ever-fertile music underground; Pika from Afrirampo and Makoto Kawabata of legendary psychedelic avatars Acid Mother's Temple.

As a duo Pika and Makoto embrace both sides of the coin, drums and guitar, chaos and order, male and female, ying and yang, the angel and the devil. They are more than the sum of both counterparts though, making for a maximalist auditory experience. Pika brings her skills of mystifying performance to the table, all free-drum bluster and vocals veering between shrine maiden and wild spirit.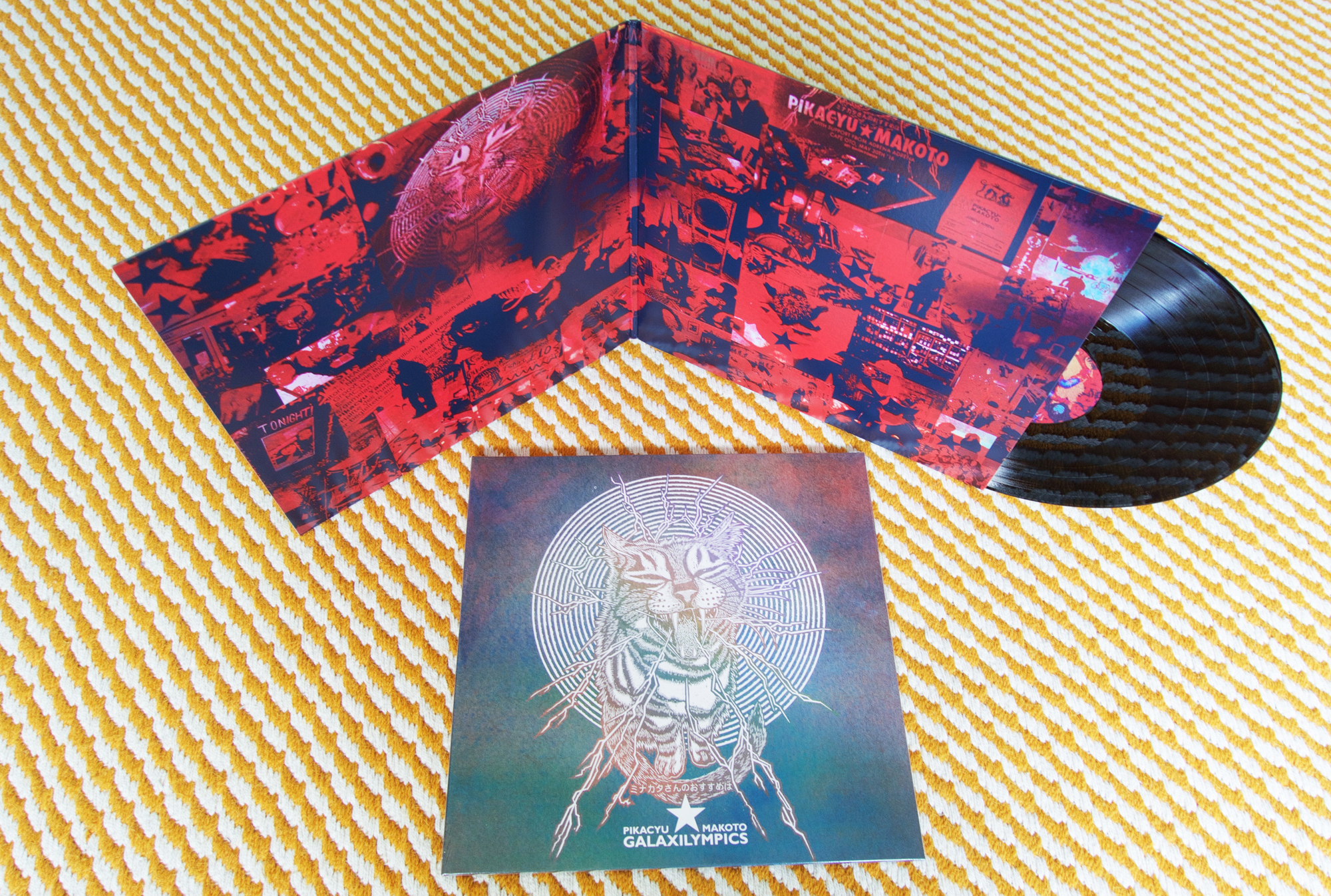 Kawabata's guitar-work moves from a roar to a whisper, a yell to a sob, he's working on the same canvas of extremes. The aim of their unity is to write truly celestial hymns for the outer world and odes of love for the inner cosmic context. Hymns and odes to one side,
Galaxilympics
is a giant album of future-facing song and noise, where better to find harmony enthroned?
Buy Galaxilympics now from our webshop!
We're celebrating the release of their colossal new record with a live performance from the pair next week at The Islington, look out below for the full show listing, plus here are the band's current tour dates too:

PIKACYU-MAKOTO TOUR DATES


04/08 - Braziers Park, UK @ Supernormal
06/08 - Haute, Switzerland @ Sorne Aum Ritual
09/08 - Preston, UK @ Continental
10/08 - Todmorden, UK @ Golden Lion
11/08 - Brighton, UK @ Green Door Store

12/08 - London, UK @ The Islington
Through this last week Upset The Rhythm have also confirmed new concerts for Shopping, Gauche, Future Islands, Laraaji and a special Xmas performance from Richard Dawson & his live band, merry times guaranteed! Details on all of these fine new ventures can be found in our programme which concludes this missive.

We've also included here the full blurb to our other show fast approaching the horizon for Spray Paint, The Rebel and Home Entertainment, enjoy!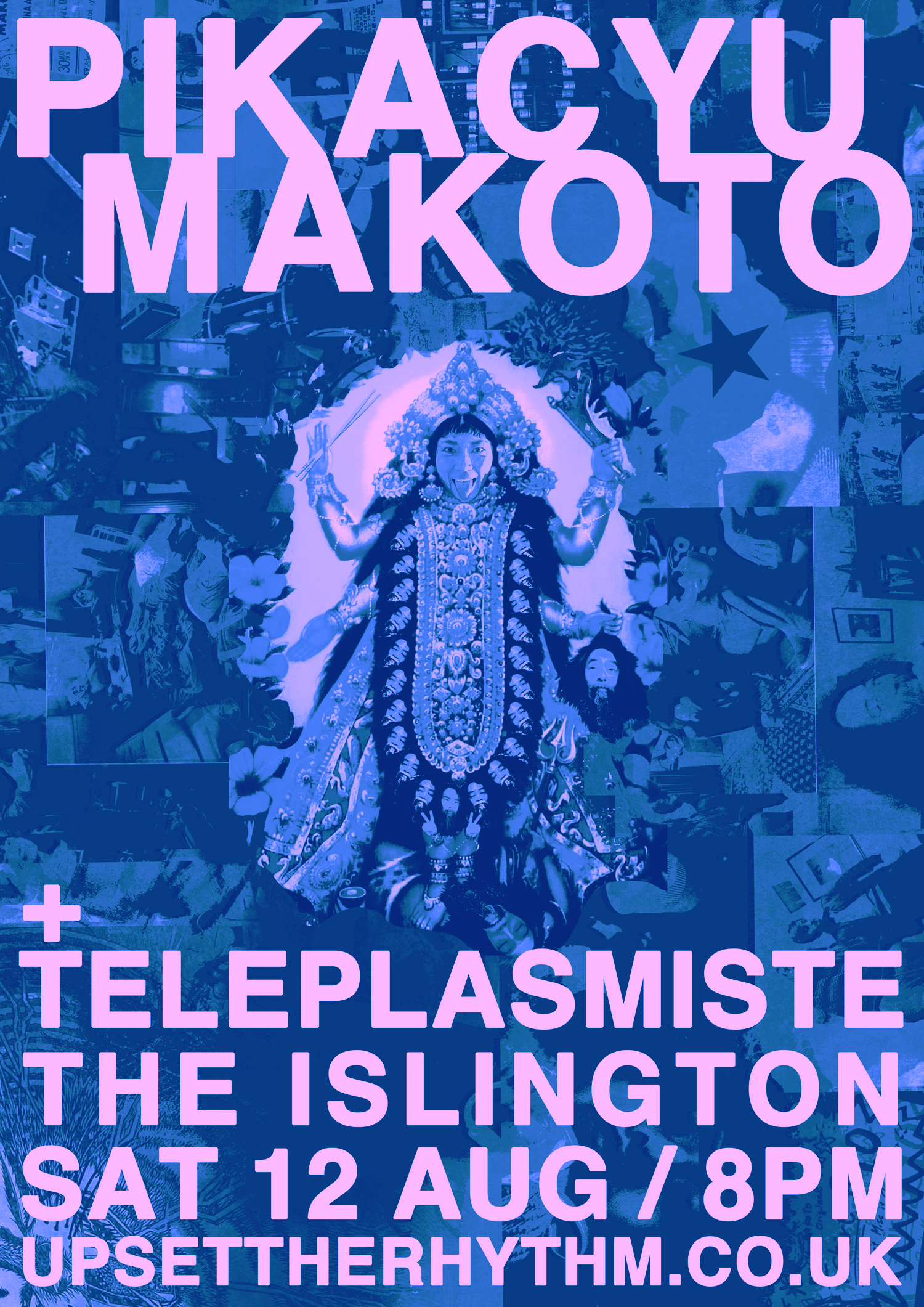 Upset The Rhythm presents…
PIKACYU-MAKOTO
TELEPLASMISTE
Saturday 12 August
The Islington, 1 Tolpuddle St, Angel, London, N1 0XT
PIKACYU-MAKOTO is an alliance between two figureheads of underground Japanese psych/pop, the musically promiscuous Kawabata Makoto (most famous for his leadership of the legendary Acid Mothers Temple), and Afrirampo's Pikacyu. Pikacyu's drums pummel, jitter, crash and stumble, but steadfastly refuse to groove. She layers her voice several times, competing with pitch-shifted versions of herself whilst Makoto attacks his guitar, cloaking himself in reverb to produce a wall-of-sound, alternating between melody and noise. No strangers to one another, the pair have not only gigged together with their respective bands but also recorded together, when these two outfits temporarily fused in 2005 to become Acid Mothers Afrirampo (releasing an album of the same name). Now they have distilled their collaboration, all other players being stripped away to leave the core of Pikacyu's manic drums and pop vocal, and Makoto's schizoid guitar conjurings. Brand new album 'Galaxilympics' is out now on Upset The Rhythm on LP and CD.
TELEPLASMISTE is Mark O Pilkington (Raagnagrok, Urthona) and Michael J York (Coil, Cyclobe). The duo blur vintage synthesis and contemporary electronics with acoustic pipes to create a transcendent reverie that exists on a wavelength beyond both retro fetishism and modern-day machinations. Heavy ambience and otherworldly atmospherics marry here amidst an aura of epiphanic radiance. Previous performances have taken place in churches and crypts, and at Farnborough Wind Tunnel, in which the resonant frequencies of the space were combined with frequencies believed to have certain physiological effects.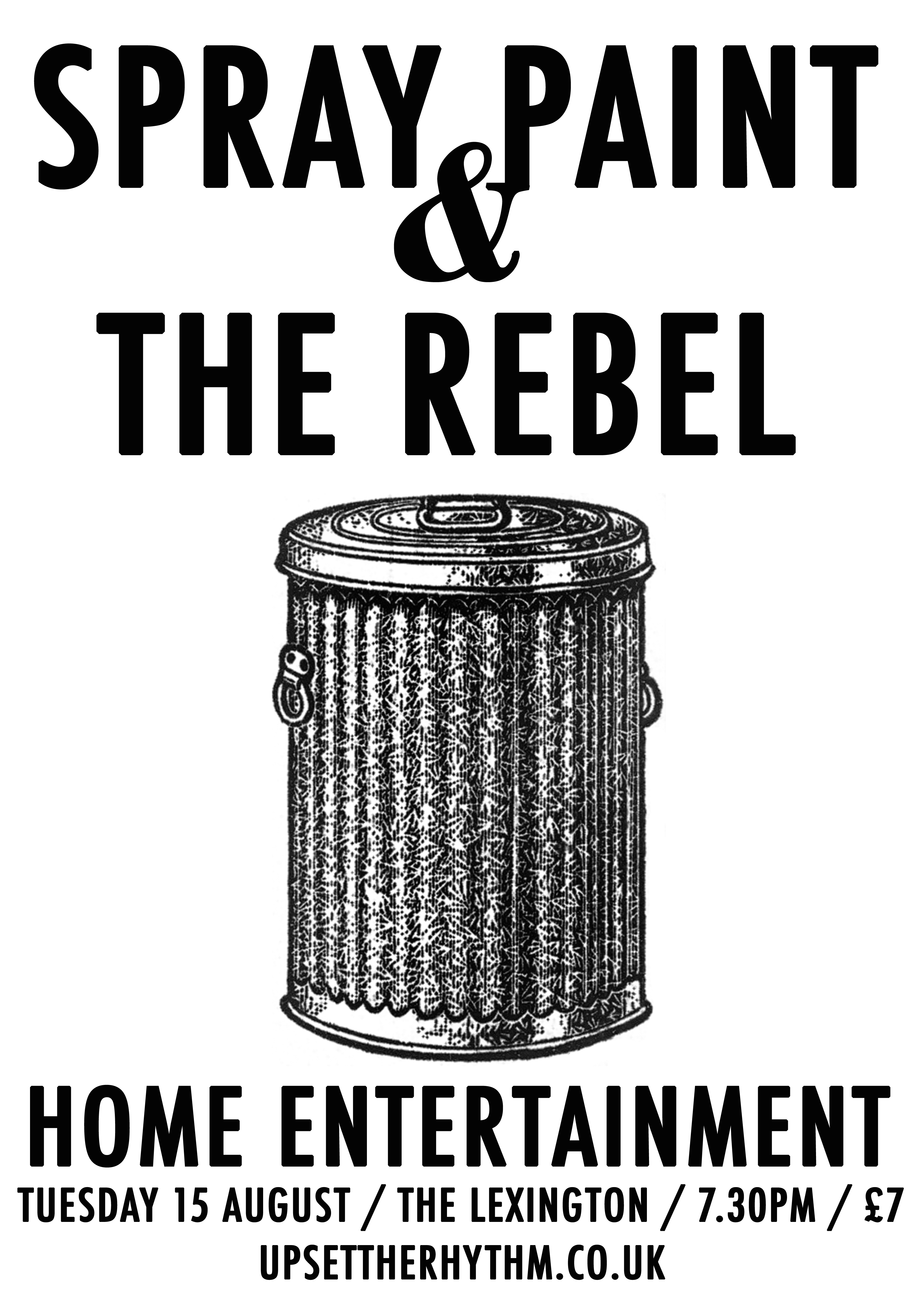 Upset The Rhythm presents…
SPRAY PAINT
THE REBEL
HOME ENTERTAINMENT
Tuesday 15 August
The Lexington, 96-98 Pentonville Road, Islington, London, N1 9JB
SPRAY PAINT are a no wave punk outfit from Austin, Texas. Spray Paint's buzz-sawing guitars run headlong through labyrinthine tunnels of reverb, chased down by some wildly brain-bashing drums. All three members of Spray Paint sing too, helping create an uncontrollable sense of fervour as they jostle for the words. They work up a tone of paranoia amid the jagged rhythms, locking into a motoric groove that's impossible to escape from, offset with stormy blasts of distortion. Since forming in 2012, Spray Paint have released six LPs and 7"s through SS-Records, Goner, Upset The Rhythm and Monofonus Press. They've wasted no time with hitting the road either, touring the US many times, with their friends Protomartyr and The Rebel.
https://spraypaint.bandcamp.com/
THE REBEL
is prolific London outsider Ben Wallers; a charismatic lone wolf in a cowboy hat or trilby and a tie whose electrified howls are too idiosyncratic to be broken down into market-oriented terms. It is difficult to sketch a thumbnail summary of a musician who has amassed a vast and unwieldy discography under a variety of names and genres: the most widely acclaimed is probably the Country Teasers, but he also moonlights as, or in, the Rebel, the Company, the Male Nurse, the Beale, the Stallion, the Black Poodle and Skills on Ampex, across folk, country, garage, post-punk, no wave and electronic pop. In the main part The Rebel is centred around twisted Casio drones, clanging guitar and some defiantly deadpan vocals, all thrown in the pan and pressure-cooked in Wallers' mind. Wallers has amassed a near-unquantifiable discography over the past 20 years, from scores of more or less "official" LPs, EPs and 7"s to seemingly endless self-released cassettes.
https://vimeo.com/113318818
HOME ENTERTAINMENT
find themselves at the intersection where avant garde experimentalism meets garage rock music. Drawing upon a palate of literary, artistic and sonic influences, Home Entertainment create primal, unrefined walls of sound adorned with jagged shards of English low life lyricism. Their debut, cassette garnered praise from The Quietus describing them as "a weird mix of Sebadoh's crumbling charm, Les Rallizes Denudes' noisy squall, and the blues pop grooves of ZZ Top".
Thanks as always for your valuable time,
Have a particularly brilliant weekend,
Upset The Rhythm
x
UPSET THE RHYTHM
UPCOMING SHOWS
PIKACYU-MAKOTO
TELEPLASMISTE
Saturday 12 August
The Islington, 1 Tolpuddle St, Angel, London, N1 0XT
7.30pm | £7.50 |
TICKETS
SPRAY PAINT
THE REBEL
HOME ENTERTAINMENT
Tuesday 15 August
The Lexington, 96-98 Pentonville Road, Islington, London, N1 9JB
7.30pm | £7 |
TICKETS
Wolf Eyes in solo mode...
JOHN R. OLSON
NATE YOUNG'S REGRESSION
CRAZY JIM
Thursday 17 August
The Islington, 1 Tolpuddle St, Angel, London, N1 0XT
WARM DIGITS
Friday 25 August
The Lexington, 96-98 Pentonville Road, Islington, London, N1 9JB
NAP EYES
H. GRIMACE
GARDEN CENTRE
Thursday 31 August
Bethnal Green Working Men's Club, 44 Pollard Row, Bethnal Green, London, E2 6NB
LARAAJI
(Performing two sets with an interval)
Saturday 2 September
The Tin Tabernacle
12-16 Cambridge Avenue, Kilburn, London, NW6 5BA UK | Map
DEERHOOF
LE TON MITÉ
ROBERT SOTELO
Monday 4 September
Village Underground, 54 Holywell Lane, Shoreditch, London, EC2A 3PQ
NB. This is the new date for February's postponed event, original tickets remain valid.
LOWTIDE
Tuesday 5 September
The Islington, 1 Tolpuddle St, Angel, London, N1 0XT
ROBERT SOTELO - 'Cusp' album launch!
CLEMENTINE MARCH
POZI

Friday 8 September
New River Studios, 199 Eade Rd, Manor House, London, N4 1DN
7.30pm | £5.00 |
TICKETS
SHANNON AND THE CLAMS
TV CRIME
Monday 9 October
Tufnell Park Dome, 178 Junction Road, Tufnell Park, London, N19 5QQ
PRIESTS
DOWNTOWN BOYS
BIG JOANIE
Wednesday 18 October
Tufnell Park Dome, 178 Junction Road, Tufnell Park, London, N19 5QQ
7.30pm | £12 |
TICKETS
SHOPPING
GAUCHE

Friday 10 November
Kamio, 3 Rivington Street , London, EC2A 3JL
8pm - 2am | £9 |
TICKETS
MOUNT EERIE

Monday 13 November
Tuesday 14 November
St John on Bethnal Green
200 Cambridge Heath Rd, Bethnal Green, London, E2 9PA
7.30pm | £15 |
TICKETS
PROTOMARTYR
SAUNA YOUTH
BOMBER JACKETS

Tuesday 14 November
Tufnell Park Dome, 178 Junction Road, Tufnell Park, London, N19 5QQ
7.30pm | £12 |
TICKETS
FUTURE ISLANDS
Monday 20 November - SOLD OUT
Tuesday 21 November - SOLD OUT
In collaboration with Parallel Lines
O2 Academy Brixton, 211 Stockwell Rd, Brixton, London SW9 9SL
RICHARD DAWSON
(Live band show)
Wednesday 20 December
Islington Assembly Hall, Upper Street, Islington, London, N1 2UD
7pm | £15 |
TICKETS