Good afternoon!

What a fine Friday this is for Robert Sotelo's debut album to stroll out into the first faint moments of autumn. Robert Sotelo is the nom de plume of Andrew Doig, a 36 year old serial musician originally from Peterborough, UK.

Andrew's middle name is Robert, whilst Sotelo is his mother's maiden name. Using this alter ego he's been able to write and record the twelve songs that make up the debut solo record 'Cusp' that we're releasing today on 180g transparent vinyl and digitally too.
Sotelo's verdant world of sound is at once intimate, choosing to build songs up from ambitious layers of instrumentation into miniature psych pop overtures of genuine sincerity of feeling. Very much grounded in that particular forward-facing strain of mid-60s rock that edged towards Sgt Pepper, Sotelo's music owes as much to Davies and McCartney's unashamed belief in melody as it does to the uncertainty and confusion that comes with mid-thirties existentialism.
'Cusp' is an album that explores the individual in a post-social life era, with Sotelo starting the project initially as an attempt to re-engage with the people he used to know, without relying on nostalgia as a common bond. From this worthy spark of a plan, he's created something grand and compelling, a vast tapestry of songs that stand up and sound afresh.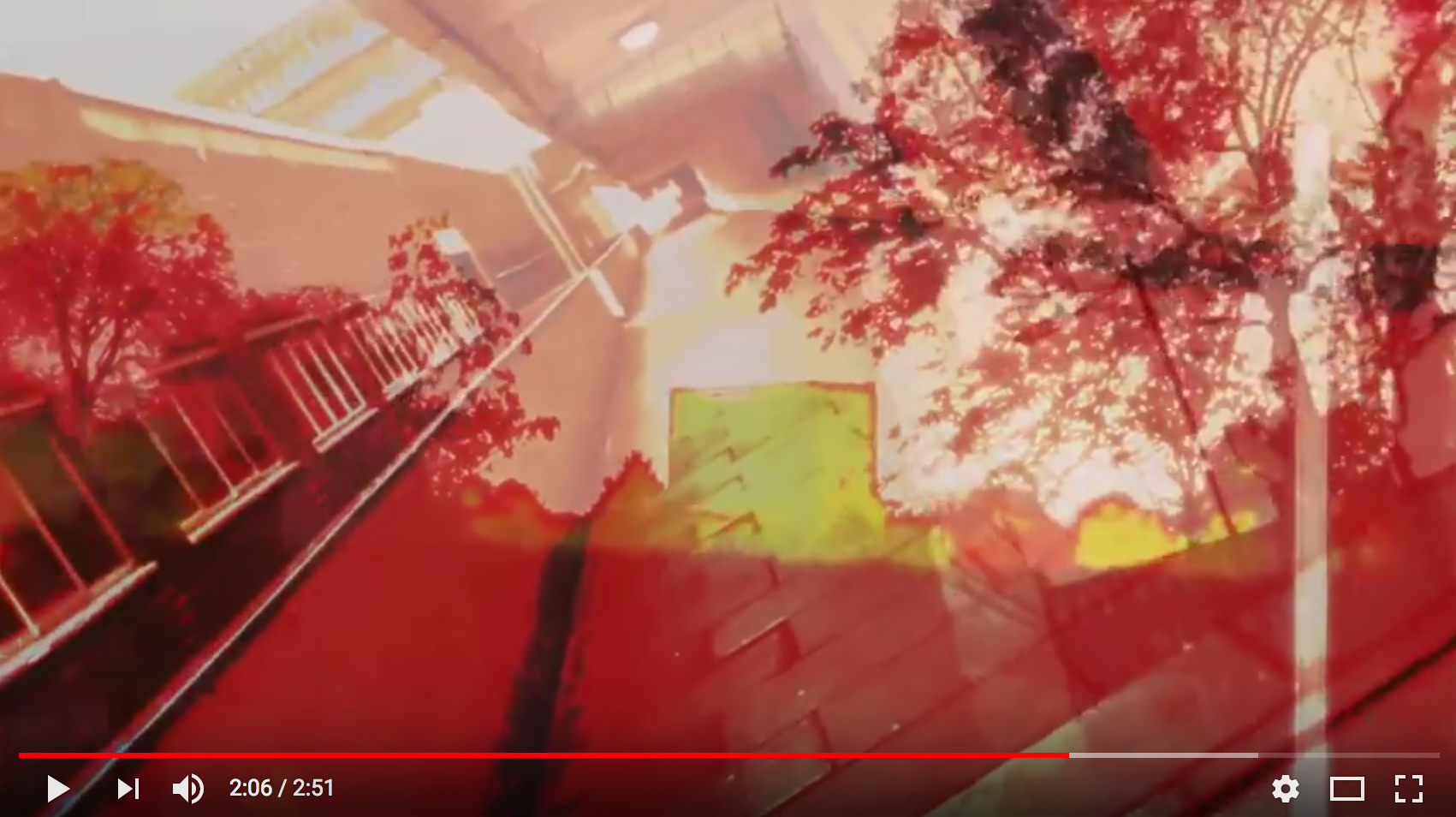 To celebrate we're sharing a brand new video from the album today, ahead of our two London concerts with the band next week! 'Bronte Paths' is a homespun wonder-pop touchstone, its insistent rhythm and vocal line embedding into your very core, sounding more like a rediscovered gem than a contemporary song.
'Cusp' is available in all great record shops as of now, you are also able to purchase a copy from us directly through our
web shop here
.
Read on for our newly announced show listing for Roy Montgomery and Alexander Tucker in November, plus our full programme of events, including details on tomorrow's special Laraaji concert in Kilburn and next Tuesday's show for Lowtide and Ice Baths at The Islington. From shimmering gongs to shimmering shoegaze!

Monday's Deerhoof event at Village Underground is now sold out by the way. Thanks as always for spending your time with us.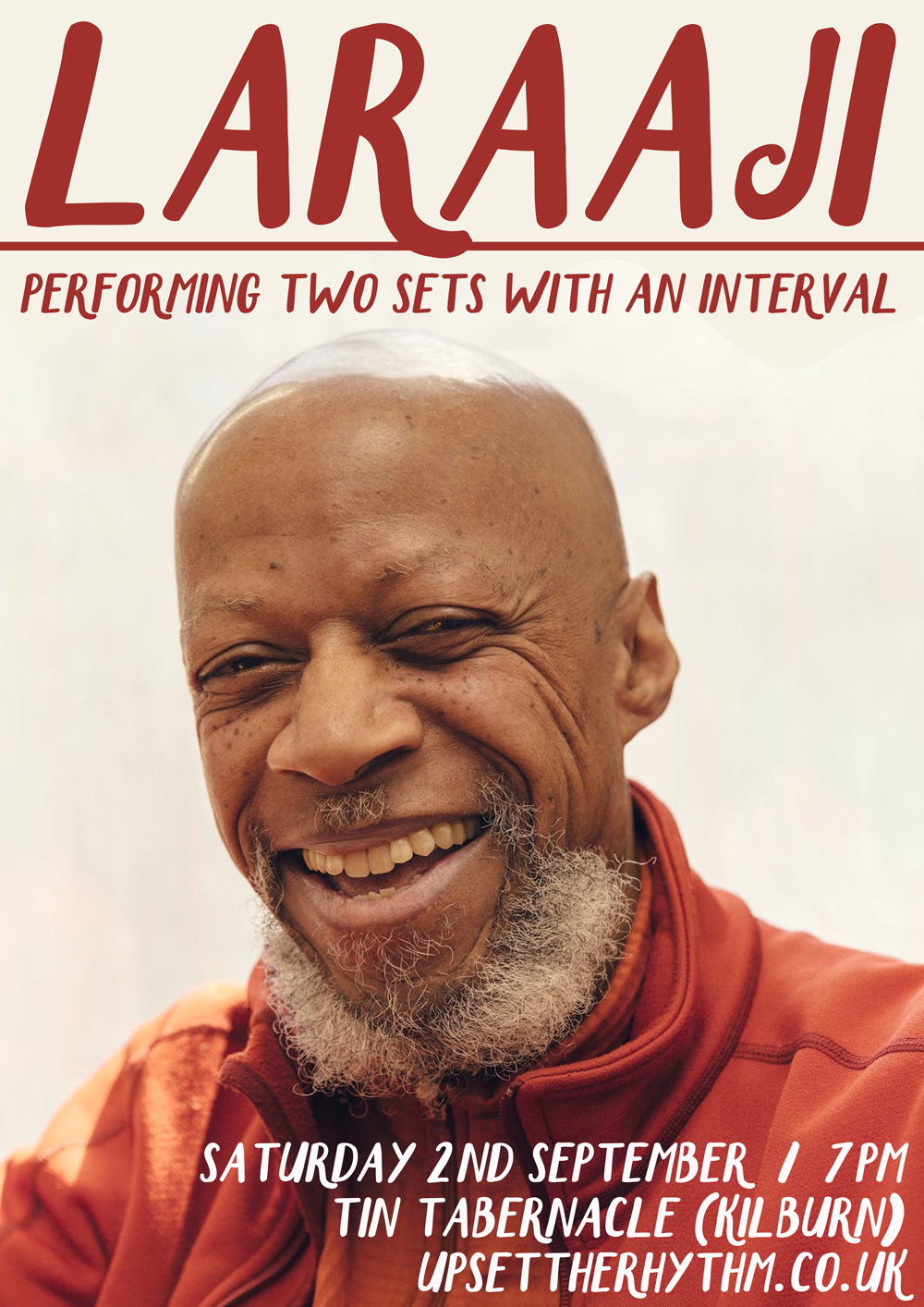 Upset The Rhythm presents…
LARAAJI
(Performing two sets with an interval)
Saturday 2 September
The Tin Tabernacle
12-16 Cambridge Avenue, Kilburn, London, NW6 5BA
LARAAJI is a musician, mystic and laughter meditation practitioner based in New York City. He began playing music on the streets in the 1970s, improvising trance-inducing jams on a modified autoharp processed through various electronic effects. Brian Eno saw him playing one night in Washington Square Park and invited him to record an album for his seminal Ambient series (Ambient 3: Day Of Radiance, released 1980). Laraaji went on to release a prolific series of albums for a wide variety of labels, many of which he recorded himself at home and sold as cassettes during his street performances.
In recent years he has had his career celebrated extensively, with two All Saints/Warp retrospectives Celestial Music 1970-2011 and Two Sides of Laraaji - as well as reissues on Glitterbeat and Leaving Records/Stone Throw. He has also collaborated with a new generation of underground musicians such as Sun Araw, their new LP Professional Sunflow (Superior Viaduct) being the fruit of the live shows they played together in 2014.
This September sees All Saints release a stunning pair of LPs of new studio recordings by the celestial music pioneer. Bring On The Sun is a magical mixtape of tracks that run the full gamut of 'Laraaji music', from blissed-out percussive jams to reflective vocal hymnals to trance-inducing drones. A perfect Laraaji entry-point on his never-ending creative journey through inner light. The record is recorded by Davey Jewell (Peaking Lights/Flaming Lips) and mixed by Carlos Nio (Leaving Records). This will be preceded by Sun Gong, a major new self-contained work experimenting with gong micro-tonalties processed through various electronic effects. The results are unlike any music he has made before - two side-long long-form pieces that evoke the sound of a shimmering metallic eternal wave.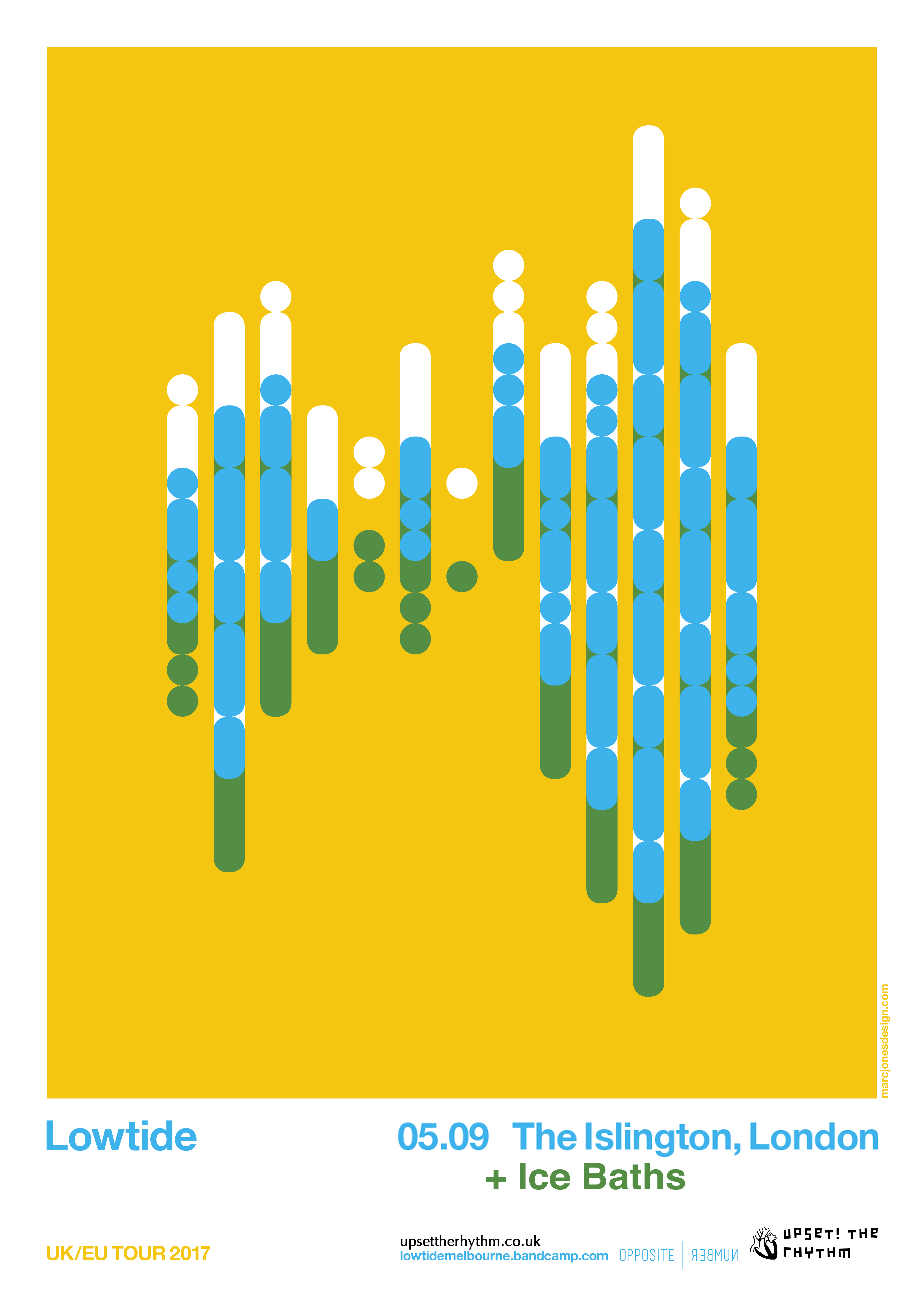 Upset The Rhythm presents…
LOWTIDE
ICE BATHS
Tuesday 5 September
The Islington, 1 Tolpuddle St, Angel, London, N1 0XT
LOWTIDE's murmurs have been growing of late. The shimmering vocal exchanges between Lucy Buckeridge and Giles Simon and their unique dual bass lines are pivotal to their shoegaze sonics. These hazy vocals and swirling guitar effects are given room to breathe as the band masterfully exploit rhythm and space. Australian fans have been enjoying all of this since 2014 - as well as a cover of Asylum Party's 'Julia' in 2015. Here in the UK we only got the record last August - and it's been spinning on our stereo regularly since then. 2016 was a breakthrough year for the dream pop / indie pop / shoegaze specialists who received critical acclaim for their inaugural long-player including in Rough Trade's renowned 'Albums Of The Year' list whilst also having amassed 4 and 4.5 star reviews in many of their homeland of Australia's magazines, and a string of sold out shows.
https://lowtidemelbourne.bandcamp.com/
ICE BATHS
are a London based Calgary scene inspired post-punk 4 piece. Heavily indebted to Women, Viet Cong as well as Swell Maps, Deerhunter, Chad VanGaalen etc. Ice Baths attempt at finding that often elusive middle ground between pop sensibilities and self-gratifying indulgence.
Have a brilliant weekend!
Upset The Rhythm
x
UPSET THE RHYTHM
UPCOMING SHOWS
LARAAJI
(Performing two sets with an interval)
Saturday 2 September
The Tin Tabernacle
12-16 Cambridge Avenue, Kilburn, London, NW6 5BA
DEERHOOF
LE TON MITÉ
ROBERT SOTELO
Monday 4 September
Village Underground, 54 Holywell Lane, Shoreditch, London, EC2A 3PQ
7.30pm | £14 | SOLD OUT
LOWTIDE
ICE BATHS
Tuesday 5 September
The Islington, 1 Tolpuddle St, Angel, London, N1 0XT
ROBERT SOTELO - 'Cusp' album launch!
CLEMENTINE MARCH
POZI

Friday 8 September
New River Studios, 199 Eade Rd, Manor House, London, N4 1DN
7.30pm | £5.00 |
TICKETS
AMOR
BAMBOO
MIDDEX
UPSET THE RHYTHM DJs
Sunday 17 September
The Islington, 1 Tolpuddle St, Angel, London, N1 0XT
7.30pm | £6 |
TICKETS
SHANNON AND THE CLAMS
TV CRIME
Monday 9 October
Tufnell Park Dome, 178 Junction Road, Tufnell Park, London, N19 5QQ
PRIESTS
DOWNTOWN BOYS
BIG JOANIE
Wednesday 18 October
Tufnell Park Dome, 178 Junction Road, Tufnell Park, London, N19 5QQ
7.30pm | £12 |
TICKETS
JOHN MAUS
THE WORLD
Friday 27 October
Tufnell Park Dome, 178 Junction Road, Tufnell Park, London, N19 5QQ
7.30pm | £12 | SOLD OUT
SHOPPING
GAUCHE
THE WORLD
Friday 10 November
Kamio, 3 Rivington Street , London, EC2A 3JL
8pm - 2am | £9 |
TICKETS
MOUNT EERIE

Monday 13 November
Tuesday 14 November
St John on Bethnal Green
200 Cambridge Heath Rd, Bethnal Green, London, E2 9PA
7.30pm | £15 |
TICKETS
PROTOMARTYR
SAUNA YOUTH
BOMBER JACKETS

Tuesday 14 November
Tufnell Park Dome, 178 Junction Road, Tufnell Park, London, N19 5QQ
7.30pm | £12 |
TICKETS
FUTURE ISLANDS
Monday 20 November - SOLD OUT
Tuesday 21 November - SOLD OUT
In collaboration with Parallel Lines
O2 Academy Brixton, 211 Stockwell Rd, Brixton, London SW9 9SL
ROY MONTGOMERY
ALEXANDER TUCKER
Thursday 23 November
In collaboration with Café OTO
Cafe OTO, 22 Ashwin Street, Dalston, London, E8 3DL
7.30pm | £10 |
TICKETS
RICHARD DAWSON
(Live band show)
Wednesday 20 December
Islington Assembly Hall, Upper Street, Islington, London, N1 2UD
7pm | £15 |
TICKETS