Lucky world!

The weekend is fast upon us and with it comes the release of our fantastic debut album by Primo! Primo are a Melbourne trio specialising in breezy, up-tempo chorus and verse. Double guitar, drums, sound effects and a group vocal sensibility all help adorn their discourses into deconstruction.

Entitled 'Amici', Primo's debut album is available now on LP and CD in all the best stores and our own

webshop

here.

The edified Jaden Gallagher best sums up the album for 4ZZZ:
'Amici' is a surprisingly unique record. There's an unexpected amount of sonic variance from the trio, and a sense of undivided unity throughout. The diverse content is dutifully and subtly managed within familiar forms and comprising a modestly long, concise record. Though it finds its basis in the mundane routines of daily life, it elevates to unexpected heights, inspiring a new appreciation for one's foundational habits and observational faculties.

You can also read an interview with Suzanne from Primo introducing the band's debut record here!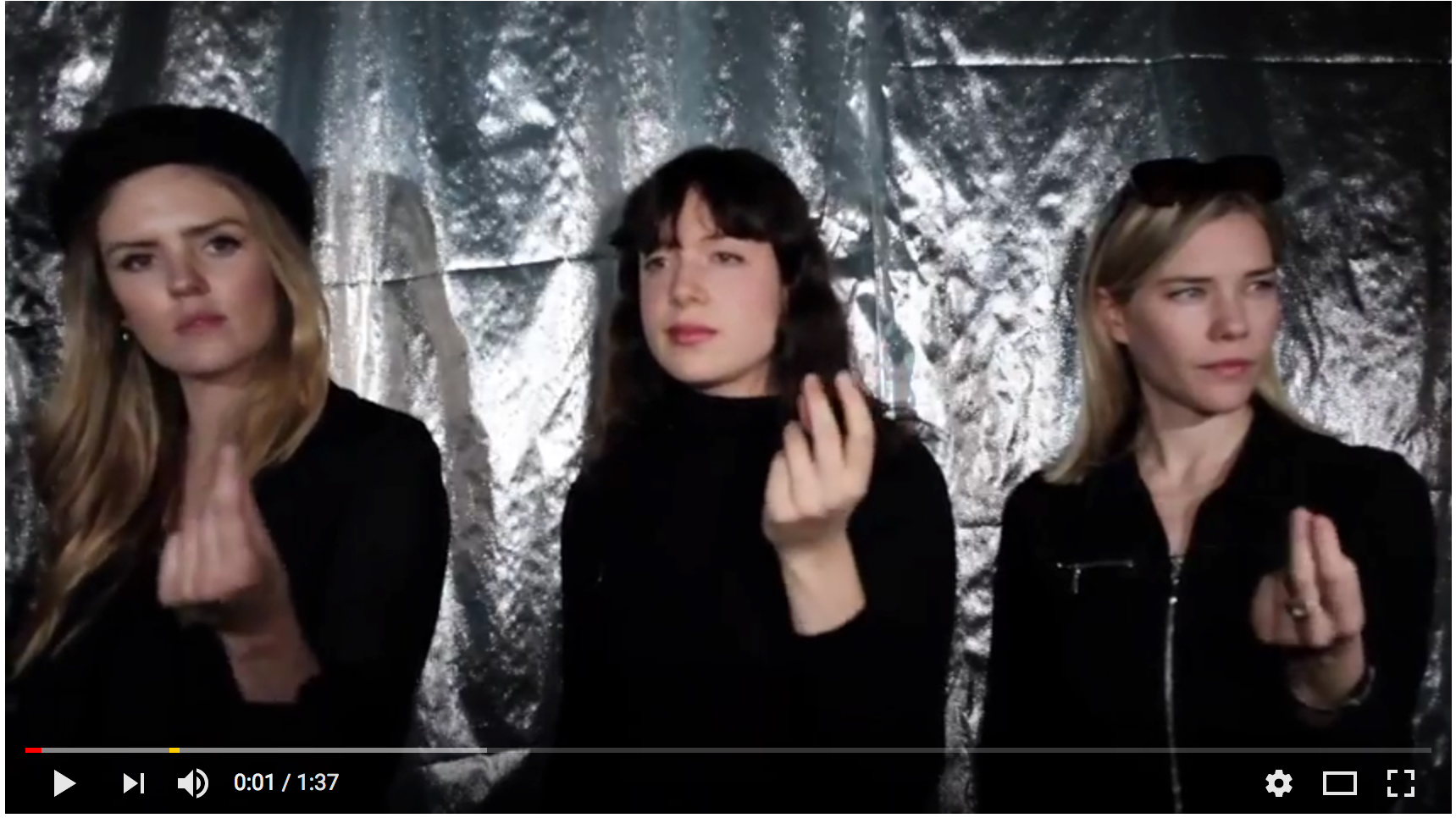 Sticking with Xanthe from Primo, her other group Terry returned this week with the first track from their new album 'I'm Terry'.

The Whip kicks the jangles aside, clips a driving punk guitar line to a curdled coif of organ squeal and gives this track an off the rails quality that's biting harder than usual for the laid-back bunch. While I love the band's cowpunk preening and clang-hearted dirges its good to see them go for the pop pounce – albeit with enough squirm to make it pure Terry.

Remember to read on for news of our next live event. This one will detonate on August 11th with party-starters Shopping, Es and Katy & Nick at OSLO, Hackney. You'll find our full programme of concerts concluding this missive, now boasting a newly-on sale show for Ian Svenonius' solo venture Escape-ism in September. This show sees Ian support of his forthcoming 'lost' record, already a classic, more unloved than forgotten on Merge Records. Enjoy…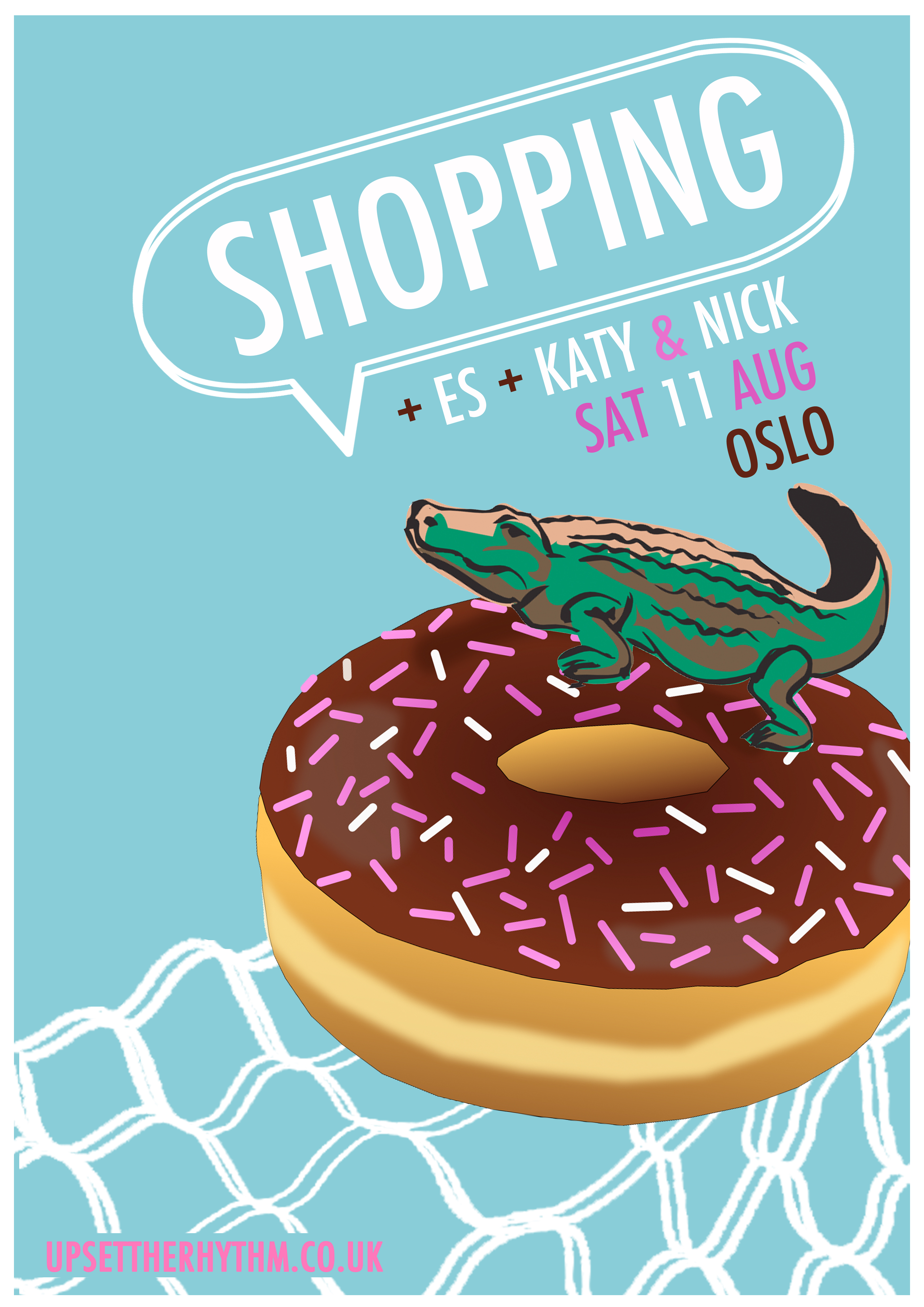 Upset The Rhythm presents…
SHOPPING
ES
KATY & NICK

Saturday 11th August
OSLO, 1a Amhurst Road, Hackney, London, E8 1LL
6.30pm - 10pm | £10 |
TICKETS
SHOPPING
are propulsive bass lines, primitive disco-not-disco drums and guitar lines sharp as broken glass. The band was formed in 2012 by members Rachel Aggs (guitar), Billy Easter (bass) and Andrew Milk (drums), who've all done time in a plethora of notable UK DIY bands including Trash Kit and Wet Dog. They pull from a well of 70's post-punk with a voraciousness seldom seen these days, bringing to mind the jagged aggression of Gang of Four, the voracious yelp of The Slits and the dance inducing thrust of Delta 5 . Their debut LP 'Consumer Complaints' was released November 2013 in the UK via MILK records and quickly sold out its first pressing. A US re-issue of 'Consumer Complaints' came out in 2015 via Fat Cat records, followed up by their excellent second album 'Why Choose?' The band are tirelessly committed to taking their sound to new audiences and spreading the Shopping gospel, securing impressive gigs along the way including main support for ESG and Gang Of Four as well as a BBC 6 Music session for Marc Riley. They have toured in the UK and throughout Europe numerous times over the last few years and last year toured the USA with also awesome Gauche. Shopping's brand new album 'The Official Body' (FatCat) has met with glowing reviews proclaiming it as exhilarating as it is mesmerising, we can't agree enough!
https://soundcloud.com/shoppingband
ES
are four women based between London and Glasgow making 'mutant synth-punk for our dystopian present' (Jes Skolnik). Tense, bass driven and synth heavy with frantic drumming and cold, direct vocals, their debut 12", 'Object Relations', delivers 4 tracks of gelid guitar-less post punk that is equal parts sparse and cosmic. Think of a mix of KUKL with No Defences jamming with X-mal Deutschland and you may be getting there.
https://esband.bandcamp.com/releases
KATY & NICK
is Katy Cotterell of Gloss Rejection & ES and Nick Carlisle of Bamboo. This is their very British haunted take on synth wave. An abrasive synth punk, not the icy distance of some of the finest continental practitioners. This is the ennui of a damp bedsit in a bad Victorian conversion, not the existentialism of a brutalist estate. There's a little bit of YMO to the hyper-simple melodies that loop throughout their songs too. An appropriate counterpoint are the arpeggiated synth bursts that thread their way through too.
https://katyandnick.bandcamp.com/releases
Have a great weekend, make it count!
Upset The Rhythm
UPSET THE RHYTHM
UPCOMING SHOWS
SHOPPING
ES
KATY & NICK

Saturday 11th August
OSLO, 1a Amhurst Road, Hackney, London, E8 1LL
6.30pm - 10pm | £10 |
TICKETS
SAUNA YOUTH – 'Deaths' Album Release Party!
CURRENT AFFAIRS
PINK GRIP
Saturday 25 August
Redon, Railway Arches, 289 Cambridge Heath Rd, London, E2 9HA
PRIMO
Wednesday 29 August
The Islington, 1 Tolpuddle St, Angel, London, N1 0XT
7.30pm | £6 |
TICKETS
SHANNON AND THE CLAMS
TERRY
Tuesday 4 September
The Garage, 20-22 Highbury Corner, London, N5 1RD
7.30pm | £12.50 |
TICKETS
PROLAPSE
FIVEHEAD
Thursday 6 September
Moth Club, Old Trades Hall, Valette St, Hackney Central, E9 6NU
7.30pm | £11 |
TICKETS
LITHICS
ES
Friday 7 September
The Islington, 1 Tolpuddle St, Angel, London, N1 0XT
7.30pm | £6 |
TICKETS
PATSY
Saturday 8 September
New River Studios, 199 Eade Rd, Harringay Warehouse District, London, N4 1DN
7.30pm | £6 |
TICKETS
SCREAMING FEMALES
SCRAP BRAIN
Tuesday 11 September
100 Club, 100 Oxford St, Oxford Street, London, W1D 1LL
ESCAPE-ISM (Ian Svenonius)
Thursday 13 September
Moth Club, Old Trades Hall, Valette St, Hackney Central, E9 6NU
WOLF EYES MUSIC: THREE DAY RESIDENCY
Friday 21st, Saturday 22nd, Sunday 23rd September
In collaboration with Cafe OTO, 22 Ashwin Street, Dalston, London, E8 3DL
21 SEPT:
WOLF EYES with YEAH YOU
WOLF EYES (short set)
AARON DILLOWAY / VICKY LANGAN (Duo)
22 SEPT:
UNIVERSAL EYES
(Nate Young, John Olson, Aaron Dilloway, Gretchen Davidson)
TRIPLE NEGATIVE
VICKY LANGAN (DJ set)
23 SEPT:
WOLF EYES with BEATRICE DILLON
AARON DILLOWAY (solo)
SHARON GAL (solo)
VIRGINIA WING
Thursday 11 October
OSLO, 1a Amhurst Road, Hackney, London, E8 1LL
7.30pm | £8 |
TICKETS