Morning everyone!

Glasgow's sublime word-punks Vital Idles kick off their UK tour today in Manchester. Vital Idles make music that is as wonderfully acute as it is astute, smart and minimal in measures. This tour is in support of their fantastic debut album 'Left Hand', out recently on Upset The Rhythm. Look out below for the full dates, they are getting around!

We'll be hosting the London leg of this on Thursday at The Islington in Angel where Vital Idles will be joined by Dog Chocolate and The Plan too, now that's actually a case for New Weird Britain.
Dog Chocolate are the most fun imaginable refined into kinetic performance, curious banter and wax disc. The Plan are from Southend-on-Sea and bring that seaside surrealism to the fore in their excellent odes from the underground. This is our last Upset The Rhythm show in July, so let's take the roof off (air-con permitting)!

July 10 - Manchester @ 57 Thomas Street
July 11 - Birmingham @ Sunflower Lounge
July 12 - London @ The Islington
July 13 - Brighton @ Sticky Mike's Frog Bar
July 14 - Cardiff @ The Moon
July 15 - Bristol @ Hy Brazil Music Club
July 16 - Oxford @ The Library
July 17 - Leeds @ Chunk
July 19 - Nottingham @ JT Soar
July 20 - Newcastle @ Star and Shadow Cinema
+ Resonance FM session too on the morning of the 14th with the esteemed Dexter Bentley!
In other news this week we just unveiled two new singles by Melbourne trio

Primo

. Primo are Xanthe Waite, Violetta DelConte Race and Suzanne Walker who specialise in buoyant up-tempo, terse chorus and verse. Two guitars, drums, sound effects and a group vocal sensibility all help to ornament their enquiries into deconstruction.

Raven Sings The Blues just premiered this scorcher of a new track, 'A City Stair'

.
Both these new tracks are taken from the band's debut album 'Amici' out this Friday through Upset The Rhythm. The band will be coming over in late August to play some selected European dates too, happy to say London will take place on Wednesday 29th August.

We've also newly announced a show for New Orleans punks Patsy too, this concert is slated for Saturday 8th September at New River Studios, get scribbling in those diaries, tickets for both on sale now.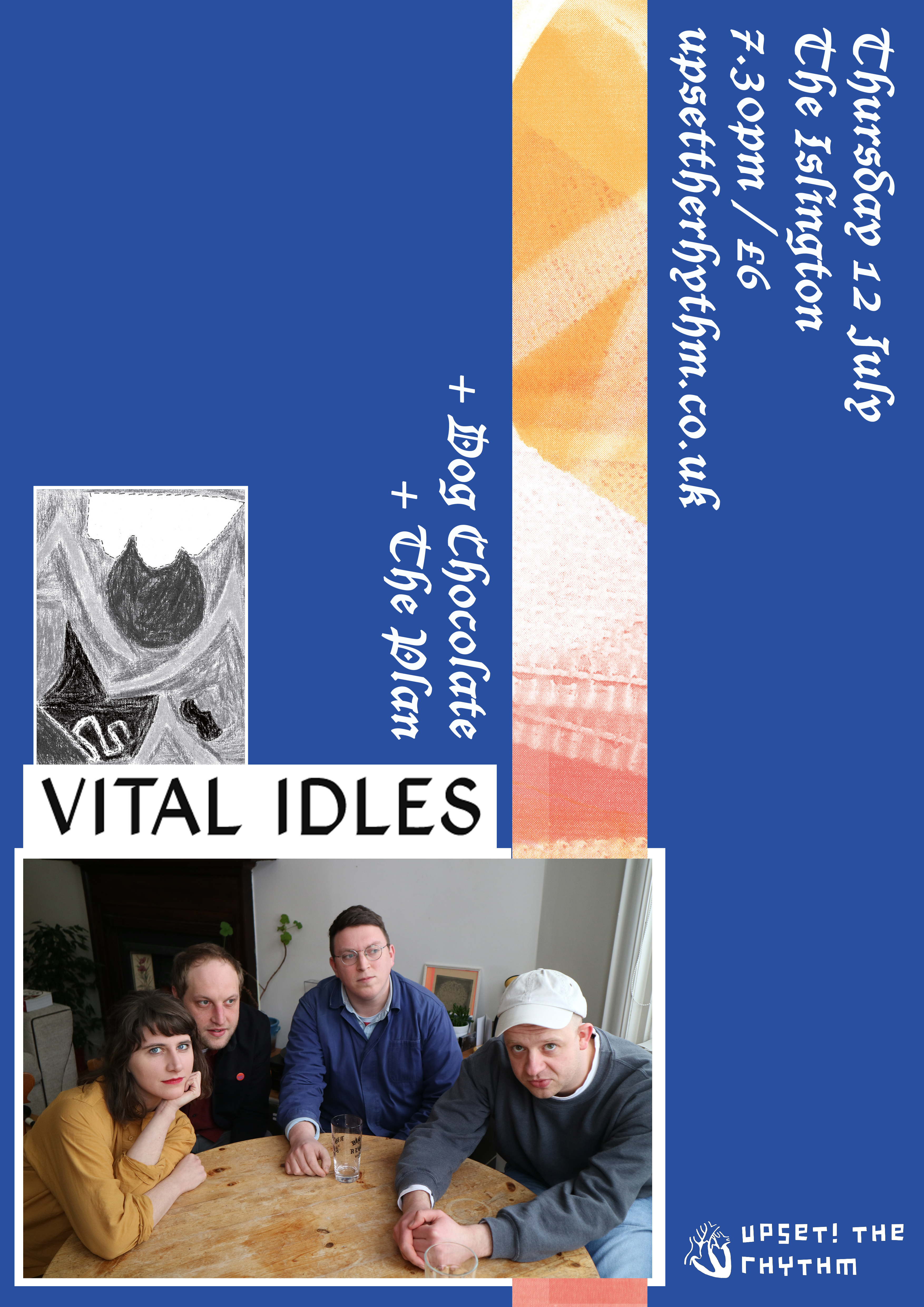 Upset The Rhythm presents…

VITAL IDLES
DOG CHOCOLATE
THE PLAN
Thursday 12 July
The Islington, 1 Tolpuddle St, Angel, London, N1 0XT
VITAL IDLES
are primitive and whimsically brutal prospect for the conglomerate of art outsiders and aesthetes. Sculpting a skeleton from a body already lean, there's a thrilling minimalism that runs through every beat and strum, a sparseness that feeds Jessica Higgins's surreal, oblique vocal delivery all the nourishment it needs. Playing their first shows in Glasgow in 2015 during a summer that never threatened to show up, Vital Idles' origins are closely tied with a tireless underground culture, a culture that informs the band's refusal to take it easy. Matthew Walkerdine, Nick Lynch and Higgins are responsible for Glasgow DIY publishing institution Good Press - an independent volunteer-staffed zine and art book shop - while Guitarist Ruari MacLean's pedigree stretches back to breakneck-indie-pop group Golden Grrrls and the Rose McDowall band. Following two self-released demos and a sold out debut 7", Vital Idles arrive on Upset The Rhythm with 'Left Hand', a bare manifesto layered with meaning and non-meaning. The group can conceivably be called artists, or Artists, but in approaching their debut album Vital Idles have stripped away all extraneous ornamentation to evoke an incredibly life-like, vibrant pop music completely détourned and re-thought. These are pop songs unwilling to bend to convention, chart hits in the alternative timeline where Messthetics compilations are Now That's What I Call Music, peppered with endlessly inventive linguistics that reveal emotional depth, a dry, punk minimalism able to turn on a dime into a mouldy, witty kitchen sink story narrated by Samuel Beckett. It's a tension that threatens to fall apart into dissonance or resolve into sweetness but thankfully does neither, rather it keeps Vital Idles moving forward, never standing still, never taking it easy.
https://vitalidles.bandcamp.com/
DOG CHOCOLATE
sound like a crowded room but are actually four individuals from London. Abandoning notions of elegance, cred and professionalism they embrace the ramshackle, instant and fun, capturing a vivid spontaneity with their music. Their sound is a shabby, fast, over-excited ball of wet fur falling down the stairs, knocking over plant pots along the way and staining the carpet. With an average song time of 2 minutes, Dog Chocolate are on to the next treat before fully digesting the last. Chewing up bits of punk, post-punk, noise and pop, Matthew and Robert's guitars race around each other like wasps, pitch-shifting and phasing all over the place while Jono's rolled-up-newspaper drums chase them round the room. The band's new album 'Moody Balloon Baby' (out now) was released through Upset The Rhythm, in just under 25 minutes the band manage to cram in bucket-loads of ideas, mess, confusion and fun.
http://dogchocolate.tumblr.com/
THE PLAN
are an evolving post-punk outfit including members who have previously appeared in bands like Wetdog, Private Trousers, Vic Godard and The Subway Sect & The Ghosts. The Plan harness unruly beats with discordant keyboards and guitars then stamp sweet vocal harmonies over the result. The Plan celebrate their debut album 'Nervous Energy' on Southend Records by currently playing songs from this record alongside the new ones lined up for No 2. The Plan all live in Southend-on-Sea, flourishing on its beach life and doing their bit to secure its reputation as the 'cultural capital' of Essex.
Thanks as ever for reading, we really appreciate it.
See you this Thursday!
Upset The Rhythm
UPSET THE RHYTHM
UPCOMING SHOWS
VITAL IDLES
DOG CHOCOLATE
THE PLAN
Thursday 12 July
The Islington, 1 Tolpuddle St, Angel, London, N1 0XT
7.30pm | £6 |
TICKETS
SHOPPING
ES
KATY & NICK

Saturday 11th August
OSLO, 1a Amhurst Road, Hackney, London, E8 1LL
6.30pm - 10pm | £10 |
TICKETS
SAUNA YOUTH – 'Deaths' Album Release Party!
CURRENT AFFAIRS
PINK GRIP
Saturday 25 August
Redon, Railway Arches, 289 Cambridge Heath Rd, London, E2 9HA
PRIMO
Wednesday 29 August
The Islington, 1 Tolpuddle St, Angel, London, N1 0XT
7.30pm | £6 |
TICKETS
SHANNON AND THE CLAMS
Tuesday 4 September
The Garage, 20-22 Highbury Corner, London, N5 1RD
7.30pm | £12.50 |
TICKETS
PROLAPSE
FIVEHEAD
Thursday 6 September
Moth Club, Old Trades Hall, Valette St, Hackney Central, E9 6NU
7.30pm | £11 |
TICKETS
LITHICS
ES
Friday 7 September
The Islington, 1 Tolpuddle St, Angel, London, N1 0XT
7.30pm | £6 |
TICKETS
PATSY
Saturday 8 September
New River Studios, 199 Eade Rd, Harringay Warehouse District, London, N4 1DN
7.30pm | £6 |
TICKETS
SCREAMING FEMALES
SCRAP BRAIN
Tuesday 11 September
100 Club, 100 Oxford St, Oxford Street, London, W1D 1LL
WOLF EYES MUSIC: THREE DAY RESIDENCY
Friday 21st, Saturday 22nd, Sunday 23rd September
In collaboration with Cafe OTO, 22 Ashwin Street, Dalston, London, E8 3DL
21 SEPT:
WOLF EYES with YEAH YOU
WOLF EYES (short set)
AARON DILLOWAY / VICKY LANGAN (Duo)
22 SEPT:
UNIVERSAL EYES
(Nate Young, John Olson, Aaron Dilloway, Gretchen Davidson)
TRIPLE NEGATIVE
VICKY LANGAN (DJ set)
23 SEPT:
WOLF EYES with BEATRICE DILLON
AARON DILLOWAY (solo)
SHARON GAL (solo)
VIRGINIA WING
Thursday 11 October
OSLO, 1a Amhurst Road, Hackney, London, E8 1LL
7.30pm | £8 |
TICKETS