Hello again!

Thanks for coming to see Air Waves and Amor this last week, hope you enjoyed both concerts as much as we did! We've got two more events prepared for February so wanted to share news of both with you.

This Thursday at The Islington we have an evening of vibrantly improvised, electric-sky ambience, swirling harmonic crush and dysfunctional rock clamour planned for your enjoyment. Mésange will be stopping off in London as part of their blazing UK tour, plus the wild stylings of Historically Fucked get an intemperate airing. If that wasn't enough John Hannon of Liberez will also make a rare solo appearance with violin in hand. See you where? There!
Next week, Friday 15th of Feb, finds Upset The Rhythm pitching up at top new spot HQI for a show with Big Joanie, Secret Power and Solution Hours too!

HQI is a new artist-focused space in the Rotunda nightclub of Television Centre, going to be a memorable one that's for sure! If you like your music bold, catchy and ardently awesome, this one is for you, see you there!
Since our last word in your ear we have also confirmed new shows for Jandek (yes, Jandek!), Alex Rex and Nate Young and John R. Spykes of Wolf Eyes. We have some busy times ahead, on that you can depend.

Find those new additions on sale in our listings section at the end of this message. Read on for the whole story, thanks…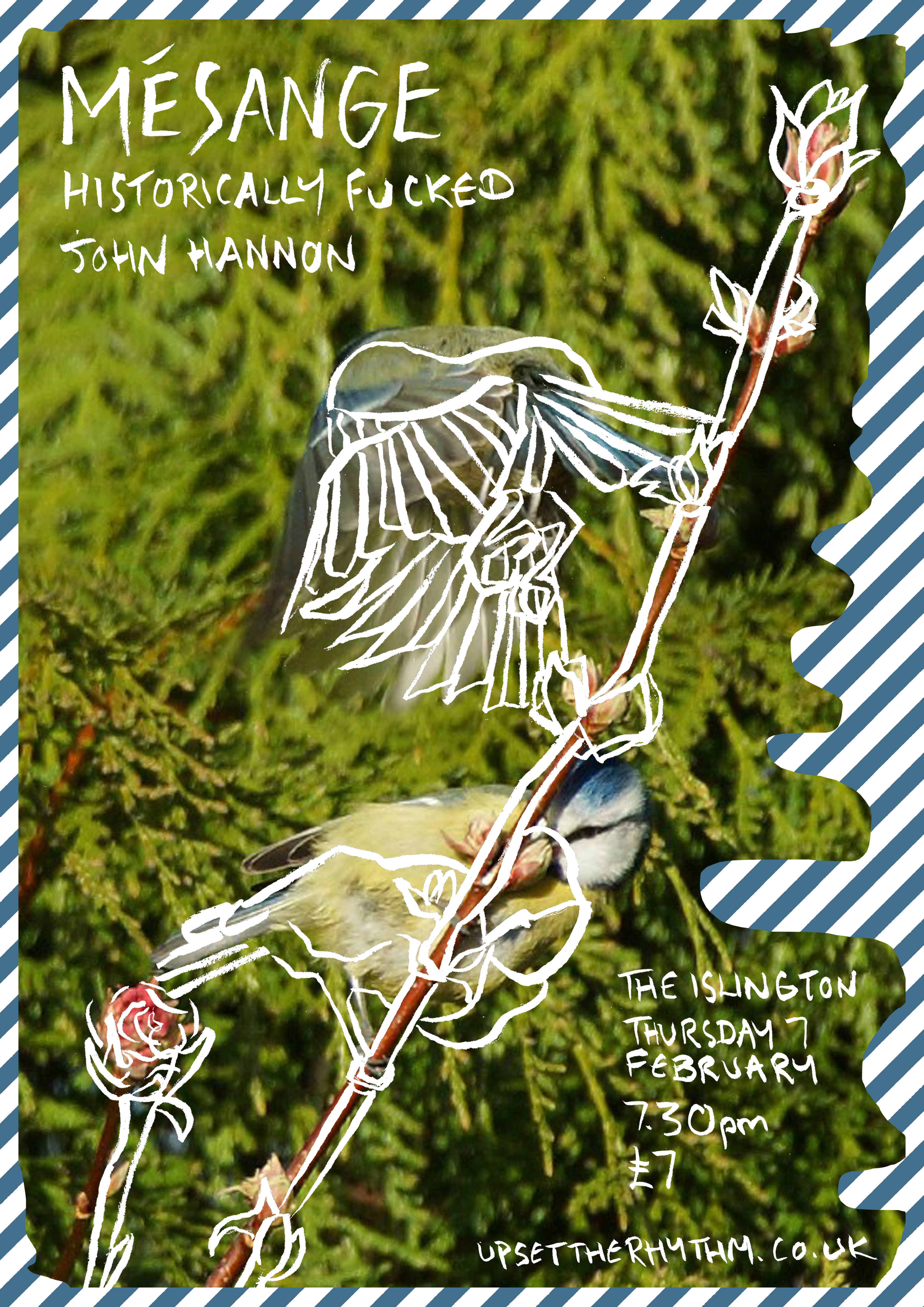 Upset The Rhythm presents…
MÉSANGE
HISTORICALLY FUCKED
JOHN HANNON
Thursday 7 February
The Islington, 1 Tolpuddle Street, Angel, London, N1 0XT
MÉSANGE is a collaboration between composer/violinist Agathe Max and composer/ musician Luke Mawdsley. Their new album, Gypsy Moth, anticipates the forces of nature, creation and rebirth. Mordant musical tapestries (minimalism, drone and ambient) are washed in dense electric skies, exposing signs that flutter and flare in dark elegance. Ubiquitous modal loops, inspire tension and mystery, a golden harvest where forbidden fruits are gathered by furtive hands mindful of a coming storm. Mesange implore you to explore the threshold between dawn and dusk, self and other, where unfettered territories are sensually intimated in fecund sounds that teeter between lightning and thunderclap. The duo have travelled and toured extensively across the U.K and Europe and have been invited to perform with the acclaimed minimalist composer Terry Riley. Their performances are often improvised and unrestricted by the usual constraints of musical reception, celebrating a queering of gender, the body and identity both visually and sonically.

As a graduate in electro-acoustic composition, Agathe Max has worked within a range of indistinct disciplines including, sound design for experimental film, theatre, contemporary dance and other visual art forms. Agathe uses improvisation to explore a dark(er) materiality rooted in ritual, myth and the supernatural. Agathe Max's latest recording A Gypsy in a Church (2016) is a daring 22 minute acoustic improvisation, weaving post-classical motifs into a beguiling and hypnotic tapestry that utters speculations on sacred identity and heritage. Other creative actions have included the OFIELD project, processing and forging environmental soundscapes for an imagined utopia/dystopia. Luke Mawdsley is a musician and composer, solo artist, collaborator and guitarist in Cavalier Song. His work meditates on the human condition, stirring memory and desire within musical definitions of a terrific sublime. The results are a series of lush, yet darkly affective, symphonic abstractions weaving in and around melancholic myths and narratives. Luke is currently the lead guitarist in Mugstar and a former member of Liverpool avant-garde group a.P.A.t.T. He has received commissions from The Blue Coat, FACT , Static Gallery and Edge Hill Arts Centre, providing an ongoing portfolio of improvised and soundtrack works.
https://mesange.bandcamp.com/
HISTORICALLY FUCKED
are an entangled quartet fronted by Greta Buitike, who create short, eruptive songs which they then set about obliterating from the inside. The four-piece is completed by Otto Willberg (bass), David Birchall (guitar) and Alecs Pierce (drums). Their raft of albums on Heavy Petting at varying times brings to mind the very disparate approaches of both The Fall and the John Zorn-composed trio of Patton-Baron-Dunn, without really sounding like either of them. Historically Fucked can be funny, gleefully eruptive and very gratifyingly raucous and auto-destructive, heading off in numerous directions within a matter of seconds. Listen to their records and expect to have no idea what to expect.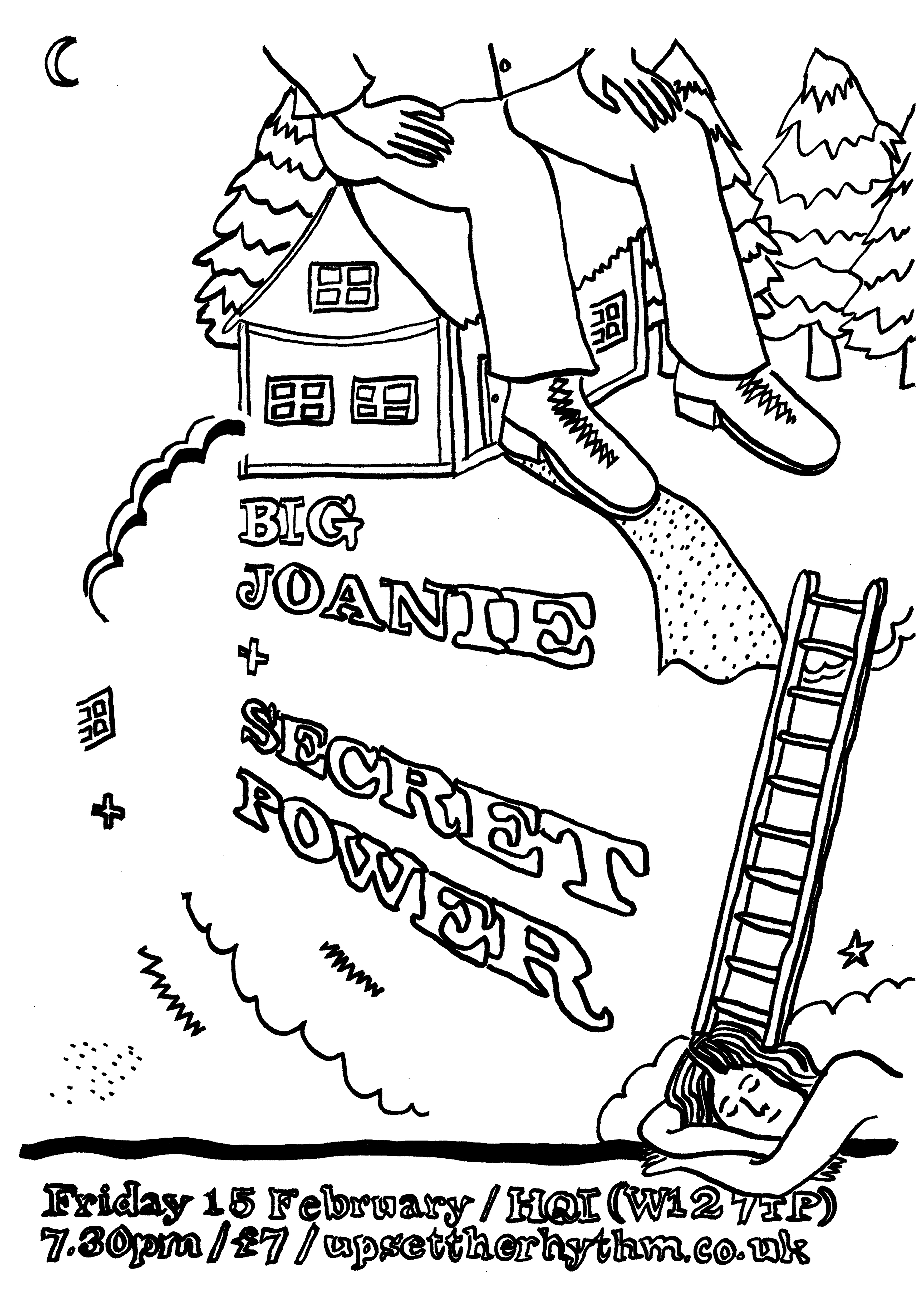 Upset The Rhythm presents…
BIG JOANIE
SECRET POWER
SOLUTION HOURS
Friday 15 February
HQI, The Rotunda, Wood Lane, White City Place, London, W12 7TP
(3 min walk from White City tube up Wood Lane. Behind the green gates)
7.30pm | £7 |
TICKETS
BIG JOANIE are a black feminist punk band. They're like The Ronettes filtered through 80s DIY and riot grrrl, with a sprinkling of dashikis. Big Joanie formed in the summer of 2013 to play at First Timers (a gig where every band plays their set for the first time) at the close of the year. In 2014 they self-released their 4-track EP 'Sistah Punk', and in the years following went on to tour the UK and Europe supporting acts such as The Ex, Parquet Courts, Downtown Boys, Shopping and more. In November 2018 they released their debut album 'Sistahs,' a bold record covering topics of friendship, frustration, resistance and sisterhood. Big Joanie formed not only to make music, but to create a continuum for punks of colour by paying homage to their forebears. By presenting a powerful vision of black womanhood they hope to encourage young punks of colour to get involved in making music and claiming their space in the scene. And with the release of 'Sistahs', acclaimed by Rolling Stone, Pitchfork and more, Big Joanie are set to spread their mission even further.
https://bigjoanie.bandcamp.com/

SECRET POWER are Jessica Ashman (guitar and vocals), Peter Lam (drums) and Summer Scott (keyboard and vocals). Combining a love of post-punk with R&B girl group harmonies, lots of reverb and wavy alt soul, the group have been quietly but assuredly making themselves known in the D.I.Y punk scene of London for the past year. The group's incarnation came out of the First Timers scene of D.I.Y Space For London in 2017 and started with a duo. After a few Facebook shout-outs, the group re-formed with new members and became a trio. Since then, Secret Power have been playing in and around London and Brighton, playing events such as Decolonise Fest 2018 and Synth Punk Fest 2018. Secret Power will be releasing their debut self-titled EP in February 2019, with For The Sake of Tapes, as well as supporting Big Joanie on their upcoming UK tour.
https://www.facebook.com/secretpowerband/
SOLUTION HOURS are a two-piece from London, using a mix of spoken word, dynamic drumming, discordant guitar and ambience.
https://solutionhours.bandcamp.com/
See you on Thursday, thanks for your time!
Upset The Rhythm
UPSET THE RHYTHM
UPCOMING SHOWS
MÉSANGE
HISTORICALLY FUCKED
JOHN HANNON
Thursday 7 February
The Islington, 1 Tolpuddle Street, Angel, London, N1 0XT
7.30pm | £7 |
TICKETS
BIG JOANIE
SECRET POWER
SOLUTION HOURS
Friday 15 February
HQI, The Rotunda, Wood Lane, White City Place, London, W12 7TP
(3 min walk from White City tube up Wood Lane. Behind the green gates)
7.30pm | £7 |
TICKETS
KRISTIN HERSH (Electric trio)
With ROB AHLERS (drums) & FRED ABONG (bass)
THE SHIFTERS
COOL GREENHOUSE
Thursday 14 March
The Islington, 1 Tolpuddle Street, Angel, London, N1 0XT
7.30pm | £7 |
TICKETS
NATE YOUNG
JOHN R. SPYKES
(Solo sets from members of WOLF EYES)
Friday 22 March
IKLECTIK, Old Paradise Yard, 20 Carlisle Lane, London, SE1 7LG
7.30pm | £11 |
TICKETS
DAVID NANCE GROUP
YERBA MANSA
Monday 25 March
The Shacklewell Arms, 71 Shacklewell Lane, Dalston, London, E8 2EB
8pm | £7 |
TICKETS
XIU XIU
(Jamie Stewart, Thor Harris & Jordan Gieger)
JOHN BENCE
Tuesday 26 March
Islington Assembly Hall, Upper St, Islington, London, N1 2UD
7pm | £13.50 |
TICKETS
Upset The Rhythm 15th anniversary label party!
SAUNA YOUTH
TRASH KIT
GUTTERSNIPE
VITAL IDLES
RATTLE
DOG CHOCOLATE
Wednesday 27 March
Tufnell Park Dome, 2A Dartmouth Park Hill, London, NW5 1HL
5.30pm - 11pm | £10 |
TICKETS
JANDEK
Tuesday 2 April
Bush Hall, 310 Uxbridge Rd, Shepherd's Bush, London, W12 7LJ
7.30pm | £18 |
TICKETS
THE FLYING LUTTENBACHERS
MOSQUITOES
Friday 5 April
Moth Club, Old Trades Hall, Valette St, Hackney Central, E9 6NU
7.30pm | £10 |
TICKETS
COOLIES
FUN FUN FUNERAL
Saturday 6 April
The Lexington, 96-98 Pentonville Rd, Angel, London, N1 9JB
7.30pm | £8 |
TICKETS
ALEX REX
Wednesday 10 April
SET Space, 27A Dalston Ln, London, E8 3DF
LEA BERTUCCI: Projection/Reflection
Tuesday 16 April
IKLECTIK, Old Paradise Yard, 20 Carlisle Lane, London, SE1 7LG
PRIESTS
Thursday 16 May
100 Club, Oxford Street, London, W1D 1LL
(Tickets onsale this Friday at 10am)