OK OK!

Today we release our first record of the year and what an album this is! Xiu Xiu's brand new full-length entitled 'Girl with Basket of Fruit'. It's a real thunderclap of a record infused with tense hooks, errant electronics, disturbed spoken word and voodoo techno, proving as unsparing and impassioned as ever!

This new album was produced by Xiu Xiu's Angela Seo and Greg Saunier of Deerhoof and, alongside Angela, features Jamie Stewart, Thor Harris and Jordan Geiger as the core musicians.
Streaming forth a ceaseless torrent of releases, side projects, art offerings since 2002, Xiu Xiu's music has veered from damaged avant-pop to artfully orchestrated rock, squalls of black-hearted noise and most bases around and between.

'Girl with Basket of Fruit' is a rowdier, stylistically splenetic offering than 2017's 'Forget', with the usual eye-catching list of collaborators this time including Eugene Robinson (Oxbow), Devin Hoff and Haitian percussionists Emmanuel Obi and Ayo Okafor.
Released today on 180g purple/black marbled vinyl and on an accompanying digipak CD with an 8-page booklet of lyrics and artwork, 'Girl with Basket of Fruit' can be found in all the best record shops and through our own

webshop

too.

Xiu Xiu will be touring Europe in support of the album too, London falls on March 26th at the Islington Assembly Hall, a date for your diaries, ticket link in our listings section.
Read on for details on next Friday's concert with Big Joanie, Secret Power and Solution Hours. This one will take place at HQI, a new artist-focused space in the Rotunda nightclub of Television Centre, worth buying a ticket in advance for this one. If you like your music bold, catchy and ardently awesome, this one is for you!

You'll also find our full listing for our first shows in March too from the one and only Kristin Hersh! Enjoy…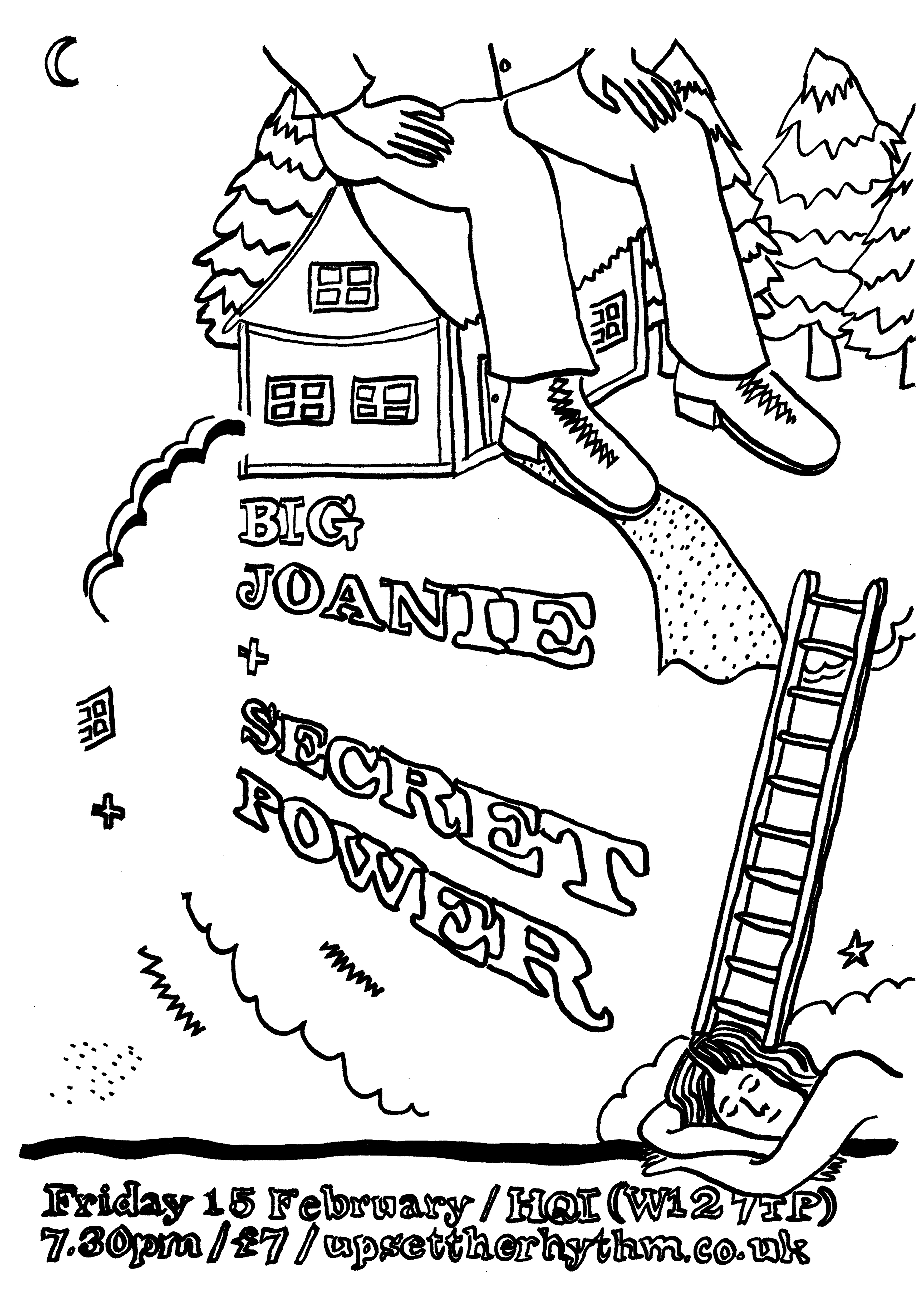 Upset The Rhythm presents…
BIG JOANIE
SECRET POWER
SOLUTION HOURS
Friday 15 February
HQI, The Rotunda, Wood Lane, White City Place, London, W12 7TP
(3 min walk from White City tube up Wood Lane. Behind the green gates)
7.30pm | £7 |
TICKETS
BIG JOANIE are a black feminist punk band. They're like The Ronettes filtered through 80s DIY and riot grrrl, with a sprinkling of dashikis. Big Joanie formed in the summer of 2013 to play at First Timers (a gig where every band plays their set for the first time) at the close of the year. In 2014 they self-released their 4-track EP 'Sistah Punk', and in the years following went on to tour the UK and Europe supporting acts such as The Ex, Parquet Courts, Downtown Boys, Shopping and more. In November 2018 they released their debut album 'Sistahs,' a bold record covering topics of friendship, frustration, resistance and sisterhood. Big Joanie formed not only to make music, but to create a continuum for punks of colour by paying homage to their forebears. By presenting a powerful vision of black womanhood they hope to encourage young punks of colour to get involved in making music and claiming their space in the scene. And with the release of 'Sistahs', acclaimed by Rolling Stone, Pitchfork and more, Big Joanie are set to spread their mission even further.
https://bigjoanie.bandcamp.com/

SECRET POWER are Jessica Ashman (guitar and vocals), Peter Lam (drums) and Summer Scott (keyboard and vocals). Combining a love of post-punk with R&B girl group harmonies, lots of reverb and wavy alt soul, the group have been quietly but assuredly making themselves known in the D.I.Y punk scene of London for the past year. The group's incarnation came out of the First Timers scene of D.I.Y Space For London in 2017 and started with a duo. After a few Facebook shout-outs, the group re-formed with new members and became a trio. Since then, Secret Power have been playing in and around London and Brighton, playing events such as Decolonise Fest 2018 and Synth Punk Fest 2018. Secret Power will be releasing their debut self-titled EP in February 2019, with For The Sake of Tapes, as well as supporting Big Joanie on their upcoming UK tour.
https://www.facebook.com/secretpowerband/
SOLUTION HOURS are a two-piece from London, using a mix of spoken word, dynamic drumming, discordant guitar and ambience.
https://solutionhours.bandcamp.com/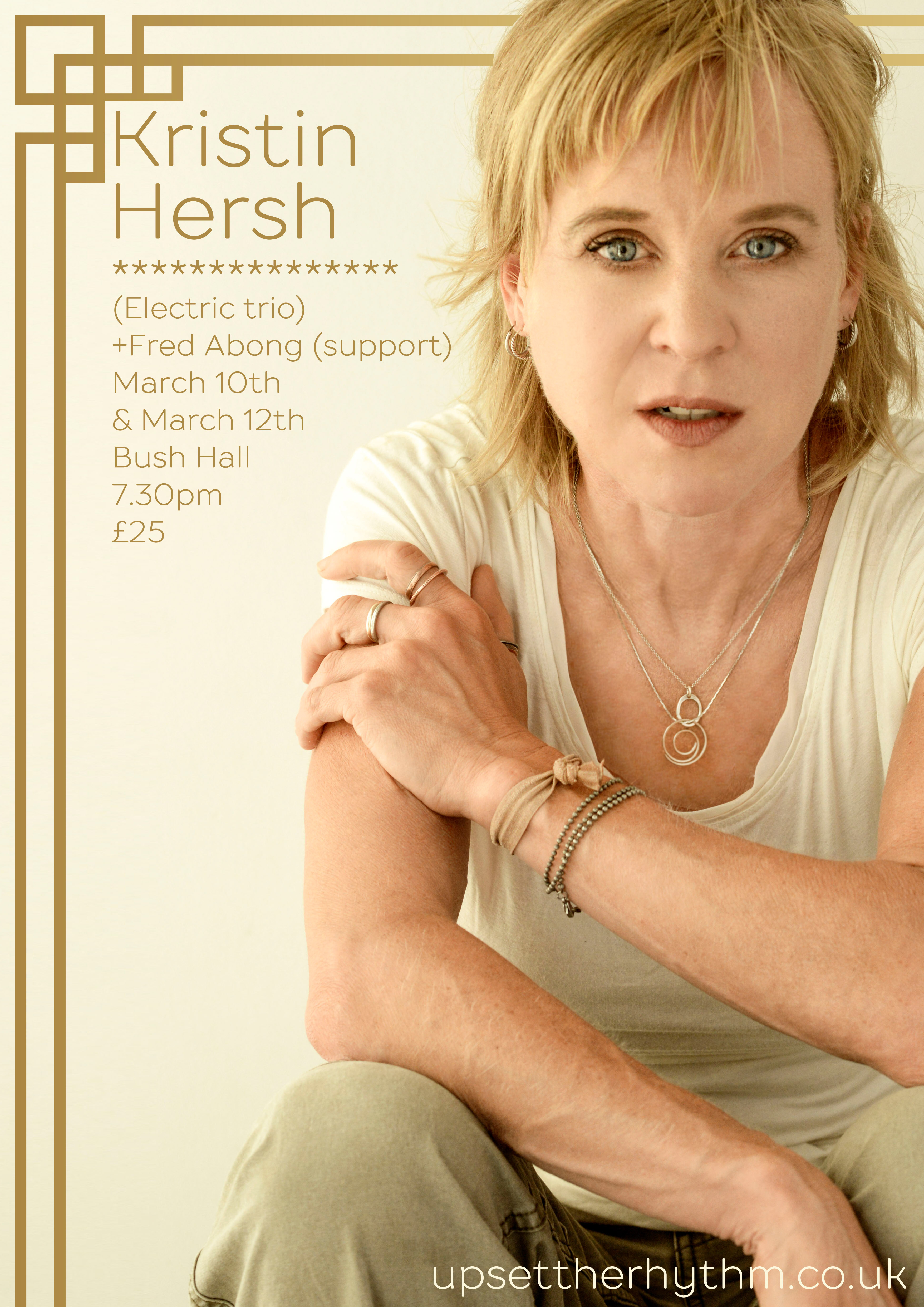 Upset The Rhythm presents…
KRISTIN HERSH (Electric Trio)
With ROB AHLERS (drums) & FRED ABONG (bass)
KRISTIN HERSH, most recognised as the front person for the influential art-punk band Throwing Muses and power trio 50FOOTWAVE, will be touring the UK in Spring 2019 with Rob Ahlers (50 Foot Wave) on drums and Fred Abong (Throwing Muses, Belly) on bass. Throwing Muses first gained traction in the early '80s, playing with similarly singular artists, such as The Pixies and Dinosaur Jr. They continue to release ground-breaking music, most recently with 2013's double CD masterpiece 'Purgatory/Paradise'. Kristin's solo career spun off in 1994 with the release of 'Hips and Makers', a widely acclaimed album that included 'Your Ghost', a duet with R.E.M.'s Michael Stipe. Since then, Kristin has released a steady stream of distinctly individual solo albums, including 2010's 'Crooked', released as her first in the inventive book/CD format for which she is now known.
2016's 'Wyatt at the Coyote Palace', on which Kristin played all of the instruments, received rave reviews; an explosive defined by blistering guitars, powerful drumming and her signature visceral vocal technique. Her poignant true stories bring the listener into what the BBC calls Hersh's "dark and dizzy world". In 2004, Kristin formed the noise rock power trio 50FOOTWAVE, releasing a series of frighteningly intense mini-albums, all available for download free of charge. Their most recent 'Bath White' EP was described as "a series of loud explosions, of velvet like dreams all intermingled at the same time. Bath White takes no prisoners." Kristin's writing career has flourished with the highly acclaimed 'Paradoxical Undressing' (released as 'Rat Girl' in the USA) and the award winning 'Don't Suck, Don't Die', a personal account of her long friendship with the late Vic Chesnutt, as well as the enchanting books which now accompany each of her record releases. Kristin's tenth studio album, 'Possible Dust Clouds' (out this October on Fire Records) is a highly personalised sociopathic gem delivered as a futuristic rewriting of how music works, a melodious breeze with a tail wind of venomous din. Enveloping the juxtaposition of the concept of 'dark sunshine', a brooding solo record created with friends to expand her off-kilter sonic vision; a squally, squeaky mix of discordant beauty. 'Possible Dust Clouds' is a glorious return to form for one of alternative rock's true innovators.
FRED ABONG will be supporting Kristin on her current UK tour dates. Fred is a friend of Kristin's and former Throwing Muses and Belly bass player. Fred will be touring his new solo acoustic EP, described by himself as sounding like a "ragged Replacements".
Have the best weekend, thanks for reading!
Upset The Rhythm
UPSET THE RHYTHM
UPCOMING SHOWS
BIG JOANIE
SECRET POWER
SOLUTION HOURS
Friday 15 February
HQI, The Rotunda, Wood Lane, White City Place, London, W12 7TP
(3 min walk from White City tube up Wood Lane. Behind the green gates)
7.30pm | £7 |
TICKETS
KRISTIN HERSH (Electric trio)
With ROB AHLERS (drums) & FRED ABONG (bass)
THE SHIFTERS
COOL GREENHOUSE
Thursday 14 March
The Islington, 1 Tolpuddle Street, Angel, London, N1 0XT
7.30pm | £7 |
TICKETS
NATE YOUNG
JOHN R. SPYKES
(Solo sets from members of WOLF EYES)
Friday 22 March
IKLECTIK, Old Paradise Yard, 20 Carlisle Lane, London, SE1 7LG
7.30pm | £11 |
TICKETS
DAVID NANCE GROUP
YERBA MANSA
Monday 25 March
The Shacklewell Arms, 71 Shacklewell Lane, Dalston, London, E8 2EB
8pm | £7 |
TICKETS
XIU XIU
(Jamie Stewart, Thor Harris & Jordan Gieger)
JOHN BENCE
Tuesday 26 March
Islington Assembly Hall, Upper St, Islington, London, N1 2UD
7pm | £13.50 |
TICKETS
Upset The Rhythm 15th anniversary label party!
SAUNA YOUTH
TRASH KIT
GUTTERSNIPE
VITAL IDLES
RATTLE
DOG CHOCOLATE
Wednesday 27 March
Tufnell Park Dome, 2A Dartmouth Park Hill, London, NW5 1HL
5.30pm - 11pm | £10 |
TICKETS
JANDEK
Tuesday 2 April
Bush Hall, 310 Uxbridge Rd, Shepherd's Bush, London, W12 7LJ
7.30pm | £18 |
TICKETS
THE FLYING LUTTENBACHERS
MOSQUITOES
Friday 5 April
Moth Club, Old Trades Hall, Valette St, Hackney Central, E9 6NU
7.30pm | £10 |
TICKETS
COOLIES
FUN FUN FUNERAL
Saturday 6 April
The Lexington, 96-98 Pentonville Rd, Angel, London, N1 9JB
7.30pm | £8 |
TICKETS
ALEX REX
Wednesday 10 April
SET Space, 27A Dalston Ln, London, E8 3DF
LEA BERTUCCI: Projection/Reflection
Tuesday 16 April
IKLECTIK, Old Paradise Yard, 20 Carlisle Lane, London, SE1 7LG
PRIESTS
Thursday 16 May
100 Club, Oxford Street, London, W1D 1LL
(Tickets onsale this Friday at 10am)