Hello there!
We're delighted to share with you our new album from glammed-up, high-intensity rock group Darlene Shrugg. Out now, the band's self-titled debut album is a concise blast of the sublime. Absorbing then inverting classic rock, this record brims with imaginative production, brash theatricality and uninhibited energy.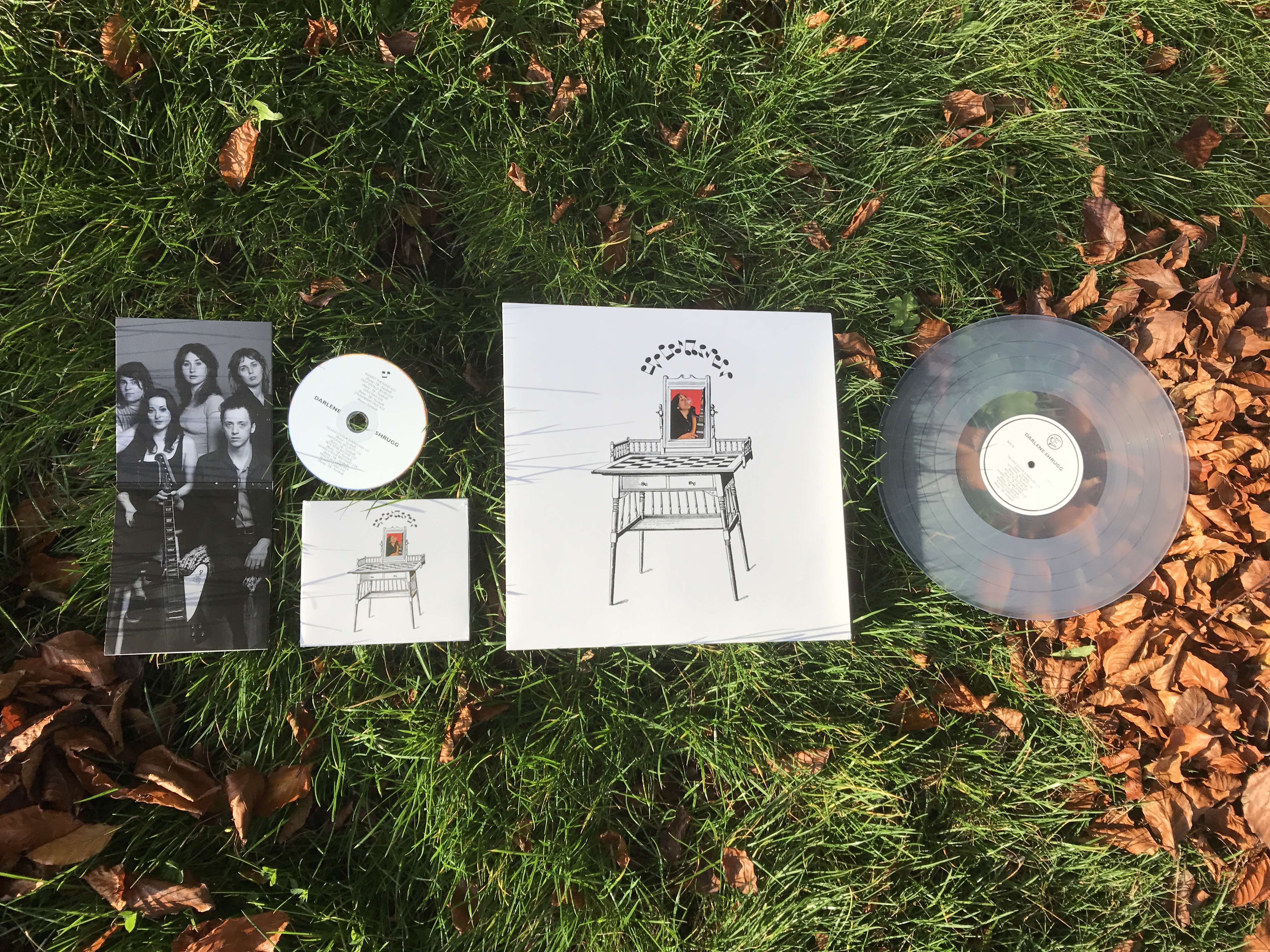 Darlene Shrugg represents a collaborative convergence, featuring Maximilian Turnbull (formerly Slim Twig), Meg Remy (U.S. Girls), Simone TB and Carlyn Bezic & Amanda Crist, also known for their electro-pop project, Ice Cream. This certain alchemy has helped to establish the unique force found on this debut album: four women, one man; four Canadians and an American; collaborations stretching back to nascent high school years; punk exuberance meeting studio finesse.

Formed in Toronto in 2013, Darlene Shrugg is a local enigma; Darlene more or less abstains from an internet presence, and its public performances are sporadic at best. This reticent progress continued for a couple of years until last year when Young Guv, of Fucked Up fame, cajoled the band into a studio with engineer-producer Steve Chahley to finally record some of their unabashedly electrifying songs.

These tracks profane, as much as pay tribute to a lineage of foundational bands, arguably stemming from Black Sabbath and Alice Cooper through Thin Lizzy. All of this unfolds in less than half an hour, leaving time for a detour into the sublime with album centrepiece,
Strawberry Milk
, an interstellar power ballad turned meditation on Eve. 'Darlene Shrugg' is available now on LP and CD through Upset The Rhythm, our web shop is primed and ready here:
http://upsettherhythm.bigcartel.com/
OK, let's step into the live arena. In terms of shows, this past week Upset The Rhythm have been confirming shows left, right and centre.

We confirmed a second show for Escape-ism (Ian Svenonius) later this November, plus have new events for Gun Outfit and David Nance booked for February and a newly announced and on sale concert for Protomartyr at The Scala next May. So pleased to have them booked to come back, even before they play for us later this month!
| | | |
| --- | --- | --- |
| Our next live show will take place next week on Friday night at Kamio in Old Street. We're very lucky to have an incredible trio of bands playing! Dazzling post-punks Shopping are headlining in support of their new single 'The Hype', whilst Gauche (members of Priests and Downtown Boys) and The World also join the bill. | | |
If you need further soundtrack suggestions for your life, we returned to the virtual airwaves this week with our second

two-hour radio show

for CAMP Radio.

It's 120 minutes of our favourite songs (from The Walking Floors to Dip In The Pool), and also features maximal chat and some live recordings from our recent shows for

The World

,

Downtown Boys

and

John Maus

too!

Listen here

…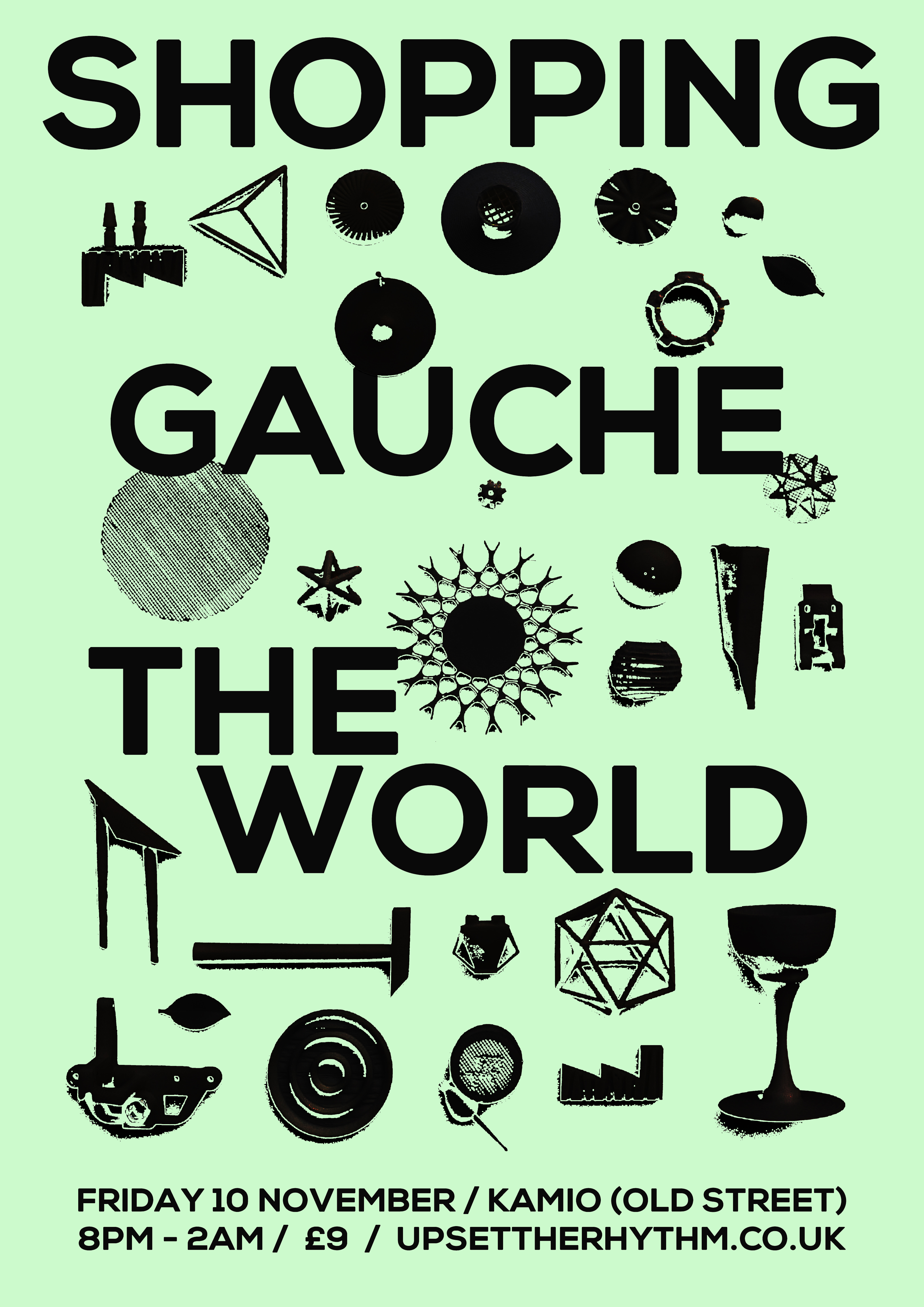 Upset The Rhythm presents…

SHOPPING
GAUCHE
THE WORLD
Friday 10 November
Kamio, 3 Rivington Street , London, EC2A 3JL

SHOPPING are propulsive bass lines, primitive disco-not-disco drums and guitar lines sharp as broken glass. The band was formed in 2012 by members Rachel Aggs (guitar), Billy Easter (bass) and Andrew Milk (drums), who've all done time in a plethora of notable UK DIY bands including Trash Kit and Wet Dog. They pull from a well of 70's post-punk with a voraciousness seldom seen these days, bringing to mind the jagged aggression of Gang of Four, the voracious yelp of The Slits and the dance inducing thrust of Delta 5 . Their debut LP 'Consumer Complaints' was released November 2013 in the UK via MILK records and quickly sold out its first pressing. A US re-issue of 'Consumer Complaints' came out in 2015 via Fat Cat records, followed up by their excellent second album 'Why Choose?' The band are tirelessly committed to taking their sound to new audiences and spreading the Shopping gospel, securing impressive gigs along the way including main support for ESG and Gang Of Four as well as a BBC 6 Music session for Marc Riley. They have toured in the UK and throughout Europe numerous times over the last few years and last year toured the USA with also awesome Gauche, look out for a new album imminently!
GAUCHE
are made up of Daniele Yandel of Priests and Mary Regalado & Adrienne Berry of Downtown Boys, plus a cast of friends. Gauche bring a funked groove to scratchy, minimal post-punk on their debut Get Away With.... Originally released on cassette via Sister Polygon Records, it is now also available on LP through Danger Records. Taking elements of Young Marble Giants, ESG (who they have played with) and Grass Widow, the DC band inject an explosive energy into songs about fraught relationships, a dependency on technology and social media and unfair working conditions.
https://g-a-u-c-h-e.bandcamp.com/releases

THE WORLD are from Oakland, California. The year is 2017 and The World offer the only glimmers of hope in a city rapidly transforming into a wasteland of artisanal toast and succulent shops right before our very eyes. They've awed all those who have seen them play in San Francisco basements, beach town bars, crowded East Bay lofts - who knew the sight of bongos could be so titillating? And now The World is ready for the world. Their debut LP is all double sax attack, the tremolo of dub guitar, and those spare and sturdy drums, anchored by the gravitational pull of Amber's propulsive bass. Every member of this band feels like the secret weapon, and together, the combination is deadly, the particular alchemy of musicians who voraciously consume music of all kinds. Members have done time in Andy Human and the Reptoids, Rays, Pang, and Penny Machine - devotees of all those will find much to like here. The World's a post-punk band, sure, but they're also a dance group, a wild and revolutionary art collective, sounds from the past catapulted to the future. 'First World Record' is due out October 6th through Upset The Rhythm.
Thanks endlessly for reading, have the best weekend!
Upset The Rhythm
UPSET THE RHYTHM
UPCOMING SHOWS
SHOPPING
GAUCHE
THE WORLD
Friday 10 November
Kamio, 3 Rivington Street , London, EC2A 3JL
8pm - 2am | £9 |
TICKETS
MOUNT EERIE

Monday 13 November
Tuesday 14 November
St John on Bethnal Green
200 Cambridge Heath Rd, Bethnal Green, London, E2 9PA
7.30pm | £15 |
TICKETS
PROTOMARTYR
SAUNA YOUTH
BOMBER JACKETS
Tuesday 14 November
Tufnell Park Dome, 178 Junction Road, Tufnell Park, London, N19 5QQ
7.30pm | £12 | SOLD OUT
ESCAPE-ISM

(Ian Svenonius)
THE PLAN (Nov 17)
MYSTIC BUSINESS (Nov 18)
Friday 17 November
Saturday 18 November –
SOLD OUT
The Islington, 1 Tolpuddle St, Angel, London, N1 0XT
7.30pm | £9 |
TICKETS
FUTURE ISLANDS
ZACK MEXICO
Monday 20 November - SOLD OUT
Tuesday 21 November - SOLD OUT
In collaboration with Parallel Lines
O2 Academy Brixton, 211 Stockwell Rd, Brixton, London SW9 9SL
ROY MONTGOMERY
ALEXANDER TUCKER
Thursday 23 November
In collaboration with Café OTO
Cafe OTO, 22 Ashwin Street, Dalston, London, E8 3DL
7.30pm | £10 |
TICKETS
SPIRIT FEST
(Tenniscoats & members of The Notwist, Joasihno and Jam Money)
Thursday 7 December
The Islington, 1 Tolpuddle St, Angel, London, N1 0XT
RICHARD DAWSON
(Live band show)
Wednesday 20 December
Islington Assembly Hall, Upper Street, Islington, London, N1 2UD
7pm | £15 |
TICKETS
DAVID NANCE
Monday 5 February
The Islington, 1 Tolpuddle St, Angel, London, N1 0XT
GUN OUTFIT
Tuesday 20 February
Moth Club, Old Trades Hall, Valette St, Hackney Central, E9 6NU
7.30pm | £10 |
TICKETS
PROTOMARTYR
Thursday 10 May
Scala, 275 Pentonville Road, King´s Cross, London, N1 9NL