Alright there!
We're getting ready for a marathon week of incredible live music in London; sharpening pencils, tying shoelaces, drawing up playlists...
This very busy epoch for Upset The Rhythm kicks off tomorrow night at Kamio in Old Street, where we're lucky enough to have a mind-blowing trio of now-bands playing! Luminous post-punks Shopping are headlining in support of their feverish new single 'The Hype', whilst Gauche (members of Priests and Downtown Boys) and The World will also turning in disarming performances guaranteed to quicken pulses.

Upset The Rhythm will be DJ-ing long into the night too, so prepare for dance off. Tickets are £9 on the door from 8pm, imagine amps switched on from 9pm. See you there!
On Monday & Tuesday we return to St John on Bethnal Green church for two special evenings in the company of Mount Eerie. It's a 100% privilege to witness Phil Elverum perform, it is a minimal, perfectly judged exercise in less is more, always vastly personal, always intensely honest.

This rare concert will feature Phil playing an extra-long set of recent material on acoustic guitar and vocals alone. Mount Eerie will commence from 8.30pm each day. Monday's concert is now sold out, but some last tickets remain for Tuesday

here

.
Also on Tuesday we're excited to have Protomartyr headline a sold out show at The Dome. There will be no tickets on the door for this one unfortunately and due to a eardrum-related medical issue Sauna Youth have been replaced on the bill with Ireland's Oh Boland. Bomber Jackets are still primed to open proceedings.

If you missed out on tickets for this one, I'd advise getting some tickets for Protomartyr's next London appearance on May 10th next year at The Scala. Tickets selling fast already.
To draw our exceptionally lively week to a close, next Friday 17th and Saturday 18th November we are beside ourselves to welcome back to London the vital force of mind and music that is Ian Svenonius!

Ian is hosting two nights of music for us at The Islington with support from The Plan and Mystic Business. Escape-ism is the name under which Ian will be performing his crucial sonic exposés of the self via vocal, guitar, drum machine and cassette tapes. Tickets have been flying out the door for this too, so with only Friday 17 November still on sale, we'd strongly urge you to pick some up in advance to avoid disappointment on the door.

Listings and ticket links to all these shows can be found below. I hope you can join us for such an epic discourse in staying out late at night and listening to the best of sounds.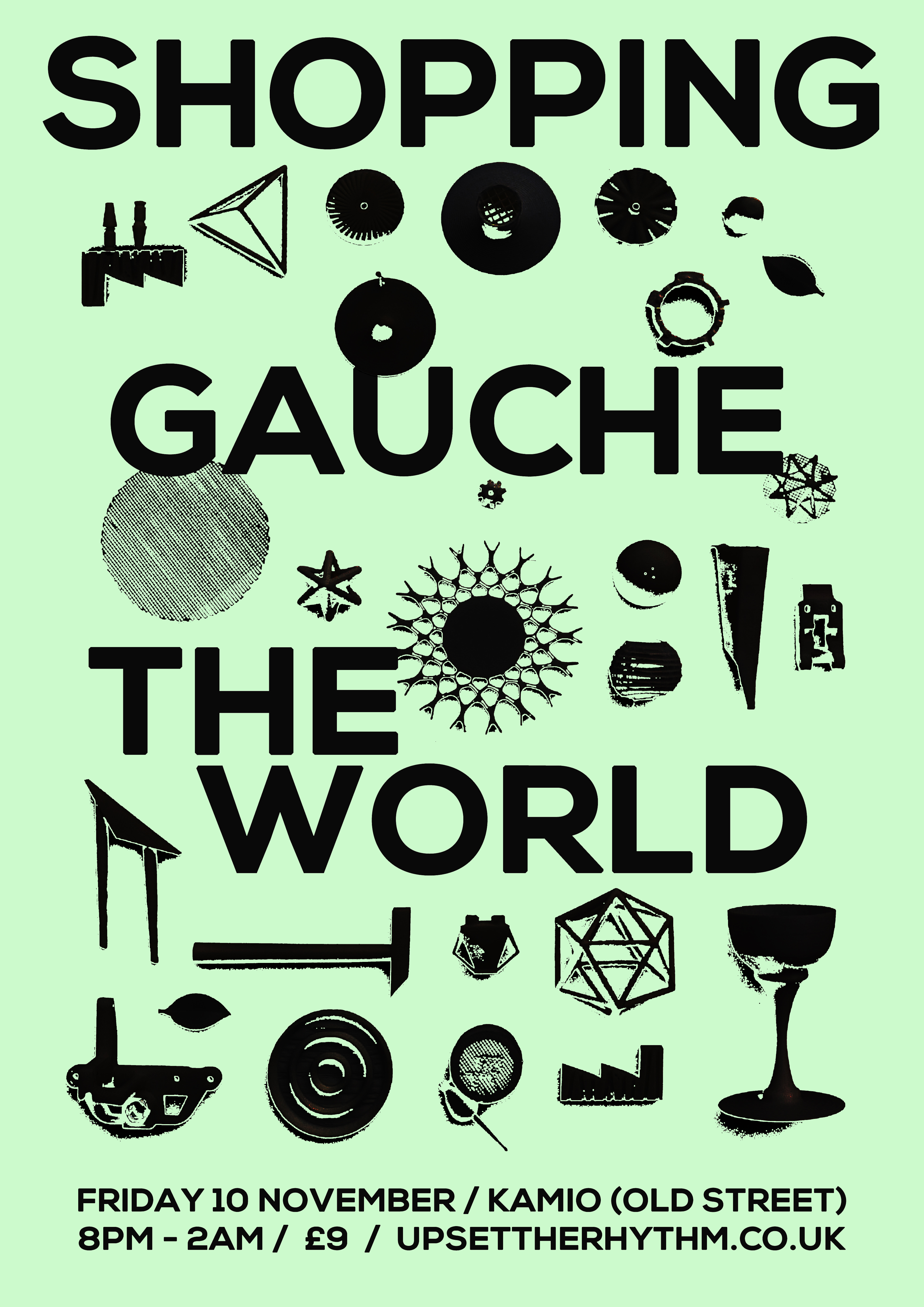 Upset The Rhythm presents…

SHOPPING
GAUCHE
THE WORLD
Friday 10 November
Kamio, 3 Rivington Street , London, EC2A 3JL

SHOPPING are propulsive bass lines, primitive disco-not-disco drums and guitar lines sharp as broken glass. The band was formed in 2012 by members Rachel Aggs (guitar), Billy Easter (bass) and Andrew Milk (drums), who've all done time in a plethora of notable UK DIY bands including Trash Kit and Wet Dog. They pull from a well of 70's post-punk with a voraciousness seldom seen these days, bringing to mind the jagged aggression of Gang of Four, the voracious yelp of The Slits and the dance inducing thrust of Delta 5 . Their debut LP 'Consumer Complaints' was released November 2013 in the UK via MILK records and quickly sold out its first pressing. A US re-issue of 'Consumer Complaints' came out in 2015 via Fat Cat records, followed up by their excellent second album 'Why Choose?' The band are tirelessly committed to taking their sound to new audiences and spreading the Shopping gospel, securing impressive gigs along the way including main support for ESG and Gang Of Four as well as a BBC 6 Music session for Marc Riley. They have toured in the UK and throughout Europe numerous times over the last few years and last year toured the USA with also awesome Gauche, look out for a new album imminently!
GAUCHE
are made up of Daniele Yandel of Priests and Mary Regalado & Adrienne Berry of Downtown Boys, plus a cast of friends. Gauche bring a funked groove to scratchy, minimal post-punk on their debut Get Away With.... Originally released on cassette via Sister Polygon Records, it is now also available on LP through Danger Records. Taking elements of Young Marble Giants, ESG (who they have played with) and Grass Widow, the DC band inject an explosive energy into songs about fraught relationships, a dependency on technology and social media and unfair working conditions.
https://g-a-u-c-h-e.bandcamp.com/releases

THE WORLD are from Oakland, California. The year is 2017 and The World offer the only glimmers of hope in a city rapidly transforming into a wasteland of artisanal toast and succulent shops right before our very eyes. They've awed all those who have seen them play in San Francisco basements, beach town bars, crowded East Bay lofts - who knew the sight of bongos could be so titillating? And now The World is ready for the world. Their debut LP is all double sax attack, the tremolo of dub guitar, and those spare and sturdy drums, anchored by the gravitational pull of Amber's propulsive bass. Every member of this band feels like the secret weapon, and together, the combination is deadly, the particular alchemy of musicians who voraciously consume music of all kinds. Members have done time in Andy Human and the Reptoids, Rays, Pang, and Penny Machine - devotees of all those will find much to like here. The World's a post-punk band, sure, but they're also a dance group, a wild and revolutionary art collective, sounds from the past catapulted to the future. 'First World Record' is due out October 6th through Upset The Rhythm.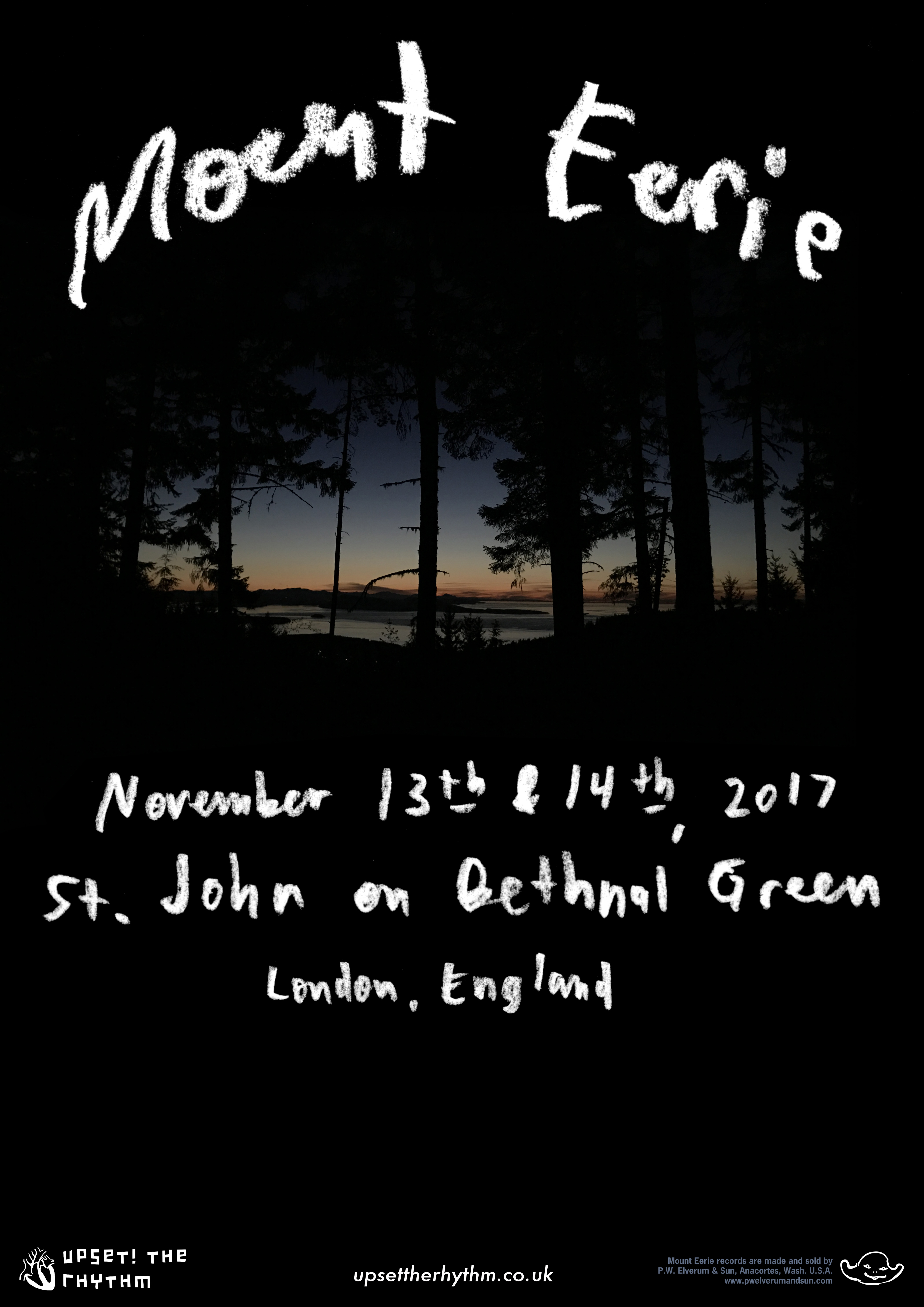 Upset The Rhythm presents…
MOUNT EERIE

Monday 13 November –
SOLD OUT
Tuesday 14 November
St John on Bethnal Green
200 Cambridge Heath Rd, Bethnal Green, London, E2 9PA
7.30pm | £15 |
TICKETS
MOUNT EERIE is the current project of Phil Elverum. In high school in Anacortes Washington in 1996 Elverum started calling his tapes of self-recorded noise and songs 'The Microphones'. Since then he's produced two decades worth of records that span a wide spectrum from studio heavy atmospheric landscaping to simple raw songs. The Microphones project was nourished by and located within the community of artists around K Records in Olympia in the late 90s/early 2000s, and Phil Elverum's musical ideas were clearly the product of the flood of independent music in the NW during those years.
After five albums the project was renamed Mount Eerie just as the Microphones were getting some unexpected attention from the widespread acclaim of 'the Glow pt. 2' (2001). The Mount Eerie recordings got weirder and broader, and Elverum left K Records and began releasing everything himself, ultimately building a self-contained small town operation in Anacortes called P.W. Elverum & Sun. Radical self-sufficiency has been a theme and obsession; all all ages shows and never though a manager or booking agent, always self-recorded, hands on in all details. Mount Eerie's albums have always aimed to push into new territory, both in sound and idea, but the thread of Elverum's voice has remained constant throughout, soft and human amid the wide range of textures and worlds. Often the lyrics have attempted to grapple with big questions, the briefness and the smallness of human life being a running theme. On occasion the music has been called "black metal" (Wind's Poem, 2009), "dream landscape" (Clear Moon, 2012), and "raw and direct" (Lost Wisdom, 2008).
The new album, 'A Crow Looked At Me', sounds closer to the latter; minimal instrumentation, no production, clear and heavy words right up front. The difference here is the subject matter. In 2015 Elverum's wife, the French Canadian cartoonist and musician Genevieve Castree, was diagnosed with a bad cancer just after giving birth to their first child. She died a year later. Elverum wrote and recored the album throughout the fall of 2016 in the same room where Genevieve died, using mostly her instruments; her guitar, her bass, her pick, her amp, her old family accordion, writing the words on her paper. The songs are about the brutal details of that experience, from the hospitalisations to the grieving, the specific domestic banalities that become existential in the context of such huge and abrupt loss. These songs are not fun. They are pretty and they are deep, and they find a love that prevails beneath the overwhelming and real sorrow. It is unlike anything else in the Mount Eerie catalog in its unvarnished expressions of personal grief, metaphor-free.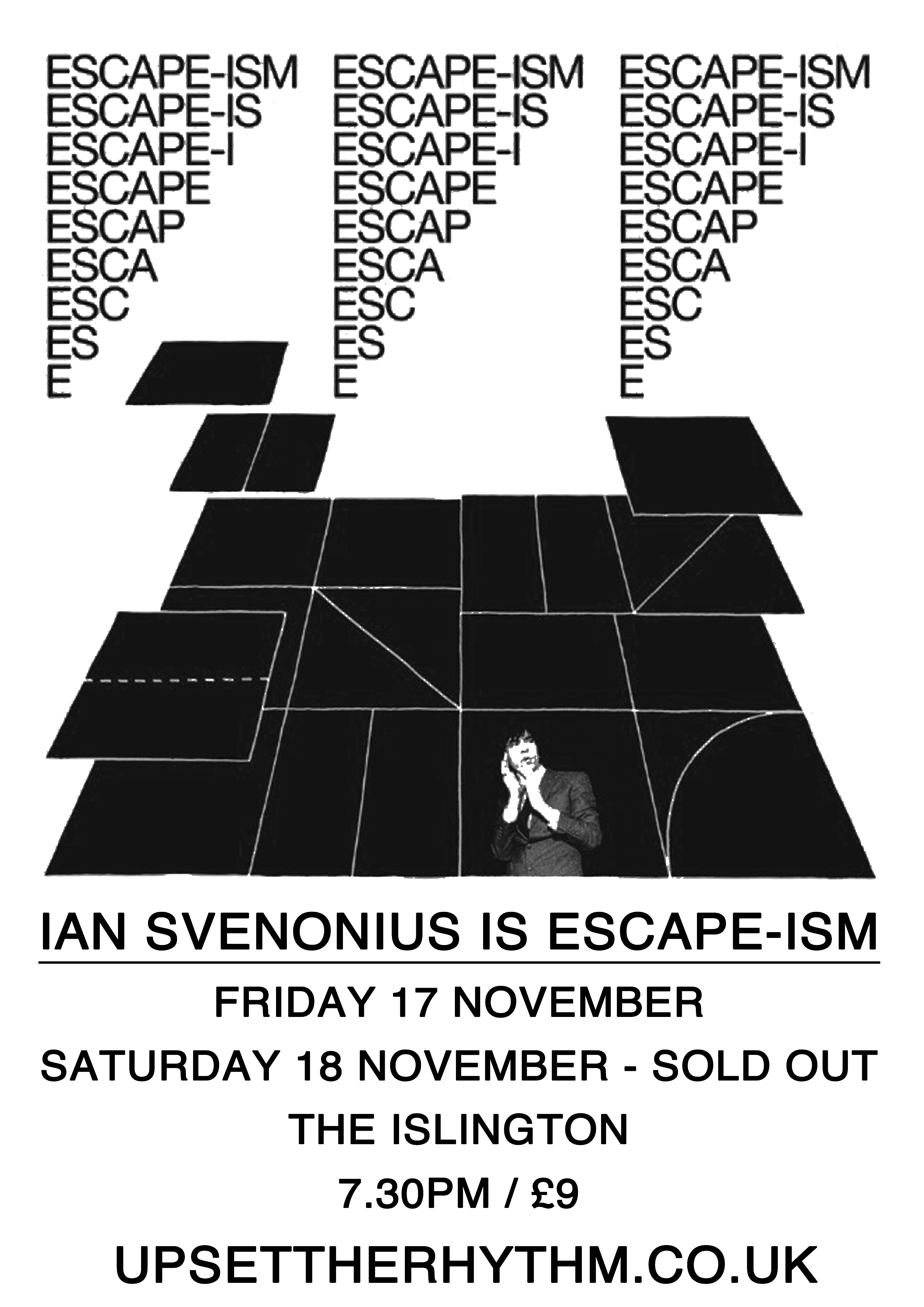 Upset The Rhythm presents…
ESCAPE-ISM
(Ian Svenonius)
THE PLAN (Nov 17)
MYSTIC BUSINESS (Nov 18)
Friday 17 November
Saturday 18 November –
SOLD OUT
The Islington, 1 Tolpuddle St, Angel, London, N1 0XT
7.30pm | £9 |
TICKETS
ESCAPE-ISM is a solo project from Ian Svenonius. Svenonius is known for his work in groups The Make-Up, Chain & the Gang, XYZ, Weird War and author of underground bestsellers such as The Psychic Soviet, Supernatural Strategies for Making a Rock 'n' Roll Group, and Censorship Now! Recognised by Performer Magazine as the "greatest performer on the planet", Svenonius is profound, prophetic, perverse, and poetic. His debut solo album an 'Introduction to Escape-ism' is released through Merge soon, teaming up a drum machine, guitar, cassette player, and a single voice singing out... for a way out. Svenonius' songs cry out for love, justice, redemption and insurrection, they stomp on convention and clobber notions of what music can be. Live, Escape-ism a new paradigm of performance: raw, gestural, idiotic, sublime, revolutionary, poetic, faux naif, unknowing, a drainage pipe that leads to who knows where. 'Introduction to Escape-ism' isn't just the soundtrack for a late-night drive on a lonely interstate, or a platter played to incite abandon at a pajama party with one's pals. It's also a tunnel to tomorrow. It's a mineshaft to the motherlode. It's 100% unadulterated Ian Svenonius.
THE PLAN are an evolving post-punk outfit including members who have previously appeared in bands like Wetdog, Private Trousers, Vic Godard and The Subway Sect & The Ghosts. The Plan harness unruly beats with discordant keyboards and guitars then stamp sweet vocal harmonies over the result. Continually celebrating the release of their debut album 'Nervous Energy' on Southend Records they currently play songs from this record alongside the new ones lined up for No 2. (Nov 17th only)
MYSTIC BUSINESS are an anarchic beats choir with punk ethos led by artist, composer, and drummer Jenny Moore - bent on inciting progressive politics with spontaneous joy. Jenny Moore (Bas Jan, Charismatic Megafauna) brings the statement, the groove and directed mayhem. Rapture and rage are distilled out of thin air by this 10-piece orchestra of chaos, using drums, tuned percussion and voices. (Nov 18th only)
Huge thanks for your valuable time, see you soon I'm sure!
Upset The Rhythm
UPSET THE RHYTHM
UPCOMING SHOWS
SHOPPING
GAUCHE
THE WORLD
Friday 10 November
Kamio, 3 Rivington Street , London, EC2A 3JL
8pm - 2am | £9 |
TICKETS
MOUNT EERIE

Monday 13 November -
SOLD OUT
Tuesday 14 November
St John on Bethnal Green
200 Cambridge Heath Rd, Bethnal Green, London, E2 9PA
7.30pm | £15 |
TICKETS
PROTOMARTYR
SAUNA YOUTH
BOMBER JACKETS
Tuesday 14 November
Tufnell Park Dome, 178 Junction Road, Tufnell Park, London, N19 5QQ
7.30pm | £12 | SOLD OUT
ESCAPE-ISM

(Ian Svenonius)
THE PLAN (Nov 17)
MYSTIC BUSINESS (Nov 18)
Friday 17 November
Saturday 18 November –
SOLD OUT
The Islington, 1 Tolpuddle St, Angel, London, N1 0XT
7.30pm | £9 |
TICKETS
FUTURE ISLANDS
ZACK MEXICO
Monday 20 November - SOLD OUT
Tuesday 21 November - SOLD OUT
In collaboration with Parallel Lines
O2 Academy Brixton, 211 Stockwell Rd, Brixton, London SW9 9SL
ROY MONTGOMERY
ALEXANDER TUCKER
Thursday 23 November
In collaboration with Café OTO
Cafe OTO, 22 Ashwin Street, Dalston, London, E8 3DL
7.30pm | £10 |
TICKETS
SPIRIT FEST
(Tenniscoats & members of The Notwist, Joasihno and Jam Money)
Thursday 7 December
The Islington, 1 Tolpuddle St, Angel, London, N1 0XT
RICHARD DAWSON
(Live band show)
Wednesday 20 December
Islington Assembly Hall, Upper Street, Islington, London, N1 2UD
7pm | £15 |
TICKETS
DAVID NANCE
Monday 5 February
The Islington, 1 Tolpuddle St, Angel, London, N1 0XT
GUN OUTFIT
Tuesday 20 February
Moth Club, Old Trades Hall, Valette St, Hackney Central, E9 6NU
7.30pm | £10 |
TICKETS
PROTOMARTYR
Thursday 10 May
Scala, 275 Pentonville Road, King´s Cross, London, N1 9NL