Hello Friday!

This week we unveiled another new record that'll see release over the summer. Joining Dog Chocolate and Apostille's excellent new albums we're also presenting the debut LP from Glasgow's Vital Idles in all its serenely oblique charm. Entitled 'Left Hand', the album crackles with a raw, punk approach to writing warped pop songs that don't just talk of disorder but often actively demonstrate it. At once lyrically complex yet minimal in terrain, 'Left Hand' bears a tension that threatens to fall apart into dissonance or resolve into sweetness but thankfully does neither, rather it keeps Vital Idles moving ever forward down new paths of meaning. Have a listen to opening number 'A Premise' now and catch your breath!

| | | |
| --- | --- | --- |
| | | For a conglomerate of art outsiders and aesthetes, Vital Idles are primitive, whimsically brutal. Sculpting a skeleton from a body already lean, there's a thrilling minimalism that runs through every beat and strum, a sparseness that feeds Jessica Higgins's surreal, oblique vocal delivery all the nourishment it needs. Playing their first shows in Glasgow in 2015 during a summer that never threatened to show up, Vital Idles' origins are closely tied with a tireless underground culture, a culture that informs the band's refusal to take it easy. Matthew Walkerdine, Nick Lynch and Higgins are responsible for Glasgow DIY publishing institution Good Press - an independent volunteer-staffed zine and art book shop - while Guitarist Ruari MacLean's pedigree stretches back to breakneck-indie-pop group Golden Grrrls and the Rose McDowall band. |
Following two self-released demos and a sold out debut 7", Vital Idles arrive on Upset The Rhythm with 'Left Hand', a bare manifesto layered with meaning and non-meaning. The group can conceivably be called artists, or Artists, but in approaching their debut album Vital Idles have stripped away all extraneous ornamentation to sculpt an incredibly life-like, vibrant pop music completely détourned and re-thought.
In terms of live shows on the horizon, Brigid Mae Power and No Age are both sold out now. So look out below for our other events in April that are still on sale.

On Easter Monday we're very much looking forward to welcoming back the brilliant talent that is Joshua Abrams and his stunning Natural Information Society group back to London.

Then on April 9th at The Lexington we have an incredible double headline show planned from Jamie Stewart of Xiu Xiu and Constellation's Eric Chenaux. Both of those events promise great things, can't wait for them to roll round. Full listings for both follow below along with our programme which features a newly added concert for Apostille in late May.
| | | |
| --- | --- | --- |
| | | Here's a soundtrack for your weekend. Spring has arrived with the seventh installment of our Upset The Rhythm radio show for CAMP. Two hours of all our favourite sounds from Orbidöig to Paul Ngozi via Eric Chenaux. Lots of new Upset The Rhythm tracks from Apostille, Dog Chocolate and Vital Idles feature, plus some recent live snippets from past shows too. |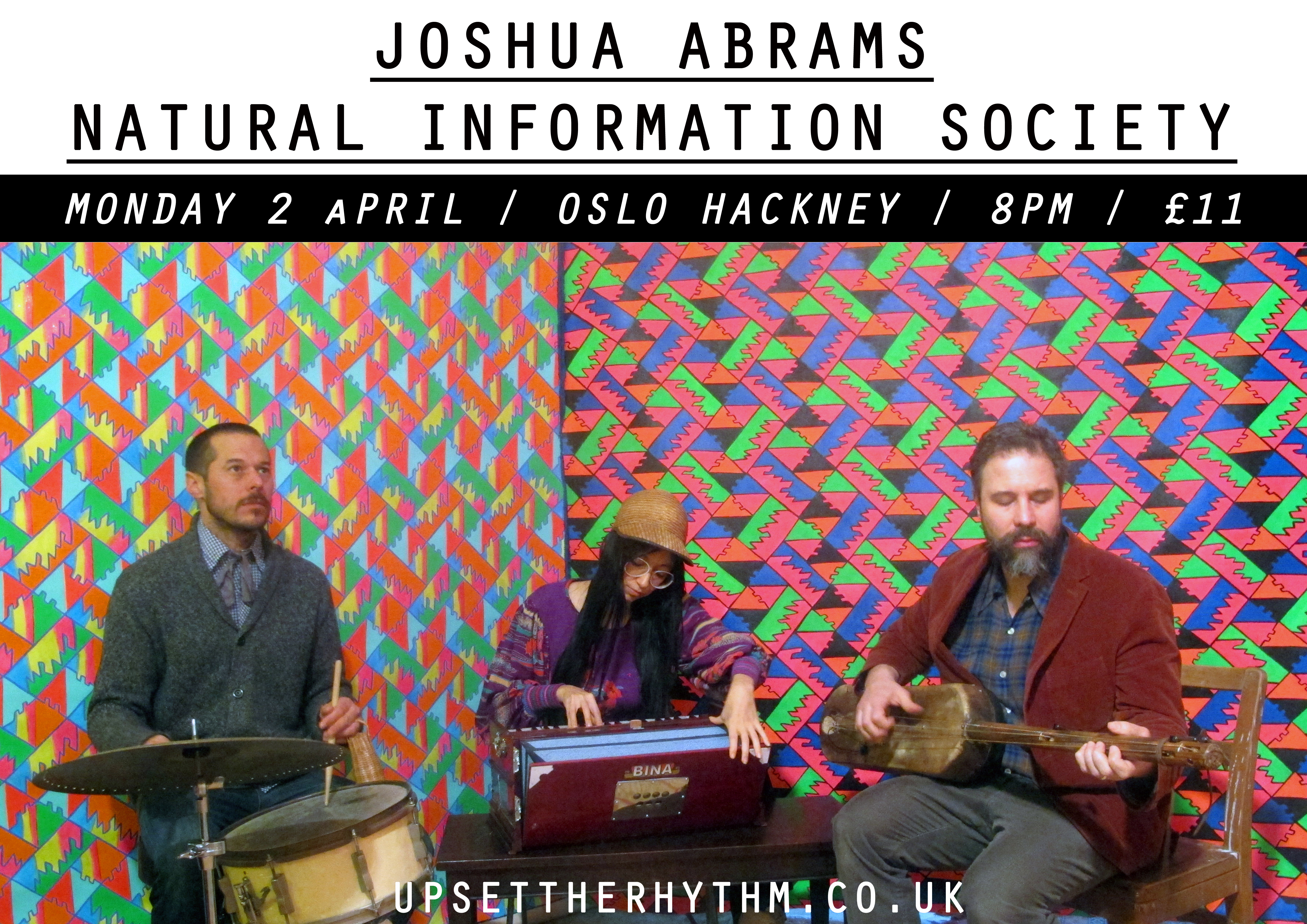 Upset The Rhythm presents…

JOSHUA ABRAMS
(NATURAL INFORMATION SOCIETY)
OBLATE
Monday 2 April
OSLO, 1a Amhurst Road, Hackney, E8 1LL

JOSHUA ABRAMS developed his voice in the rich ferment of the 1990s Chicago music world, participating heavily across the city's jazz, experimental & rock scenes. He co-founded the 'back porch minimalist' band Town & Country &, with Matana Roberts & Chad Taylor, the trio Sticks & Stones. In a very busy two decades Abrams recorded & toured with a remarkable range of artists including extended engagements with Fred Anderson, Bonnie 'Prince' Billy, Hamid Drake, Theaster Gates, Neil Michael Hagerty, Nicole Mitchell, Jeff Parker, Mike Reed, Matana Roberts, & The Roots. Abrams appears on over one hundred recordings. A film composer, Abrams has scored the music for five feature length films including the award-winning films Life Itself, The Interrupters and The Trials of Muhammad Ali.
Since 2010 Joshua Abrams has toured North America & Europe with a shifting-line up of musicians as 'Natural Information Society'. The group uses traditional & electric instrumentation to build long-form intricately psychedelic environments, composed & improvised, joining the hypnotic qualities of the Gnawan guimbri to a wide range of contemporary musics & methodologies including jazz, minimalism & krautrock. The band's album, Magnetoception (eremite), was selected by The Wire Magazine as the #3 record of 2015 & by Pitchfork as the #2 experimental record of the year. Current & former band members include Lisa Alvarado, Jason Adasiewicz, Mikel Avery, Ben Boye, Hamid Drake, Ben Lamar Gay, Emmett Kelly, Artur Majewski, Nick Mazzarella, Jeff Parker, Frank Rosaly, Jason Stein, Kuba Suchar, Nori Tanaka & Chad Taylor. In 2015, Natural Information Society & Bitchin Bajas collaborated on 'Automaginary', (Drag City). Their latest album, 'Simultonality' continues NIS's exploration of stasis, continuity, repetition and layering. 'Simultonality' was released back in April, 2017 on eremite records & Glitterbeat.
http://naturalinformationsociety.com/
OBLATE is Lindsay Alexander Corstorphine's solo electronic project. Best known as Sauna Youth's guitarist, as well as a member of Primitive Parts and Cold Pumas, Corstorphine continues to showcase his love of repetition and its curious phasing subtleties with Oblate. Building up songs that pulse and cascade with rhythmic fluidity is central to Oblate's focus, his music shape-shifts and enters a trance-like world of its own mutable complexity.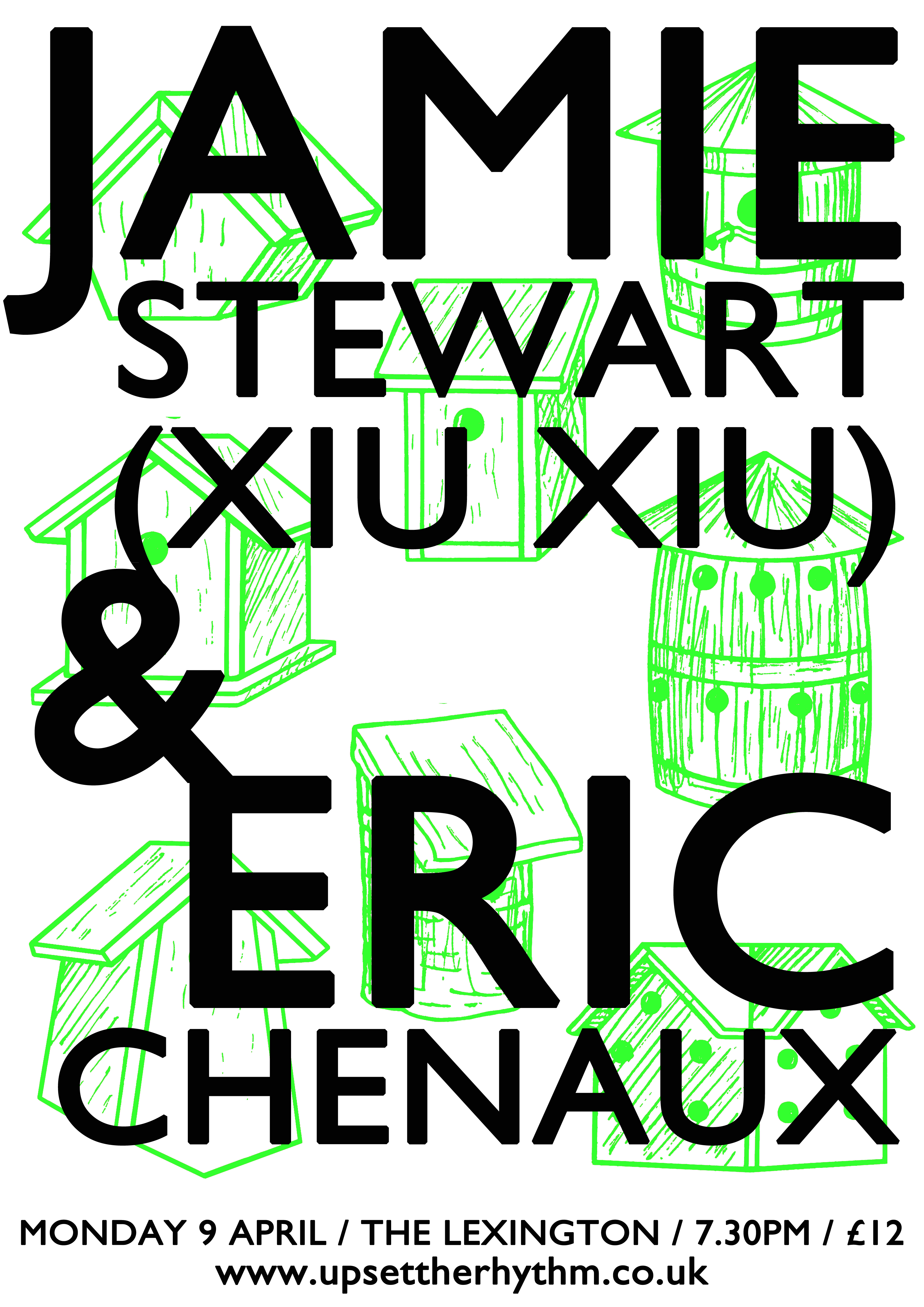 Upset The Rhythm presents…

JAMIE STEWART (Xiu Xiu)
ERIC CHENAUX
Monday 9 April
The Lexington, 96-98 Pentonville Rd, Angel, N1 9JB
JAMIE STEWART has spent 2017 showing how skilled he is at multi-tasking, having toured the most recent Xiu Xiu album 'Forever', piled on the sonic pressure with Lawrence English as HEXA and having paid final homage to The Music Of Twin Peaks. 2018 sees that all change with Jamie committing to some rare solo performances. The format is simple: Jamie, electric guitar and voice, reducing the Xiu Xiu songs you know and love down to their most fragile husk state. As the principle songwriter, musician and vocalist behind avant-pop legends Xiu Xiu, Jamie Stewart is very much one of UTR's favourite artists. Jamie draws heavily from wildly disparate sources - cacophonous noise, gamelan, folk and the lush hooks of 80s UK post-punk, to name a few - while his tortured lyrics and anguished delivery consistently deal with the morose, suspected and the taboo. Expect new material, unusual covers and favourite tracks from the Xiu Xiu back catalogue, making for a truly memorable experience.

ERIC CHENAUX is an adventurous guitarist, singer and composer based in Paris. Having been an active player in Toronto experimental music circles with a host of group and collaborative works, Chenaux has more recently amassed a body of solo work across five albums on the Constellation label, centering around his dextrous, fried guitar playing as juxtaposed with a gorgeously lyrical vocal style. An ingenious recombinant use of traditional folk, psychedelic pop and consort music in earlier albums has over time evolved into a wholly uncategorisable form of balladry, shot through with a singular vernacular of guitar improvisation.
Thanks for reading, have a great weekend!
Upset The Rhythm
UPSET THE RHYTHM
UPCOMING SHOWS
BRIGID MAE POWER
DANIEL O'SULLIVAN
Tuesday 27 March
Servant Jazz Quarters, 10A Bradbury Street, Dalston, London N16 8JN
7.30pm | £8 | SOLD OUT
JOSHUA ABRAMS
(NATURAL INFORMATION SOCIETY)
OBLATE
Monday 2 April
OSLO, 1a Amhurst Road, Hackney, London, E8 1LL
NO AGE
MIAUX
VITAL IDLES
Wednesday 4 April
Bethnal Green Working Men's Club, 44 Pollard Row, London, E2 6NB
7:30pm | £12 | SOLD OUT
JAMIE STEWART (Xiu Xiu)
ERIC CHENAUX
Monday 9 April
The Lexington, 96-98 Pentonville Rd, Angel, London, N1 9JB
ED SCHRADER'S MUSIC BEAT
Monday 7 May
Moth Club, Old Trades Hall, Valette St, Hackney Central, London, E9 6NU
NAP EYES
HALEY HEYNDERICKX
Tuesday 8 May
OSLO, 1a Amhurst Road, Hackney, London, E8 1LL
7.30pm | £10 |
TICKETS
MATANA ROBERTS & KELLY-JAYNE JONES
COBY SEY
Wednesday 9 May
Ghost Notes, Peckham Levels, 95A Rye Lane, Peckham, London, SE15 4ST
PROTOMARTYR
ANA DA SILVA
RATTLE
Thursday 10 May
Scala, 275 Pentonville Road, King´s Cross, London, N1 9NL
MARY OCHER
Friday 18 May
Cafe OTO, 22 Ashwin Street, Dalston, London, E8 3DL
7.30pm | £8 |
TICKETS
SCREAMING FEMALES
WITCHING WAVES
Wednesday 23 May
OSLO, 1a Amhurst Road, Hackney, London, E8 1LL
APOSTILLE
Saturday 26 May
The Victoria, 451 Queensbridge Rd, Dalston, E8 3AS
7.30pm | £6 |
TICKETS
JOHN MAUS
Thursday 14 June
Electric Ballroom, 184 Camden High St, London, NW1 8QP
7.30pm | £15.00 |
TICKETS