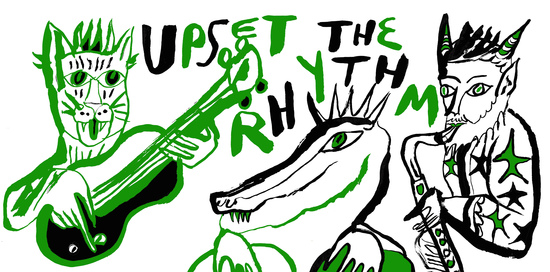 Hello everyone!

I trust you're all in the swing of things now spring has sprung, gambling like lambs through the everyday hubbub. This week at Upset The Rhythm we've been assembling Dog Chocolate LPs for their forthcoming 'Snack Fans' release this month. Filling each record with magenta vinyl, a poster, lyric book, computer game plus a variety of bonus delights, we've had a whale of the time and now feel like jumping around the room wearing a red coat, a blue nose and some books lashed to our backs. Watch their most recent video and all will become clear, it's a right brain-boggle, will we ever be the same again!
| | | |
| --- | --- | --- |
| Dog Chocolate have an eclectic album launch planned for March 24th at Apiary Studios, which you can read more about below, along with news of all our upcoming events. Which reminds me, since we last talked we've been rushed off our feet confirming new concerts for The Intelligence, Geneva Jacuzzi, Ty Segall & The Muggers, Ausmuteants, Eartheater, Gabriel Saloman, Nap Eyes, Cian Nugent and a special evening with Darren Hayman presenting his beguiling 'Thankful Villages' project. UTR is an idle hands / devil's work free zone! Are you sitting comfortably? Then I'll begin… | | |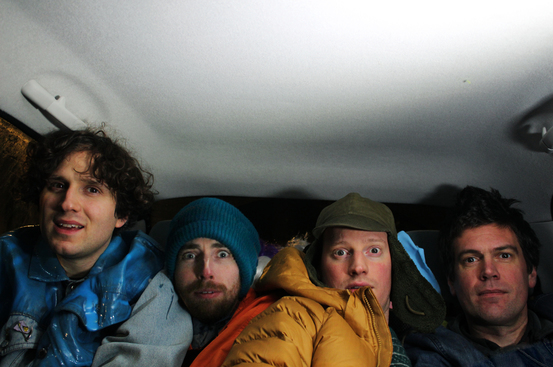 Come and celebrate Dog Chocolate's debut album coming out, with bands, comedy, food, projections, DJs...
DOG CHOCOLATE
RÓISÍN AND CHIARA
PRIVATE TROUSERS
DJ EGGS LEGS
Apiary Studios, 458 Hackney Road, London, E2 9EG
7:30pm – 2am | £2 on the door
DOG CHOCOLATE sound like a crowded room but are actually four individuals from London. Having played in many other bands including Yeborobo, Limn and Gasp! Cracking Eggs, united they recognise Dog Chocolate as their one true love. Abandoning notions of elegance, cred and professionalism they embrace the ramshackle, instant and fun, capturing a vivid spontaneity with their music. 'Snack Fans' is the band's debut album, released on March 18th by Upset The Rhythm. In just over 25 minutes the band gleefully assemble a roller-skate of sound held together with sellotape and blu-tac, just robust enough to reach it's destination as it's chucked downhill. It's an album packed with ideas and momentum, no need to set the table, Dog Chocolate are in a rush. If 'Snack Fans' doesn't satisfy your appetite then you'll need to fix yourself a feast or something.
RÓISÍN AND CHIARA's routine is as funny as it is bizarre. Whether singing a hymn to Nick Grimshaw, pretending to be breastfeeding babies or giving sage advice as celtic mystics, Róisín and Chiara are consistently hilarious. They move with such rampant pace from one segment to another that the audience cannot help but get caught up in the proceedings: even if you're not a fan of absurdist comedy, you'll find it hard not to enjoy their infectious energy.
PRIVATE TROUSERS are playing the long game, one step at a time. Variously regarded as a breath of fresh air and an awful business, PT use self-made instruments to make lairy lullabies for the happy-sad, yes you.
DJ EGGS LEGS' tropical omelete includes Highlife, Afro funk, soukous, makossa, samba, mambo, shangaan and many more.
Thank you for reading! Before heading off we also wanted it made known that we're very happy to be DJ-ing at an upcoming show for
The Rebel
,
Ravioli Me Away
,
The Glugg
and
Score
at DIY Space for London on April 1
st
, full details can be found
here
.
The Rebel performing on April Fools Day? What's not to love?
Have a brilliant week and we'll see you soon!
Upset The Rhythm
x
UPSET THE RHYTHM
UPCOMING SHOWS
Monday 4th April
100 Club, 100 Oxford St, Oxford Street, W1D 1LL
Tuesday 5 April
OSLO, 1a Amhurst Road, Hackney, E8 1LL
Saturday 9 April
DIY Space For London, 96-101 Ormside St, South Bermondsey, SE15 1TF
Sunday 10 April
Cafe OTO, 22 Ashwin Street, Dalston, E8 3DL
Friday 22 April
DIY Space For London, 96-101 Ormside St, South Bermondsey, SE15 1TF
Friday 29 April
Tufnell Park Dome, 178 Junction Road, Tufnell Park, N19 5QQ
Thursday 5 May
Bethnal Green Working Men's Club, 44 Pollard Row, Bethnal Green, E2 6NB
Tuesday 10 May
Moth Club, Old Trades Hall, Valette St, Hackney Central, E9 6NU
Saturday 21 May
MOTH Club, Old Trades Hall, Valette Street, Hackney, E9 6NU
Monday 23 May
The Lexington, 96-98 Pentonville Rd, Angel, N1 9JB
Tuesday 31 May
The Victoria, 451 Queensbridge Rd, Dalston, E8 3AS
In collaboration with Caught by the River…
Saturday 4 June
Cafe OTO, 22 Ashwin Street, Dalston, E8 3DL
Tuesday 7 June
Bethnal Green Working Men's Club, 44 Pollard Row, Bethnal Green, E2 6NB
Friday 24 June
O2 Forum Kentish Town, 9-17 Highgate Road, London, NW5 1JY
Saturday 25 June
Cafe OTO, 22 Ashwin Street, Dalston, E8 3DL