Good morning everyone!

Let the weekend bear down fast, like a canine in pursuit of a tasty morsel, as today sees the release of Dog Chocolate's debut album 'Snack Fans' and you'll need a few days to digest it. Comprised of 14 bite-sized songs, high in salt and sugar content, the LP comes in either a magenta or black vinyl option, with an accompanying bunch of extras including a glossy poster, lyric book, remix album and computer game. If that wasn't enough the whole album is also housed in a beautiful gatefold sleeve designed by Florence Shaw.
Dog Chocolate chew up bits of punk, post-punk, noise and pop to make their own inventive music. Matthew and Robert's guitars race around each other like wasps, pitch-shifting and phasing all over the place while Jono's rolled-up-newspaper drums chase them round the room. Andrew's occasionally impressionistic keyboard flourishes add further colour to the scene, whilst Andrew and Robert take it in turns to sing with the others joining in occasionally. Lyrically the album deals with themes domestic, emotional and metaphysical: purging your life of material possessions, cosmically ordering a pet, memories evoked by the tactile properties of objects, the impermanence of the body, confusion, holidays, environmental concern and hay fever. There are moments of flippancy and silliness, but also of investigation and introspection.

You can snag your copy of '
Snack Fans
' through our webstore
here
. Whilst a launch party will take place next Thursday evening at Apiary studios which you can read more about below.
| | | |
| --- | --- | --- |
| In other show-related news, we're very happy to reveal another concert we've been plotting for a while has finally come to bear fruit. On Friday 3rd June we'll be heading over to Hackney Wick's Old Baths to witness Karen Gwyer, Container and Giant Swan all performing, looks set to warp and distort all minds present, so get noting in those diaries. | | |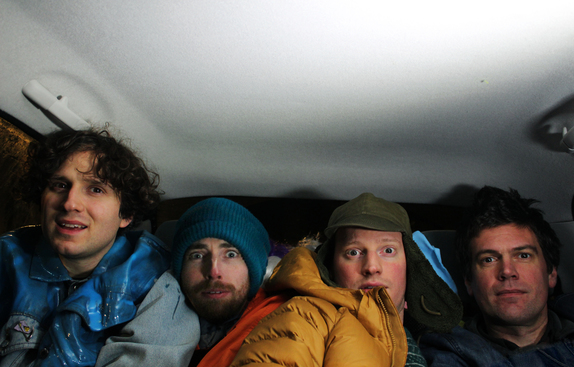 Come and celebrate Dog Chocolate's debut album coming out, with bands, comedy, food, projections, DJs...
DOG CHOCOLATE
RÓISÍN AND CHIARA
PRIVATE TROUSERS
DJ EGGS LEGS
Apiary Studios, 458 Hackney Road, London, E2 9EG
7:30pm – 2am | £2 on the door
DOG CHOCOLATE sound like a crowded room but are actually four individuals from London. Having played in many other bands including Yeborobo, Limn and Gasp! Cracking Eggs, united they recognise Dog Chocolate as their one true love. Abandoning notions of elegance, cred and professionalism they embrace the ramshackle, instant and fun, capturing a vivid spontaneity with their music. 'Snack Fans' is the band's debut album, released on March 18th by Upset The Rhythm. In just over 25 minutes the band gleefully assemble a roller-skate of sound held together with sellotape and blu-tac, just robust enough to reach it's destination as it's chucked downhill. It's an album packed with ideas and momentum, no need to set the table, Dog Chocolate are in a rush. If 'Snack Fans' doesn't satisfy your appetite then you'll need to fix yourself a feast or something.
RÓISÍN AND CHIARA's routine is as funny as it is bizarre. Whether singing a hymn to Nick Grimshaw, pretending to be breastfeeding babies or giving sage advice as celtic mystics, Róisín and Chiara are consistently hilarious. They move with such rampant pace from one segment to another that the audience cannot help but get caught up in the proceedings: even if you're not a fan of absurdist comedy, you'll find it hard not to enjoy their infectious energy.
PRIVATE TROUSERS are playing the long game, one step at a time. Variously regarded as a breath of fresh air and an awful business, PT use self-made instruments to make lairy lullabies for the happy-sad, yes you.
DJ EGGS LEGS' tropical omelete includes Highlife, Afro funk, soukous, makossa, samba, mambo, shangaan and many more.
Thank you so much for your time,
Have a terrific weekend!
Upset The Rhythm
x
UPSET THE RHYTHM
UPCOMING SHOWS
Monday 4th April
100 Club, 100 Oxford St, Oxford Street, W1D 1LL
Tuesday 5 April
OSLO, 1a Amhurst Road, Hackney, E8 1LL
Saturday 9 April
DIY Space For London, 96-101 Ormside St, South Bermondsey, SE15 1TF
Sunday 10 April
Cafe OTO, 22 Ashwin Street, Dalston, E8 3DL
Friday 22 April
DIY Space For London, 96-101 Ormside St, South Bermondsey, SE15 1TF
Friday 29 April
Tufnell Park Dome, 178 Junction Road, Tufnell Park, N19 5QQ
Thursday 5 May
Bethnal Green Working Men's Club, 44 Pollard Row, Bethnal Green, E2 6NB
Tuesday 10 May
Moth Club, Old Trades Hall, Valette St, Hackney Central, E9 6NU
Saturday 21 May
MOTH Club, Old Trades Hall, Valette Street, Hackney, E9 6NU
Monday 23 May
The Lexington, 96-98 Pentonville Rd, Angel, N1 9JB
Tuesday 31 May
The Victoria, 451 Queensbridge Rd, Dalston, E8 3AS
In collaboration with Caught by the River…
Saturday 4 June
Cafe OTO, 22 Ashwin Street, Dalston, E8 3DL
Tuesday 7 June
Bethnal Green Working Men's Club, 44 Pollard Row, Bethnal Green, E2 6NB
Friday 24 June
O2 Forum Kentish Town, 9-17 Highgate Road, London, NW5 1JY
Saturday 25 June
Cafe OTO, 22 Ashwin Street, Dalston, E8 3DL