Morning all!

Upset The Rhythm have three tremendous concerts coming up over this next week. On Thursday we celebrate the climax of John Maus' European tour at the Electric Ballroom. Joining Maus and his spirited live band for this special event, their largest headline show to date, will be Nick Nicely premiering his 'Forseeable Past' performance and the endlessly inventive Colin Potter too!

Well worth snapping up tickets in advance for this one as it's getting very close to selling out. Expect live music from 8pm, so pop down early for this huge firework display of a show.
Onwards to next Monday at Cecil Sharp House, we're very lucky to have the compelling Kristin Hersh in town. Performances from Kristin are so much more than a gig, her personality spills forth through her songs and accompanying stories, making it a profuse event.

Fred Abong (of Throwing Muses also, Belly etc) will also be treating us to a rare support set too. Not to be missed at any cost, read on for the whole picture!
Last but so far from least, next Tuesday (June 19th), the flawless "jazz-hyped blues and country-n-western music" legend Michael Hurley will play at Bethnal Green Working Men's Club for us.

Hurley's epic catalogue of releases over the last 50 years from Folkways to Mississippi Records serves as a testament to his impeccable skill as a songwriter, yet it's in concert where Doc Snock really comes alive! The radical talents of Hugh Metcalfe and Russell Walker are also set to join this dream lineup for us.
You can read a more in depth overview of all three of those shows below. Our upcoming programme concludes this, boasting newly added events for Gwenifer Raymond, Vital Idles and the crushingly brilliant Jo Passed too. Talking of Vital Idles you can check out a new track from their debut on Upset The Rhythm here too.

Here's Jess on the new song 'Blue, Black & White': "Consider it our contribution to the canon of a love song - not a soppy anthem but just something intimate, that gives and receives."

This last week we just announced our debut album by Primo too! Here's the Australian band's first ever video, for short-but-sweet album highlight 'Mirage', enjoy!

Primo are Xanthe Waite (also of Terry), Violetta DelConte Race (who also played in The Shifters) and Suzanne Walker (also of amazing film projects). As a trio from Melbourne writing up-tempo, terse chorus and verse, Primo make use of two guitars, drums, sound effects and a group vocal sensibility to ornament their enquiries into deconstructed post-punk. Their songs chime and charm, sounding at times bountiful, at others brittle, always buoyant with attention to detail.

Debut album 'Amici' is released on LP and CD this July 13th through Upset The Rhythm. Available to

pre-order now

too!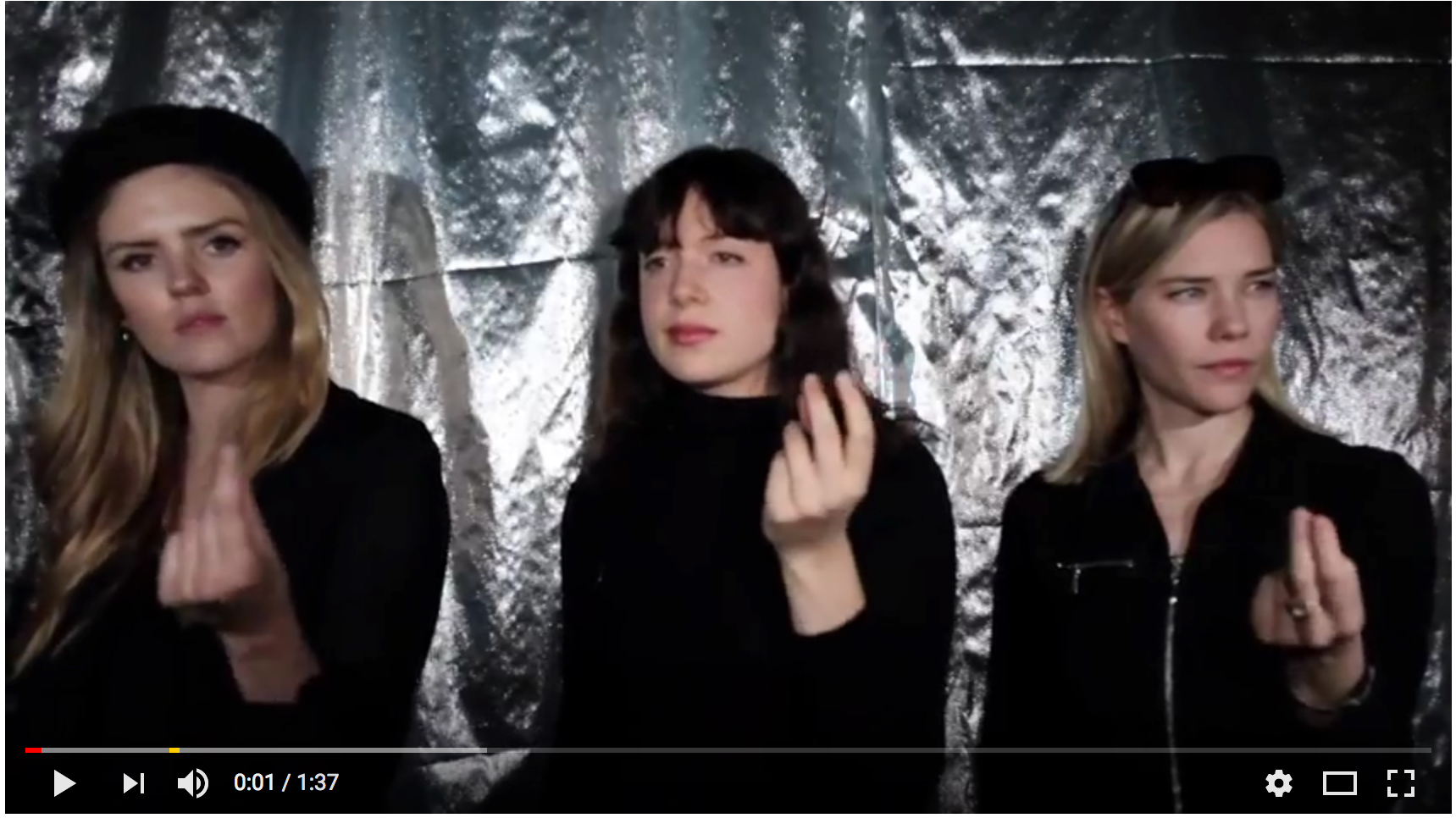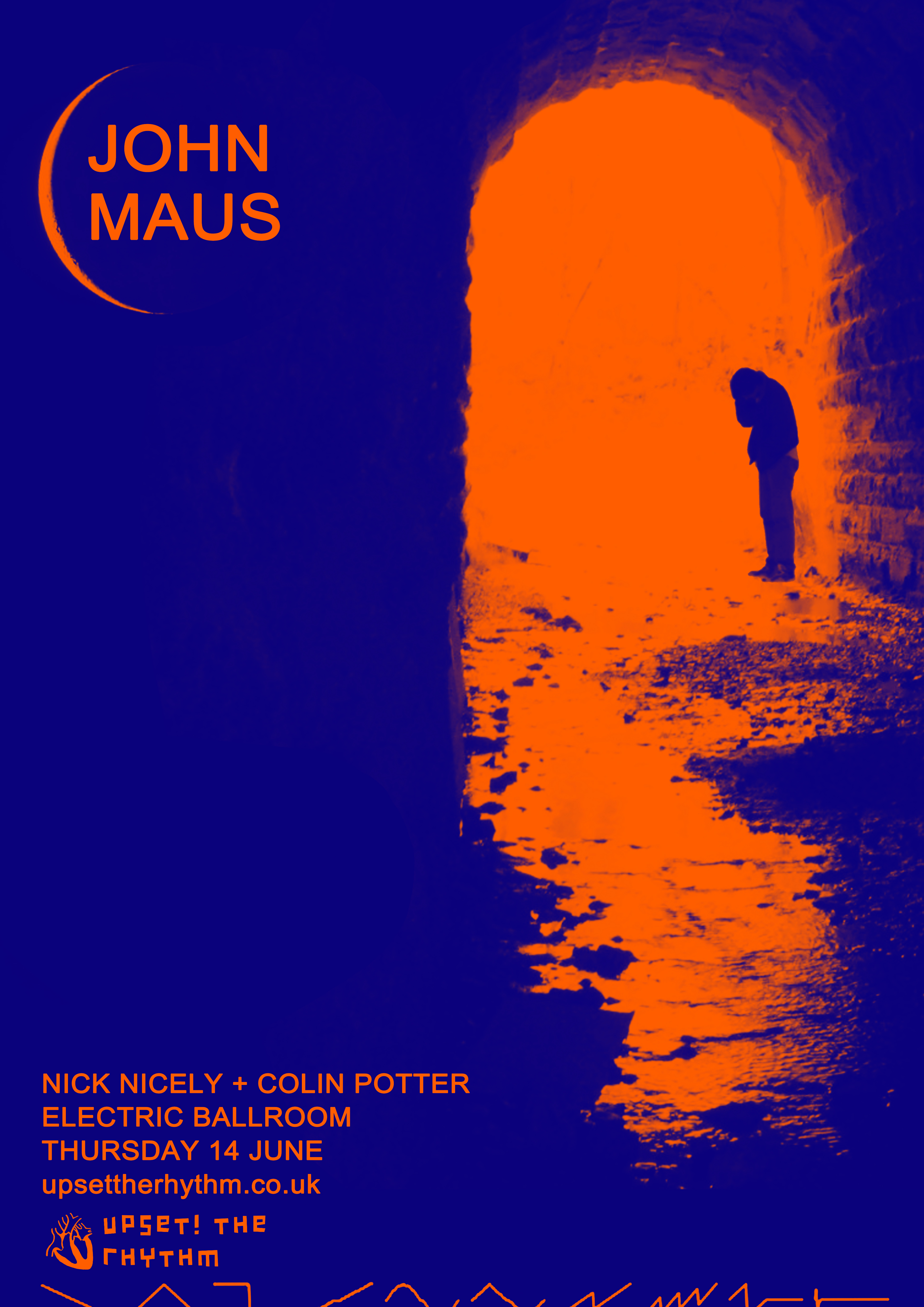 Upset The Rhythm presents…
JOHN MAUS
NICK NICELY'S FORSEEABLE PAST
COLIN POTTER
Thursday 14 June
Electric Ballroom, 184 Camden High St, London, NW1 8QP
JOHN MAUS is a truly enigmatic musician. Broadly cut from the synth pop cloth, he's fashioned the frosty minimalism of its fabric into a cloak of infinite meaning, genuine grace and absurdist humor over the course of three defining albums since 2006. His music is a highly mutable affair, whilst often described as retro-futurist on behalf of the 80's drum machines and synth sounds employed, John's music is more personal than the nostalgic re-tread implied. There's a cinematic quality to his songs, with pathos conjured through propelling bass-lines, trailing arpeggios and of course his deeply resonant vocal. Moroder helped map out the territory but Maus is more interested in seeking cadence through his love of Renaissance polyphony and the experimentation behind post punk. It's an amalgamation of musical ideas as radical as its intent.

Maus is a 'man out of time' trying to make sense of the inhumanity of our world through his mobilisation of the language of punk rock. His aim is true as he reaches for the seemingly impossible. It's a want to emerge as part of greater multiplicity, to appear, to become, to connect that powers his songs and the man himself. It's now been six years since the widely lauded album 'We Must Become The Pitiless Censors Of Ourselves' appeared like a thunderbolt of maniacal energy and turned everyone's heads. Last October his fourth album proper entitled 'Screen Memories' came out like a clarion call through Ribbon/Domino, this April sees the release of his career defining boxset and new album 'Addendum'. John Maus has returned to save us all from the apocalypse, now he is accompanied by his electrifying live band the triumph of the human is nigh!
http://www.johnma.us/
NICK NICELY
is one of the most innovative artists of the post-psych era, with his 1982 EMI single masterpiece "Hilly Fields (1892)" acclaimed by the NME as "the best psychedelic record since the '60s". Despite being admired by contemporaries Robyn Hitchcock and Andy Partridge, his singles brace of psychedelic electronica in the early eighties did not garner the commercial success they deserved. Later that decade, inspired by the second summer of love, nick embarked on a new period of creativity. Renewed interest was assisted by his repeatedly reissued "Psychotropia" collection and support from psychedelic adventurers The Bevis Frond. Over the past few years he's collaborated with Unkle and undertook a string of concerts including the prestigious Green Man and Terrastock festivals whilst releasing a brand new album last year called 'Sleep Safari'. This record goes further into electronics while continuing Nick' psychedelic journey into a unique pop juxtaposition.
https://nicknicely.bandcamp.com
COLIN POTTER
has been a central figure in the UK's DIY and post - industrial underground since the late '70s. His ICR label, founded in 1981, blurred the lines between post - punk experimentation, crude pop, Krautrock - inspired drone work and contemporary electronica, with releases by everyone from DIY legends The Instant Automatons through Chris & Cosey of Throbbing Gristle , experimental composer Trevor Wishart, drone soundists Andrew Chalk and Darren Tate and Bryn Jones's Muslimgauze. He has also been a key collaborator with both Current 93 and Nurse With Wound, working in the studio with both groups since the late '90s as well as serving as a member of Nurse With Wound's current live line - up. From the late '90s to the late '00s Potter's IC Studio, based in a Victorian Water Tower outside Preston, was a lightning rod for musicians working beneath the radar and a focal point for the nascent UK drone scene. Recent years have seen an upsurge in interest in Potter's solo works, which showcase a constant experimentation throughout, creating obscure atmospheres and a pleasantly disturbing feeling of disquietude.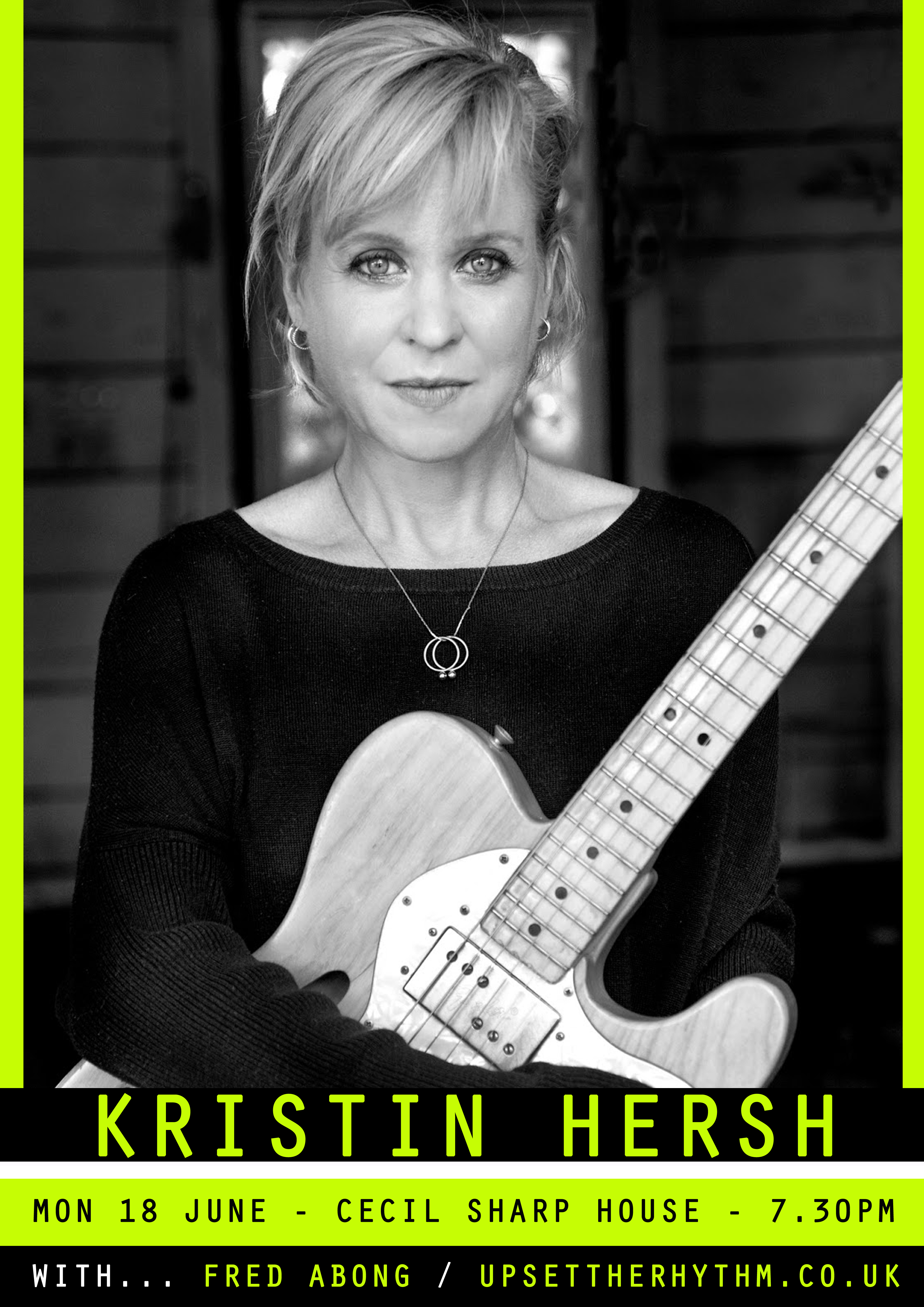 Upset The Rhythm presents…
KRISTIN HERSH
FRED ABONG
Monday 18 June
Cecil Sharp House, 2 Regent's Park Road, Camden, London, NW1 7AY
7.30pm | £24 |
TICKETS
KRISTIN HERSH
, most recognised as the front person for the influential art-punk band Throwing Muses and power trio 50FOOTWAVE, will kick off a short visit to the UK this summer with this special solo date at Cecil Sharp House preceding her sold-out performance at Robert Smith's Meltdown Festival on June 21st. Throwing Muses first gained traction in the early '80s, playing with similarly singular artists, such as The Pixies and Dinosaur Jr. They continue to release ground-breaking music, most recently with 2013's double CD masterpiece 'Purgatory/Paradise'. Kristin's solo career spun off in 1994 with the release of 'Hips and Makers', a widely acclaimed album that included 'Your Ghost', a duet with R.E.M.'s Michael Stipe. Since then, Kristin has released a steady stream of distinctly individual solo albums, including 2010's 'Crooked', released as her first in the inventive book/CD format for which she is now known.
2016's 'Wyatt at the Coyote Palace', on which Kristin played all of the instruments, received rave reviews; an explosive defined by blistering guitars, powerful drumming and her signature visceral vocal technique. Her poignant true stories bring the listener into what the BBC calls Hersh's "dark and dizzy world". In 2004, Kristin formed the noise rock power trio 50FOOTWAVE, releasing a series of frighteningly intense mini-albums, all available for download free of charge. Their most recent 'Bath White' EP was described as "a series of loud explosions, of velvet like dreams all intermingled at the same time. Bath White takes no prisoners." Kristin's writing career has flourished with the highly acclaimed 'Paradoxical Undressing' (released as 'Rat Girl' in the USA) and the award winning 'Don't Suck, Don't Die', a personal account of her long friendship with the late Vic Chesnutt, as well as the enchanting books which now accompany each of her record releases.
https://www.kristinhersh.com/
FRED ABONG
will be supporting Kristin on her current UK tour dates. Fred is a friend of Kristin's and former Throwing Muses and Belly bass player. Fred will be touring his new solo acoustic EP, described by himself as sounding like a "ragged Replacements".
http://www.fredabong.com/music/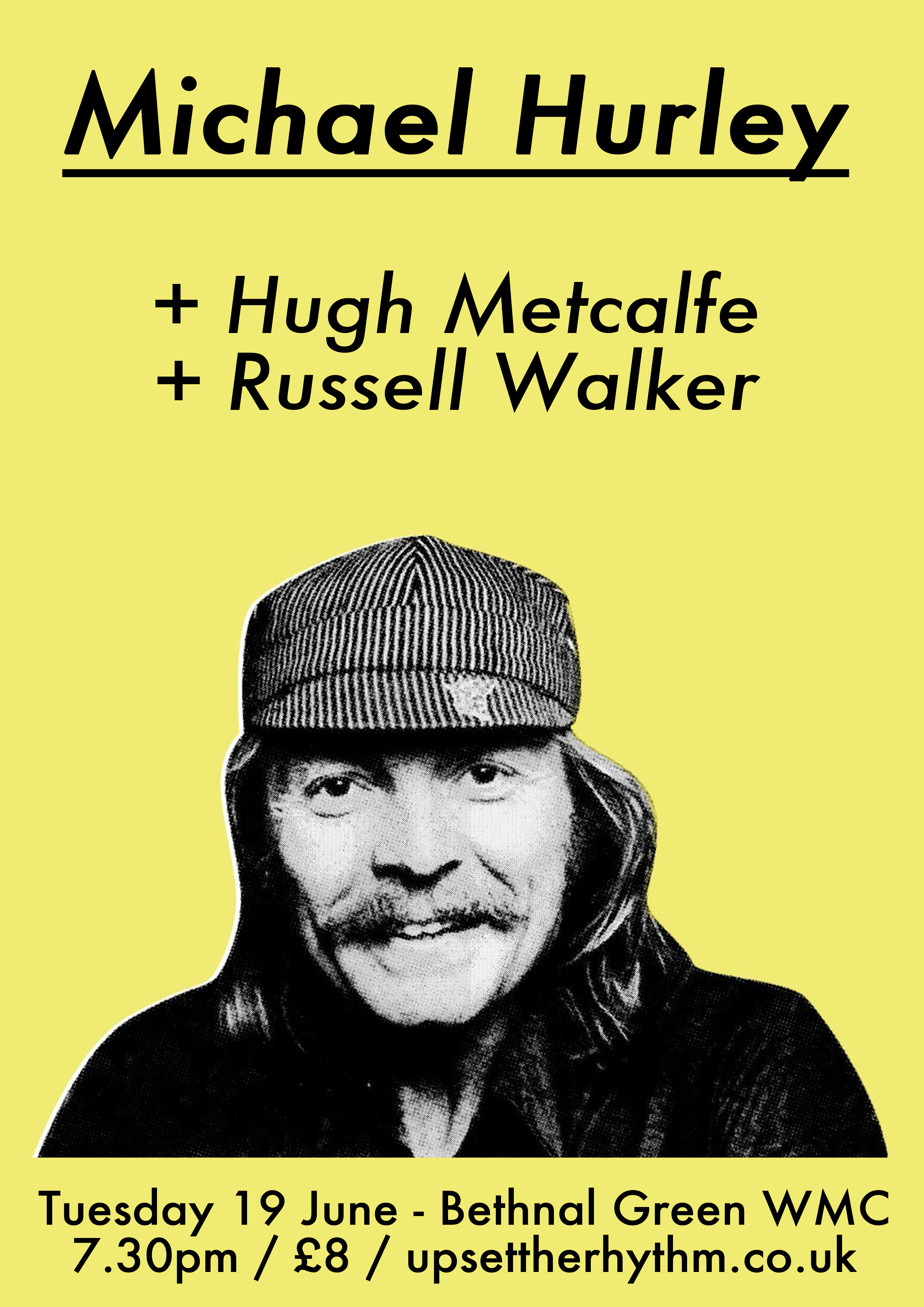 Upset The Rhythm presents…
MICHAEL HURLEY
HUGH METCALFE
RUSSELL WALKER
Tuesday 19 June
Bethnal Green Working Men's Club, 42-44 Pollard Row, London, E2 6NB
7.30pm | £8 |
TICKETS

MICHAEL HURLEY
(a.k.a. Doc Snock) is a quiet legend, a wry conspirator in the stand-up of life. "The world is his front porch" and, come June 19th, the American alt-folk icon's vista will include Bethnal Green Working Men's Club. The 76 year-old Hurley has been making music for nigh on 50 years. Having broken ground as part of the Greenwich Village folk movement of the '60s, he continues to perform his uniquely crafted - and vast - catalogue of tunes, performing odes to aliens, tea and women for spellbound audiences at home in the US and abroad. Hurley's music sounds old, like it has always existed, and simultaneously singular, like something you've never heard anyone else play quite like that before. This timeless quality ensures that Hurley's audience constantly renews itself. From the beatniks in the NYC Village where he started in the early 60s, to the hippies in Vermont, to the Americana fans, indie rockers and freak folkers from the last two decades, Michael's music never fails to find fresh new ears. Pressed for a description, Hurley has called it "jazz-hyped blues and country and western music".
Hurley's early records were released on Folkways, Warner Brothers/Raccoon, and Rounder, while in recent years stalwart independent labels like Gnomonsong and Mississippi have been carrying the torch. The great news is that there is no stopping Michael Hurley. An album with brand new recordings, Bad Mr. Mike, was released on the Mississippi label in 2016, plus another LP with archival 70s material came out on Feeding Tube Records in 2017. Besides being a truly unique musician, Hurley is also a cartoonist and watercolor artist of note - the instantly recognisable results of which grace his album covers.
http://www.snockonews.net/
HUGH METCALFE
is a musician and filmmaker from London and Suffolk, England. He is best known as the promoter of The Klinker in London, a free-improv club that he has run in various venues since at least 1982. He plays guitar, violin, hi-hat and gas mask. He performs in several bands including Bicycle Clip Sex, The Small Faeces, The Cross-Dressed Quartet and Fuck Off Batman. He has also performed with noted sound poet Bob Cobbing, saxophonist Lol Coxhill and dancer Jennifer Pike in Birdyak. Metcalfe's experimental film work began in 1978 and uses 8mm film methods to produce silent films, often used later as a springboard for free musical improvisation, either by Metcalfe himself or other musicians.
http://www.klinkerclub.com/about/
RUSSELL WALKER
, known as the uncanny lyricist/vocalist for The Pheromoans, Bomber Jackets etc, treats us to an exceedingly rare solo live appearance. Walker released his solo album proper in 2016 through Vitrine, contributed to a recent compilation on Kye and has a spoken album due out on Chocolate Monk next month called 'Half Time 1916'. Walker also published his latest book 'When New Towns Act Tough' in 2016, well worth tracking down on Larching Books!
https://www.youtube.com/watch?v=ZnVtAsspaKM
Thanks as ever for reading! Catch you soon!
Upset The Rhythm
UPSET THE RHYTHM
UPCOMING SHOWS
JOHN MAUS
NICK NICELY
COLIN POTTER
Thursday 14 June
Electric Ballroom, 184 Camden High St, London, NW1 8QP
7.30pm | £15.00 |
TICKETS
KRISTIN HERSH
FRED ABONG
Monday 18 June
Cecil Sharp House, 2 Regent's Park Road, Camden, London, NW1 7AY
MICHAEL HURLEY
HUGH METCALFE
RUSSELL WALKER
Tuesday 19 June
Bethnal Green Working Men's Club, 42-44 Pollard Row, London, E2 6NB
YUNOHANA VARIATIONS:
YOSHIMIO & ROBERT AIKI AUBREY LOWE & SUSIE IBARRA
SAM WEAVER
Tuesday 26 June
OSLO, 1a Amhurst Road, Hackney, London, E8 1LL
7.30pm | £12 |
TICKETS
GWENIFER RAYMOND
JOHN MCGRATH
Thursday 5 July
The Islington, 1 Tolpuddle St, Angel, London, N1 0XT
7.30pm | £6 |
TICKETS
VITAL IDLES
Thursday 12 July
The Islington, 1 Tolpuddle St, Angel, London, N1 0XT
7.30pm | £6 |
TICKETS
SHOPPING
ES
KATY & NICK

Saturday 11th August
OSLO, 1a Amhurst Road, Hackney, London, E8 1LL
6.30pm - 10pm | £10 |
TICKETS
SHANNON AND THE CLAMS
Tuesday 4 September
The Garage, 20-22 Highbury Corner, London, N5 1RD
7.30pm | £12.50 |
TICKETS
PROLAPSE
FIVEHEAD
Thursday 6 September
Moth Club, Old Trades Hall, Valette St, Hackney Central, E9 6NU
7.30pm | £11 |
TICKETS
LITHICS
Friday 7 September
The Islington, 1 Tolpuddle St, Angel, London, N1 0XT
7.30pm | £6 |
TICKETS
SCREAMING FEMALES
SCRAP BRAIN
Tuesday 11 September
100 Club, 100 Oxford St, Oxford Street, London, W1D 1LL
WOLF EYES MUSIC: THREE DAY RESIDENCY
Friday 21st, Saturday 22nd, Sunday 23rd September
In collaboration with Cafe OTO, 22 Ashwin Street, Dalston, London, E8 3DL
7.30pm | £12 per day, £30 3-day pass |
TICKETS
21 SEPT:
WOLF EYES with YEAH YOU
WOLF EYES (short set)
AARON DILLOWAY / VICKY LANGAN (Duo)
22 SEPT:
UNIVERSAL EYES
(Nate Young, John Olson, Aaron Dilloway, Gretchen Davidson)
TRIPLE NEGATIVE
VICKY LANGAN (DJ set)
23 SEPT:
WOLF EYES with BEATRICE DILLON
AARON DILLOWAY (solo)
SHARON GAL (solo)