Friday again!

Q. Where is this year going?

A. Down in history as our best year for new records!

It's been quite the spin for Upset The Rhythm as a record label so far this year, with brand new titles from The Green Child, Dog Chocolate and No Babies already under our belt, last Friday we released School Damage's new EP (more on that to come), whilst today sees us unveil Vital Idles' remarkable debut album, 'Left Hand' in all its glory on LP and CD. Hailing from Glasgow, Vital Idles mark out their sound within a chalk circle of first-though/best-though lyrical vision and primal-pop momentum. Here's what some adroit critics thought of the album…
Clash "a superb one chord thrash, somewhere between the oblique minimalist pop of Flying Nun and early Rough Trade signings such as The Raincoats."

BEAT "Debut album, Left Hand, is something of a brilliant stripped to the bones statement of intent."

Brooklyn Vegan "Splits the difference between Veronica Falls' moody jangle and The Pastels' detuned charm."

The Skinny "It's a taut, propulsive exercise in minimalism that doesn't waste a moment, barrelling across a series of vignettes tackling issues like one's place in the world, social complacency and the nature of music itself."

'Left Hand' is available to order on LP and CD from:

www.upsettherhythm.co.uk

as well as all great record shops now, lucky world!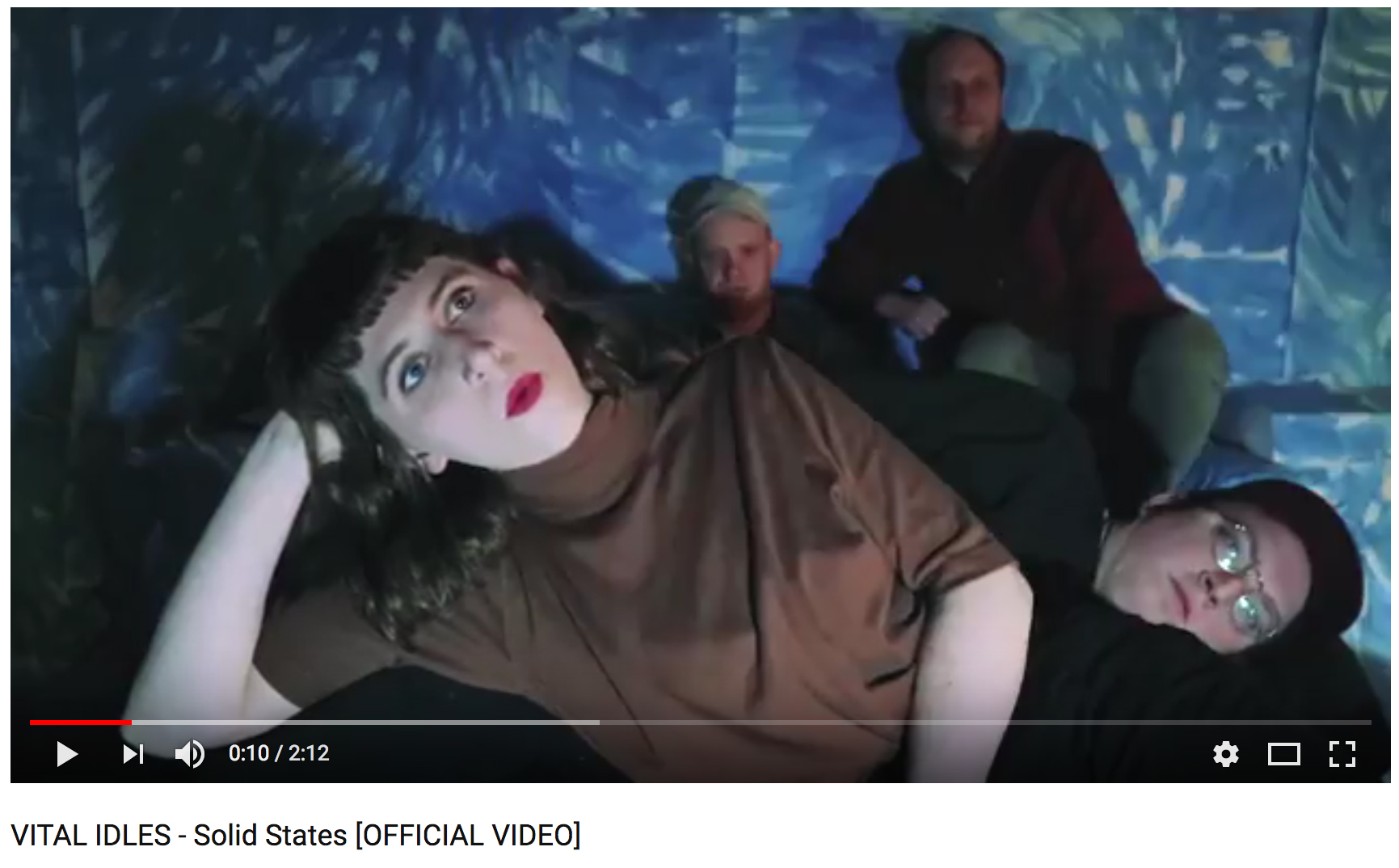 One week ago we also released

School Damage

's new EP 'Four Songs About One Cat'! School Damage are from Geelong & Melbourne and feature members of Ausmuteants, Parsnip and Chook Race. This new EP is a fantastic four track 7" of woozy head bop, jangle-pop all about their pet cat. This new song, '

Secret Beauty

', captures Lumpy at her most serene,

check it!
Besides cueing up new UTR releases galore (Apostille's new record drops next week fear not!), Upset The Rhythm also spent this week confirming a new concert for the impeccable "jazz-hyped blues and country-n-western music" legend Michael Hurley on June 19th with Hugh Metcalfe and Russell Walker, Bethnal Green Working Men's Club will host this waking dream of a lineup for us.

We've also set up new September engagements with Portland's Lithics, the mighty Prolapse (first show in three years) and a three day residency with Café OTO for Wolf Eyes too. This triple assault of Wolf Eyes Music will feature Yeah You, Dilloway, Vicky Langan, Beatrice Dillon, Sharon Gal, Triple Negative and an extremely rare outing for Universal Indians NOW Universal Eyes. Tickets for all of these are on sale now, links below.
We'll leave you with the full listing for the next Upset The Rhythm live event; John Maus, Nick Nicely and Colin Potter at the Electric Ballroom in a fortnight's time. Well worth snapping up tickets for this in the next week as we're approaching sell-out rapidly now, don't say we didn't warn you, word up!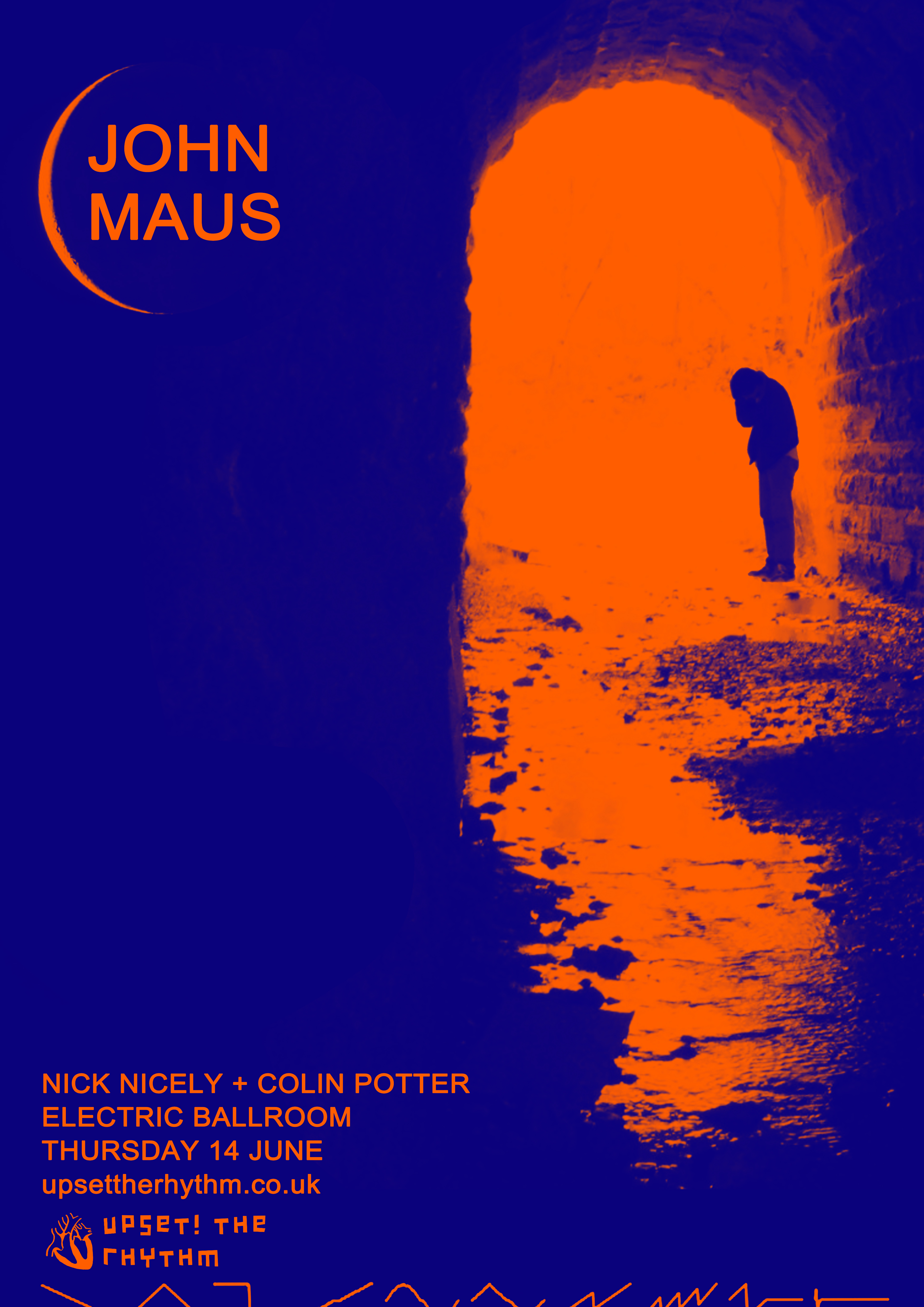 Upset The Rhythm presents…
JOHN MAUS
NICK NICELY
COLIN POTTER
Thursday 14 June
Electric Ballroom, 184 Camden High St, London, NW1 8QP
JOHN MAUS is a truly enigmatic musician. Broadly cut from the synth pop cloth, he's fashioned the frosty minimalism of its fabric into a cloak of infinite meaning, genuine grace and absurdist humor over the course of three defining albums since 2006. His music is a highly mutable affair, whilst often described as retro-futurist on behalf of the 80's drum machines and synth sounds employed, John's music is more personal than the nostalgic re-tread implied. There's a cinematic quality to his songs, with pathos conjured through propelling bass-lines, trailing arpeggios and of course his deeply resonant vocal. Moroder helped map out the territory but Maus is more interested in seeking cadence through his love of Renaissance polyphony and the experimentation behind post punk. It's an amalgamation of musical ideas as radical as its intent.

Maus is a 'man out of time' trying to make sense of the inhumanity of our world through his mobilisation of the language of punk rock. His aim is true as he reaches for the seemingly impossible. It's a want to emerge as part of greater multiplicity, to appear, to become, to connect that powers his songs and the man himself. It's now been six years since the widely lauded album 'We Must Become The Pitiless Censors Of Ourselves' appeared like a thunderbolt of maniacal energy and turned everyone's heads. Last October his fourth album proper entitled 'Screen Memories' came out like a clarion call through Ribbon/Domino, this April sees the release of his career defining boxset and new album 'Addendum'. John Maus has returned to save us all from the apocalypse, now he is accompanied by his electrifying live band the triumph of the human is nigh!
http://www.johnma.us/
NICK NICELY
is one of the most innovative artists of the post-psych era, with his 1982 EMI single masterpiece "Hilly Fields (1892)" acclaimed by the NME as "the best psychedelic record since the '60s". Despite being admired by contemporaries Robyn Hitchcock and Andy Partridge, his singles brace of psychedelic electronica in the early eighties did not garner the commercial success they deserved. Later that decade, inspired by the second summer of love, nick embarked on a new period of creativity. Renewed interest was assisted by his repeatedly reissued "Psychotropia" collection and support from psychedelic adventurers The Bevis Frond. Over the past few years he's collaborated with Unkle and undertook a string of concerts including the prestigious Green Man and Terrastock festivals whilst releasing a brand new album last year called 'Sleep Safari'. This record goes further into electronics while continuing Nick' psychedelic journey into a unique pop juxtaposition.
https://nicknicely.bandcamp.com
COLIN POTTER
has been a central figure in the UK's DIY and post - industrial underground since the late '70s. His ICR label, founded in 1981, blurred the lines between post - punk experimentation, crude pop, Krautrock - inspired drone work and contemporary electronica, with releases by everyone from DIY legends The Instant Automatons through Chris & Cosey of Throbbing Gristle , experimental composer Trevor Wishart, drone soundists Andrew Chalk and Darren Tate and Bryn Jones's Muslimgauze. He has also been a key collaborator with both Current 93 and Nurse With Wound, working in the studio with both groups since the late '90s as well as serving as a member of Nurse With Wound's current live line - up. From the late '90s to the late '00s Potter's IC Studio, based in a Victorian Water Tower outside Preston, was a lightning rod for musicians working beneath the radar and a focal point for the nascent UK drone scene. Recent years have seen an upsurge in interest in Potter's solo works, which showcase a constant experimentation throughout, creating obscure atmospheres and a pleasantly disturbing feeling of disquietude.
Thanks so much for coming out last week to our Dog Chocolate, Sauna Youth and Apostille shows, and of course for reading, have a wonderful weekend!
Upset The Rhythm
UPSET THE RHYTHM
UPCOMING SHOWS
JOHN MAUS
NICK NICELY
COLIN POTTER
Thursday 14 June
Electric Ballroom, 184 Camden High St, London, NW1 8QP
7.30pm | £15.00 |
TICKETS
KRISTIN HERSH
FRED ABONG
Monday 18 June
Cecil Sharp House, 2 Regent's Park Road, Camden, London, NW1 7AY
MICHAEL HURLEY
HUGH METCALFE
RUSSELL WALKER
Tuesday 19 June
Bethnal Green Working Men's Club, 42-44 Pollard Row, London, E2 6NB
YUNOHANA VARIATIONS:
YOSHIMIO & ROBERT AIKI AUBREY LOWE & SUSIE IBARRA
SAM WEAVER
Tuesday 26 June
OSLO, 1a Amhurst Road, Hackney, London, E8 1LL
7.30pm | £12 |
TICKETS
SHOPPING
ES
KATY & NICK

Saturday 11th August
OSLO, 1a Amhurst Road, Hackney, London, E8 1LL
6.30pm - 10pm | £10 |
TICKETS
SHANNON AND THE CLAMS
Tuesday 4 September
The Garage, 20-22 Highbury Corner, London, N5 1RD
7.30pm | £12.50 |
TICKETS
PROLAPSE
FIVEHEAD
Thursday 6 September
Moth Club, Old Trades Hall, Valette St, Hackney Central, E9 6NU
7.30pm | £11 |
TICKETS
LITHICS
Friday 7 September
The Islington, 1 Tolpuddle St, Angel, London, N1 0XT
7.30pm | £6 |
TICKETS
SCREAMING FEMALES
SCRAP BRAIN
Tuesday 11 September
100 Club, 100 Oxford St, Oxford Street, London, W1D 1LL
WOLF EYES MUSIC: THREE DAY RESIDENCY
Friday 21st, Saturday 22nd, Sunday 23rd September
In collaboration with Cafe OTO, 22 Ashwin Street, Dalston, London, E8 3DL
7.30pm | £12 per day, £30 3-day pass |
TICKETS
21 SEPT:
WOLF EYES with YEAH YOU
WOLF EYES (short set)
AARON DILLOWAY / VICKY LANGAN (Duo)
22 SEPT:
UNIVERSAL EYES
(Nate Young, John Olson, Aaron Dilloway, Gretchen Davidson)
TRIPLE NEGATIVE
VICKY LANGAN (DJ set)
23 SEPT:
WOLF EYES with BEATRICE DILLON
AARON DILLOWAY (solo)
SHARON GAL (solo)
VIRGINIA WING
Thursday 11 October
OSLO, 1a Amhurst Road, Hackney, London, E8 1LL
7.30pm | £8 |
TICKETS