Here's a quick reminder of our next two upcoming UTR concerts. This Tuesday at Oslo, Hackney we've got a special performance planned for a next-level collaboration known as Yunohana Variations. Yunohana Variations, who released a fantastic album on Thrill Jockey earlier this year, are a trio of luminaries focussed on electronics and double drum kits. Featuring YoshimiO (from Boredoms, OOIOO and Saicobab), Robert Aiki Aubrey Lowe (of Lichens) and avant-garde percussionist extraordinaire Susie Ibarra, Yunohana Variations open up vast, new universes of sound, and in the words of Ibarra, "enjoy crossing into each others various sonic territories".

Tuesday's show will be the London leg of the group's comprehensive UK Tour as part of the inspired Outlands project. Tickets are £12, available on the door from 7.30pm and expect live music to commence with modular-meddler Sam Weaver around 8.30pm.
Our second show coming up fast on the horizon will be the release party for Gwenifer Raymond's new record on Tompkins Square. Gwenifer, a Welsh guitarist living in Brighton, writes primitive instrumentals drawn from the roots music of Mississippi and Appalachia. Influenced by the likes of Skip James, John Fahey and Roscoe Holcomb, Gwenifer's new album is a revelation of rhythmic patterns mimicking the swift dynamics of a fiddle with a country twang.

Experimental Irish guitarist John McGrath will open this concert with his questing drones and fingerpicking too. Tickets are £6 and are available in advance from the link below, read on for the full write-ups on both of these.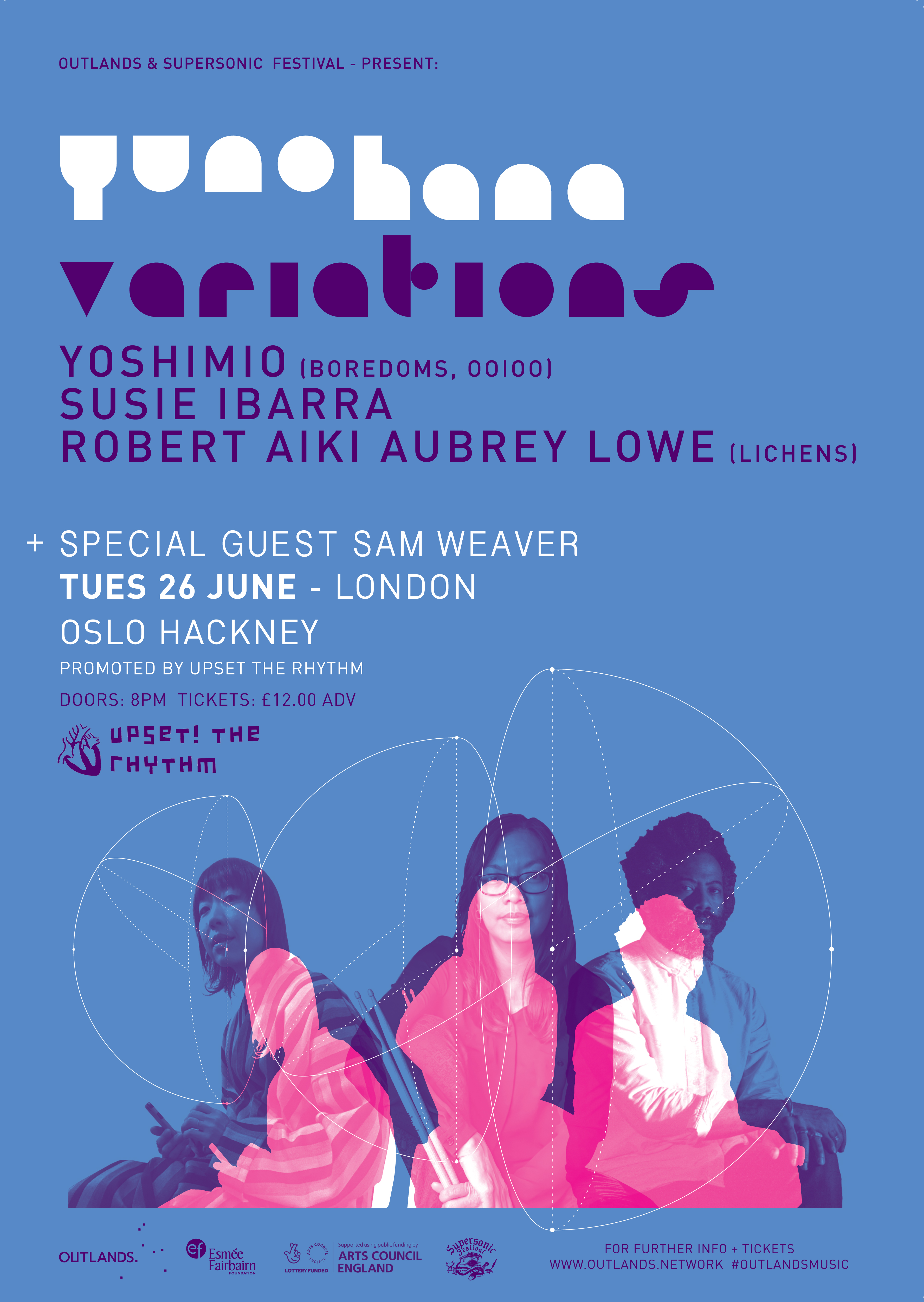 Upset The Rhythm presents...
YUNOHANA VARIATIONS:
YOSHIMIO & ROBERT LOWE & SUSIE IBARRA
SAM WEAVER
Tuesday 26 June
OSLO, 1a Amhurst Road, Hackney, London, E8 1LL
Three improvisational luminaries; multi-instrumentalist YoshimiO (Boredoms, OOIOO, SAICOBAB), avant-garde percussionist Susie Ibarra, and artist Robert Aiki Aubrey Lowe (Lichens) shall be performing together as YUNOHANA VARIATIONS for the first time in the UK. The trio's previous collaborations have resulted in album, 'Flowers Of Sulphur', released on Thrill Jockey this February. 'Flower of Sulphur', is a transfixing piece of continuous improvisational work which explores the direct relationship between the artists and their individual configurations. The album takes the form of the trio each playing their principal instruments to explore the space in that moment. This spontaneous composition showcases the freedom and musical immediacy of all three artists' ability to interplay as well as their individual unique techniques to create engaging experimental sounds. This tour is the second instalment of Outlands' experimental tour outings, this time produced by Birmingham's Supersonic Festival.
YOSHIMIO is a drummer, vocalist and founding member of the revolutionary Japanese noise rock group Boredoms. She is the leader of the experimental rock band OOIOO, a member of Free Kitten with Kim Gordon, and most recently the singer in SAICOBAB - a quartet who blend ancient Indian musical traditions and instruments with electronics and modern sounds. Known for her ability to improvise in a variety of contexts, YoshimiO has previously performed and recorded improvisational music with saxophonist Mats Gustafsson, Jim O'Rourke, and recently with Lowe, and then Ibarra during a series of collaborative performances in New York City, late in 2015.
SUSIE IBARRA, is one of the most significant percussionists and composers of our time, known for her work as a performer within contemporary, avant-garde, jazz, classical, and world music, and performs in the band Dreamtime Ensemble. Ibarra studied with jazz luminaries Earl Buster Smith (of Sun Ra Arkestra), Vernel Fournier and Milford Graves, and Philippine Kulintang gong-chime music with Danongan Kalanduyan. She has performed with the likes of: John Zorn, Dave Douglas, Yo La Tengo, Ikue Mori and recent works include a sound installation for Ai Weiwei.
ROBERT AIKI AUBREY LOWE is a multidisciplinary artist whose practice is strongly rooted in exploration of moments and the hypnagogic state. Movement and gesture play key factors within this process, and in the performance realm are focused on by voice and modular synthesizer. A fixture of Chicago's experimental community throughout the 90s and early 2000s, Robert has also performed under the name Lichens, is a member of the legendary band Om, and has an impressive portfolio of collaborations, which extends to the film world with his score for pseudo-documentary A Spell To Ward Off The Darkness, directed by Ben Russell and Ben Rivers (which Robert also appears in).
SAM WEAVER (Cuspeditions) is a composer and sound artist with a longstanding interest in the studio as a sort off laboratory for sonic investigation, often re-routing instruments into abstraction and deliberately misusing his equipment: the Hordjik analogue modular synthesizer. Weaver's music lies in the grey areas between acousmatic music, free improvisation and experimental electronics, often exploring ways to bring moments of calm and harmony out of passages of chaos. Weaver is also one half of London outfit Hungryghost, and has recorded and performed with Charles Hayward, Danny Saul, Ecka Mordecai, Otto Wilberg, Rachel Goodyear, Konstrukt, Tombed Visions, Gnod and Kevin Drumm.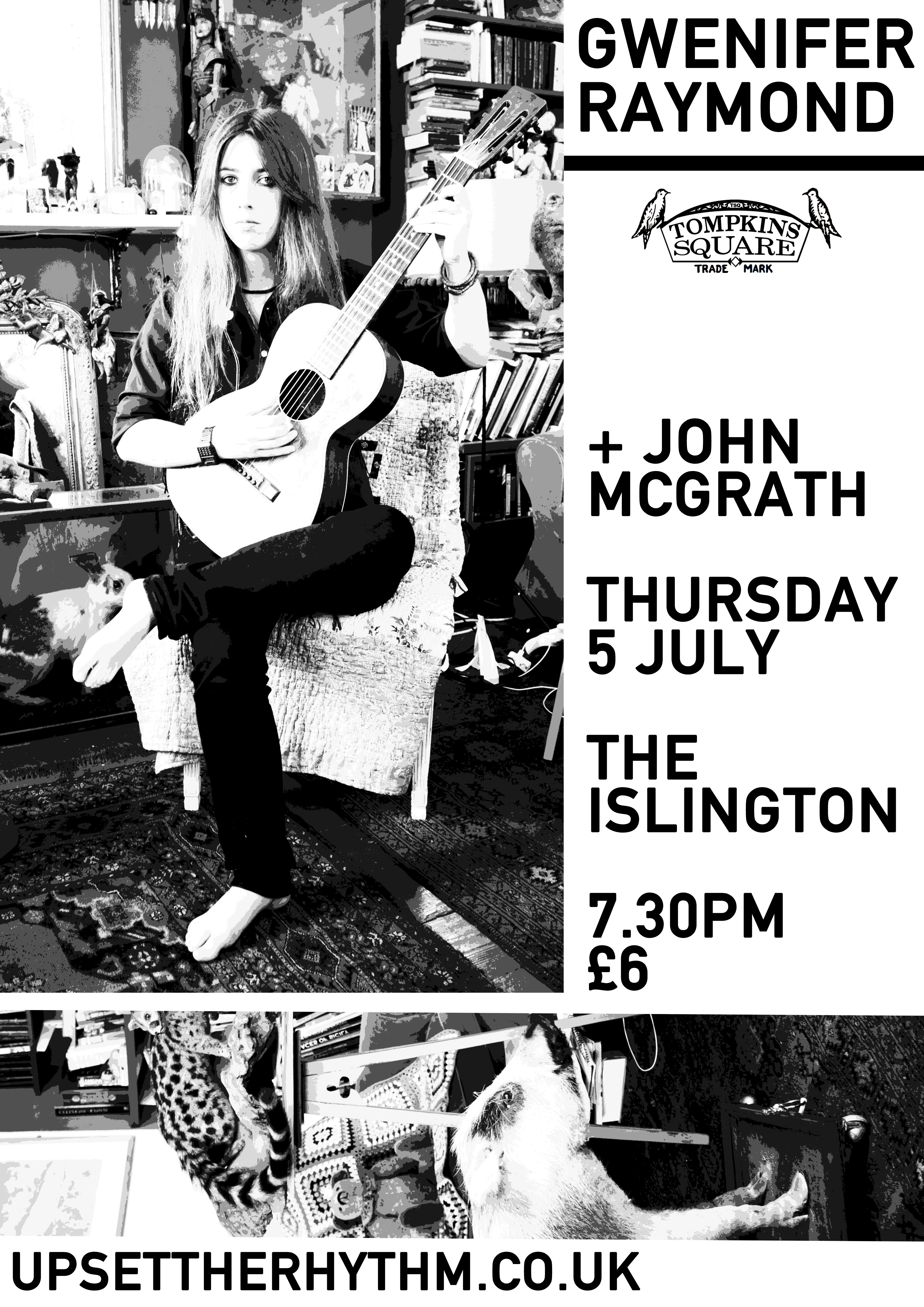 Upset The Rhythm presents...
GWENIFER RAYMOND
JOHN MCGRATH
Thursday 5 July
The Islington, 1 Tolpuddle St, Angel, London, N1 0XT
7.30pm | £6 |
TICKETS
GWENIFER RAYMOND
is a Welsh multi-instrumentalist, originally from Cardiff but now residing in Brighton, England. Gwenifer began playing guitar at the age of eight shortly after having been first exposed to punk and grunge. After years of playing around the Welsh valleys in various punk outfits she began listening more to pre-war blues musicians as well as Appalachian folk players, eventually leading into the guitar players of the American Primitive genre. She has since been playing her own moody and often-times manic original American Primitive styled compositions on guitar and banjo around the UK. In 2017 Gwenifer signed to the esteemed label Tompkins Square, who released her first single 'Sometimes There's Blood' in October of that year. Her debut album 'You Never Were Much of a Dancer' is out in June 29th, 2018.
https://gweniferraymond.com/
JOHN MCGRATH
is an Irish guitarist, composer and author based in London. His music explores the boundaries of the ancient and modern as traditional elements meet improvisation and experimental tendencies. Rich harmonics, intricate finger-picking, static drones and glitches combine to glorious effect. John has performed the UK premiere of Rhys Chatham's "Die Donnergotter", he's also performed with Dustin Wong, Sharon Gal, Cavalier Song, Howard Skempton and the aPAtT Orchestra. He currently lectures at ICMP and Goldsmiths.
www.johnmcgrathmusic.com
Thanks for reading, have a top weekend and we'll see you next week!
Upset The Rhythm
UPSET THE RHYTHM
UPCOMING SHOWS
YUNOHANA VARIATIONS:
YOSHIMIO & ROBERT AIKI AUBREY LOWE & SUSIE IBARRA
SAM WEAVER
Tuesday 26 June
OSLO, 1a Amhurst Road, Hackney, London, E8 1LL
7.30pm | £12 |
TICKETS
GWENIFER RAYMOND
JOHN MCGRATH
Thursday 5 July
The Islington, 1 Tolpuddle St, Angel, London, N1 0XT
7.30pm | £6 |
TICKETS
VITAL IDLES
DOG CHOCOLATE
THE PLAN
Thursday 12 July
The Islington, 1 Tolpuddle St, Angel, London, N1 0XT
7.30pm | £6 |
TICKETS
SHOPPING
ES
KATY & NICK

Saturday 11th August
OSLO, 1a Amhurst Road, Hackney, London, E8 1LL
6.30pm - 10pm | £10 |
TICKETS
SHANNON AND THE CLAMS
Tuesday 4 September
The Garage, 20-22 Highbury Corner, London, N5 1RD
7.30pm | £12.50 |
TICKETS
PROLAPSE
FIVEHEAD
Thursday 6 September
Moth Club, Old Trades Hall, Valette St, Hackney Central, E9 6NU
7.30pm | £11 |
TICKETS
LITHICS
Friday 7 September
The Islington, 1 Tolpuddle St, Angel, London, N1 0XT
7.30pm | £6 |
TICKETS
SCREAMING FEMALES
SCRAP BRAIN
Tuesday 11 September
100 Club, 100 Oxford St, Oxford Street, London, W1D 1LL
WOLF EYES MUSIC: THREE DAY RESIDENCY
Friday 21st, Saturday 22nd, Sunday 23rd September
In collaboration with Cafe OTO, 22 Ashwin Street, Dalston, London, E8 3DL
7.30pm | £12 per day, £30 3-day pass |
TICKETS
21 SEPT:
WOLF EYES with YEAH YOU
WOLF EYES (short set)
AARON DILLOWAY / VICKY LANGAN (Duo)
22 SEPT:
UNIVERSAL EYES
(Nate Young, John Olson, Aaron Dilloway, Gretchen Davidson)
TRIPLE NEGATIVE
VICKY LANGAN (DJ set)
23 SEPT:
WOLF EYES with BEATRICE DILLON
AARON DILLOWAY (solo)
SHARON GAL (solo)